FGCU Jazz Combo creates original music for Ran Adler exhibit 'Presence'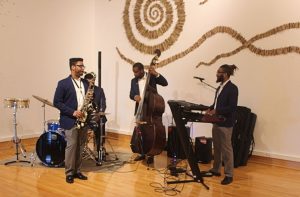 Last night, the FGCU Jazz Combo played original music at the opening of the Ran Adler solo show Presence which was inspired by the assemblage pieces on display in the Wasmer Gallery.
The FGCU Jazz Combo consists of Isaiah Suriel on Tenor Saxophone, Joel Law on Piano, Brandon Robertson on Bass (and drums for one composition)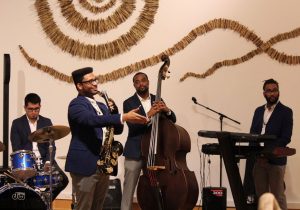 and Josue Gallardo on Drums. In all, the foursome created five songs for the opening. Although a different Combo member assumed primary responsibility for one song each, all four members made contributions to each composition.
"Forrest of Rebirth" was the first composition the Combo penned. "Ran's artwork signified the rebirth of nature's cycle. This was something the Combo wanted to capture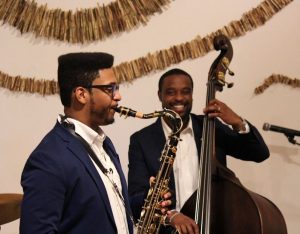 first," explains Robertson, who is also the Combo's director and FGCU Instructor of Music and Jazz Studies. "We took the elements of sunrise and fall to represent the transition of seasons between fall and winter."
"Re-Purposed Vision" is a tune that captures what nature looks like after a disaster strikes. "It was primarily composed around Isaiah's melody line and Joel's melodic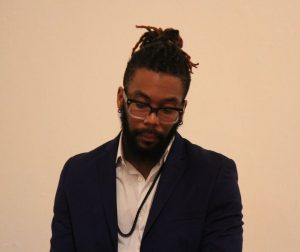 voicings in the piano," Robertson amplifies. "It also created a symbolic melodic picture for Ran's usage of dead dry leaves."
The Combo's third song, "Circle of Decay," is centered on bass and piano. The Combo created the piece following their arrival in the Wasmer Gallery after Adler and his Gallery Assistant, Marcela Pulgarin, had begun installing Adler's pieces on the gallery walls.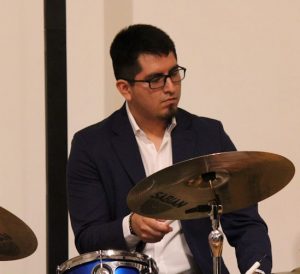 "We then came up with a bass/piano riff that in itself, created a beautiful melody line played by Isaiah."
"Eternal Spiral" was created to represent when nature decides to take its own course and deprive us of any control over the environment.
"Ran did a fantastic job representing these types of elements in the piece where he wrote out a Japanese poem and VERY specific details. This song was to represent that type of structure."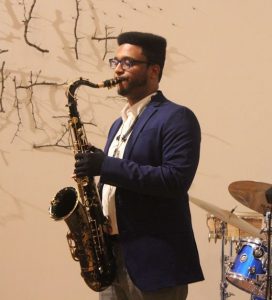 The last composition is titled "Peaceful Chaos," and for the concluding number the Combo "wanted to funk it up to change the dynamic of the previous compositions."
"Peaceful Chaos" features Brandon on the drum set and Josue and the bongos and the start of the song is a big crash from the drums to represent natures true force.
"Then when the groove comes in, you hear the Isaiah play this funky melody that represents healing and moving forward," Robertson adds.
Suriel, Law and Gallardo are FGCU music majors. Law has two CDs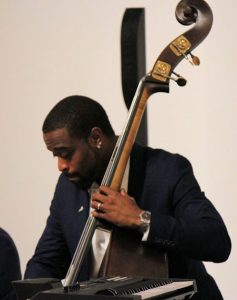 that are available on CD Baby and Itunes. One is titled "Impulse" and the other "Right There."
Originally from Tampa, Robertson is a notable Upright/Electric Bassist. In addition to serving as Director of Jazz Studies at FGCU, he is the director of the Basketball Band, an honorary member of the Kappa Kappa Psi Mu Upsilon Chapter at Florida Gulf Coast University, and an EMMY® Award nominee for his documentary on educational collegiate programs featuring the FGCU Jazz Ensemble. His first album, "Bass'd on A True Story" (Slammin Media/Believe Distributions), reached #16 on the iTunes Top 200 Jazz Releases.
Brandon has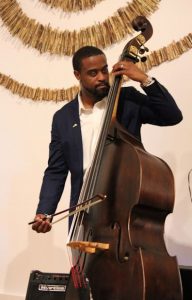 performed in the South Carolina Jazz Festival, Atlanta Jazz Festival, Savannah Jazz Festival, Clearwater Jazz Festival, Sanibel Jazz & Blues Festival, The Landings Music Festival, Florida Jazz & Blues Festival, and In May of 2017, Brandon made his debut as a Headlining Act at the 2017 International Jacksonville Jazz Festival in Jacksonville, FL.
As a prominent bandleader, Brandon and his band have headlined at some of the top jazz venues in the country, including The Palladium, Open Stage, Blues Alley, Andy's Jazz Club, The Jazz Showcase, The Jazz Kitchen, Cliff Bells, NightTown, The BOP STOP, The Jazz Estate, Shapeshifter Lab, The Side Door, Twins Jazz, Velvet Note and B-Sharps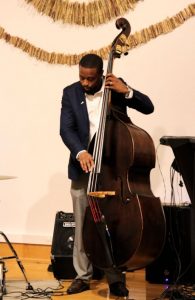 Jazz Club.
Robertson's impressive resume also includes performances with The World Famous Count Basie Orchestra led by director Scotty Barnhart; Vocalist Carmen Bradford (Singer for The Count Basie Orchestra); Laila Biali (2019 JUNO Award Winner); Jason Marsalis; Marcus Roberts; Marty Morell (Drummer of Pianist Bill Evans: 1968-1974); Vocalist Carla Cook (Grammy Nominee NYC Singer); Dan Miller (Former Member of The Harry Connick Jr. Big Band); Lew Del Gatto (Former Member of the SNL Band); Leroy Jones; Charlie McCoy (International Harmonica Player, Country Hall of Fame); Ray Coussins (Pianist and Former Accompanist for Frank Sinatra); Eric Alexander; Wycliffe Gordon;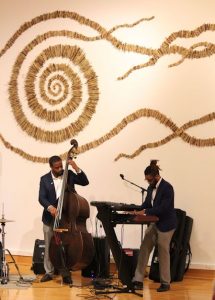 Greg Tardy; Marcus Printup (Member of the JALC Orchestra); Nick Finzer; and Canadian Jazz Singers June Garber & Halie Loren. Brandon has toured 22 countries in Europe traveling from the Mediterranean up the capitol of Iceland.
Robertson has a Bachelor of Arts in Music with a focus on Jazz Studies (2009) and Master of Music in Jazz Performance (2016) from Florida State University.
Presence runs through February 27 in the Wasmer Gallery in the Arts Complex on the campus of Florida Gulf Coast University. It's not just a show you have to see. It's a show you really have to feel.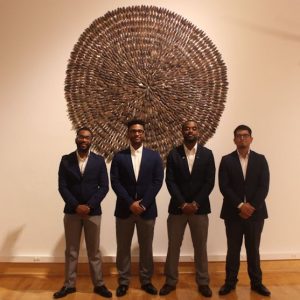 January 31, 2020.
RELATED POSTS.