An Introduction to Matlacha Island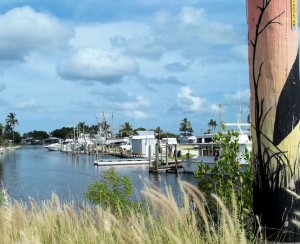 About an hour's drive west of Southwest Florida International Airport is Pine Island, a charming stretch of waterfront some 17 miles long by two miles wide. It's not a place for lapping up the sun's rays on a blanket by the water's edge. Gnarly, twisted mangroves fringe the island instead of the expected sandy white beaches. You also won't find the high rises, concrete and blacktop typical of more touristy, beachfront locales. What you will discover is a quaint, secluded spot dotted by fishing bungalows, old country cottages and hospitality as intense as the bright Florida sun.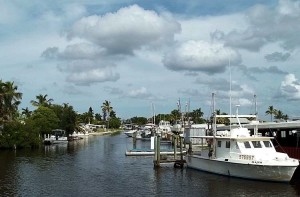 Pine Island actually consists of five separate communities: Matlacha Island (Mat-la-shay), Pine Island Center, Bokeelia (Bo-keel-ya), Pineland and St. James City. Each treasures its own distinctive history and ambiance.
Although considered part of Pine Island, Matlacha technically occupies a smaller island in Matlacha Pass to the east. Until 20 years ago, Matlacha was an "old Florida" fishing community.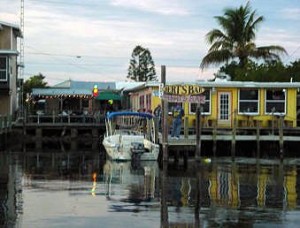 But in 1992, a voter referendum led to a ban on net fishing designed to protect the popular recreational fish typically snared along with the mullet being targeted by commercial fishermen. Immediately following passage of the net ban, Matlacha's fishermen shot holes in their boats and set them on fire. The pyre of burning fishing boats could be seen from Fort Myers Beach and Sanibel Island, and it signaled the end of Matlacha's existence as a commercial fishery.
Today,there's still a few shrimp boats tied up to the working docks, and while everyone swears you can see the grisled, bearded holdouts from the mullet fishing days about town, Matlacha is now a highly-regarded artists community. Appropriately, the shacks and bungalows that the fishermen once called home are now splashed with bright funky colors and house art galleries, gift and island wear boutiques, seafood restaurants, rental cottages and small motels.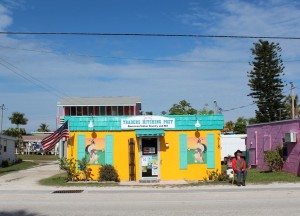 Even the telephone poles have murals. Famous musicians like Jimmy Buffet drop into the local bar to toss back a few brews and play an unannounced set or two, while authors like Robert Macomber spin tales behind laptop monitors in darkened corners. And most of the fishing now takes place on the bridge from Cape Coral to Matlacha which has the strange nickname of "Fishing-est Bridge in the World" due to the volume of people who fish off it, night and day.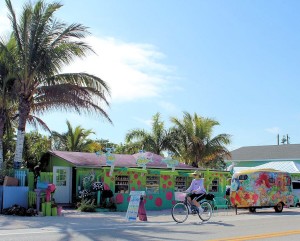 If art is your passion, there's lots to see and it's all within easy walking distance. The tiny island has 6 art galleries:  Bert's Pine Bay Gallery, Frills (featuring bead and other craft jewelry), Island Visions (colorful Floridian paintings and prints), Lovegrove Gallery & Gardens (wide array of eccentric pieces, from paintings to painted furniture), Trader's Hitching Post (Native American art and jewelry) and WildChild Art Gallery (serious to whimsical, beach scenes to wildlife and sea life motifs).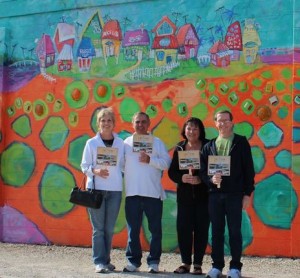 "It is just a funky, colorful artist community," says Gina Taylor, whose company, True Tours, conducts historic walking tours on the island on Saturday mornings. "They are calling it 'Key West north' now, because it such an adaptable community that has reinvented itself as an arts village, but with authors and musicians as well as artists."
Art lovers and collectors from all over the world trek to Matlacha Island in February for the Pine Island Art Festival held inside the community center in the 20-acre park that opened in 1959, and Spring Breakers and other fun lovers flock to the island each March for the annual Mullet Toss Championship, which will be celebrating its 25th year in 2015.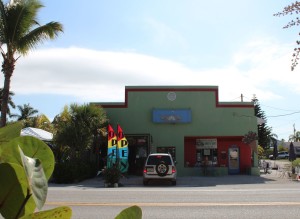 But whatever your plans, be forewarned. As the sign at the Bridgewater Inn advises, "Island Time Begins Here." There are no traffic lights, schools or churches on this tiny isle, and while cheerful and friendly, the 750 or so year-round residents are rarely in a hurry. So kick back, check your worries and cares at the foot of the Matlacha Pass Bridge, and prepare to have a relaxed, slow-paced, old-fashioned good time.
Other Activities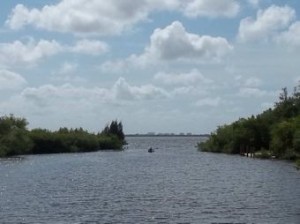 Matlacha Island is also known for great kayaking. Sun and Moon B&B and Bridgewater Inn at the foot of the Matlacha Bridge both have moorings. Gulf Coast Kayaks operates rentals and tours from a phone booth-sized shack on the water west of the bridge. A new full-service outfitter, Backwater Outfitters of Cape Coral, has opened up a shop on the main drag. In Calusa, Matlacha means "shallow water," and there is plenty of it. Mangrove creeks lead into hidden lakes where the Jacks and snook are waiting. Roseate Spoonbills, flocks of ducks and many heron congregate out of the wind in tidal pools and wetlands at the top of Little Pine Key. The Great Calusa Blueway winds down the east side of Matlacha Pass, through places with names like Big Dead Creek, Mud Hole and Buzzards Bay.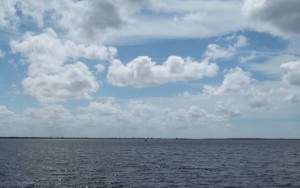 Although Boca Grande to the north is popularly recognized as the tarpon capital of the world, the intercoastal waters and Gulf of Mexico yield everything from lady fish and amberjacks to redfish, grouper, Spanish mackerel and kings. All of them can be accessed from Matlacha, where Olde Fish House Marina and Viking Marina rent boats and several bait and tackle shops can outfit the both the amateur or more serious fisherman or woman with everything they need for a fun-filled day on the water.
Dining
Although small, Matlacha has a surprising number of excellent choices for those who like to combine fine art with fine dining.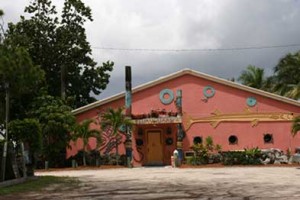 If you are looking for a unique dining experience, Sandy Hook Fish and Rib House offers one of the best views in Matlacha. From their casual, nautical-themed dining room, you can enjoy dolphins playing, fish jumping and birds of a feather sticking together while feasting on locally-caught seafood, lobster shipped in daily from the Florida Keys, babyback ribs and succulent Prime Rib.
The view is equally breathtaking from Bert's Bar and Grill on the eastern side of the Matlacha Pass Bridge. At Bert's, guests can choose between canopy-shaded outdoor seating alongside the docks that extend into a bay that spills into Matlacha Pass, or the air-conditioned indoor dining room with surprisingly sizable tables. While there are lots of shrimp, oysters and other seafood selections on the menu, the fare at Bert's gravitates toward burgers and deli items, including Reubens and Philly Steaks. Bert's is a Matlacha staple, dating back to the 1930s, when it was built as a "sweet shoppe," with the hotel being added in 1941. Bert's Bar has gone through several transformations, from the original "Mother's" to Tri Dilly Inn in the '70s and finally to Bert's Bar in honor of former owner Bert Clubb, a famous Lee County bar operator.
For art lovers who prefer Italian, Matlacha offers Miceli's. The Miceli family originated in Palermo, Sicily. The family immigrated to the United States in the early 70's and opened a successful bakery in Connecticut. They shifted to the restaurant business after nearly 15 years, first in East Hartford, Connecticut, and 12 successful years later in West Virginia, where their children took control of the business. Six years ago, they brought Miceli's to Matlacha, where it's been a love affair ever since.
Historical Notes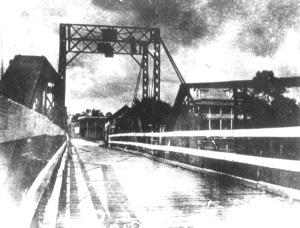 Much of the history of Matlacha's origins is retold in Richard Powell's 1959 novel, Pioneer, Go Home! It all started around 1926, when Lee County began dredging fill from Matlacha Pass for the approaches to a single-lane swing bridge the County Commission had purchased from the town of Alva and installed on pilings between the mangrove islands and present-day Cape Coral. The bridge project was completed in 1927, and soon after the newly-filled island became attractive to folks who had lost their homes when the stock market crash of October 29, 1929 ushered in the Great Depression.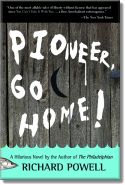 Lured by the tug of free land, moderate temperatures and abundant fishing, "squatters" began arriving and putting down roots on the spoil. At first lived in their cars or tents they pitched among the mangroves. Later, they built makeshift wood shacks with thatched roofs and clapboard fish houses on stilts that were less susceptible to flooding during high tides and tropical storms. Over time they developed a full scale fishing industry on the unclaimed land which became known as The Fill. A legal showdown ensued, but the squatters emerged victorious and Lee County deeded the land to them as a result of "adverse possession." And in this way, the legendary fishing village of Matlacha was born.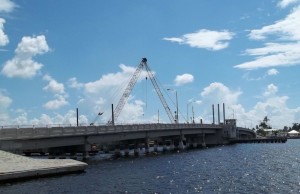 The wooden swing bridge over Matlacha Pass was replaced in 1968 by a concrete drawbridge. Considered functionally obsolete because of its narrow lanes and absence of shoulders, that bridge was replaced with a newer, but identical version. The remnants of the 1968 bridge were used to create an artificial reef off Charlotte County, but portions of the concrete railings and grid from the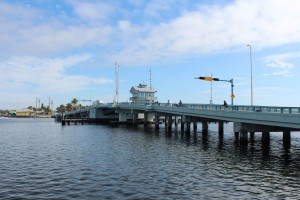 draw bridge were reserved for a public art project that will be installed in Matlacha Park and a small mall that has been installed on bridge's west landing. Reflectors from the span were also used by local artist Leoma Lovegrove for the mural she painted on the east side of the Matlacha Post Office titled The Catch of Matlacha Island which depicts how the present-day art colony grew on the back of the fishing industry that died out after the net ban referendum went into effect in 1992.
Fast Facts
During the Civil War, Matlacha Pass was used by blockade runners carrying cotton and turpentine.
There are reputed to be as many as seven Civil War shipwrecks in the waters around Matlacha and Pine Island.
In 1962, Richard Powell's 1959 the book Pioneer Go Home! was adapted into a movie starring Elvis Presley. Although the name Pioneer, Go Home! was considered for the film, it was ultimately named Follow that Dream. The film adaptation was a musical, scored by Hans J. Salter. Elvis played the role of Toby Kwimper. Arthur O'Connell played Pop Kwimper. The screenplay was written by Charles Lederer, who also wrote the original Ocean's Eleven and the Marlon Brando version of Mutiny on the Bounty.
As they cross the Matlacha Pass Bridge into Matlacha, island visitors are greeted by a colorful mural titled The Catch of Matlacha Island, which depicts how the colorful artists' enclave has been built on the backs of the fishing community, which ended after a ban was imposed on net fishing in the early 1990s. Created by Matlacha Island expressionist artist Leoma Lovegrove, scales in the tarpon featured in the painting contains reflectors from the 1968 bridge.
Related Articles and Links.