Bob Rauschenberg Gallery Director Jade Dellinger
On this page you will find articles about Bob Rauschenberg Gallery Director Jade Dellinger.
* * * * * * * * * * * * * * * * * * * * * * * * * * * * * * * * * * * * * * * *  * * * * * * * * * *
New Bob Rauschenberg Gallery director has passion for advancing Rauschenberg legacy (10-28-13)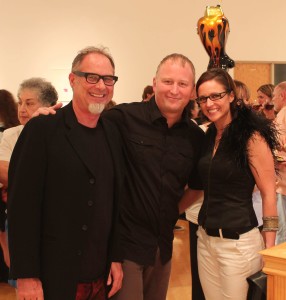 For nearly 20 years, Jade Dellinger has been conceptualizing and curating groundbreaking art projects and exhibitions. Now he is importing those rare skills to the Bob Rauschenberg Gallery, where he took over the reins for Ron Bishop as the gallery's new director effective September 16.
The USF-NYU product has many ties to Bob Rauschenberg. Most recently, he curated Things Not Seen Before: A Tribute to John Cage at the Bob Rauschenberg Gallery in 2012. Cage and Rauschenberg, of course, were Black Mountain College alumni and became close friends after Rauschenberg moved into a rented loft on Pearl Street in lower Manhattan, where he embarked upon a six-year professional and personal relationship with Jasper Johns.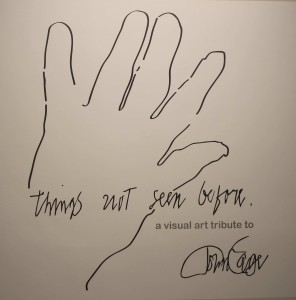 The Cage retrospective at the Bob Rauschenberg Gallery was the outgrowth of a Cage tribute that Dellinger arranged at Tempus Projects in Tampa and John CAGE's 33-1/3- Performed by Audience at the Tampa Museum of Art, in which vinyl albums for the interactive record installation were selected by, among others, Jim Rosenquist, Ed Ruscha, Yoko Ono, David Byrne, Iggy Pop and Graham Nash.
"In Tampa, I didn't have any Rauschenberg work in the show," Dellinger reminisces. "But here, we had large scale transfer solvent drawings and it became a much bigger show."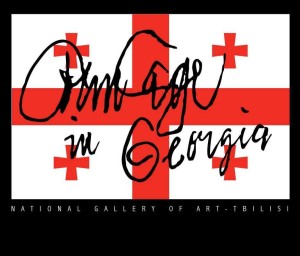 Dellinger also took the Cage exhibit on the road to Tbilisi, Georgia, where the show was enjoyed by National Gallery of Art visitors in May of this year. For that project, Dellinger received a 2013 Fulbright-Hays Scholarship from the U.S. Department of State, but the exhibit was by no means the only item on Dellinger's crowded "to do" list. For the past two years, he's also been absorbed by a Graphicstudio retrospective that opens at the Tampa Museum of Art in January of 2014.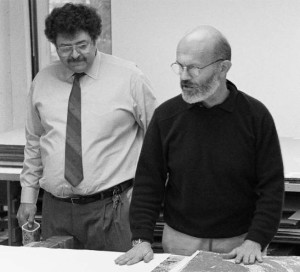 Titled USF Graphicstudio: UnCommon Practice, the retrospective will be the largest exhibit in the history of Tampa Bay, taking up 90 percent of the Tampa Museum's travelling show facilities. Distinguished USF Professor Emeritus Donald J. Saff (on left, pictured with Jim Dine) founded Graphicstudio in 1968 "and Saff and Bob Rauschenberg and Darryl Pottorf were close friends," Dellinger notes. "Saff would come to Edison for openings and was in Captiva at Bob's bedside when Bob died."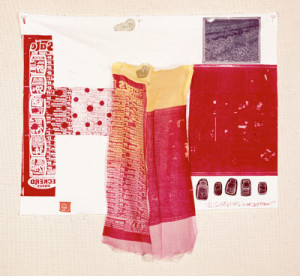 Through the years, Graphicstudio has received popular and critical acclaim for its innovative approach to artistic collaboration and technical advancements. Fueled by the renaissance in American printmaking in the 1960s, Saff led his team to invent new processes and treatments of traditional printmaking, and Rauschenberg, Jim Dine, Philip Pearlstein and Jim Rosenquist all produced large scale lithographics and mix media works at Graphicstudio with the help of Saff and their gifted artisans. Saff also lent his expertise to to Rauschenberg in connection with the mixed media work he created as part and parcel to his ROCI (Rauschenberg Overseas Cultural Interchange) initiative in the 1980s, which saw Rauschenberg take a group of his assistants to Malaysia, Germany, the U.S.S.R., Cuba, Japan, China, Tibet, Venezuala, Chile and Mexico so that they could interact with local artists, artisans, poets and people in the street in order to create a series of artworks.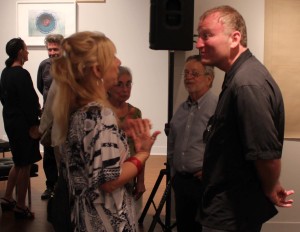 A major Graphicstudio retrospective has not been done in more than two decades, and it's a testament to Dellinger's acumen and accomplishments that he was asked to curate this new exhibition. For Dellinger, it's simply an opportunity to come full circle. "In 1989-90, I was doing research on Graphicstudio as an undergraduate," Dellinger notes, "which entailed interviewing a number of artists who'd had projects there." Including Bob Rauschenberg and Jim Rosenquist.
Dellinger's research was compiled during a critical moment for Graphicstudio. In 1990, an archive of Graphicstudio's publications was established at the National Gallery of Art in Washington, which presented a comprehensive exhibition with an accompanying catalogue. "Quotes from my interviews ended up being included in the catalogue, and that obviously factored into Dellinger being asked to do the Graphicstudio retrospective in January.

But Dellinger's 1990 interview wasn't his first contact with Rauschenberg. When he was teen, he wrote Bob asking for a signed autograph. "As a kid, I used to help my great-grandfather respond to fan mail," Dellinger fondly recalls. His great-granddad was baseball great Edd J. Roush, who batted .323 over 18 years while impressing fans with his acrobatic catches in center field. Remembering some of the more inventive requests that the Hall of Famer received, Dellinger sent his request to Bob Rauschenberg care of the Mucky Duck on Captiva, where the artist often went to enjoy the sunset and a drink. "Knowing that, I enclosed $20 to buy him a drink."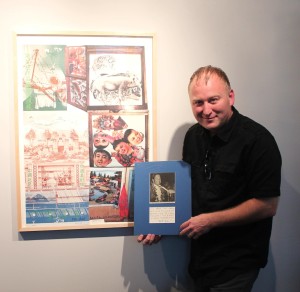 In a characteristic act of generosity and support, not only did Rauschenberg send the photo, he included a hand-printed personal note and a lithographic poster from the R.O.C.I exhibition at the National Gallery in Beijing. Dellinger proudly display the photograph, note, and poster on the wall of his new office at the Bob Rauschenberg Gallery, and the experience inclines Dellinger to exert every fiber of his being to not only honor and preserve RR's legacy, but to extend it for those of us in Southwest Florida, and for art lovers worldwide.
Full circle.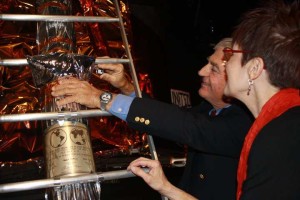 And taking a page out of the R.O.C.I. play book, the new Bob Rauschenberg Gallery Director is planning an imminent return to Tblisi for a reprisal of the Moon Museum exhibition that Dellinger first curated at Tampa Museum of Art from June 18-August 1, 2010 in conjunction with a televised PBS feature on a little-known and not-previously-publicized "Space Art" project in which a thin film lithographic photo reduction or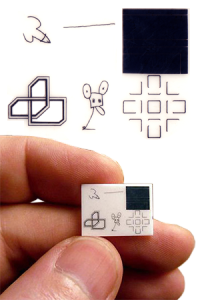 "ceramic wafer" containing drawings by Rauschenberg, Andy Warhol, John Chamberlain, Claes Oldenburg, David Novros and Forrest Myers was sneaked into foil skirt of the Apollo 12 lunar lander. While no one can officially confirm the project's existence, if the research conducted by the Dellinger and the PBS History Detectives is true, Bob Rauschenberg and cohorts have been on exhibit on the moon since November 14, 1969. Thanks to Dellinger, the space-happy Georgians will now have an opportunity to see the emissary of art that is Robert Rauschenberg in an entirely new light.
And that brings us full circle to the vision that Jade Dellinger has for honoring, preserving, protecting and extending Robert Rauschenberg's legacy.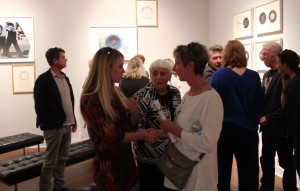 Just as Rauschenberg reached out in later years to artists and art lovers in other countries, Dellinger expects to reach out to artists and art lovers in other nations and locales in his capacity as Director of the Bob Rauschenberg Gallery. While it is premature to reveal the identity of some of the artists to whom overtures will be made, Dellinger acknowledges that Bob Rauschenberg's name opens doors that would be closed to other museum directors and curators. "To be, it's about being thoughtful about context," Dellinger states. Bob Rauschenberg's name opens doors if you're thoughtful about what you propose and know who t reach out to."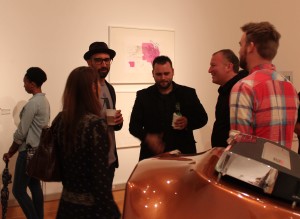 And fortunately for Edison State College, its faculty and students – as well as all of us in Southwest Florida who love Robert Rauschenberg and his art – new Bob Rauschenberg Gallery Director Jade Dellinger is both thoughtful, thought-provoking and well-connected. As a consequence, the weeks, months and years ahead should prove stimulating and highly rewarding.
___________________________________________