Deborah Martin Art Studio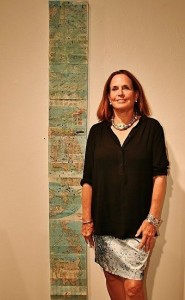 The Naples Art District is home to dozens of art studios, ateliers and exhibition galleries that afford art enthusiasts and collectors an opportunity to watch painters, sculptors and mixed media artists create artworks in a wide variety of genres and media. Among them is the working studio of encaustic artist Deborah Martin.
Her Art. Martin's work has a decidedly ancient feel. That's because her medium of choice is encaustics. The millennium-old process dates back to 100 B.C. and the portraiture popular at that time in Greco-Roman Egypt. From the Greek work enkaustikos, which means "to heat" or "to burn," the technique involves mixing pigments and resins into beeswax, which is then engrafted in layers upon drawings, paintings and other materials.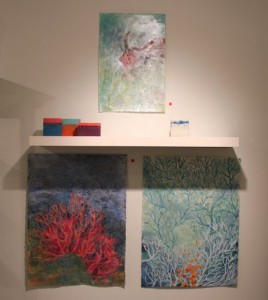 Heat is used to bind each new layer of molten wax to the one set down before it, and once the new layer of wax has cooled, unifying marks, textures and symbols can be inscribed on the surface.
"A once archaic medium, encaustics gives me the flexibility of discovery," explains Martin, who regularly gives workshops on encaustics. "My encaustic surfaces are labored and develop over time. I try to preserve what's underneath while creating something new with each layer. By scraping wax away, my process turns into an excavation, revealing colors, textures and images. Also incorporated into the encaustic paintings are my drawings, paintings, poetry and original transfer prints."
Focus on the Fragility of Nature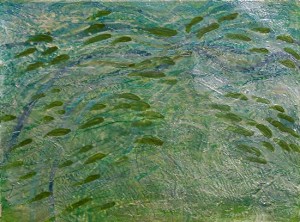 Martin's work focuses on the fragility of nature. "The fragility of nature is a constant theme," states Deborah, who often incorporates birds, nests, feathers and similar found objects into her encaustic works. Two of her favorite themes are the 2010 BP oil spill in the Gulf of Mexico ("fish, turtles, shell fish, coral reefs are still in danger") and the dwindling population of elephants in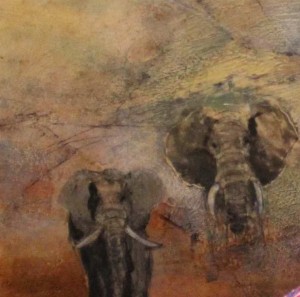 Africa and India.
In 2013, Martin created an encaustic painting titled Elephant 1, which Baker Museum of Art Curator Frank Verpoorten juried into the Alliance for the Arts' 27th Annual All Florida Juried Exhibition. In fact, Verpoorten gave Martin a Juror's Choice award for the highly textual painting. But for Martin, that was just icing on the cake. She submitted the work because she wanted to draw attention to the plight of the African elephant in the aftermath of an incident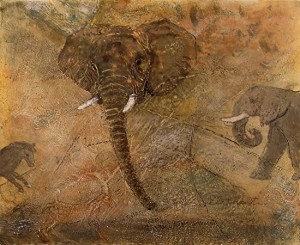 in which 17 heavily armed poachers posing as members of the transitional Seleka government slaughtered 22 adult and 4 juvenile forest elephants inside the Dzanga-Ndoki National Park, a World Heritage Site in the Central African Republic (CAR). After hacking off their tusks, the poachers left the carcasses to rot in the torrid African sun.
The massacre drew the ire of Bas Huijbregts, who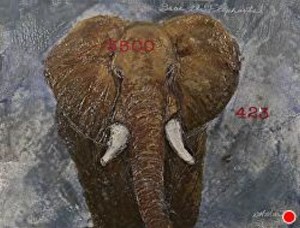 leads the Illegal Wildlife Trade Campaign for WWF in Central Africa. "At the end of the day, one of two things will end poaching. Either there is no more demand [for ivory] or there are no more elephants. The choice is up to us."
Between 2010 and 2012, poachers killed more than 100,000 elephants in Africa alone, and since 1979, the continent's elephant population has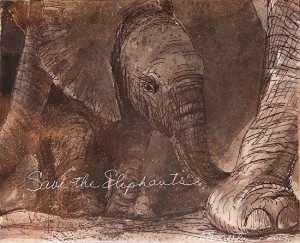 dropped from 1.3 million to as low as 400,000 by some estimates. "The current demand for ivory is unsustainable. That is our overarching conclusion. It must come down. Otherwise the elephants will continue to decrease," said Iain Douglas-Hamilton, founder of Save the Elephants. The situation is even more dire in India.
In addition to poaching, habitat loss, human-elephant conflict and mistreatment in captivity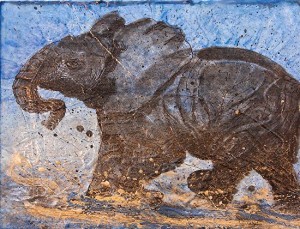 threaten both African and Asian elephants. Working towards better protection for wild elephants, improving enforcement policies to prevent illegal poaching and trade of ivory, conserving elephant habitats, better treatment for captive elephants and, when appropriate, reintroducing captive elephants into natural, protected sanctuaries are the goals that numerous elephant conservation organizations are focusing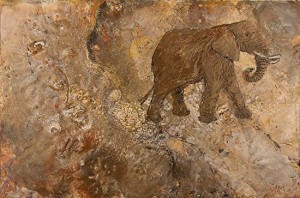 on around the world. Martin not only shares these objectives, she is doing her part to sensitize those within eyeshot of her art to boycott products, including sculpture, that contain ivory and to experience elephants in non-exploitive and sustainable environments where elephants can thrive under care and protection.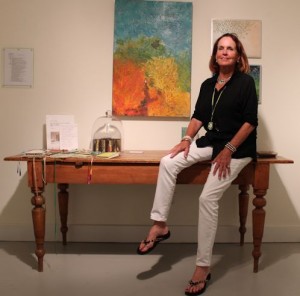 About the Artist. Martin received an MFA from the State University of New York in Albany in 1990. She taught in the art department at Skidmore College and Green Mountain College. She owned and operated a gallery in Saratoga Springs, New York for eight years before relocating to Southwest Florida. Today she owns and operates Gallery 100, which is located in Suite 14 at 5760 Shirley Street in Naples.
In addition to the 27th Annual All Florida Juried Exhibition, Martin's work has been included in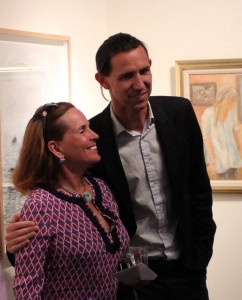 exhibitions at The von Liebig Art Center (where she was awarded Best of Show), Florida Gulf Coast University, Guess-Fisher Gallery, the Art League of Fort Myers, and the annual painting exhibit at Rookery Bay. Her encaustic work has also been selected by The Visual Arts Center of Punta Gorda National Art Exhibition in 2012, the Kolbalt Gallery in Provencetown, Massachusetts, and the 9th Annual Encaustic Exhibition at the Conrad Wilde Gallery in Tuscon, Arizona.
Address. Deborah Martin maintains a working studio at 5760 Shirley Street (Unit #14) in Naples, FL. It is denoted by tasteful gallery rooms in the front and an artist's studio in the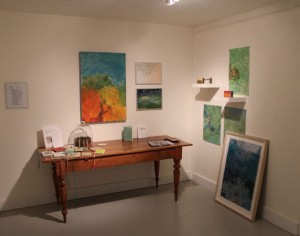 rear of the unit. The gallery space features Martin's latest work in both two-dimensional, collage and small works formats.
Website and Telephone Number. For more information, please visit http://deborahmartinartist.com/ or telephone 518-791-0251.
RECENT DEVELOPMENTS:
Deborah Martin enjoying success locally and out west (06-10-17)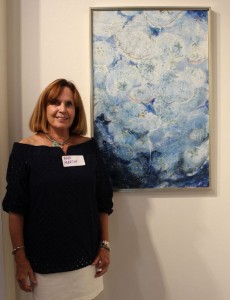 Naples artist Deborah Martin is enjoying success in shows locally and in Sante Fe, New Mexico and Denver, Colorado. Her encaustic painting Moon Jellyfish has been juried into the Alliance for the Arts' 31st Annual All Juried Exhibition. Blue-Green Algae IV has been chosen for exhibition in Global Warming is Real at the Encaustic Museum of Art in Sante Fe.
According to the Alliance, more than 400 works of art were submitted for inclusion in this year's All Florida show. Juror Kimberly Riner only chose 46 to be included in the exhibition. Moon Jellyfish is among the elite 46. An encaustic work on kozo paper mounted on Gatorboard, "Moon Jellyfish is a statement about how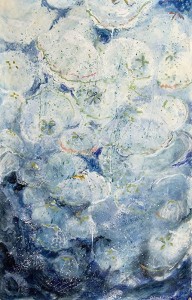 climate change and associated warming of our oceans have disturbed our oceans' delicate balance," Deborah points out. "Moon jellyfish are now in abundance in many locations due to warming waters."
Moon jellyfish are the ones you encounter at the beach, whether here, on the Atlantic or on the Pacific coastline. While Dr. Peter Richardson cautions that there exists some evidence that jellyfish numbers increase and then decrease normally every 20 or so years, he believes population figures are increasing worldwide because of the influences of overfishing, pollution and, yes, climate change. It's not that jellyfish thrive in warmer waters, but rather that the predators that feed on them do not. In addition,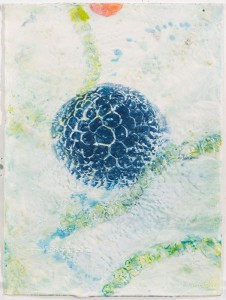 the prey upon which jellyfish feed also thrive in warmer waters. So less predators and more prey translates into increasing jellyfish blooms. That's why Richardson, who is the programme manager at the Marine Conservation Society, believes that "we should consider jellyfish populations as important indicators of the state of our seas."
Deborah is also pleased to have her encaustic piece Blue-Green Algae IV in the juried exhibition Global Warming is Real at the Encaustic Museum of Art in Santa Fe, New Mexico. That show was juried by Garrett Smith. It is an important exhibition about what is going on in our environment due to climate change. "My artwork speaks to the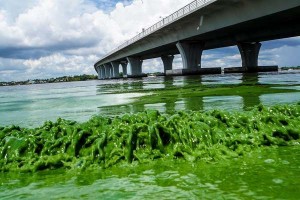 continuing problem here in Southwest Florida of tainted waters released from Lake Okeechobee which pollute the Gulf of Mexico with foul smelling blue-green algae, a toxic disaster for both marine life and humans," Deborah states.
Martin is exhibiting a different kind of work at the University of Denver.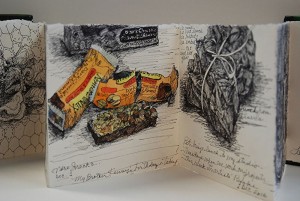 "Celebrate" is an exhibition of contemporary artist book works that feature food, music or dance. It is curated by Abecedarian Artists' Book director Alicia Bailey. Deborah's artist book is titled This is what I eat, and it documents what she ate for lunch every day at her studio for one week. "Documenting my lunches made me realize I needed to change my unhealthy diet to a healthier one." Says Deborah. This is what I eat is an accordion book with text and images.