Actors, artists, filmmakers and events in the news May 22-31, 2020
Grouped under headings that include art openings, film, outdoor art fairs and festivals and theater are advances, announcements and articles about the actors, artists, filmmakers and events making news in Southwest Florida this week:
1     ACTORS
These are the actors you'll see in the SoDis Theater reading of Bob Hilliard's 'Inquisition'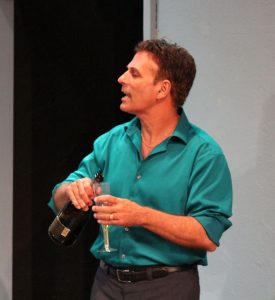 On Tuesday, May 26, Laboratory Theater of Florida's SoDis theater will present a virtual reading of a brand new work from local author, playwright, and American hero Bob Hilliard. Called Inquisition, the play is set in the not too distant future where university professors and students have to decide just how much they are willing to sacrifice in return for their safety.
This SoDis reading will be directed by The Lab's Artistic Director Annette Trossbach and features actors from southwest Florida, New York, Texas, and Minnesota. The cast includes Scott Davis, Beth Yazvac, Abrahan de la Rosa, Christopher Sutton,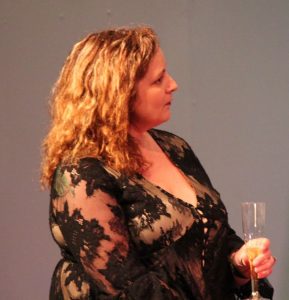 Heather Johnson, Mike Eduoard, Derek Lively, Polly Maynard and Jay Simmons.
RELATED POSTS.
___________________________________________
These are the May 28 'Best Seats in Your House' actors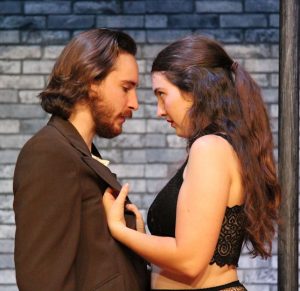 These are the actors who you'll see in the May 21 and May 28 The Best Seats in Your House plays. Just click on the links to read their profiles and discover their extensive theater and related credits:
RELATED POSTS.
_______________________________________________
Crussard teaching online acting class for grades 3-6 in June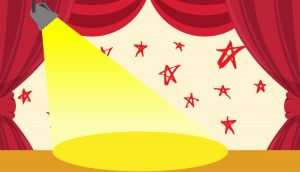 Alliance Youth Theatre Director and local drama teacher Carmen Crussard is teaching an online acting class in June for students in grades 3-6. Enrollees will develop foundational acting skills as they learn, practice, and develop new theatre technique and skills and play theatre games. By the end of the course, they'll have a fully prepared audition piece –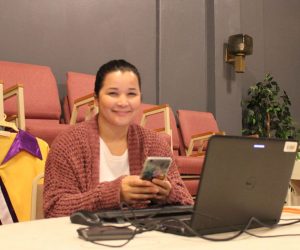 or just a fun piece to perform for family and friends.
Here's a break-down of the curriculum, which will be taught online from 10:00-11:00 a.m. on each Monday in June beginning June 1:
Week 1: Characters and storytelling
Week 2: Fun with facial expressions and voice
Week 3: Magical movement
Week 4: Rehearsal, critique, and final presentation
Students must have a Zoom app or program downloaded on their device. (While phones and tablets work, a desktop or laptop computer affords a larger viewing area.)
Member price is $40; non-members pay $50. For scholarship opportunities please email education@artinlee.org.
document titled "Playbook for Early Response to High-Consequence Emerging Infectious Disease Threats and Biological Incidents."
__________________________________________________________
Thinking about that next role gets TJ Albertson through COVID-19 hiatus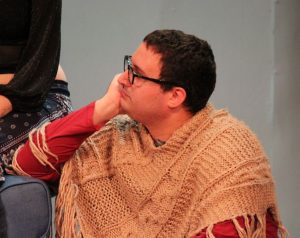 TJ Albertson is one of Southwest Florida's rising community theater stars. In the past two seasons, he has turned in outstanding performances as the priest in The Crucible, Anorexia Nervosa in The Legend of Georgia McBride, The Soldier in Andorra, Tyler Johnes in And the Winner Is … and bad boy Timmy in Hand to God.
But with all of the nation's theaters shuttered indefinitely, Albertson no longer has an outlet for his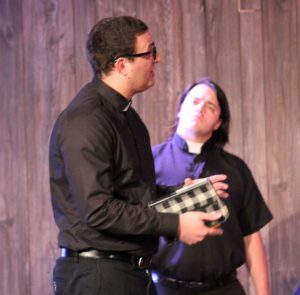 creative impulses.
"On the days I didn't have rehearsal, I didn't know what to do with myself," TJ concedes. "Now that [theater] has been taken away, it's an even greater loss."
Feeling adrift between roles may be disquieting, but it pales in comparison to the existential threat to the viability of local theater posed by COVID-19.
Albertson voices the fear that if the mandate for social distancing goes on for too long, some local theater companies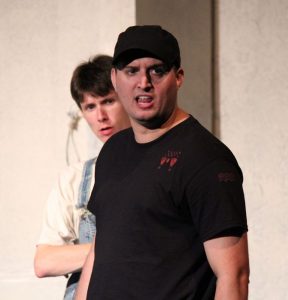 may find it impossible to reopen. And those that do may find it impossible to attract audiences since so many patrons have lost jobs and their livelihoods.
"It's pretty terrifying, I'm not going to lie," says TJ over the phone. "If there isn't the money for necessities, there certainly won't be discretionary income for theater. Every actor's worst fear is finding an empty house when they show up to perform."
Go here for the rest of this interview.
_______________________________________________________________________
Tamicka Armstrong grateful to cast mates and directors for taking her under their wings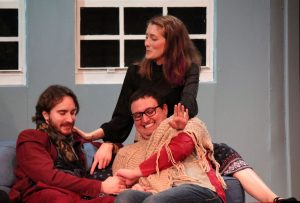 Tamicka Armstrong considers herself lucky. Very lucky. She's enjoyed the great fortune of sharing the stage with some special actors since her theatrical debut in 2018 in Greg Lam's Repossessed at Theatre Conspiracy at the Alliance for the Arts.
Besides Tamicka, the cast for that production included Rachel Burttram,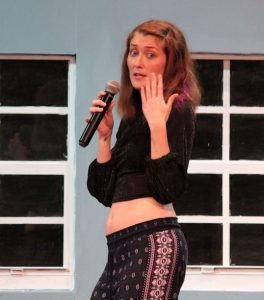 Brendan Powers, Lauren Drexler, Joann Haley, Lisa Kuchinski and Patrick Day. Since then she's shared the boards with Kuchinski twice more (in Chicago and Marian, or the True Tale of Robin Hood), Haley in Marian and such talents as Paul Graffy (How to Transcend a Happy Marriage and The Crucible), Annette Trossbach (How to Transcend a Happy Marriage), Steven Coe and Imani Williams (The Crucible),  and Shelley Sanders and Karen Goldberg in Marian, or the True Tale of Robin Hood.
Go here for the rest of this interview.
________________________________________________________
For gregarious Gerri Benzing, life post-COVID-19 is a world of solitude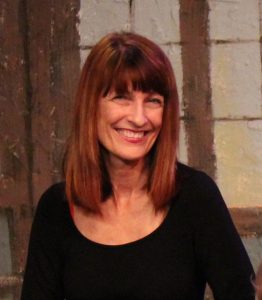 Slipping her key into the stage door, Gerri Benzing gives a short, silent sigh before slipping inside. The back of the theater is as quiet as a tomb. She scurries across the stage and begins the lonely walk up the stage right aisle, her only companion being the ghost light keeping vigil center stage.
It's not that Florida Rep is haunted. But theatrical superstition holds that every theater has a ghost. Locally, Lab Theater is reputed to have at least one. Just ask ghost hunter Lee Ehrlich, who found a lot of paranormal activity in certain spots of the nearly 100-year-old theater during a visit last May. On Broadway, the Palace Theatre supposedly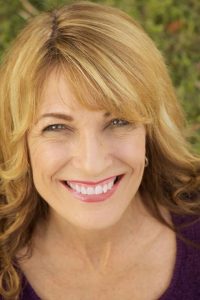 houses more than 100 ghosts, including a white-gowned cellist, an ill-fated acrobat and even Judy Garland. And the New Amsterdam is said to be inhabited by former Ziegfeld showgirl Olive Thomas.
So over time, theaters around the world have evolved traditions to appease and please their supernatural residents. For example, London's Palace Theatre keeps two seats bolted open in the balcony to provide seating for the theater's ghosts. New Amsterdam posts pictures of Olive Thomas at every entrance and exit.
You'll find the rest of Gerri's interview here.
__________________________________
For Lemec Bernard, acting is a blood sport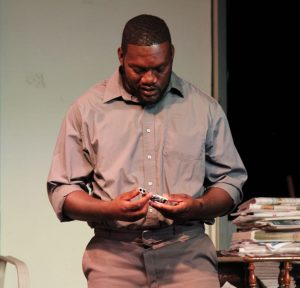 It was a boring Saturday, and Lemec Bernard was looking for something to do. An ad caught his eye. It was for a free acting class; the teacher, Marcus Colón. On a lark, Bernard attended. He had no idea what to expect. Nothing in his background predisposed him toward acting. In college and high school, he was the inveterate jock. Both as a letterman running back and full-ride scholarship outside linebacker at UCF, he was more accustomed to lowering his head, hitting hard, exacting pain. And so when Colón opened the class with the words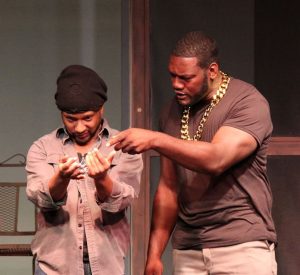 "Acting is a blood sport," Bernard was all in.
"It didn't make sense at first. It took me forever to really understand what he meant, but I do now," Lemec reflects. "Now, I can't think of acting in any other way."
Bernard couches his explanation in competitive terms.
Go here for the balance of this interview.
___________________________________
Spotlight on Tiny Theatre's Rachel Burttram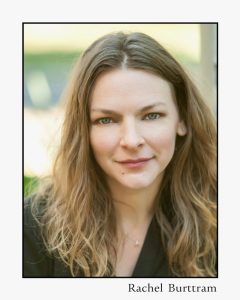 Rachel Burttram is one of Southwest Florida's best actors. Whether comedic or dramatic, theater, film or television, she has the chops to handle any role that comes her way.
Rachel has been working in regional theater for more than 20 years. She has shared the boards with the legendary Carol Lawrence and Tony-nominated Daniel Sunjata. Her stage work has been seen across the country – in venues ranging from the Actors' Theatre of Louisville in Kentucky, Penobscot Theatre Company in Bangor, Maine (where she received rave reviews for her fierce, feisty, angry and determined portrayal of a shattered Afghan war vet in Ugly Lies the Bone), Kitchen Theatre in Ithaca,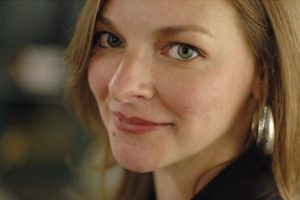 New York (where she appeared in Mark St. Germaine's romantic comedy Dancing Lessons), The Hippodrome Theatre in Gainesville, Florida, Riverside Theatre in Vero Beach, Florida, Gloucester Stage in Massachusetts, Barnstormers' Theatre in New Hampshire, City Equity in Alabama, Geva Theatre, and various stages in New York City, including the prestigious Actors' Studio.
You will find the rest of Rachel's profile here.
____________________________________
For Danielle Channell, theater's a group effort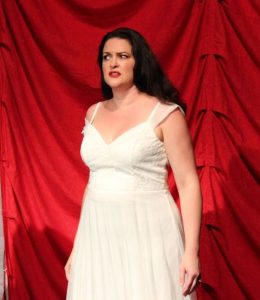 Every actor, director, theater owner and theater-goer is reacting to the ongoing moratorium on live performances differently. Some (like Florida Rep, Lab Theater, Broadway Palm, The Naples Players and Rachel Burttram and Brendan Powers through their Tiny_Theatre initiative) have rushed to fill the void with virtual readings and performances. Others are not only plugging into this brave new virtual world, but buoying each other's spirits through social media interaction. Others are using the down time to catch up on chores oft-neglected because of busy rehearsal and performance schedules. But all are embracing the opportunity to evaluate what it is that they love about theater and miss most now that the stage has been eliminated from the equation.
Go here to read Danielle's comments and observations.
And go here for Danielle's full profile.
___________________________________________________
With 'Sordid Lives,' Brian Linthicum gains level of synchronicity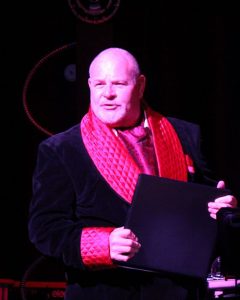 Del Shores' cult classic Sordid Lives provides actor Brian Linthicum a certain level of synchronicity in a world filled with uncertainty.
In 2017, Brian ended a five-year theater hiatus that followed his relocation to Southwest Florida from hometown Toledo when he played G.W. Nethercott for Director Scott Carpenter and Laboratory Theater of Florida. And now he's [hopefully] ending the shorter but no less oppressive hiatus that's been hoist on him and every other actor by the COVID-19 outbreak when he reprises the role in SoDis Theater's virtual reading of Sordid Lives tonight at 7:00 p.m.
The rest of this interview is here.
___________________________________
Spotlight on Tiny Theatre's Brendan Powers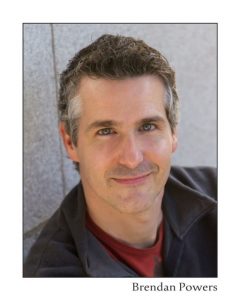 Brendan Powers is a professional Equity Actor who resides in Fort Myers. He performs frequently at Florida Repertory and other area community theater companies.
As a Florda Rep ensemble member, Powers has been a mainstay at Florida Rep. over the past nine seasons. Select Florida Rep credits over this timeframe include Outside Mullingar, How the Other Half Loves, The 25th Annual Putnam County Spelling Bee, The House of Blue Leaves, The Mousetrap, The Cocktail Hour, A Christmas Story, The Unexpected Guest, Dividing the Estate, Around the World in 80 Days, The Fantasticks, Doubt, Opus, Boeing-Boeing, and The Glass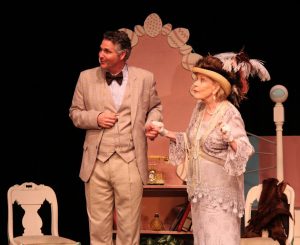 Menagerie.
Theatre Conspiracy at the Alliance for the Arts audiences are still talking about his performance as Torvald Helmer in Henrik Ibsen's A Doll's House and in New Play Contest winner, Repossessed, in which he starred opposite his real-life wife, Rachel Burttram.
Go here for the rest of Brendan's profile.
_____________________________________________________________________
Post 'Full Monty,' actor Kristen Wilson finds new purpose sewing COVID-19 face masks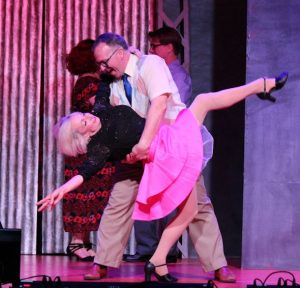 Kristen Wilson was performing in Terrence McNally's The Full Monty when the pandemic forced the early closure of the New Phoenix show.
"We literally found out that our show was closing early about an hour before the start of our 3:00 p.m. matinee."
That was on Sunday, March 14.
"We all gathered on stage and kind of cried it out. We called and let our family and friends know Full Monty was closing so that they could come. It was a special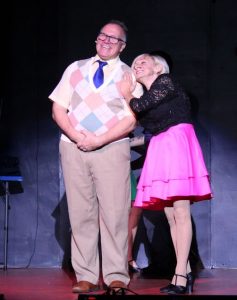 show."
To a person, the cast knew it was the right call. It would have been irresponsible, even unconscionable, to expose themselves and audiences to exposure – and all the people they would have gone on to unknowingly infect.
But that knowledge didn't blunt the heartbreak associated with being deprived of the opportunity to share McNally's uplifting story with four more enthusiastic, fun-loving audiences, to speak his words, sing David Yazbek's score, perform Brenda Kensler's carefully-wrought choreography.
You will find the rest of this interview here.
____________________________
2     ARTISTS
According to a U.S. Census Bureau Small Business Pulse Survey, two-thirds of the nation's artists are now unemployed, as jobs in the "Arts, Entertainment & Recreation" sector have shrunk by 54.5%.
James Futral installs three sculptures in Alliance's new site-specific outdoor show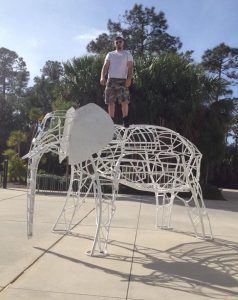 James Futral is one of three artists participating in a series of new outdoor site-specific art installations on view at the campus of the Alliance for the Arts. Futral's installation consists of three steel sculptures from his animal series, Panda (3x3x4 foot), Panther (3x6x2 foot) and Elephant (10x15x5 foot), all made from recycled materials. James Futral is a sculptor who works in a variety of materials including metal, wood and ceramics. Some of the pieces used to assemble the creatures of Futral's works are recognizable as old dryer drums, car parts and old furniture.  His skill and sensitivity to the anatomy of each creature is fun and inviting.
________________________________________________________________
Nick Masiello installs mural as part of new site-specific outdoor show at Alliance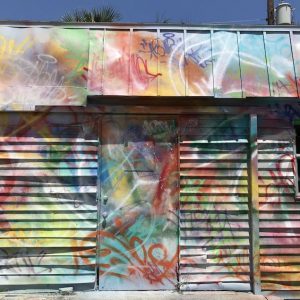 Nick Masiello is one of three artists participating in a series of new outdoor site-specific art installations on view at the campus of the Alliance for the Arts. His contribution, titled Vibrancy Mural, measures 12x40x8 feet and is made of Aerosol Acrylic, Lacquer and Enamel. For this project, Masiello created a large-scale custom mural on a storage trailer located on the Alliance campus.  He used words of inspiration from the Alliance for the Arts mission statement and painted them on the surface of the trailer in various handstyle techniques.  Masiello took the mission statement's core ideas of community, compassion, guidance, exploration, trust, friendship, self-expression, connection, inspiration, imagination, performance, individuality, and equality, and put those words directly onto the surface of the building. Interestingly, the text is unrecognizable which allows all of the words to blend together as one.  The colors are bright, cheery, and tropical with a welcoming Floridian flare.
Masiello is a mixed media artist who specializes in abstract expressionist works in aerosol acrylic.
_______________________________________________________
Roseline Young installs two pieces in Alliance's new site-specific show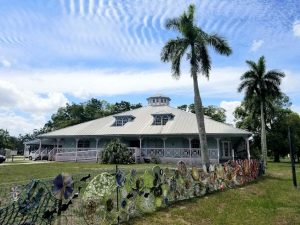 Roseline Young is one of three artists participating in a series of new outdoor site-specific art installations on view at the campus of the Alliance for the Arts. Her pieces are titled Currents of Destruction, a 2019 mixed media fiber on fishnet work, and River of Decay, made from found objects, fiber and chain link fence. These collaborative installations come from her "Art Speaks for the Earth" project, which engages viewers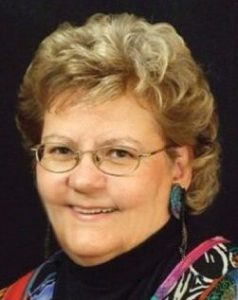 by their beauty and powerful environmental statements. Currents of Destruction involved the fiber art community in the creation of crochet rings to represent cyano-bacteria, green algae and red tide clogging the Caloosahatchee River, canals and beaches. River of Decay was created at Art Fest Fort Myers and the S.T.A.R.S Community Center with help from children calling attention to pollution in the Caloosahatchee which drains into the Gulf of Mexico.
Roseline Young is a fiber artist who works in hand weaving, art quilting, fabric dyeing and painting.  Young collaborates with various groups of artists to fight for Mother Earth and the growing problems of climate change and water quality.
___________________________________________________________
Cornell Fine Arts Museum to exhibit Jansen's first U.S. museum solo show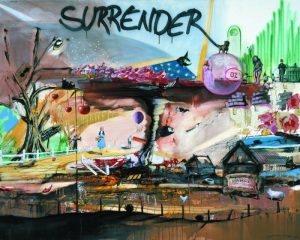 The Cornell Fine Arts Museum is exhibiting a solo show of work by Marcus Jansen September 18, 2020 through January 3, 2021. Titled E Pluribus Unum, the exhibition represents the first ever solo museum exhibition of Jansen's work in the United States.
This exhibition will focus on works Jansen created in the last 15 years and will be comprised of both large scale paintings and a selection of works on paper (among them a select number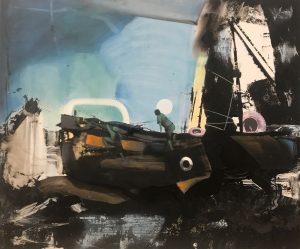 of new pieces on view for the first time) that examine Jansen's visual explorations of structures of power and the struggle to grapple with the nuanced reality of our time. The exhibition is being organized by the Cornell Fine Arts Museum in collaboration with the artist and will be accompanied by an illustrated catalogue.
While E Pluribus Unum may represent Jansen's first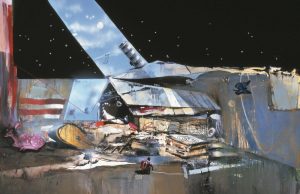 solo museum show in the United States, the Bronx/Fort Myers artist has enjoyed a number of solo shows abroad, including shows at La Triennale di Milano Museum in Milan and the Museum Zitadelle  in Berlin, and he participated in the 12th International Print and Drawing Biennial in Taiwan at the National Taiwan Museum of Fine Art. Works by Jansen are in collections of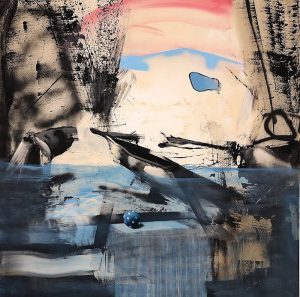 the Moscow Museum of Modern Art (MMOMA), The University of Michigan Museum of Art, The New Britain Museum of American Art, The Kemper Museum of Contemporary Art, The National Taiwan Museum of Fine Art, The Housatonic Museum of Art and the Smithsonian Institution in Washington D.C.
Jansen is known for powerful, monumental canvases that address poignant social and political themes. Through the use of an arresting visual language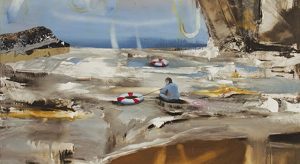 characterized by colorful and expressive brushwork, and references to contemporary and historical issues, Jansen invites viewers to engage in a reflection about the human condition. Jansen continues to explore surveillance and social divides in society and will place his iconic 2010 piece Obscure Line Between Fact and Fiction (3rd photo) to the museum for the show.
_______________________________________
Photographer Steve Conley on a Camera USA roll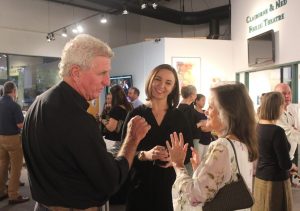 Fort Myers fine art photographer Steve Conley is on a Camera USA roll. He's been informed that his photo Monroe Café has been juried into the Naples Art Association's Camera USA 2020 National Photography Exhibition and Competition. It's the fifth time in six years, and the last four years in a row that he's had work accepted into the prestigious Naples Art photography show!
Conley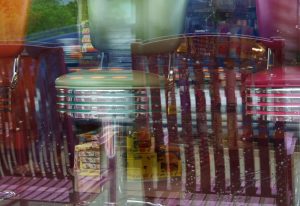 took Monroe Cafe last April in Georgia. He and Ingela were returning from Blue Ridge, taking back roads. "We stopped in this quaint little town for a rainy afternoon lunch," Steve explains. "I took a short walk as the food was being prepared and noticed this window scene. I was intrigued by the many layers of reflection both inside and outside the double-paned glass. The moment of capture was determined by the passing of a UPS truck."
Go here for the rest of this story.
_________________________________
3     FILMMAKERS
Setting sights on film, Kinley Gomez going places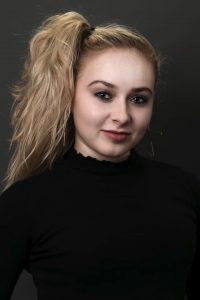 Kinley Gomez is going places. Just not to Southern California in June. That had been the plan. The incoming senior at Canterbury School is among a handful of talented applicants who've been accepted into the University of Southern California's vaunted advanced summer screenwriting program. But due to COVID-19 concerns, the four-credit course has been moved online. And for now, so has Kinley's attention and focus.
While she won't be able to meet people in person or network face-to-face, KG nonetheless expects to learn invaluable tools, techniques and tips in screenwriting once the six-week course starts in the last week in June.
Go here for the rest of this interview.
____________________________________________________
Film actor Cassidy Reyes working on craft with deliberate practice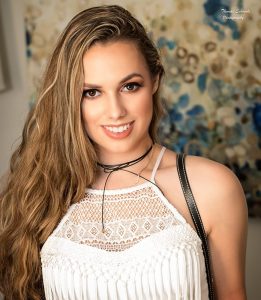 When the pandemic struck, Cassidy Reyes was filming Love Song and Power. Written by Stevie Kinchen and directed by Erik Krefeld and Eddel Martinez, the picture is about finding the courage to be oneself. Reyes couldn't be more perfect for the part of Alex. That's because Cassidy Reyes exemplifies the film's theme.
After graduating college magna cum laude, Reyes followed her parents' footsteps into medical school. Both Christine Dee-Reyes and Joseph Reyes are board certified optometrists who have been practicing locally for more than 20 years. But within six weeks, Cassidy realized that being a doctor was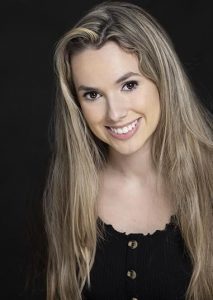 more her parents' dream than hers. She longed to be a film actor. So she telephoned her folks and broke the news that she was leaving medical school for the silver screen. She had to follow her dream.
Not surprisingly, her parents were less than thrilled. Cassidy had but one gig lined up at the time, and her parents assayed to impress upon their daughter how difficult and rare it is to make a living as a film actor.
"Mom's a realist," Cassidy acknowledges with a chuckle. "Dad's the ultimate optimist. But he is also involved in the local film community."
Go here for the rest of this interview.
Go here to see all of Cassidy's film credits.
_________________________________________
Evgeniya Radilova's role as Vamireniya no 'Lost Cos'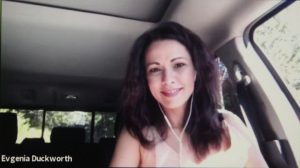 Last Monday (May 4), actor and Patrik/El Cavil filmmaker Evgeniya Radilova joined Fort Myers Film Festival Director Eric Raddatz from the front seat of her car in California for a virtual edition of T.G.I.M. Among the topics they discussed were her 2019 film Patrik (which was screened at the 9th Annual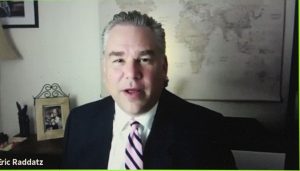 Fort Myers Film Festival), her new film El Cavil (which has been juried into the 10th Annual Fort Myers Film Festival and her newest project, Lost Cos, in which she portrays a character who's alter ego is an avenger who goes by the name of Vampireniya.
Vampireniya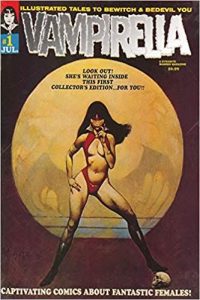 is not to be confused with the comic book superheroine Vampirella created in 1969 by Forrest J Ackerman and comic book artist Trina Robbins. In the ensuing 51 years, Vampirella became one of the most widely-recognized independent comic creations of all time. But Lost Cos' Vampireniya is actually the cosplay alter ego of a woman named Eni. Confronted by traumatic events from her abusive past, Eni must find an outlet for the rage welling up from inside before it destroys her. After being introduced to the underground world of cosplay in a New York club called Lost Cos, Eni creates a character she names Vampireniya. Although her stage act is premised on the comic book vampire succubus, Vampireniya is actually a carefully-constructed cover for Eni's mission to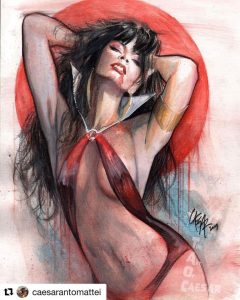 hunt down and eliminate those who abuse women. But Eni's lover, Zoey, worries that in Eni's attempt to face down her demons, she has blurred the line between fantasy and reality to the point of no return.
Interestingly, Evgeniya didn't know much about vampires when her friend, Jeff Leconte Georges, contacted her about playing Eni. And she'd never heard of Vampirella or the world of cosplay at all.
Go here for the rest of this story.
________________________________________
Spotlight on 'El Cavil' filmmaker Evgeniya Radilova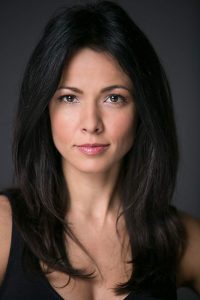 Evgeniya Radilova is an actor, producer, director, model, fire twirler and international woman of mystery.
She hails from Bulgaria, where Evgeniya became one of the best known faces on screen and the stage. A descendant of four generations of artists (her mom was an actor, her father a director), she became the youngest actress to play on the professional stage.
Shortly after graduating from the National School for Music (where she learned piano), she hosted Masters of the TV, one of the biggest television shows on Bulgarian National TV. She hosted the show for three years.
Go here for the remainder of this profile.
_____________________________
4     ART SHOWS AND EXHIBITIONS
Southwest Florida's museums, galleries and art centers are beginning to re-open as Florida and its individual counties move into Phase 2 of Governor Ron DeSantis' reopening plan. Large venues such as movie theaters, concert halls, arcades, playhouses and presumably museums, galleries and art centers are nevertheless subject to certain requirements, including (1) groups are limited to 10 or fewer people with six feet of space maintained between each party and the overall limitation restricting social gatherings to no more than 50 people; (2) regular cleaning and disinfecting is required; (3) owners are encouraged to conduct health screenings of employees; and (4) masks are recommended for both patrons and staff. In the meantime, some of Southwest Florida's museums, galleries and art centers are producing shows, and this online option may continue beyond reopening.
Nationally, financial losses to nonprofit arts organizations due to the COVID-19 pandemic are estimated to be $5.5 billion through May 2. These organizations and companies have also lost 210 million admissions due to cancelled events, resulting in a $6.7 billion loss in event-related spending at restaurants, lodging and nearby retail shops and stores – prompting 140 Chambers of Commerce from 39 states to tell Congressional leaders in a joint statement that "[t]hese institutions are important to every community, exposing residents to creativity and education and enhancing their quality of life."
Davis Art Center re-opening June 5 with 'Rumors or Reality?'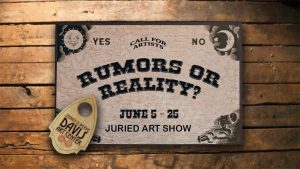 After great deliberation and extensive considerations, the Sidney & Berne Davis Art Center has decided to re-open on June 5 with its annual June juried art exhibition at reduced capacity. Appropriately, the theme of this show is "Rumors or Reality?"
"We will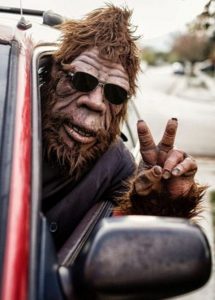 be following CDC reopening guidelines and taking a gradual approach in reopening which allows us to prioritize health and safety while taking progressive steps to restore regular operations," states SBDAC President & CEO Jim Griffith in making the announcement. "Our people (patrons, volunteers, supporters, artists, and staff) are our biggest assets, and we want to make sure that you're safe."
Griffith and the rest of the staff at SBDAC expect everyone attending the show to do their part.
After all, we're all in this together.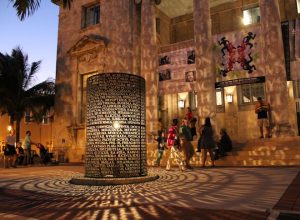 "Once our doors reopen to the public, you can expect to see signs asking people to come in very small groups, wash their hands, be mindful about who and what they touch, remain at least six feet apart, and observe the one way traffic designs while inside the building."
As Griffith sagely observes, this is so much more than just a new way of being. It's an art. It's the art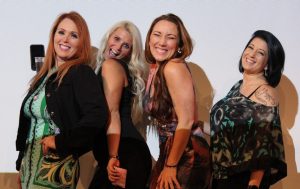 of social distancing.
"Now is the time for us to reach out to the community. Now is the time to continue. Now is the time to share our art forms. Now is the time to welcome you back. Things will be different. Some things will be better. We will do what we do best and create new experiences…create new memories…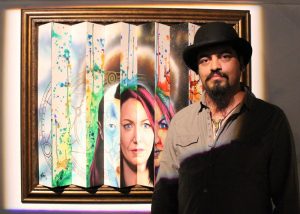 transform your lives. We look forward to serving you once again and eagerly anticipate your curiosity, your love of art, and your support."
Curated by Cesar Aguilera, "Rumors or Reality?" will be on view in the grand atrium from 6:00-10:00 p.m. on Friday, June 5.
_________________________________________________________
Alliance introduces outdoor site-specific installation on 10-acre campus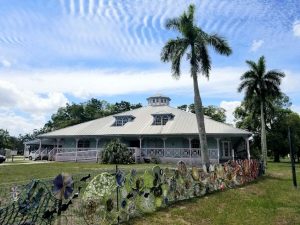 There's a lot going on at the Alliance for the Arts' ten acre campus. The art park along McGregor Boulevard is done. The long-anticipated Water Wall is coming. Sharon Isern's Coronavirus Ninja light projection mural can be seen after dark. And now you can also enjoy a series of outdoor site-specific artwork installations by local artists.
The artwork can all be viewed from the safety and comfort of your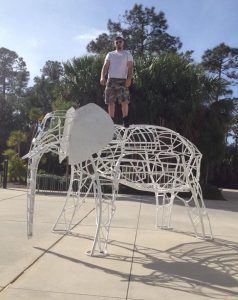 own vehicle by driving through the Alliance for the Arts parking lot.  Visitors can also get out of their cars and explore the artwork more closely on foot.  The artists featured in this project are James Futral, Nick Masiello, and Rosealine Young.
"We wanted to create a safe place for people to enjoy the visual arts," says Gallery Director Ehren Gerhardt. "Visitors can take the opportunity to get outside, out from behind a screen or device and interact with artwork in an outdoor setting."
For more information call 239-939-2787 or visit ArtInLee.org/PopUp.
______________________________________
Alliance's 'Light Projection Mural' artists named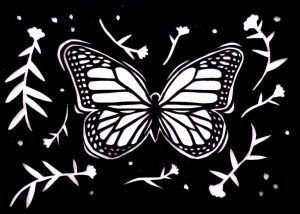 The inaugural lineup of artists participating in the Alliance for the Arts' Light Projection Mural Rotating Exhibit are Pat Collins, Shirley Hales, Sharon Isern, Kelsey Lang, Carolyn Sommers, Alyssa Stoff, Africa Valdez, and Lorraine Weiss.
Artists were asked to produce an 8.5 x 11 inch hand cut stencil depicting various themes such as messages of hope, beauty, the power of the arts in healing, healthcare workers and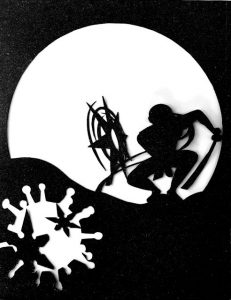 community. Each artist's work will be projected for approximately one week from dusk until midnight in a newly developed installation space that is visible to pedestrian and vehicle traffic along McGregor Blvd. The project will continue as part of the Alliance exhibition schedule for the next month, with the projection  artwork beginning at dusk on Monday, May 25.
"It is our hope that by bringing messages of compassion, creativity and hope that we may empower and uplift our community through the arts," says Gallery Director, Ehren Gerhard. The projection murals the community will see include:
Heroes Behind the Mask (Spray Paint on Dura-Lar Acetate) by Pat Collins (3rd photo);
Tree of Love (Cut Paper) by Shirley Hales;
Coronavirus Ninja (Cut Paper) by Sharon Isern (2nd photo);
Breathing Life Into Our Estuaries (Cut Paper) by Kelsey Lang;
Disconnected From Our Song (Cut Paper) by Carolyn Sommers;
Butterfly (Cut Paper) by Alyssa Stoff (1st photo);
Light at the End of the Tunnel (Cut Paper) by Africa Valdez; and
Thank You to Our Heroes (Cut Paper) by Lorraine Weiss.
Now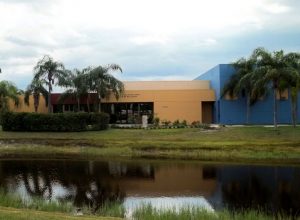 celebrating its 45th anniversary year, the Alliance for the Arts is a nonprofit community visual and performing arts center located in the heart of Fort Myers, Florida. Since 1975, the Alliance has been committed to transforming lives and improving community through the arts.  For more information, please call 239-939-2787, visit us at www.ArtInLee.org, find the Alliance on Facebook (www.Facebook.com/ArtInLee.org),  Instagram (@AlliancefortheArts) or follow it on Twitter (@ArtInLee).
___________________________________________________
DAAS re-opening with 'Pieces from the Vault' and clearance sale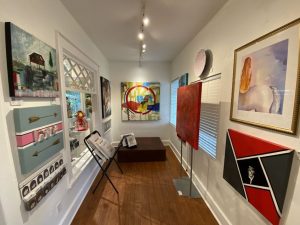 It has been a minute since the last opening reception at one of the few cooperative art galleries in town, DAAS CO-OP. The month of June will serve as the much-needed bridge towards restructuring and normalcy, starting with an exhibition of pieces from older collections from artists David Acevedo and Xavier a Brignoni and a clearance sale. Entitled "Pieces from the Vault," the exhibition will be on display through June 27,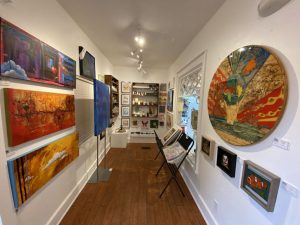 2020.
Just like most businesses, DAAS CO-OP has felt the impact of this pandemic. "It has been a few very difficult months, but we are too resilient and hardheaded to give up – so here we are and we hope the community continues to support us as they have done in the past," says president and co-owner David Acevedo, who is excited about the future of the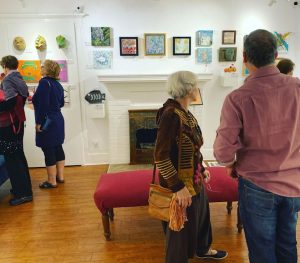 venue.
Currently, DAAS CO-OP is operating on a limited schedule, opening only Friday, Saturday and Sunday from 10:00 a.m. to 3:00 p.m. More hours will be added during the month of June. Up-to-date information can be found at daascoop.com.
DAAS CO-OP is located at 1815 Fowler Street, inside the Butterfly Estates in Fort Myers, FL. For additional information, please call 239-590-8645 during business hours.
______________________________________________
Sanibel's Watson MacRae readying gallery for re-opening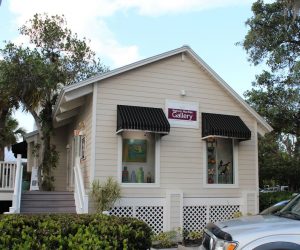 Maureen Watson advises that she's been readying Watson MacRae Gallery for re-opening June 1 now that Sanibel as followed suit with the State and Lee County in re-opening the island effective immediately. While Maureen is conflicted, she'll be in the gallery from 11:00 a.m. to 4:00 p.m. on Monday through Wednesday and Fridays, but it is best to make an appointment. She's following CDC guidelines, so masks and social distancing are sine qua nons (hence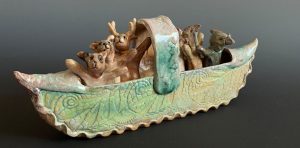 the appointment to avoid letting too many people into the gallery at one time). If you're wondering what the gallery is looking like these days, here's a video that Florida Weekly's Ella Nayor shot while she was in Watson MacRae picking up an artwork she ordered.
_______________________________________________
Centers for the Arts Bonita introduces virtual art exhibition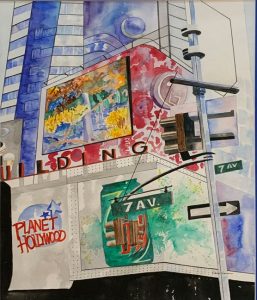 The Center for the Arts Bonita's virtual art exhibition is now live and can be viewed here. Viewers have the option of viewing a 6:15 minute virtual tour of the the works hanging in the gallery or examining each work individually. The exhibition consists of 54 works in various genres and media by 34 individual artists, as well as six untitled works by "artist unknown."
For more information or to purchase an artwork, you may contact the Center at 239-495-8989.
____________________________________________
Naples' Sheldon Fine Art commemorates Memorial Day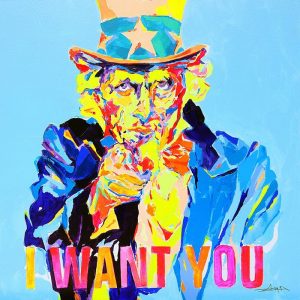 Sheldon Fine Art in Naples is commemorating Memorial Day through the art of Federico López Córcoles. It may seem strange to feature the art of a Spanish painter, but López's painting uniquely celebrate liberty and the ultimate price paid by our Veterans throughout the ages.
López utilizes bold brushstrokes and a bright color palette in order to convey the dimensionality and tonality of his subject. It is the variant of bright colors, not hues or tones, that add depth to his works. Color and the linework of his brushstrokes work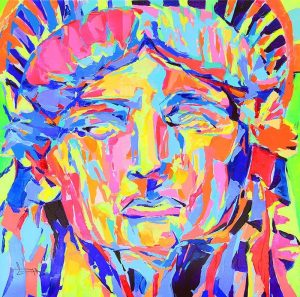 together to form an image, composed with decisiveness and accuracy. He continues to work on his art and exhibit in Spain today.
The artist was born in 1970 in the Alicante region of Spain, an area known  well for its artistic tradition and world-renowned artists. He studied drawing and painting from 1995-2001 at the Escuela Permanente de Adultos (EPA) San Carlos in Ontinyent, a Valencian community in Spain. During this time, he also got involved in working in the Association of Art 92 in Bocairent, another Valencian municipality,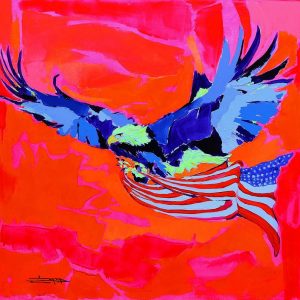 as well as in the Association "Font d'Art" in Ontinyent. By participating in these associations, López was able to exhibit his works to a broader audience in multiple group exhibitions around the Valencia region. Also, the exposure to many painters in the Valencian area through these associations and exhibitions allowed him to experiment with his style and developed his artistic vision into what we see today.
_________________
5        Public Art
'Water the Source of Life' mural being installed in Fort Myers' Viva Court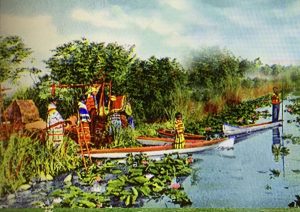 The Fort Myers Mural Society is launching a new mural project this week. Called "Water, the Source of Life," it is being painted by local muralist Erik Schlake in Viva Court in downtown Fort Myers.
In its press release announcing the project, the Fort Myers Mural Society states that the mural will draw attention to the Seminole Nation's desire to preserve and share their culture while reminding all of us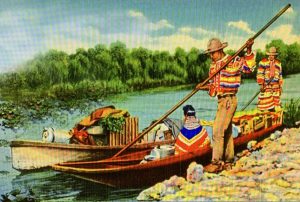 of the importance of clean water.
Traditional Seminole cultural, religious, commercial and recreational activities depend on clean water, which is inextricably linked to a healthy Everglades ecosystem. In fact, the Tribe's identity is so closely linked to the land that Tribal members believe that if the land dies, so will the Tribe. Consequently,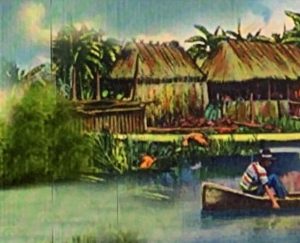 when the Everglades went into decline, The Tribe recognized that they had to act to protect and preserve the endangered natural ecosystem. So the Tribe formulated an ambitious $65 million multi-year program designed to mitigate the impacts of development on the environment and, more specifically, improve water quality, increase water storage capacity, enhance hydroperiods and remove phosphorus and other pollutants from water leaving the Reservation,

 flowing through Big Cypress National Preserve and entering Mullet Slough and the Everglades Protection Area. Because of its importance, the Seminole Everglades Restoration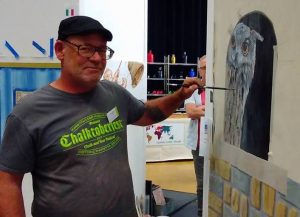 Initiative has been included in the report issued by the Governor's Commission for a Sustainable South Florida on the projects needed for Everglades restoration.
The Seminole Tribe occupies a prominent place in the history of Southwest Florida, particularly Fort Myers. The fort from which our town takes its name was constructed to serve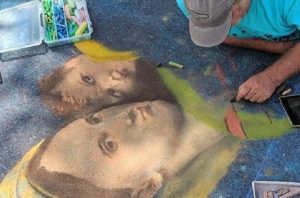 as a base of operations for locating, rounding up and deporting the Seminoles living in the Big Cypress and Everglades in 1850. When the federal government could not persuade Chief Billy Bowlegs and his people to voluntarily relocated to Indian territory in present day Oklahoma, they instigated a war that ended in the Spring of 1858 with the surrender and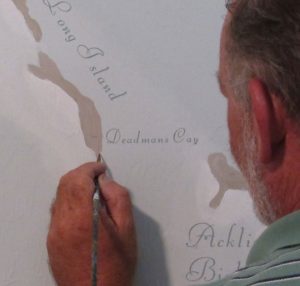 deportation of Bowlegs and 123 of his tribe. But roughly 300 Seminoles refused to leave, including 108-year-old Sam Jones, the former leader of the once mighty Mikasukis. They were the undefeated, the unconquered. But they did not possess an acre they could call their own until the State of Florida set aside 100,000 acres of swamp, sawgrass and wilderness as a reservation which exists to this day.
"Historians and anthropologists share with us the Seminole contribution to southwest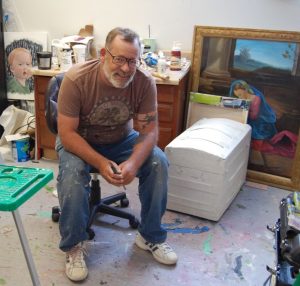 Florida's cultural legacy," the Fort Myers Mural Society amplifies. "Already a vulnerable population, the Tribe depends heavily on its natural resources for economic and sacred cultural identity. This is especially true when climate change alters the landscape and ecosystems on native lands. When hunting, fishing, and traditional gathering sites shift, and plants, animals, and aquatic species disappear, the Tribe will be unable to protect an ancient way of life."
Muralist Erik Schlake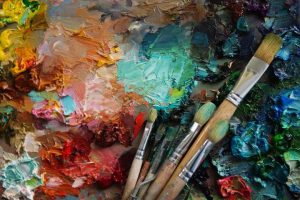 started his art career in St. Louis at the age of 23. After studying fine art, he felt unsettled until discovering various forms of decorative arts.  Becoming fascinated with the work of European decorative painters, the New York native quickly moved his work in that direction. Erik has worked with numerous private and commercial clients, developing one-of-a-kind murals and a multitude of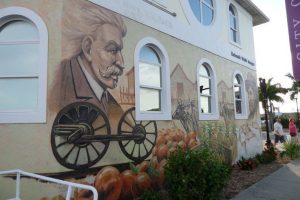 decorative arts in both residences and businesses locations. The project also bear the influence of contemporary street art and Schlake's participation in 2017, 2018 and 2019 in Salon, a world-wide gathering of artist from different countries that exhibit their work, teach master classes and discuss old and new techniques.
Pre-COVID-19, the Fort Myers Mural Society shared and celebrated the mural painting process with the community through an event it has affectionately called an "Art Stumble." However, in response to the pandemic and the ban on public events, the Society is inviting everyone to participate in the process instead via:
https://www.facebook.com/fortmyersmuralsociety/,
https://www.fortmyers-sanibel.com/ and
https://www.facebook.com/erikschlakedesign.
For more information, please contact fortmyersmuralsociety@gmail.com or telephone Shari Shifrin at 239-461-7245.
_____________________________________________________
City of Fort Myers' website now contains table of exterior artworks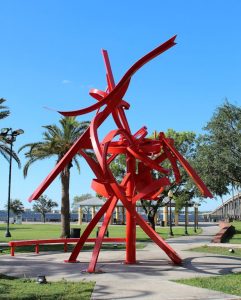 The City of Fort Myers' website now contains a table listing each of the outdoor artworks that comprise the City's public art collection, together with the artist who made the piece, the date it was installed and its location. Links are provided for some of the pieces that will take visitors to pages that furnish photographs and stories about their history, what they represent and the artists who created them.
"With the first official piece of Fort Myers public art dating back to August 17, 1913, we are fortunate to enjoy a long history of supporting the acquisition of additional installations," states the intro to the table. Go here to view this page on the City's website.
_____________________________
6.       Outdoor Art Fairs and Festivals
No outdoor art fairs or festivals were scheduled for the month of May. The 2020-2021 art festival season will presumably start up in October. However, year-round events such as Fort Myers Art Walk have been cancelled for the time being due to the COVID-19 pandemic.
_______________________
7      THEATER
Southwest Florida's theaters remain closed to the public. However, they may open again as soon as the State moves into Phase 2 of Governor Ron DeSantis' reopening plan. Although we don't know when that will happen, when it does, large venues such as movie theaters, concert halls, arcades and playhouses can reopen subject to the requirements that groups be limited to 10 or fewer people with six feet of space maintained between each party and the overall limitation restricting attendance to 75% of capacity. Regular cleaning and disinfecting will be required, owners are encouraged to conduct health screenings of employees and masks are recommended for both patrons and staff. In the meantime, many of Southwest Florida's community theater companies are producing virtual readings and shows, and this online option may continue beyond reopening.
Keys, Miranda, Streep and Hathaway headline virtual gala for NY's Public Theater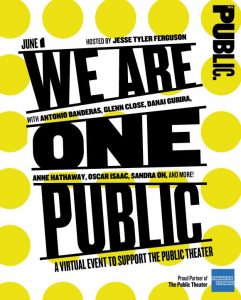 WE ARE ONE PUBLIC is a one-night-only virtual event hosted by Jesse Tyler Ferguson to support The Public Theater. It takes place at 8:00 p.m. on June 1.
The evening will feature performances and appearances by Todd Almond, Antonio Banderas, Troy Anthony Burton, Laura Benanti, Kim Blanck, Ally Bonino, Danielle Brooks, Michael Cerveris, Glenn Close, Jenn Colella, Elvis Costello, Daniel Craig, Claire Danes, Carla Duren, Danaya Esperanza, Jesse Tyler Ferguson, Jane Fonda, Nanya-Akuki Goodrich, Holly Gould, Danai Gurira, Anne Hathaway, David Henry Hwang, Stephanie Hsu, Oscar Isaac, Brian d'Arcy James, Nikki M. James,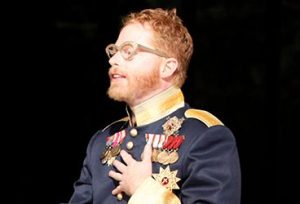 Alicia Keys, John Leguizamo, John Lithgow, Audra McDonald, Grace McLean, Lin-Manuel Miranda, Brian Stokes Mitchell, Margaret Odette, Sandra Oh, Kelli O'Hara, Mia Pak, Suzan-Lori Parks, David Hyde Pierce, Phylicia Rashad, Jay O Sanders, Phillipa Soo, Liev Schreiber, Deandre Sevon, Martin Sheen, Meryl Streep, Trudie Styler & Sting, Will Swenson, Shaina Taub, Kuhoo Verma,

Ada Westfall, Kate Wetherhead, and more.
Conceived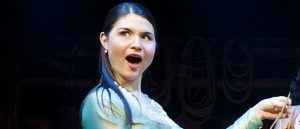 over 60 years ago as one of the nation's first nonprofit theaters, The Public has long operated on the principles that theater is an essential cultural force and that art and culture belong to everyone. Since premiering Hair in 1967,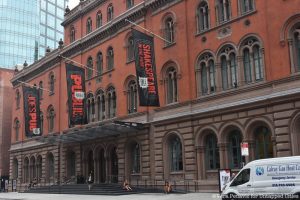 The Public continues to create the canon of American theater and is currently represented on Broadway by the Tony Award-winning musical Hamilton by Lin-Manuel Miranda and Girl From the North Country. The Public's programs and productions can also be seen regionally across the country and around the world. The Public has received 59 Tony Awards, 178 Obie Awards, 53 Drama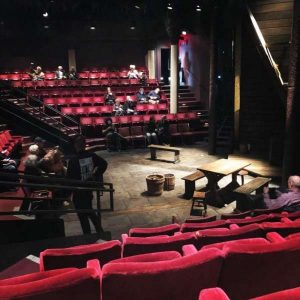 Desk Awards, 58 Lortel Awards, 34 Outer Critic Circle Awards, 13 New York Drama Critics' Circle Awards, and 6 Pulitzer Prizes.
Fort Myers' connection to the Public is through Derek Lively (King Hedley II, A Raisin in the Sun, The Agitators, Mountaintop), who not only performed at Public Theater during his 20-year career in Manhattan, but at Samuel Beckett and La Mama Experimental Theatre Club in the East Village, where emerging artists learn from established artists and where artists from around the globe share work and ideas.
The fundraiser will stream on The Public's website, YouTube channel, and Facebook page. RSVP for free to WE ARE ONE PUBLIC and you'll be automatically entered into a raffle to win a $100 eGift Card* to Seamless in New York. If you have any questions, please contact gala@publictheater.org or 212.539.8634.
______________________________
Hamilton coming to Disney+ on July 3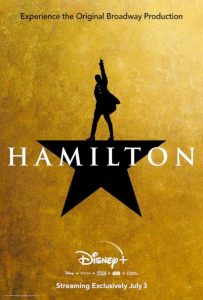 The Hamilton film is coming to Disney+ on July 3. Combining the best elements of live theater, film, and streaming, the film is described as a "leap forward in the art of 'live capture,'" which transports viewers into the world of the Broadway show in a uniquely intimate way. "No other artistic work in the last decade has had the cultural impact of Hamilton-an inspiring and captivating tale told and performed in a powerfully creative way," observes The Walt Disney Company Executive Chair Robert A. Iger. "In light of the extraordinary challenges facing our world, this story about leadership, tenacity, hope, love and the power of people to unite against the forces of adversity is both relevant and impactful."
Original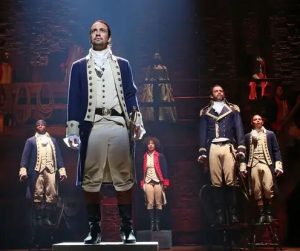 Broadway cast members Lin-Manuel Miranda (as Alexander Hamilton), Daveed Diggs (Marquis de Lafayette/Thomas Jefferson), Renée Elise Goldsberry (Angelica Schuyler), Leslie Odom, Jr. (Aaron Burr), Christopher Jackson (George Washington), Jonathan Groff (King George), Phillipa Soo (Eliza Hamilton), Jasmine Cephas Jones (Peggy Schuyler/Maria Reynolds), Okieriete Onaodowan (Hercules Mulligan/James Madison) and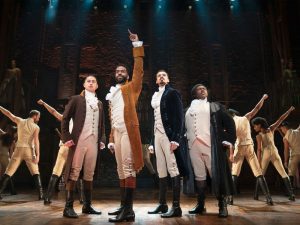 Anthony Ramos (John Laurens/Philip Hamilton) are joined in the film by Carleigh Bettiol, Ariana DeBose, Hope Easterbrook, Sydney James Harcourt, Sasha Hutchings, Thayne Jasperson, Elizabeth Judd, Jon Rua, Austin Smith, Seth Stewart and Ephraim Sykes.
Hamilton premiered Off-Broadway at the Public Theatre on February 17, 2015, winning 8 Drama Desk Awards,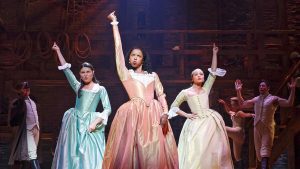 including Outstanding Musical. It opened on Broadway in the Richard Rodgers Theatre on August 6, 2015, going on to receive a record-setting 16 nominations at the 2016 Tony Awards, eventually winning 11, including Best Musical. It received the 2016 Pulitzer Prize for Drama. The West End production of Hamilton opened at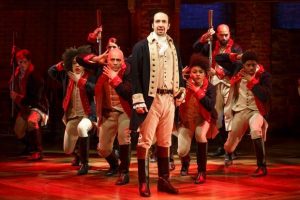 the Victoria Palace Theatre in London in December 2017, winning seven Olivier Awards in 2018, including Best New Musical. The first U.S. national tour of the show began performances in March 2017. A second U.S. tour opened in February 2018. Hamilton's third U.S. tour began January 11, 2019, with a three-week engagement in Puerto Rico featuring Miranda in the lead role.
_____________________________________________________________
Lab to benefit from Del Shores Foundation's Sordid Lives May 31 live stream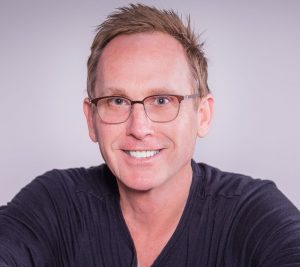 The Del Shores Foundation is presenting an all-star live stream benefit reading of Del Shores' play Sordid Lives, and Lab Theater will be one of 23 non-profit theaters to benefit from this fundraiser.
The live stream takes place at 8:00 p.m EST on Sunday, May 31. Produced and hosted by Emerson Collins and Del Shores, the live stream stars the cast from the play, film, TV series and the sequel – Newell Alexander, Rosemary Alexander, Bonnie Bedelia, Beau Bridges, Emerson Collins, David Cowgill,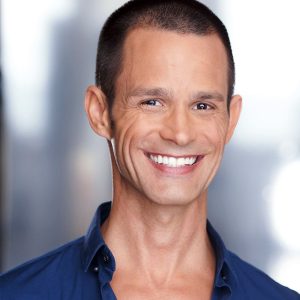 Dale Dickey, Beth Grant, Debby Holiday, Leslie Jordan, Caroline Rhea, Del Shores, and Ann Walker. With appearances by Carson Kressley, Georgette Jones, Alex Mapa, Aleks Paunovic, David Steen, a performance by Tony-winner Levi Kreis and a message from Olivia Newton-John.
Laboratory Theater has been honored to partner with Del Shores to produce his work, including a stage production of Sordid Lives in 2017 and a virtual reading last Tuesday. The Lab also supports The Del Shores Foundation.
The Facebook link will be available online on May 25th. The other platform for viewing is on  YouTube. So plan on tuning in to this "black comedy about white trash" for a good cause.
________________________________________________
SoDis Theater presenting new Bob Hilliard play, 'Inquisition'

On Tuesday, May 26, Laboratory Theater of Florida's SoDis theater will present a virtual reading of a brand new work from local author, playwright, and American hero Bob Hilliard. Called Inquisition, the play is set in the not too distant future where university professors and students have to decide just how much they are willing to sacrifice in return for their safety. The rest of this advance is here.
___________________________________
The life and times of playwright Bob Hilliard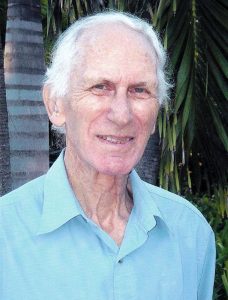 On Tuesday, May 26, Laboratory Theater of Florida's SoDis theater will present a virtual reading of a brand new work from university professor, local author, playwright and American hero Bob Hilliard called Inquisition. Hilliard has history with Lab Theater. He was a Holocaust Remembrance panelist in April of both 2017 and 2018.
Now living on Sanibel Island, Hilliard was born in New York City on June 25, 1925. He was drafted in 1944 and served in the Infantry. As the war ground to a conclusion in April of 1945, Bob found himself stationed near Landsberg, Germany, the place where Hitler penned Mein Kampf. Not long after he became the editor of his unit's newspaper,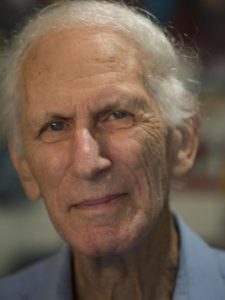 some of his buddies told him about a concert at Saint Ottilien Monastery that was being put on by Jewish musicians who'd been recently liberated from the concentration camp at Dachau, some thirty miles away. They told Bob there was a story there he might want to pursue.
At Saint Ottilien, Bob witnessed the extreme mistreatment of the displaced persons who had congregated there not only from Dachau but from Buchenwald as well. They were emaciated, gravely ill, and still wore concentration camp stripes. And just like the U.S. government had done over the preceding decade, the Army turned its back on them, leaving them to fend for themselves without any means or support.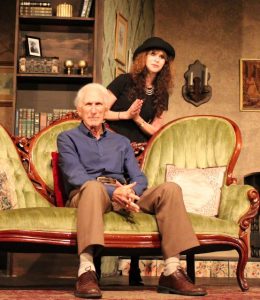 "I remember their faces, particularly the little children," Hilliard recounts. "They had no place to go. I cry when I think of those kids, begging, begging, pleading to be allowed to go to some country where they could find a new life, find a life again."
No one knew what to do with them, but Bob and his army buddies found creative ways to take care of them that went far beyond supplying them with food stolen from the mess hall, , browbeating the local Burgermeisters ("the same one who'd been in power under Hitler") into lending some aide, and giving them the shirts off their backs. Hilliard and fellow private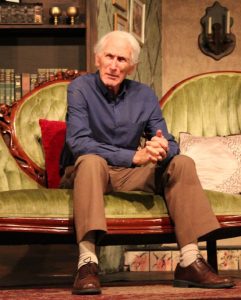 Edward Herman wrote a letter addressed to the American people regarding the conditions at the monastery. They personally mailed thousands of letters to people all over the United States imploring them to send donations. They asked everyone they knew to do the same.
As a result of the donations they received, Hilliard and Herman had a hand in saving hundreds of the survivors being cared for my the monks at Saint Ottilien. But the impact they made went much farther. A copy of their letter landed on the Resolute Desk. A story in the September 30, 1945 edition of The New York Times sums up what happened – "President Orders Eisenhower to End New Abuse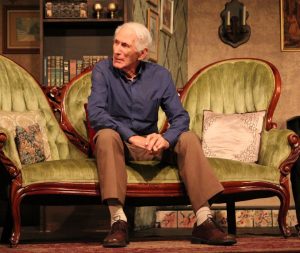 of Jews … Likens Our Treatment to that of the Nazis." As a result of Truman's reversal of the U.S. policy of neglect, the lives of untold numbers of Holocaust survivors were spared.
Bob has shared his story in both a documentary (Displaced! A Miracle at St. Ottilien) and a memoir (Surviving the Americans: The Continued Struggle of the Jews After Liberation). His message for the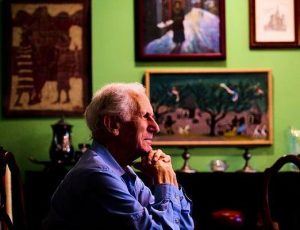 world is that the efforts of one individual, however lowly in rank, can make a life-or-death difference to another human being. More, "each one of us has a responsibility to do something about the people today in various parts of the world who are being persecuted or need help," said Hilliard in an interview by South Florida Sun-Sentinel Contact Reporter Sergio Carmona in May of 2015.
_____________________
Past SoDis virtual readings
Here are links to SoDis Theater's prior virtual readings, but know this. These titles are only available for a limited time before they will be archived forever:
Link to watch MACBETH
Link to watch INTELLECTUALS
Link to watch THE TEMPEST
Link to watch CHARM
Link to watch INVITING MARIE
Link to watch Bob Hilliard's INQUISITION
__________________________________________________________
Ghost Pro Lee Ehrlich picking up where he left off at Lab Theater last year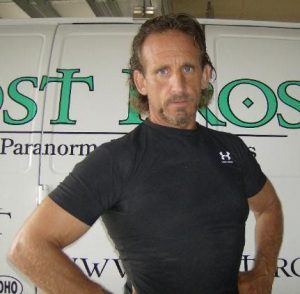 The Laboratory Theater of Florida will be hosting an evening of live virtual ghost "hunting" with world-renowned Ghost Pro Lee Ehrlich on May 30 starting at 10:00 p.m. and continuing until 3:00 a.m. Lee will set up his equipment and allow you to tag along virtually to witness the process of conducting a full investigation of the paranormal activity of several spaces at The Laboratory Theater of Florida campus. Your digital ticket will allow you access for up to 5 hours of live-streamed investigation and a Q&A with the Ghost Pro himself.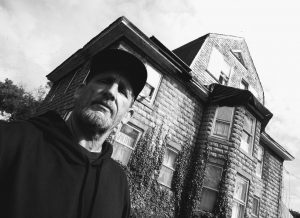 Staff, actors and visitors to the theater have reported seeing and feeling paranormal activity for years at the historic building in the Fort Myers River District. Some have encountered a female entity on the stairs; other have seen floating orbs in the mezzanine, and more. Guests to this "Ghost Watch" may be lucky enough to hear, with the help of Lee's equipment, the ghosts or even see them in one of the most actively haunted buildings in our area.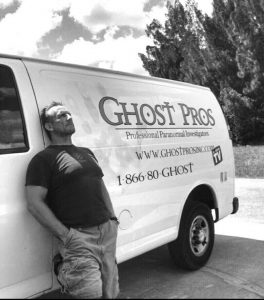 This won't be Ehrilich's first time investigating The Lab's nearly 100-year-old building. He and his team were here in May of 2019. Afterwards, he stated he sensed a lot of activity in certain spots of the theater.
Lee Ehrlich is an adventurer/explorer who is most notably recognized as the world authority on underwater paranormal phenomena.
He is a paranormal investigator with over three decades of experience who heads a nation-wide investigative team specializing in hostile and dangerous environments.
Ehrlich's investigative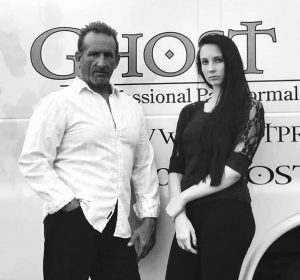 exploits have earned him critical acclaim, which has resulted in numerous radio and television appearances, including a starring role in The Travel Channel's "Legends Of." On the conference tour, he is a well-known lecturer who brings a unique perspective to the paranormal realm.
Tickets for digital access to the 10:00 p.m. to 3:00 a.m. investigation on Friday, May 30 are $25 per person and are available at www.LaboratoryTheaterFlorida.com or by calling (239) 823-4613. The theater is located in the River District of Fort Myers at 1634 Woodford Ave., Fort Myers, FL 33901.
____________________________________________________________
Studio Players reopening with 'Walter Cronkite is Dead' once Phase 2 begins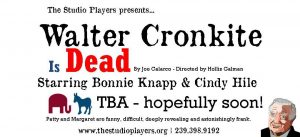 The Studio Players is planning to resume live performances once Florida enters Phase 2 of Governor Ron DeSantis' "Safe. Smart. Step-by-Step" reopening plan. While no timeline has been given for when that will happen, The Studio Players plans to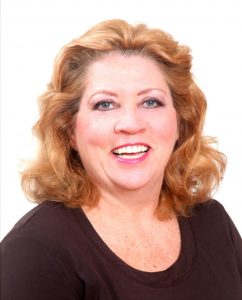 reopen with Joe Calarco's Walter Cronkite is Dead. Directed by Hollis Galman, the show stars Bonnie Knapp and Cindy Hile as Patty and Margaret, two "funny, difficult, deeply revealing and astonishingly frank" women.
"As you know, our venue at the Golden Gate Community Center's Joan Jenks Auditorium is a very large open space which will allow us to be able to social distant very easily," states Scott Lilly. "We are ready to set up our chairs with the 75% capacity following the recommended strict social distancing guidelines as soon as we get the word! Disposable masks, gloves and hand sanitizer will be provided if needed."
Under the guidelines,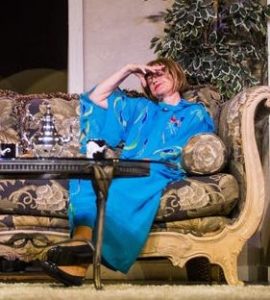 movie theaters, concert halls, auditoriums, bowling alleys, casinos, arcades and playhouses can open in Phase 2 with strict distancing in place and 75% capacity. Groups should be limited to 10 or fewer people and there should be six feet of space between each party. Cleaning and disinfecting should be done regularly and owners should consider conducting health screenings for employees. Masks are also encouraged.
The Golden Gate Community Center has taken extra steps to provide a safe place to be once the facility is back open, Lilly adds.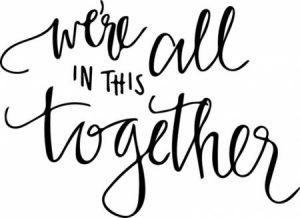 "Your safety will be our priority!"
For more information about the theater or Walter Cronkite is Dead, visit www.thestudioplayers.org or telephone 239-398-9192.
_____________________________________________________
May 28 'Best Seats in Your House' to feature two more virtual plays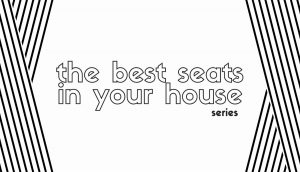 Theatre Conspiracy at the Alliance for the Arts' Best Seats in Your House series will continue at 7:30 on May 28 with two more short virtual plays that will not only gives audiences a chance to experience theater from the comfort of their homes, but create opportunities for actors in the area to perform safely from theirs. Each play will be directed by Producing Artistic Director Bill Taylor.
Go here for a synopsis of each play, the actors who will be performing in it, and streaming instructions.
_____________________________________
Naples Players announces changes to schedule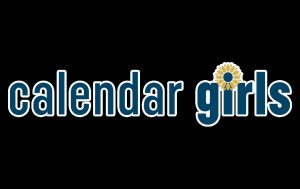 The Naples Players has been massaging its schedule in light of the COVID-19 pandemic and associated stay-at-home orders. In particular, TNP has
rescheduled Calendar Girls for April 28 – May 23, 2021;
announced virtual performances of Becky's New Car, streaming May 24 – May 31,
rescheduled this summer's production of The Wedding Singer to next summer (June 23 – July 25, 2021);
adjusted next season's production of An Ideal Husband into the Tobye Studio May 19 – June 13, 2021 in order to accommodate the added productions;
will be working to create virtual performances of the KidzAct productions of As You Like It and Pride and Prejudice; and
expressed optimism about being able to resume live performances as scheduled this fall with the raucous comedy Boeing, Boeing (opens September 30th).
If you currently have seats to Calendar Girls, An Ideal Husband, or The Wedding Singer, the TNP Box Office will reach-out within 30 days to get you re-seated for the new performance dates. If you have tickets to Becky's New Car, you will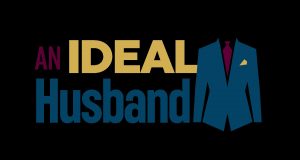 recieve an email within 2 weeks detailing access to the virtual performance. And if you are unable to attend any of the rescheduled performance dates, TNP asks that, if at all possible, you convert your seats into a tax deductible donation as this will be a critical component of the theater's future.
____________________________________________________________
TNP partners with Ocean Prime and Truluck's for dinner and a virtual show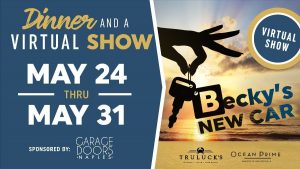 The Naples Players (TNP) is partnering with Ocean Prime and Truluck's to offer a special "pre-theatre" menu-to-go before patrons view the virtual performance of Becky's New Car May 24 to May 31, 2020.
The Naples Players is among the first companies in the country to produce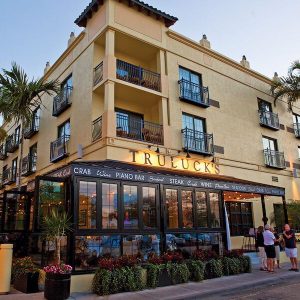 a full virtual production filmed after the COVID-19 closure. "We're excited to embrace the digital format not as a replacement for live theatre – and not even as a recording of live theatre – but as its own new medium to help tell the compelling stories you would have seen on-stage" says CEO & Executive Artistic Director Bryce Alexander.
Boasting pre-show menus before the COVID-19 shutdown, both Ocean Prime and Truluck's are excited to once again provide quality dining for 
patrons to enjoy before a TNP show.
"The Naples Players represent the gold standard of artistic expression and community advocacy here in Naples. Truluck's has been honored to partner with this beloved organization since our opening in 2004″ says Stuart Dickson, Truluck's General Manager.
Ocean Prime agrees.
"This is a nice way to take one step towards normalcy – by enjoying a great Ocean Prime dinner and yet another great performance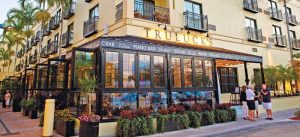 from The Naples Players" says Ocean Prime General Manager Rick Giannasi.
For $40, Ocean prime's take-out theater menu will include:
choice of House or Caesar salad
choice of 4 entrees
and carrot cake or homemade chocolate chip cookies for dessert.
Upgrade entree choice of Chilean Sea Bass or Prime New York Strip steak for an additional $10
For $65, Truluck's take-out theater menu will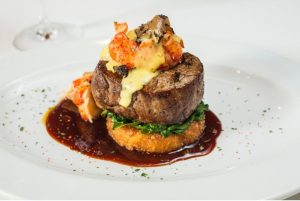 include:
Soup & Salad (Lobster Bisque, Sonoma Greens Salad, or Caesar Salad)
choice of 4 entrees
and carrot cake, chocolate malt cake, or Key Lime Pie
"What's really great about these dinners – besides their flavors –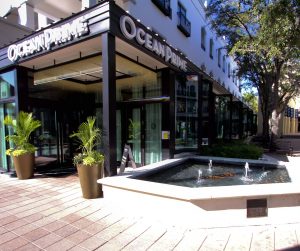 is the way our organizations are working together in this time of crisis. And that's what The Naples Players means when we say we are a 'theatre for the community'" finished Alexander.
Tickets for Becky's New Car can be purchased:
-on-line at www.naplesplayers.org – or
-on the phone at (239) 263-7990.
Take-out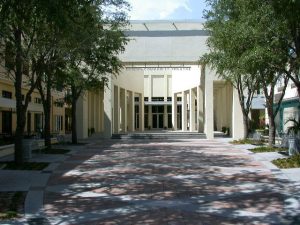 orders can be placed over the phone for both restaurants:
Ocean Prime, (239) 430-0404, 699 5th Avenue South, Naples, Florida 34102
Truluck's, (239) 530-3131, 698 4th Avenue South, Naples, Florida 34102
The Naples Players has soldiered on throughout the crisis to offer support to the community during these difficult times.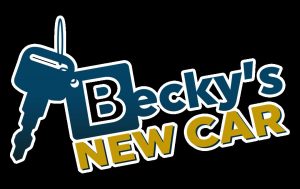 In addition to sewing face masks and building intubation boxes for local hospitals, the theatre has also provided a number of free, online classes and events including classes for anxiety, isolation, and people with disabilities.
Those looking to donate may do so directly on The Naples Players website at www.NaplesPlayers.org/donate or by texting "TNP" to (239) 349-3001.