With 'Sordid Lives,' Brian Linthicum gains level of synchronicity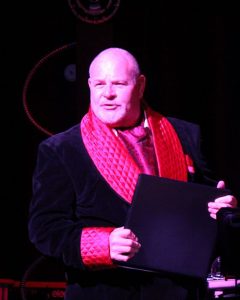 Del Shores' cult classic Sordid Lives provides actor Brian Linthicum a certain level of synchronicity in a world filled with uncertainty.
In 2017, Brian ended a five-year theater hiatus that followed his relocation to Southwest Florida from hometown Toledo when he played G.W. Nethercott for Director Scott Carpenter and Laboratory Theater of Florida. And now he's [hopefully] ending the shorter but no less oppressive hiatus that's been hoist on him and every other actor by the COVID-19 outbreak when he reprises the role in SoDis Theater's virtual reading of Sordid Lives tonight at 7:00 p.m.
"We've been here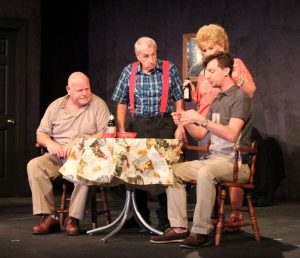 8 years now," relates Linthicum, referring to his partner of 20 years, Don. "I'd gone for about 5 years without doing any shows and didn't really think about it at first, but I was started getting a little depressed. I was trying to figure out why, and one day it finally hit me that it was because I hadn't been on stage to play any characters."
At that point, Brian wasn't familiar with any of the theaters in town.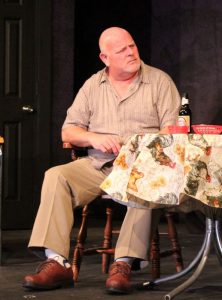 "In fact,  I had no idea if there even were any, so I started looking into it and stumbled across the auditions for Sordid Lives at Lab Theater.  I knew that was a great show, so I auditioned – scared to death because I hadn't done that for so long."
But he got a part, that of G.W. Nethercott. G.W. is married when the story begins, but he's carrying on with Peggy Ingram, who's his senior by 40 years. Then Peggy trips over his prosthetic legs and cracks her noggin wide open on the bathroom sink of the seedy motel that served as their secret rendezvous. The jig now up, G.W. is not only in Dutch with his volatile wife Noleta, but with Noleta's bestie and next door neighbor Sissy Hickey, who is coincidentally one of Peggy's sisters.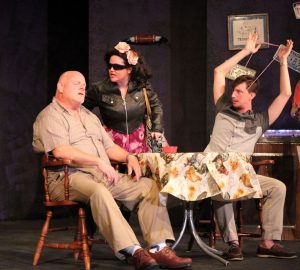 Retribution is a bitch, and Noleta gets hers at Butch's when she humiliates G.W. and his bar buddies in one of the funniest comeuppances in the sordid history of theater (in a scene that's even more satisfying than the video Carrie Underwood shot for "Maybe He'll Think the Next Time Before He Cheats"). Just look at the accompanying photos, and you'll see what Noleta put him through.
Sordid Lives was Linthicum's Lab Theater and Southwest Florida debut,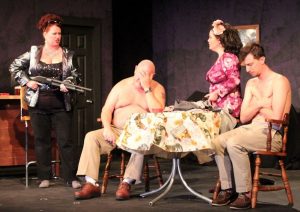 so reprising the role of G.W. in SoDis Theater's virtual reading of Sordid Lives just as it appears that Florida and the rest of the nation are emerging from the COVID-19 quarantine enable Brian to come full circle.
"Based on my [earlier] 5 year hiatus and now the quarantine, I realize that for me [performing live theater] is about getting to step outside of myself and into someone else's life."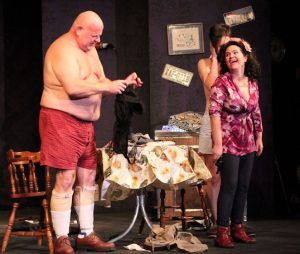 And for most of us living in a dystopian world dominated by isolation, uncertainty and escalating infection and mortality numbers, anyone else's life is preferable to our own. And Sordid Lives provides just elixir needed for times like these.
Fortunately, Linthicum prefers comedy.
"I love, love, love making people laugh. That gives me a high when I hear people laughing at  something I've done."
And with comedy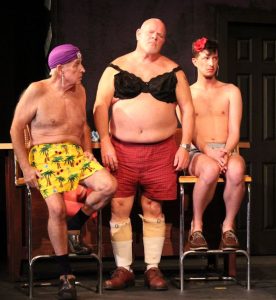 (as opposed to drama), there's more interaction with and involvement by the audience.
"There are parallels to stand-up, where you need to be able to read the audience to see what's going to work and what's not going to work so that you can see what you can push and what you should pull back."
Of course, some roles permit more audience interaction and involvement than others.
Like that of the Narrator in Richard O'Brien's Rocky Horror Show, a character whose job it is to stoke audience participation with a combination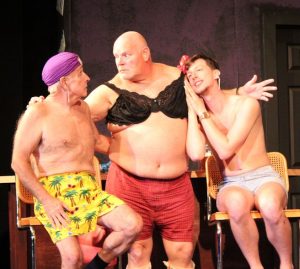 of dry wit, sardonic facial expressions and assuming the role of deliberative foil.
In the New Phoenix production earlier this season, cravat-clad Linthicum good-naturedly cajoled barbs and retorts from raucous audience members, including his favorite, "No Neck!"
"I had a good time with that one," Brian admits. But his tenure as Rocky Horror Narrator didn't start out as a whole lot of fun.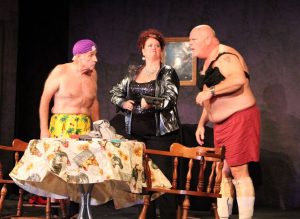 "When we first started rehearsing, part of me wondered how I was going to fit in because the rest of the cast was so much younger than me and the narrator, of course, doesn't interact with any of them," he explains. "So I wasn't really getting to know the other people in the show. It was kind of lonely for a while. But then Brenda told me to go ahead and do what I wanted with the character when I was on stage, and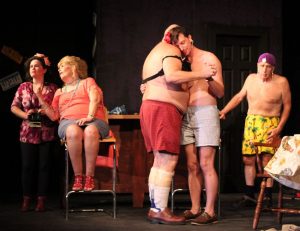 that took it to a whole new level," which earned him the respect and admiration of the cast, who came to appreciate his unique contribution to inducing audiences to go wild.
Over the course of his longish career, Brian has not only enjoyed the good fortune to play characters in shows with cult followings, he's also been in several that have prompted protests from the local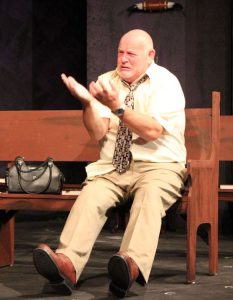 community.
"When I moved to Corpus Christi, I did a number of shows at several different theaters including Bent at Corpus Christi University. That was a very heavy drama about the persecution of homosexuals in Nazi Germany [taking place during and following the Night of the Long Knives]. And we had all kinds of protesters every night. It definitely was an adult show, and I can see why some people felt the need to protest. But it was also good publicity."
Rather than feeling intimidated by the protests and attendant publicity, Brian fed off the energy.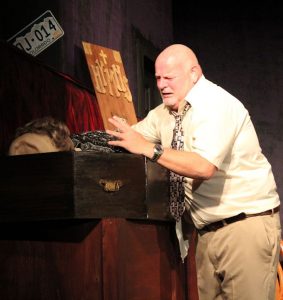 He also used it to take his craft to a whole new level.
He repeated the experience several years later when he did Love! Valor! Compassion!, a Tony-winning comedy [Best Play, 1995] set in Duchess County, New York where over the course of three weekends, eight gay men gather to find refuge from their mundane lives only to discover that their merriment is haunted by the specter of HIV and AIDS.
"It had a lot of nudity in it," Brian recalls. "After the first act, a group of us would go over by the stage door and count the number of people who'd walked out."
There's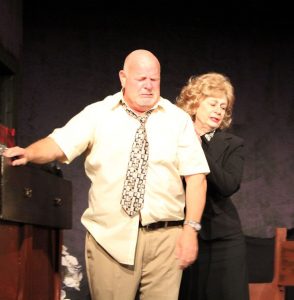 something unique about being in a live theater show with that kind of controversy.
If you'd known Brian in high school, you would not have written "Most Likely to Succeed in Live Theater" in his yearbook.
"I was very much a loner in high school. Honestly, when I wasn't in school, I spent most of my days sitting on the front porch reading. But I had this great art teacher. Her name was Nancy Kramer. She directed theater in the summer. She approached me about auditioning. I thought she was crazy."
She was doing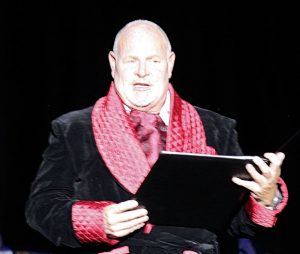 Play It Again Sam as a summer stock production in the round.
"But I went, and she gave me the lead. The first time you hear applause, you're hooked for life."
That was in his sophomore year.
He was in all the plays and spring musicals that followed, ,and even played the lead in You're a Good Man Charlie Brown in a production that featured his high school's alum.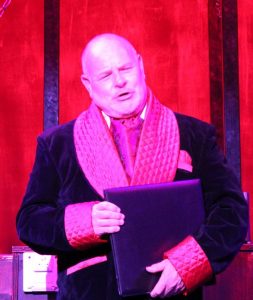 It's a show he's done twice more since then.
In addition to Southwest Florida, he's done community theater in Toledo twice, Corpus Christi (Texas) and for nine years in Chicago. Because his day job requires some nights, he cannot perform as often as he'd like, but he still manages at least one show per year.
"So far, that seems to satisfy the need."
But he no intention of stopping any time soon, and his biggest concern right now is for the viability and vitality of community theater.
"Even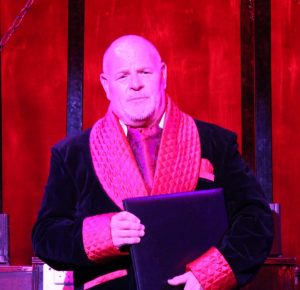 after they re-open, how are we going to get the audiences back in the theater? How are going to manage the seating? Will we ever be able to have a full house again?" Brian asks. "The actors need that audience out there. So maybe if we can't get as big of audiences, we'll get lively ones."
Here's a thought. Just include Brian Linthicum in the cast, and you're sure to get a reaction.