Evgeniya Radilova's role as Vampireniya no 'Lost Cos'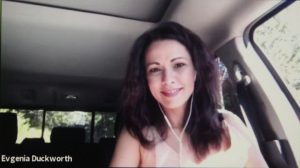 Last Monday (May 4), actor and Patrik/El Cavil filmmaker Evgeniya Radilova joined Fort Myers Film Festival Director Eric Raddatz from the front seat of her car in California for a virtual edition of T.G.I.M. Among the topics they discussed were her 2019 film Patrik (which was screened at the 9th Annual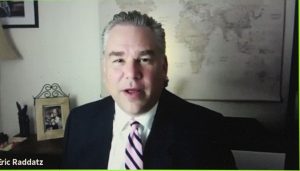 Fort Myers Film Festival), her new film El Cavil (which has been juried into the 10th Annual Fort Myers Film Festival and her newest project, Lost Cos, in which she portrays a character who's alter ego is an avenger who goes by the name of Vampireniya.
Vampireniya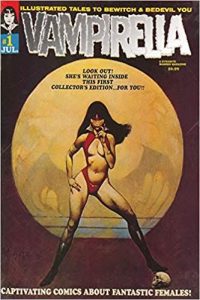 is not to be confused with the comic book superheroine Vampirella created in 1969 by Forrest J Ackerman and comic book artist Trina Robbins. In the ensuing 51 years, Vampirella became one of the most widely-recognized independent comic creations of all time. But Lost Cos' Vampireniya is actually the cosplay alter ego of a woman named Eni. Confronted by traumatic events from her abusive past, Eni must find an outlet for the rage welling up from inside before it destroys her. After being introduced to the underground world of cosplay in a New York club called Lost Cos, Eni creates a character she names Vampireniya. Although her stage act is premised on the comic book vampire succubus, Vampireniya is actually a carefully-constructed cover for Eni's mission to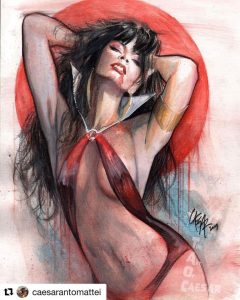 hunt down and eliminate those who abuse women. But Eni's lover, Zoey, worries that in Eni's attempt to face down her demons, she has blurred the line between fantasy and reality to the point of no return.
Interestingly, Evgeniya didn't know much about vampires when her friend, Jeff Leconte Georges, contacted her about playing Eni. And she'd never heard of Vampirella or the world of cosplay at all.
"He said, 'I'm doing a film about a character called Vampireniya and you are it,'" Evgeniya told Eric Raddatz during the virtual T.G.I.M.
Evigeniya had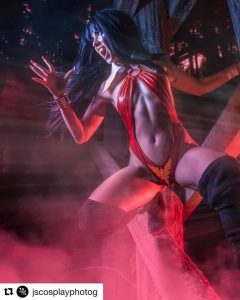 reservations, but then tried on the costume, a revealing liquid red high-cut Brazilian thong trikini.
"When I put on the costume for the first time, I felt incredibly sexy in the outfit and could see myself in the role."
It was that oversexualized, revealing costume that plagued Vampirella for most of her 51 year career as a paranormal investigator on a mission to hold demons accountable for their misdeeds. But the costume actually fit Vampirella's haughtily sensual, unabashedly pansexual personality and the complete absence of priggishness on her home planet of Drakulon. As an alien bound by neither earthly mores
nor  conventions, the sexually autonomous Virpirella was free to choose her sexual partners and dress as she pleased without answering to any one, least of all Earthlings.
It remains to be seen if Radilova's Lost Cos character Eni possesses that quantum of feminism, but Evgeniya's infatuation with Vampireniya's costume was purely pragmatic. The form-accentuating thong trikini frees Radilova to make the whip work and fire dancing she's been doing for several years now and integral part of her character's cosplay stage performance. When you see Radilova in the costume, it's easy to see how Eni could lure in physical and sexual abusers.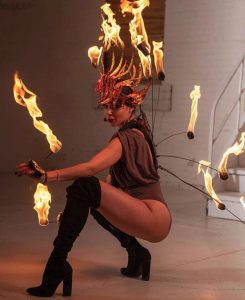 Evgeniya has been fire dancing for a number of years. In fact, fire dancing played an integral role in her transition from acting to directing and producing films. In 2016, a singer/songwriter friend, Darja Schabad, got the idea of including a fire dance scene in a music video she was planning. She induced Evgeniya to teach her the fine points of the art. One thing led to another, and Schabad asked Evgeniya to direct the music video, which they titled True Paradise. It didn't just win Best Music Video at Film Miami Fest 2017, the Winter Film Awards and LA Cinema Festival of Hollywood, it inspired Evgeniya to move behind the camera.
Spurred by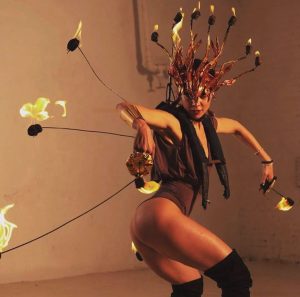 their joint success, Evgeniya and Darja co-founded I DareProductions, which takes its name from Radilova and Schabad's espoused mission to have the temerity to tell stories that inspire people to be more aware of each other, extend a helping hand to those in need, and recognize what is truly important in life – the human connection. At IDare, Radilova has written, produced and directed Patrik and El Cavil.
Some might view Radilova's introduction to fire dancing as happenstance. She considers it kismet. She discovered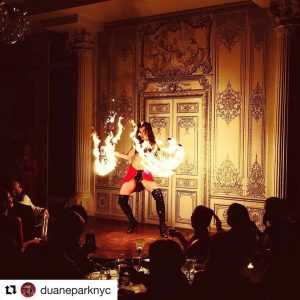 the art form at home in Bulgaria some time before she immigrated to the United States.
"I saw these tourists dancing with fireballs and was drawn to them," Evgeniya told Raddatz during the virtual T.G.I.M. Radilova wasn't aware of anyone in Bulgaria who was performing fire dances, and she was enthralled by what she saw.
The art form traces its origins to the Maori people of New Zealand. Hundreds of years ago, Maoris warriors employed poi as an exercise to train for battle.
Translated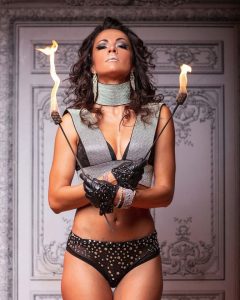 as "ball on a string," poi consisted of a ball of natural flax fibers anchored by the pithy middle of the raupo stem. By swinging the heavy balls, the warriors developed the wrist strength and flexibility needed to handle various weapons and tools. But contrary to popular belief, the art of dipping poi balls into fuel and lighting them on fire did not occur until the mid-20th century as a progression of the Samoan fire knife, known as the ailao.
As the story goes, a Samoan-American by the name of Uluao Letuli (often known as Freddie Letuli, a nickname he got because he could dance like Fred Astaire) was inspired at San Francisco's Shriner's Convention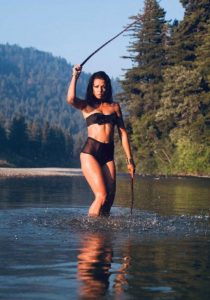 in 1946 to light his knife on fire after watching a fire-eater and baton twirler perform. Uluao's fire knife was an instant hit. In no time, poi and other Polynesian dancing instruments were modified to be lit on fire. The first fire poi performances began in the 1950s in Hawaii as tourist attractions. The popularity of fire poi, fire staff, and fire knife at Hawaiian luaus inspired other types of fire instruments, including fire fans, fire umbrella, fire balls and fire whips, but fire dancing did not become popular on the mainland until the 1990s. Today there are hundreds of fire dancing troupes across the nation, each specializing in their own specific tools and types of dance.
But the Bulgarian tourists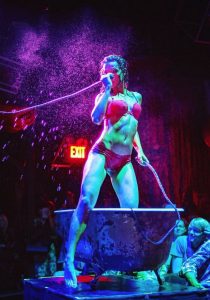 were Radilova's first exposure to the art form. She induced the tourists to sell her their fireballs and she started practicing on her own.
"But I never did anything with it until I came to America," Evgeniya continues. "[When I got here], I didn't know anyone, and I was doing these miserable little jobs like handing out flyers 2-3 hours outside the city for $6 an hour. Then I saw this community of 20 or so firedancers do this massive show. 'I can do that!' I said to myself, so I introduced myself to them and for the next year I performed with them. It was an incredible journey."
And now she's poised to continue the journey.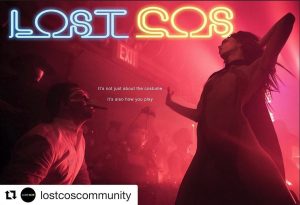 In fact, in Eni and her superhero alter ego Vampireniya , Radilova saw the chance to take her art to another level.
But there's more to Lost Cos and Vampireniya than whip work and fire dancing, as appealing as that may be.
Lost Cos is primarily a collaborative effort between the entertainment industry and the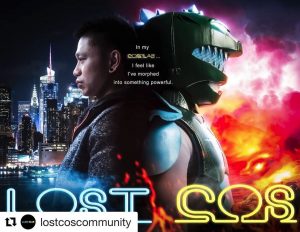 cosplay community, with a host of stage performers, musicians, comic book artists and other creative talents mixed in. In writing, filming and producing the project, the objective of the Lost Cos creative team (which consists of writer/director Robin De Levita, writer/DP/producer Michael Tosner, Creative Director/Producer Jeff Leconte Georges, Producer Kees Abrahams,, Associate Producer Catriona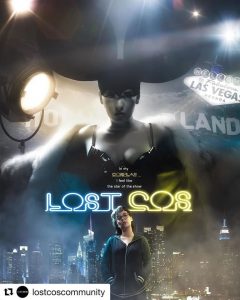 Rubenis-Stevens and Radilova, who functions as a co-producer along with being the production's lead actor) is to bring exposure and provide exciting opportunities to cosplayers in New York and beyond.
If you're new to the term, cosplay is a performance art in which participants called cosplayers design and wear costumes and fashion accessories to represent a specific character, typically within the genres of anime, cartoons, comic books, manga, cinema, television, and video games.  It was inspired by the practice of fan costuming at science fiction conventions beginning with Morojo's "futuristic costumes" created for the 1st World Science Fiction Convention in New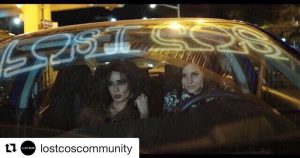 York City in 1939 (although some postulate that the earliest examples of cosplay can be found during the Renaissance in 16th Century Venice, Italy). A contraction of "costume" and "play," the term was coined in Japan in 1984. The rapid growth in the number of people cosplaying as a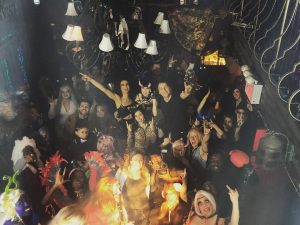 hobby since then has made the phenomenon a significant aspect of pop culture all over the world. There are no age restrictions and, in fact, far more adults participate in cosplay than children.
"We are in tight communication with the cosplay community to make sure our content is relatable and entertaining," states Lost Cos' official website. "We will also offer a volunteer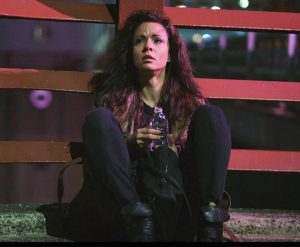 program as well for cosplay talents."
Much of the action in Lost Cos takes place in a fictional underground New York club called Lost Cos, a place where a sexy blend of costume artistry, thunderous jams, and burlesque style curiosities await all who can gain entry and costume culture bohemians can "lose themselves, or perhaps find themselves, behind a mask."
"The main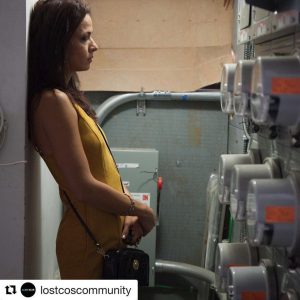 purpose of the show is to shed light on the cosplay community because we realize how much work and heart and soul these people put into their costumes," Evgeniya amplifies. "And we think it is under-appreciated. They build their costume for a year to go to one convention. They don't have a club they can hang out at. So we're trying to create the first TV cosplay series with the first cosplay bar that can highlight cosplayers and bring them to light. My character is a cosplayer and she has an act that is performed live in the club which brings all the characters together."
The production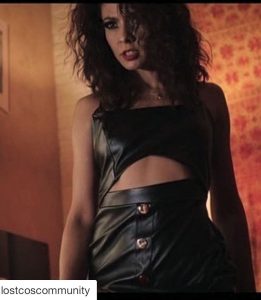 had completed about 60% of its filming when the pandemic hit.
"Maybe [the hiatus] will work out for the good because it's giving us the chance to pause and reflect on what we've done and make adjustments that will work out for the overall enhancement of the project," Radilova told Raddatz, putting a positive spin on the suspension of production work caused by the COVID-19 pandemic.
The project launched last summer with just two pages of script. By December, the script had swelled to more than 60 pages, with a cast and crew of more than 130.
They'd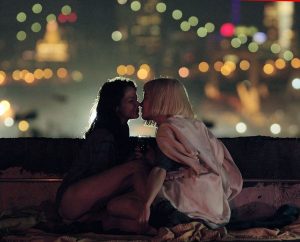 been filming at a frenetic pace. Now they get to step back, see what they've produced and make any adjustments necessary to enhance their final product.
"I'm happy to say that I helped cast a number of actors I know and have worked with before," adds Radilova. "But [Creative Director] Jeff Georges has done most of the casting."
Founder of Georges Leconte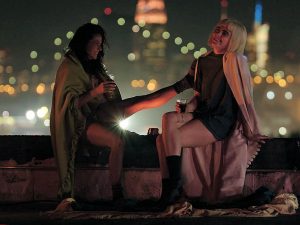 Creations and known to the Cosplay community as "JSCOSPLAYPHOTOG" and "JSCOSPLAYART", Georges is a published entertainment / documentary photographer and graphic artist from Brooklyn, New York.  Descending from a lineage of surrealistic and abstract artists (sculptors and painters), Jeff is the first in his artistic family to take on a camera, a graphic tablet and a digital pen as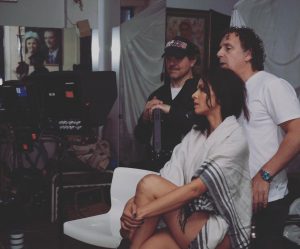 his artistic medium.  Jeffrey did not acquire any formal education in photography, but instead, studied his craft during his trials as a New York City street photographer. His cosplay art has been featured on PlayBoy Bulgaria as well as several notable cosplay publications including Cosplayzine, Cosplay Realm, Cosplay Alliance Magazine and Cosplay Culture Magazine. He has also been nominated for 2019 best Cosplay Photographer at QuirkCon.
Radilova is
equally quick to tout the accomplishments of writer/director Robin De Levita, who brought her on board the Lost Cos creative team. De Levita has produced 3 feature movies, line produced more than 100 television shows and motion pictures, and produced more than 80 first class theater productions in 7 countries, including 17 Broadway and 4 West End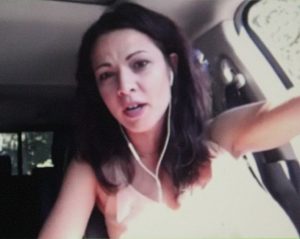 productions. Along the way, De Levita has won numerous international awards including Tony Awards for Titanic, 42nd Street and Into the Woods, plus a Laurence Olivier Award for The Who's Tommy.  In Europe, Robin was responsible for many musical theater productions such as The Lion King, Les Miserables, CATS, Miss Saigon, The Phantom of the Opera, Dance of The Vampire, Blue Man Group, Chicago, Sweeney Todd,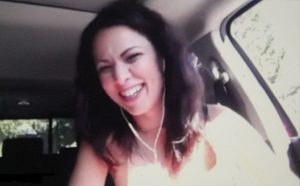 West Side Story, Cabaret, AIDA and many others. For 5 years he was part of the board of Stage Entertainment overseeing all theatrical productions world-wide. In recent years, De Levita has gained notoriety for his use of innovative staging techniques such as the rotating auditorium and a system that seamlessly integrates video with movable and rotating stages.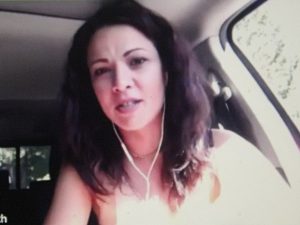 Radilova's own credits are equally extensive and can be viewed here.
During the virtual T.G.I.M., she also discussed her short film El Cavil, which will be screened by the 10th Annual Fort Myers Film Festival. Go here to read her commentary.
You will find Executive Director Eric Raddatz on the Fort Myers Film Festival's Facebook page each Monday night from 7:00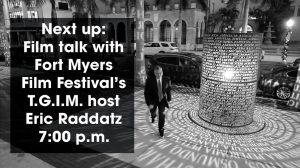 to 7:30 with a new special guest. Together, they'll talk about current projects, the state of the indie film industry in a post-pandemic world and the films you should be streaming and reviewing during the pendency of the stay-at-home orders and recommendations.
May 11, 2020.