For Rachael Endrizzi, directing is all about storytelling and personal connections
[This is the third and final installment of Art Southwest Florida's series of articles on actor, director and arts educator Rachael Endrizzi.]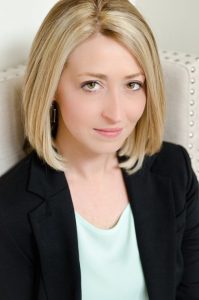 Rachael Endrizzi fashions herself as a storyteller. Her medium, however, is not putting words on a page. Rather, it is breathing life into words that a playwright has written. Sometimes she gives impetus to the story from the vantage of director. At other times, it's as an actor.
"I prefer directing over acting because I love seeing stories come together," Rachael remarks. "As an actor, you're a piece of the story, a piece of the puzzle, but so much of your energy has to go into your character that you don't always get to enjoy the whole story. You don't have the luxury in the middle of a play of sitting back and enjoying it because you're busy [portraying your character]. But as a director, you get to be the audience every day. So I love seeing it come together."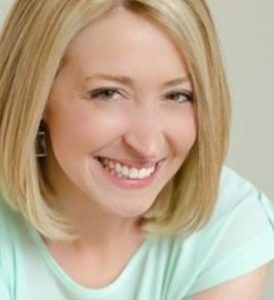 Over the course of her career, Rachael has directed some marvelous shows, including Pinkalicious, the Musical (The Legacy Theatre), Always … Patsy Cline (The Legacy Theatre), Lend Me a Tenor (The Legacy Theatre), Baskerville: A Sherlock Holmes Mystery (Theatre Conspiracy at the Alliance), Marian: The True Story of Robin Hood (Theatre Conspiracy at the Alliance), Gideon's Knot (Theatre Conspiracy at the Alliance), 33 Variations (Theatre Conspiracy at the Alliance), The Nerd (Off Broadway Palm), Moonlight & Magnolias, Camping with Henry & Tom (BIG ARTS Strauss Theater), Mr. Burns: a Post-Electric Play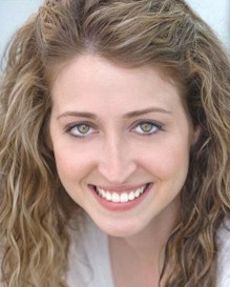 (Theatre Conspiracy at the Alliance), Freud's Last Session (BIG ARTS Strauss Theater), The Bible: Complete Word of God (abridged)(Theatre Conspiracy at the Alliance), Social Security (Florida Rep, Asst. Director), The Odyssey Experience (Spark Theatre Company; Florida Rep Touring Show), The Fisherman & His Wife (Spark Theatre Company); Harriet Tubman: An American Moses (Spark Theatre Company); The New Kid (Spark Theatre Company); Baskerville (Ashland University), Dead Man's Cell Phone (Lorain Co. Comm. College), Thomas Edison: Fire of Genius (Florida Rep Touring Show), And Then They Came for Me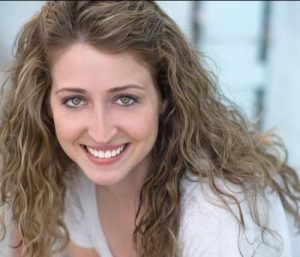 (Florida Rep Touring Show, 2010-11), And Then They Came for Me (Florida Rep Touring Show, 2009-10), Cinderella Confidential (Florida Rep Touring Show), Red Herring (Theatre Conspiracy), Shipwrecked! (Theatre Conspiracy), All the Great Books (abridged)(Theatre Conspiracy) and The Complete Works of Shakespeare (abridged)(The Legacy Theatre; Theatre Conspiracy).
Of course,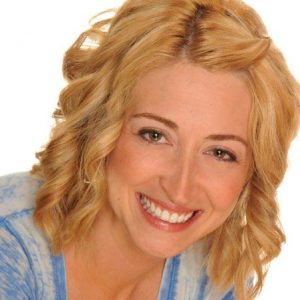 there's one downside to directing insofar as storytelling goes.
"When the show opens, the director's job usually ends. At least when you're working with adult actors. On opening night, I hand it over to the stage manager and he or she takes it from there. If I'm directing something out of town, I may not ever get to see it again. I become superfluous, but that's a beautiful thing. We made this story together and then it goes to the stage manager to run the show from there and have fun with it."
But that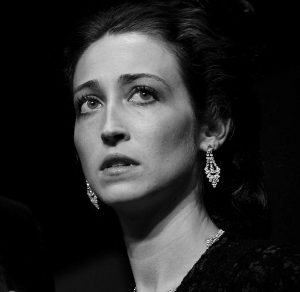 also means that Rachael normally doesn't get to attend closings. Since most shows improve like fine wine over the course of their run, she is handing off a work in progress. So there's a tinge of unfinished business in such situations.
But there's always another story to share.
Rachael acknowledges circumspectly that COVID-19 and the ongoing risk of infection may affect the types of stories she gets to tell in the future. For one, she predicts that it may be necessary for theaters from Broadway and the West End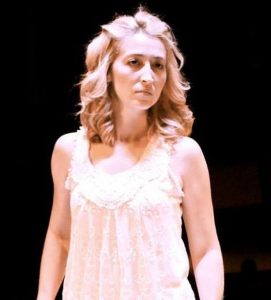 to Broadway Palm and Southwest Florida's warren of community theaters to opt for smaller casts, perhaps even one and two actor shows. But not because social distancing mandates smaller casts, but because theaters may not have the budget for bigger productions as a consequence of the revenue they've lost during the months they've been closed.
"That may be the way to go in the short term, until a vaccine or therapy is developed. [Theaters] just may not be able to afford to hire the same size cast and crews that they would have before."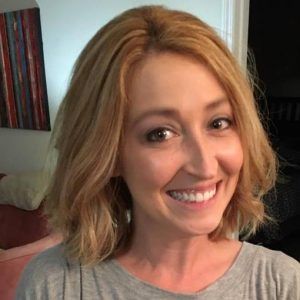 Endrizzi also expects there to be changes in the way musicals are staged and choreographed. One approach might be to switch to a concert version of the show, with actors spaced out and doing either no or very limited choreography.
"I think we'll also see some directors and choreographers get pretty creative. There may still be a lot that you can do in a safer way."
For example, Rachael is in North Dakota right now stage managing a country-western variety show called the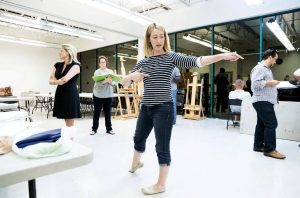 Medora Musical, and the show's director and choreographer have decided to keep couples together rather than having them switch partners during square dance and hoe-down numbers as they would have done pre-COVID-19.
Some changes will be uncomfortable, both for directors, choreographers and actors and the audiences who come to a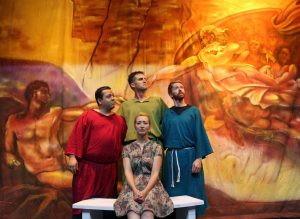 show with certain preconceptions and expectations. Others may be wholeheartedly welcomed. But there is one change that Rachael hopes sticks even after a vaccine or therapeutic treatment is evolved for COVID-19.
"We're so conditioned that the show must go on that if we're sick but still have a voice, we'll drink some tea, take some Dayquil, suck it up and do the show.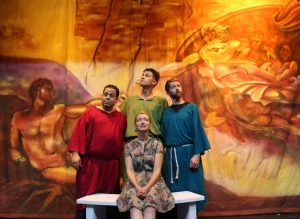 It's what actors do. And it's not even an external demand or expectation. Artists care so much that they put that demand on themselves. But right now, that's not an option, not even the slightest option. You're going home and you're staying away from everybody. I hope that this particular change becomes part of the accepted norm."
As for content,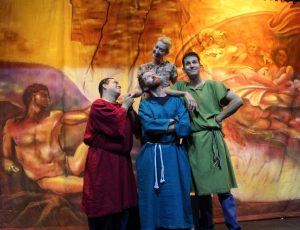 Rachael sees a demand for more comedies, at least in the short term. In fact, her long-time friend and mentor, Bill Taylor, just sent her the scripts for a couple of comedies to look over for next season.
"And as a director, I'll be focusing more on the human connection no matter what the piece is. It's always been about relationships for my anyway, but I think that will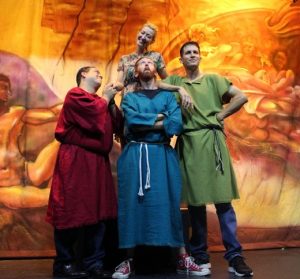 be more central now that we know what it's like taking people out of the equation."
The human connection and the interaction between and among people lay at the heart of the last two local productions she did for Taylor and Theatre Conspiracy at the Alliance, Baskerville: A Sherlock Holmes Mystery and Marian, or the True Tale of Robin Hood. And it is the personal connection she establishes and maintains with her actors and crew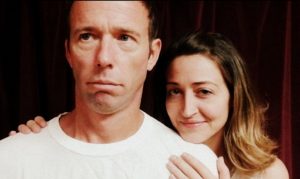 that endears Rachael to anyone and everyone who's ever worked with her. It's not hyperbole to say that they adore her not only for her directorial talent, but as a genuinely nice person.
While she hopes to be back in town in either the Fall or Winter, Rachael acknowledges with a touch of anxiety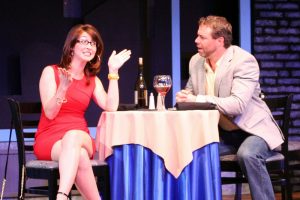 that the whole 2020-2021 season is up in the air right now. Nether Broadway Palm (where she performed last year in both A Christmas Carol: A Live Radio Show and Weekend Comedy) nor Theatre Conspiracy know if and when they'll be up and running. (It's even possible that it may prove impossible to use the cozy Off Broadway venue because it's too small to accommodate social distancing requirements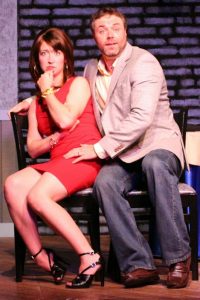 and still produce a profit.)
"For now, I'm just filling the vault with potential opportunities so that when everything re-opens, I'll be able to hit the ground running."
But for Rachael, there's one positive that comes from all the uncertainly.
"Right now, we're so conditioned to concede that who knows what's going to happen tomorrow that it's hard for anyone to say anything with certainty. But maybe that's a good lesson. We never really know what's going to happen tomorrow.  Somehow this pandemic reminds us each day that this could be the last day that we do this. The last day that any of us do anything. A good reminder not to take anything for granted.  100 percent."
June 3, 2020.