Joanna Harmon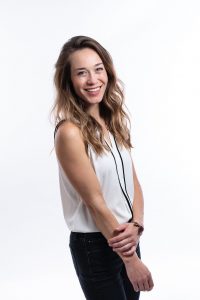 Joanna Harmon will reprise the role of the Teacher for Players Circle Theatre in The Curious Incident of the Dog in the Night-Time. The word reprise refers to the fact that Joanna was part of the production in 2020 which closed after a single preview performance as a consequence of the shut-down necessitated by the COVID-19 pandemic. She was phenomenal in 2020 and promises to be even better when the show returns to the Players Circle stage in February of 2022.
Some of Joanna's other memorable roles include Portia in Merchant of Venice and Rosalind in As You Like It with Montana Shakespeare in the Parks, Alma in Summer and Smoke at Theatre in the Round and Charlotte in Charlotte's Web at The Children's Theater Company. You may have also seen Joanna in numerous Blue Shirt spokesperson roles for Best Buy!
[Photo credit: Bill Cameron.]
December 10, 2021.