Katherine Walker Hill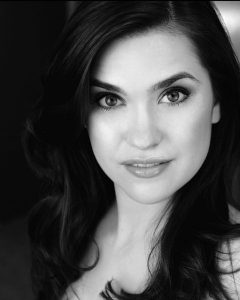 Katherine Walker Hill is a Broadway Palm favorite. When Broadway Palm patrons last saw her, she was playing opposite real life husband Troy Bruchwalski in Amy Marie McCleary's Sounds of Christmas, in which her character shares with her on-stage husband and kids a Christmas story from her own childhood about an elf named Pointdexter who's been tasked with creating a playlist to keep Santa company as he circles the globe delivering presents on Christmas Eve. Her other stage credits include Janet Van De Graaff in The Drowsy Chaperone (Maples Repertory Theatre, Macon, MO), Glinda in The Wizard of Oz (where her performance was called "refreshing … definitely
the performance of the night"), Show Boat (ensemble/understudy at Prather's Dutch Apple Dinner Theatre), Lettie in Something's Afoot (Dutch Apple), Evita (ensemble/Broadway Palm), Miss Scarlet in Clue the Musical (at both Broadway Palm and Dutch Apple), Mary Hatch in A Wonderful Life (at both Broadway Palm and Dutch Apple), Estelle Genovese and Molly MacGregor in The Full Monty, Peggy Jones in The Andrews Brothers in the Off-Broadway Palm and Betty Haynes in Irving Berlin's White Christmas,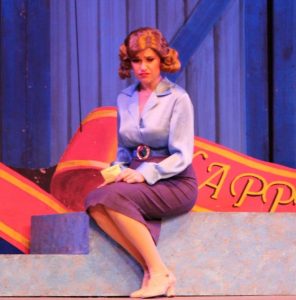 where she first met and fell in love with Bruchwalski, who played Bob Wallace.
Kat is a proud Tennessean, a Webster Conservatory graduate and over-the-moon aunt. Besides Mary Bailey in A Wonderful Life, her favorite roles include Kathy Selden in Singin' in the Rain, Shiela in A Chorus Line, and Elaine in Arsenic & Old Lace.
February 17, 2021.