Whether in a dress, hot pink tights or a tux, actor Todd Lyman having the time of his life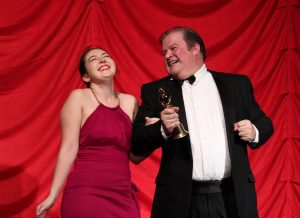 Todd Lyman is loving life right now. After relocating from New Hampshire to take care of his ailing mom, he's finally settling in to life in Southwest Florida. He's got a good daytime job. His circle of friends and contacts grows with each new production he's in. And he's having fun spending time at the D.M.V. – as in the hip new play that's entering its final weekend at Lab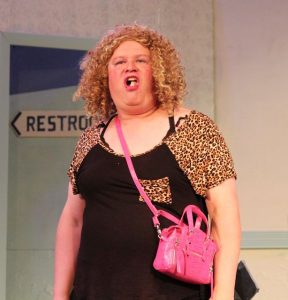 Theater.
Lyman ticks off the reasons why he's having a grand time performing in D.M.V. "Great cast, eclectic mix, and a world premiere," he says, his words coming in staccato bursts.
While local playwright Zalman Velvel carefully crafted the main character in the storyline and the dialogue spoken by everyone else, his script accords wide latitude to Director Carmen Crussard and her cast to flesh out the personalities and backstory of the other characters in the play.
Todd is delighted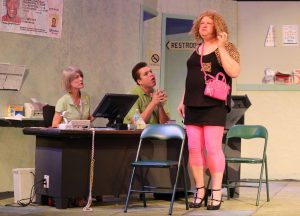 to be working with Crussard again. She previously directed him in And the Winner Is …. "She allows her actors to bring their interpretations to the character, so that we're involved in the character's development. Not all directors are like that."
In fact, Todd directed some shows while he was living in New England, and he was nowhere as receptive as Crussard to input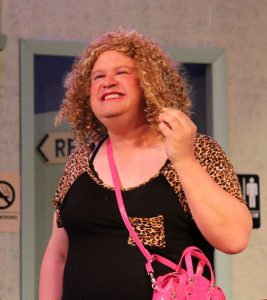 from his actors.
"The experience made me realize that when the curtain goes up, they're going to do what they want anyway and there's not a thing I can do about it," he chuckles.
But Crussard's collaborative approach not only results in a more organic development of each character, it encourages each actor to become fully invested in their character and the overall show.
In Lyman's case, that means he had a hand in breathing life into the two chief characters in plays in D.M.V. – a sex worker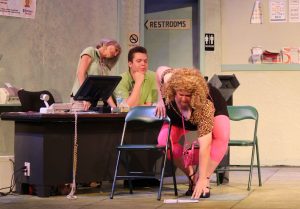 from Las Vegas and an old woman in a colorful tie-dyed mumu who is finally getting her driver's license late in life.
"The sex worker [who's identified in the script and playbill simply as Customer No. 3] has come to the DMV to register her car … after living here for more than three years. The police force has been helpful to her, and vice versa, and now she is going off to the see her judge,"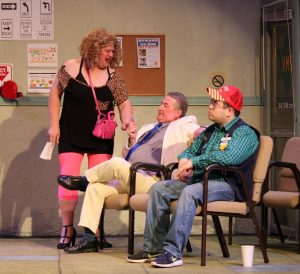 Todd explains. "Just like in any show and in real life, all the characters in D.M.V. are just doing what they have to in order to survive."
Todd's biggest challenge in portraying Customer No. 3 has been learning to walk in heels. As it happens, the pair he selected for his character are the same that TJ Albertson wore as Rexy in The Legend of Georgia McBride.
"As soon as I got the part, I started practicing walking in heels.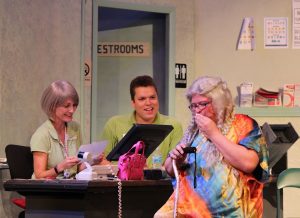 But I had to lose the glasses," Todd says shaking his head ruefully. "With the glasses went my depth perception and, of course, I'm pitched forward, walking at an angle. I'm still terrified of stairs!"
In addition to having a hand in formulating his character's "gum-snapping, all hips and shoulders" personality, Todd got to dress her as well. "I did some costuming back in New England,"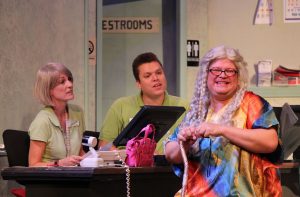 Todd fills in. In fact, he not only did the costume design for Hedwig and the Angry Inch at Maine's famous summerstock playhouse in the seaside town of Ogunquit, he actually fabricated most of the outfits.
"I was fascinated by the whole androgyny thing," Todd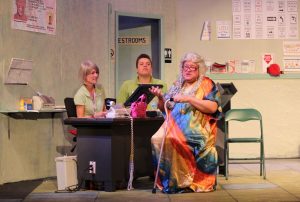 muses.
However, it wasn't necessary for him to make his sex worker's outfit for D.M.V. He was able to find the ensemble – black blouse with leopard skin shoulders, pockets and piping, short black skirt over mid-calf hot pink tights and shiny matching pink leather purse – in area stores. But the outfit is certainly a reflection of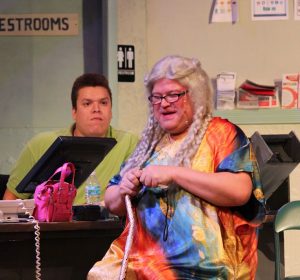 his character's brassy professional persona.
For as much as he initially liked the sex worker, he didn't much care for the old woman [Customer No. 6] during the initial table read/rehearsal process.
"But as she evolved, I liked her more and more because there was more to work with as a backstory."
Todd gave the old woman a name. Mrs. Kowalski. Stella,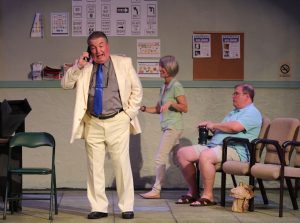 to be sure. And in Lyman's mind, she's got this Abby and Martha Brewster side to her (the spinster aunts who poison elderly men in Arsenic & Old Lace).
"While he was alive, her husband wouldn't let her drive. Now that he's passed, she's finally getting her driver's license and plans to drive a Vette," Todd supplies. "In my mind, she killed her [domineering, control-freak of a]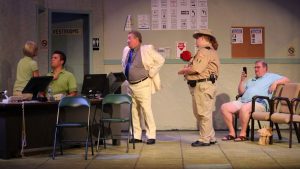 husband but is telling people he died of cancer."
And she's the opposite of the sex worker in bearing and attitude.
"Mrs. Kowalski was a hippy of course."
Which only seems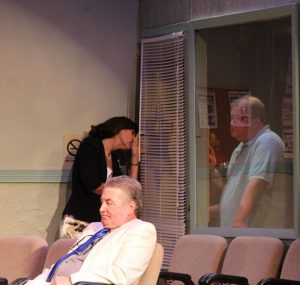 appropriate given that August 16-18 marked the 50th anniversary of Woodstock, considered by many to be the crowning achievement of the 1960s counterculture.
But aside from playing a role in creating the roles he plays in D.M.V., Lyman appreciates the opportunity to be involved in an original, world premiere production.
"It's been an interesting experience watching the play take shape and come to life during the rehearsal process, and watching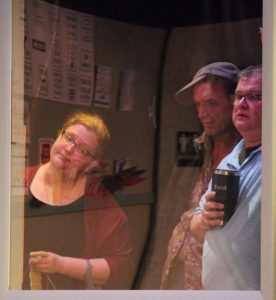 from behind the glass [a reference to the window in the DMV office, behind which customers wait impatiently while the action between Bernice Hodes (Gerri Benzing), Joe Hargity (Sam Bostic), Jimmy Rogers (Art Keene), the mayor (Stacy Stauffer) and tax collector (David Cooley) unfolds]. There's a lot of opportunity for interpretation with a new production, with a world premiere," Lyman asserts.
Lyman acknowledges that just as Crussard, the cast and critics have their views on what the play is about, every audience member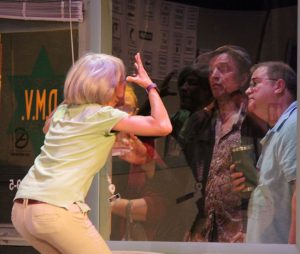 will find their own slant, something that they'll read into or take away from the performance.
"I've had a lot of fun with it, and it's funny. Not every play has to be heavy or weighty."
But Lyman's next show promises to be just that. He'll be in Lab's production of The Crucible, which opens September 20 (although there is a half-price preview a day earlier). His mom is from Salem, so Todd seems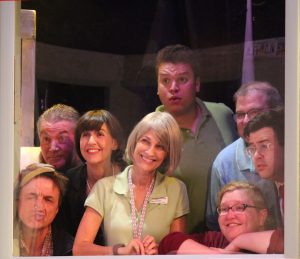 fated to have landed a role in the play.
Beyond that, he's looking forward to appearing in other productions. He's even contemplating attending some auditions at a couple of the region's other community theater houses eventually – if and when time permits.
For now, however, he feels at home at Lab Theater.
His path to Lab Theater and acting in general is somewhat fortuitous. He started out in college as a math major,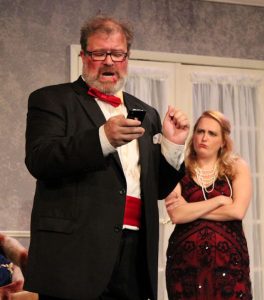 until a brush with multi-dimensional calculus in his junior year at the University of New Hampshire sent him scurrying into theater and communications. Then, as so often happens, work and the necessity of earning a living intervened. Because he was never in one place long enough to establish ties with any of the local theater companies, he sublimated his passion for theater to the practicalities of his career in retail – until one day while he was living and working in Connecticut, he was carjacked and held at knifepoint for more than five hours!
"Somehow I escaped," Todd says with a wave of one hand.
And that prompted him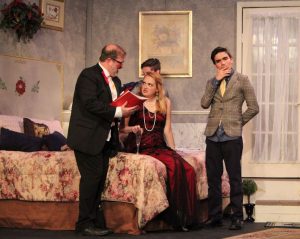 to escape retail and Connecticut in short order. Back in New Hampshire, Todd not only got back into acting, he was instrumental in starting a one-act theater competition in the area which continues to this day.
But some five years ago, his mother took ill and needed a full-time, live-in caretaker. With no permanent ties to stop him, Todd relocated to Southwest Florida.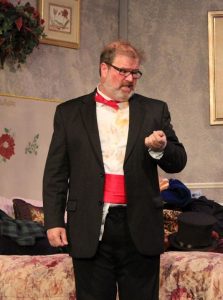 At that point, theater was the last thing on his mind. However, serendipity had other plans for Lyman. He and a friend attended a Gay Pride event. Lab Theater had a booth there. Todd entered their drawing and won two tickets to attend Veronica's Room (which starred Aricka Shuck as The Woman, Dave Rode as The Man, Steven Coe as The Boy and Kate Dirrigl as The Girl).
"I really liked what they did and the risks they were taking," Todd recalls. "So the next time they held auditions, I went."
He scored a role in It's Only a Play.
In that show,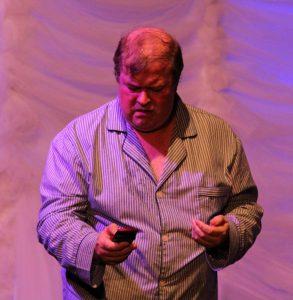 he played a tuxedoed theater critic by the name of Ira Drew who gets good and roughed up. Veronica Room's Aricka Shuck played the role of a washed-up, rehabbed film actress trying to make a comeback in live theater. The two are now close friends.
As are his cast mates in D.M.V.
But in addition to making new friends and having a hand in developing the characters he plays in D.M.V., there's another aspect of playing Customer Nos. 3 and 6 that really appeals to Lyman.
He's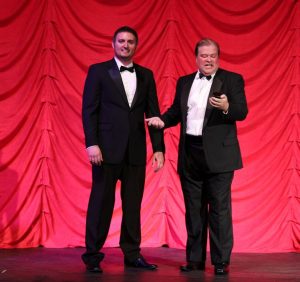 now part of Lab Theater's rich and evolving tradition of casting men in female roles.
"We were talking about that just the other night," Todd confesses.
With the roles of Mrs. Kowalski and the sex worker, Lyman now joins an esteemed and eclectic cast of actors who've played women on the Lab boards – like Randall Kenneth Jones (who played Baby Jane Hudson in Whatever Happened to Baby Jane: A Parody of the Horror and femme fatale Cousin Miriam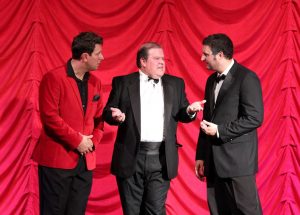 in Hush Up Sweet Charlotte), Rob Green (he was Queen of the Hollywood Melodrama Blanche Hudson in Whatever Happened to Baby Jane: A Parody of the Horror), Patrick Erhardt (he was Mrs. Bates in the Baby Jane parody), Brian Linthicum (who took on the role of Charlotte Hollis in the drag-tastic parody of the Bette Davis-Olivia de Havilland film Hush, Hush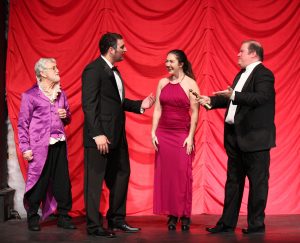 Sweet Charlotte), PJ McCready who starred in last season's smash Hedwig and the Angry Inch, and Clayton Brown, TJ Albertson and Steven Michael Kennedy, who played Miss Tracy Mills, Rexy Nervosa and Casey respectively in The Legend of Georgia McBride.
Whether he's in a dress, hot pink tights or a tux, Todd Lyman is having the time of his life. Catch him in D.M.V. while you still can. Go here for play dates, times and ticket information.
August 21, 2019.