Misha Ritter Polomsky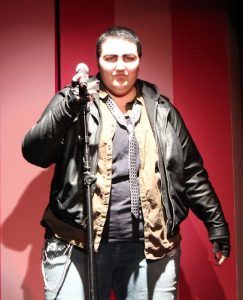 Misha Ritter Polomsky is a local actor whose theater credits include Yitzhak in Hedwig and the Angry Inch, Lilith in She Kills Monsters, Phantom in The Rocky Horror Show and Enid Hoopes in Legally Blonde.
Her performance in Hedwig is exemplary. Her line load is modest; she communicates mostly through looks and grimaces. But wow can she sing! For the most part, she backs up Hedwig or pairs with her in duets. But there is one brief scene in which she sings a capella Dolly Parton's soulful ballad "I Will Always Love You" which went to #1 on the Country Music chart in 1974 and again in 1982, when she re-recorded it for The Best Little Whorehouse in Texas (although most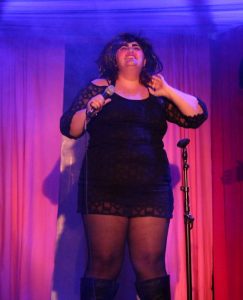 younger folks identify the song with the pop version sung by Whitney Houston in The Bodyguard). It comes at a point where it's totally unexpected and Misha absolutely slays the number.
January 24, 2019.