Sharon True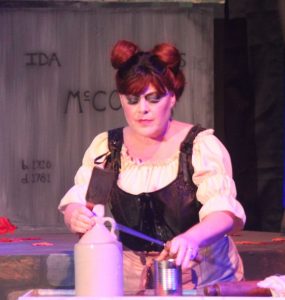 Sharon True works in the ensemble of Sweeney Todd: Demon Barber of Fleet Street … except on Sundays, when she takes over the role of Mrs. Lovett, Sweeney's pie-paking confederate and co-conspirator. Lovett is a fascinating character. She comes across as diabolically manipulative, but Sweeney himself puts his finger on her true motivation. She's a ruthless and unapologetic pragmatist or, in Sweene's words, "eminently practical." Why waste a perfectly good corpse when the flesh can be used in lieu of hard-to-get animal meat for the pies she sells in her shop below Sweeney's barber shop.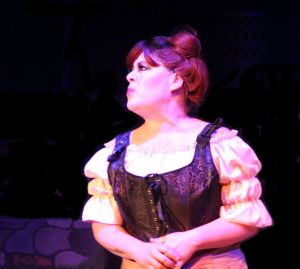 This characterization is actually a morbid bit of satire. Lovett is the logical extreme of the Utilitarian philosophy expounded in the 1780s by philosophers Jeremy Bentham and John Stuart Mill, two thinkers roundly ridiculed not only by Frederich Nietzsche but Charles Dickens. In fact, the references to "times is hard" in Lovett's opening number are to Dickens novel Hard Times. In any case, True discharges the role with eminently believable practicality in the tradition of Angela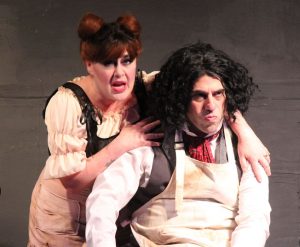 Lansbury.
Some of Sharon's favorite past shows include The Rocky Horror Show, Avenue Q, Les Miserables and The Music Man. Sharon has been teaching music for more than 20 years and currently teachas at CSN. She has also taught youth theater in several local arts programs.
March 2, 2023.