Kendra Michele Weaver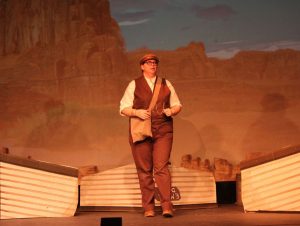 Kendra Michele Weaver is an actor, stage manager, front of house manager and Volunteer Coordinator for the Laboratory Theater of Florida.
Kendra made her Theatre Conspiracy at the Alliance debut as Goodman in Men on Boats, She returns the Foulds Theatre stage as the voice of the wall in Lauren Yee's The Hatmaker's Wife, and she regularly appears as Mom and Wife in the new dramedy Our Crazy Life,
which also stars (mais oui) her hilarious husband and rambunctious kids.
Other stage credits include the Vagina Monologues (Lab Theater, Season 10), stage manager Aggie Manville in Play On! (Lab Theater, Season 8), the Captain and a guard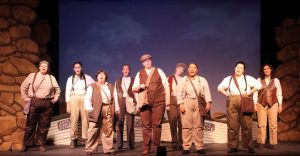 in Shakespeare's Twelfth Night (Lab Theater, Season 7), several characters (reporter, a Midwestern mother endorsing a conversion therapy camp (comedic) and a mother telling her daughter that she and her father are sending her to that camp (dramatic)) in the Rauschenberg Play Project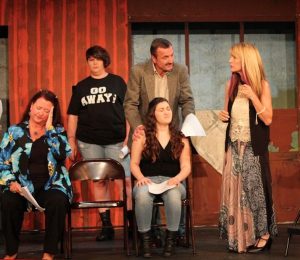 (Lab Theater, Season 7), Whitney in Laura Lorusso's Scrooge TV (for Lab Theater, Season 6) and three roles (a Facebook troll who's only there to make rude comments, a young women getting ready to meet her partner's parents for the first time and half of a lesbian couple who are reminiscing about their wedding) in Standing on Ceremony: The Gay Marriage Plays (Lab Theater, Summer Stock, 2015). She also played Gwen in Lab Theater's SoDis virtual presentation of The Realish Housewives of Fort Myers during the COVID-19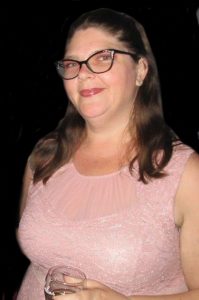 pandemic and one of twelve actors who performed during Lab Theater's 24-Hour Playwriting Challenge in 2016.
Weaver is also an accomplished stage manager, serving in that capacity for Nykkie Rizley per Hand to God (Season 10), Veronica's Room (Season 9) and Twelfth Night (Season 7), Anne Dodd per Burn This (Season 8) and Annette Trossbach in connection with Art (Season 7). She was Assistant Director in 2019 for The Crucible  and directed Candice Sanzari's 10-minute play Bare All during the 2019 Lab Theater 24-Hour Playwriting Challenge, which included Caitlynn Crawford and Kristen Wilson.
October 19, 2020; revised March 4, 2023.