Four Winds Gallery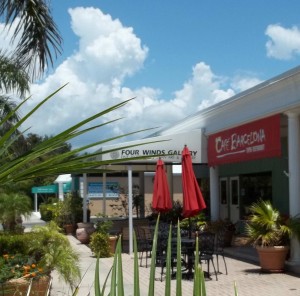 One block off Third Street South is an art gallery that specializes in American Indian fine art and sculpture, museum-quality antique pieces, pottery, baskets, textiles and art jewelry in both sterling silver and 14 and 18 karat gold settings with insets made from turquoise, coral, opal and other semi-precious stones. The gallery's name is Four Winds Gallery and you will find it at 340 Thirteen Avenue South.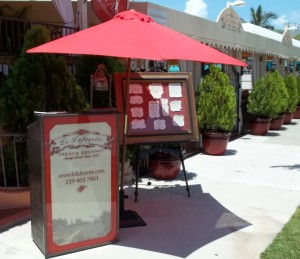 Location. The gallery is located on Thirteenth Avenue South,  between Third and Fourth Streets in the heart of Olde Naples and just two blocks from Naples' historic Pier. Four Winds abuts Cafe Barcelona, where chef and owner Pere Casòliba, a specialist in Catalan cuisine, brings diners the tastes of the Mediterranean with specialty tapas featuring scallops with Romesco sauce, shrimp in garlic, sweet peppers stuffed with crab salad, beef tenderloin with Cabrales Cheese Sauce, and more. Across the street is Le Lafayette, whose seasonally-changing menu celebrates classics of the French kitchen as well as innovative original dishes created by chef Sebastian Maillard. Catty corner is Jane's Cafe and Dominique Boisjoli Gallery, with Peter Garon Studio Gallery around the corner on Fourth.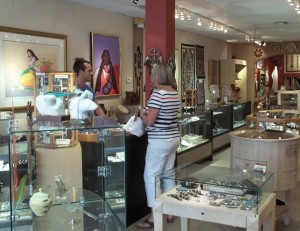 Facilities. With a sand and Mohavi red color scheme and Indian rugs and straw plates decorating the walls, the inside of the gallery has a distinctive southwestern United States feel, which is appropriate since much of the art, sculpture, pottery and art jewelry featured by Four Winds comes from the spiritual Hope of northern Arizona, the Dine' (Navajo) People in northwestern New Mexico, and the Zuni Pueblo Nation west of Albuquerque.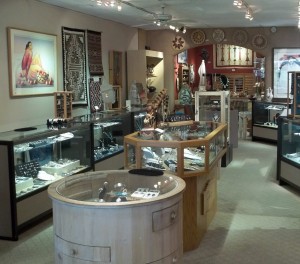 Four Winds has been known for nearly 30 years for its wide and varied array of handcrafted Native American art jewelry, which owners Susan and Tim Brick and son Jason proudly display in handsome glass display cases surrounding the perimeter and dividing the middle of the  narrow but deep exhibition space.
Genres and Media. The gallery represents a modicum of painters, featuring originals by John Nieto and Michaelis Burnham as well as lithographs by RC Gorman, Frank Howell and Edward S. Curtis.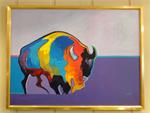 Influenced by French Fauve painters like Henri Matisse during his time in Paris, Nieto's images of Native American figures and western wildlife (such as Buffalo Medicine, right) grab the viewer with their bright colors, striking immediacy and strong linear forms. An artist of international acclaim, Nieto has shown work in Europe, Japan, Latin America, Africa, and the United States. In 1994, he received New Mexico's prestigious Governor's Award for achievement in the arts.
Michaelis Burnham's passing at a young age has not only been experienced as a true loss to the southwest art community, but has made the artist's original mixed media work rare and difficult to come by.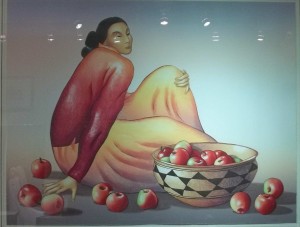 Referred to as "the Picasso of American Indian art" by the New York Times, Dine' artist RC Gorman's paintings are primarily of Native American women and characterized by fluid forms and vibrant colors, though he also worked in sculpture, ceramics, and stone lithography. While studying at Mexico City College, he was influenced by the work of Diego Rivera. He was the only living artist whose work was shown in the "Masterworks of the American Indian" show held in 1973 at the Metropolitan Museum of Art in New York. Harvard University recognized him for "notable contributions to American art and Native American culture" in 1986, and his work can be found in the collections of Elizabeth Taylor, Danny DeVito, Arnold Schwarzenegger, Barry Goldwater, Gregory Peck, Erma Bombeck, Lee Marvin, Jackie Onassis and fellow artist Andy Warhol, who silk-screened a portrait of Gorman that hung in his bathroom. Gorman died in 2005 at the age of 74.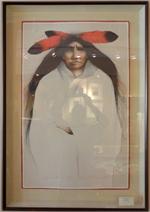 Frank Howell's work is described as a fusion of the physical and spiritual worlds, the continuum of life. Whether painting an Indian face or a landscape, Howell conveyed a sense of evolving, an evolution of past, present, and the dawning of the future. Subtle earthy colors and sensitive draftsmanship bring to life this philosophical reality. Howell viewed lithography as a painter's print medium because of its ability to reproduce the kinds of subtle gradation of values and tonality which are most similar to the variations drawing and paint can provide. Howell's list of credits was extensive. A drawing series, "Past Winds," created in 1975, captured the attention of viewers in galleries, universities and museums throughout the nation. He had had over 30 solo shows including a display of lithographs at the Museum of Modern Art in Guadalajara, Mexico. Prior to his death in 1997, Howell had been the subject of profiles on television, radio and in newspapers and magazines.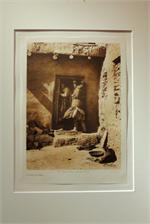 Edward S. Curtis was not a Native American, but in 1906, financier JP Morgan commissioned him to produce a series on the Northern American Indian. The North American Indian is one of the most significant and controversial representations of traditional American Indian culture ever produced. Issued in a limited edition from 1907-1930, the publication continues to exert a major influence on the image of Indians in popular culture. Curtis said he wanted to document "the old time Indian, his dress, his ceremonies, his life and manners." Some In over 2000 photogravure plates and narrative, Curtis portrayed the traditional customs and lifeways of eighty Indian tribes. However, Curtis fell under scrutiny by ethnologists who claimed at the time that he manipulated his images and doctored his photos in order to portray Native Americans as noble savages and a tragic vanishing race. But he was defended by Theodore Roosevelt and others and today Curtis is recognized as being far ahead of his contemporaries in sensitivity, tolerance, and openness to Native American cultures and ways of thinking.
Other Artistic Offerings. Four Winds Gallery is also known for sculpture, beadwork, baskets, rugs and Acoma, Chchiti, Hopi and Zuni pottery created by famed potter Maria Martinez and many other notable Pueblo potters including Gracie Naranjo, Madeline Naranjo, Linda Tafoya, Mark Tahbo and Steve Lucas. Art jewelry includes bracelets, earrings, rings, pendants, pins, necklaces, belt buckles, bolos, and more by notable art jewelers Charlene Vandever, third-generation Zuni jeweler and metalworker Myron Panteah, Dine' (Navajo) Artie Yellowhorse and daughters Desiree and Lei Lani, Dine' silversmith Ernie Lister and Navajo teacher and artist Fritz Casuse.
Telephone Number and Website. You may reach the gallery by telephone at 239-263-7555 or online at http://www.fourwindsnaples.com. The gallery does not presently maintain a Facebook presence.
Ownership. The gallery is owned by The Four Winds Gallery, Inc. Susan G. Brick serves as president and Timothy D. Brick serves as treasurer of the company. Susan and Tim moved to southwest Florida more than three decades ago, but weren't able to land teaching positions. So they entered the art business. Although neither are Native American, both have enjoyed an abiding passion for Native American art and artists that began when Tim bought Sue a $60 Native American ring on lay-away. Today, they represent an ever-expanding coterie of Native American artists and artisans, with whom they maintain close ties through constant communication and annual buying trips to New Mexico, Arizona and other southwestern United States destinations, where they hand-select the items patrons find in Four Winds Gallery.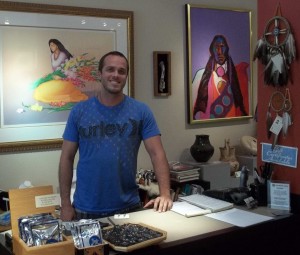 Susan and Timothy are assisted these days in both the gallery and its web design by son Jason, who has been a fixture in the gallery since the time he could crawl. Possessed of an effusive, affable nature and unbridled humor and enthusiasm, Jason makes longtime patrons and newcomers feel like lifelong friends and infects them with a keen desire to come back again and again and again.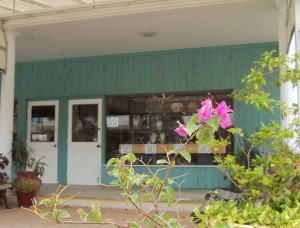 Exhibitions. Special exhibits occur year round and artist shows are held throughout the winter. The gallery has not yet released its exhibition schedule for the 2011-2012 season.
Other Services. The gallery also offers appraisals and private collection purchases.
Fast Facts
Four Winds maintained a presence on Naples Fifth Avenue South until July, 2011, when the building it occupied at 658 Fifth Avenue South was demolished to make way for a new 3-story building with a Mediterranean facade in keeping with redevelopment plan for that section of Naples.
The gallery was established in 1982 and incorporated on August 29, 1986 and will celebrate its 30th anniversary next year.