HW Gallery
Tucked into the corner of an inconspicuous little storefront on Naples Third Street South and partially obscured from view by a covered breezeway edged with a white entablature supported by slender white Roman Doric columns is H W Gallery. Next door to audaciously-named Bad Ass Coffee, this lean, mean gallery specializes in contemporary modern and investment-grade museum quality fine art, and since its founding in 2000, H W Gallery has been proudly bringing some of the world's best know artists to the southwest Florida art community.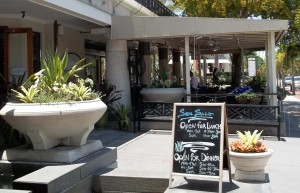 Location. The gallery is located at 1305 Third Street South. H W is situated two doors down from The Artworks Shop and across Third Street South from Antinori Gallery. The gallery is surrounded by high-end clothing stores, interesting boutiques and world-class dining that includes Campiello (with its Tuscany-inspired cuisine in the lavishly-appointed interior of the historic Naples Mercantile Building to the north on Third), Handsome Harry's (which serves delicious steaks and seafood in a Glamour Era setting), Jane's Restaurant on Third (a delightfully cozy retreat tucked between two beautiful courtyards), Le Lafayette Restaurant on Thirteenth (celebrating gourmet French classics and innovative original dishes by chef Sebastien Maillard), Old Naples Pub (a favorite among locals for more than two and half decades), Ridgeway Bar & Grill (where those in the know dine and sample fine wines), Sea Salt (where Chef Fabrizio Aielli infuses Venetian home cooking into inspired seafood specialties and their accompaniments) and Tommy Bahama Restaurant and Bar (with its island bar and cuisine).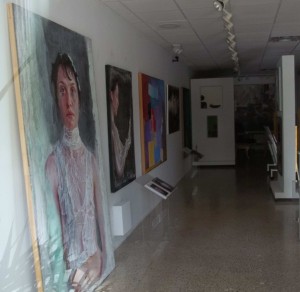 Facilities. This is a no-frills exhibition space where the focus is placed solely on the art. Paintings are displayed museum-style on plain white walls that dive into plain clam shell wood base that edges flecked carmel-colored vinyl flooring. Additional wall space is achieved through the use of movable partitions on casters that can be moved into any configuration desired for events or the display of particular exhibitions.

Genres and Media. H W Gallery proudly presents some of the world's best known artists to southwest Florida including Pablo Picasso, Andy Warhol, Frank Stella, Jim Dine, Jorge Blanco, Joan Miro, Pierre August Renoir, Marc Chagall, Robert Natkin, Alexander Calder, Mark Dickson, Helen Frankenthaler, David Hockney, Wolf Kahn (right), Alex Katz, and Robert Longo.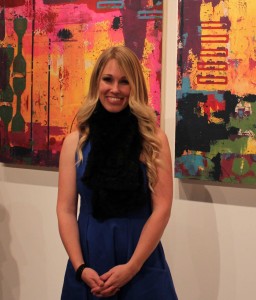 Locally, HW Gallery represents Fort Myers artist Veron Ennis, whose  modernist  work is concerned with the intimate characteristics of the layered painted medium, the language of color, and the interplay between precision and chance application. Using an underlying grid format, she utilizes an assortment of media to create her paintings, including water-based paints, acrylics, polymer-based grounds, cotton rag paper, raw canvas and wood panel. Ennis calls her current series of work Transference.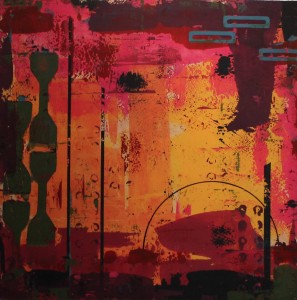 In these new tightly-structured abstracts, Ennis strives to transfer to her viewers elated feelings of love and joy in a non-objective manner. "The transference of information during the creative process from artist to painting, and then from painting to viewer when the work is completed, is the reason why art can transcend time and why abstract painting has the ability to communicate," Ennis explains. "Transferring specifically positive information through the means of creating a non-objective painting is a graceful way to connect with people and is freeing and enlightening for the artist.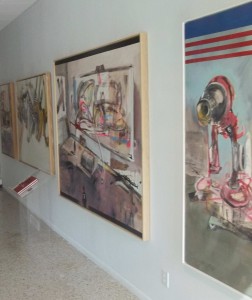 Ties to Well-Known Local Artists. While the gallery does not represent, it does offer works by two artists with close ties to southwest Florida, Darryl Pottorf and Marcus Jansen (left).
Darryl Pottorf was a student and later a colleague of Robert Rauschenberg, whom he met while taking a printmaking class at Edison Community College. He became Rauschenberg's assistant, although his tutelage began with painting Rauschenberg's garage, hauling lumber, and swabbing his decks before he actually was allowed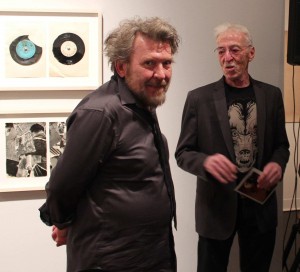 to assist the master in his studio. Like his late friend, Pottorf maintains a home and studio on Captiva Island. In art circles, Daryl Pottorf's name is associated with bold and expressive prints that begin with thought-provoking photographs to which he adds content and, in many cases, elements of humor. His mediums include UV-coated watercolor on polylaminate, black and silver toner on lexan, and acrylic on aluminum. Pottorf, who has been creating complex and inspiring pieces for more than 30 years, loves to push the boundaries of his work and himself.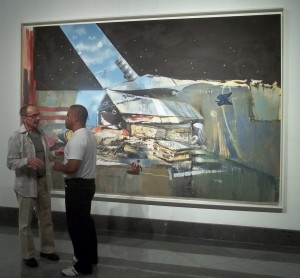 Works by Marcus Jansen currently hang on the walls at H W Gallery (above left). Jerome Donson, curator of the prestigious Vanguard Exhibition and a Rockefeller Fellow at the Museum of Modern Art in New York, has pegged Jansen as the "Father of Urban Expressionism." Art critic and historian Donald Miller thinks Jansen's paintings "have longevity" because "there isn't anyone doing what he's doing … [His paintings] have their own niche. They're totally unique …. I have a roladex in my mind of all the paintings throughout history … and I've never seen anything like [Jansen's work]." Jim Griffith, the founder and CEO of the Sidney & Berne Davis Art Center in Fort Myers concurs. Jansen's solo show in May, 2011 (on right) has been the most well-attended in the Art Center's 3-year history.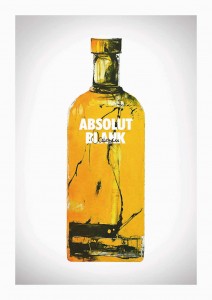 The international distiller, Absolut Vodka is the latest to recognize the brilliance and historical significance of his body of work. They chose Jansen as one of 18 artists to participate in their global creative initiative marketing campaign called Absolut Blank. He duly obliged by filling his blank bottle-shaped canvas with the work depicted to the left.
Hours. The gallery is open Monday through Saturday from 10:00 a.m. to 5:00 p.m.
Telephone Number and Website. You can reach the gallery by telephone at 239-263-6640 or online at http://www.hwgallery.com. You can also follow the gallery on Facebook at http://www.facebook.com/pages/HW-Gallery/99212549555?sk=info.
Ownership. The gallery is owned by H W Gallery, Inc., which was incorporated on March 22, 2002 by Lauren Greenough, who serves as the corporation's president and sole director.
Fast Facts.
The gallery was previously located at 1391 Third Street South.
Articles.
Fort Myers modernist Veron Ennis now represented by Naples' HW Gallery (04-24-13)