'Matthew Shlian: Telemetry' opens January 26 in main FGCU gallery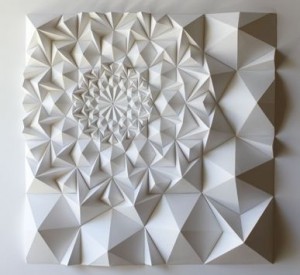 Matthew Shlian: Telemetry opens January 26 in the main gallery at Florida Gulf Coast University with a 6:00 p.m. Artist Talk in U. Tobe Recital Hall and reception to follow until 8:00 p.m. in the Arts Complex.
Matthew Shlian: Telemetry represents FGCU Art Galleries' third year of Crossroads: Art and Science Residency and Exhibition. Each year an artist is invited to FGCU to explore a different connection between Art and Sciences while working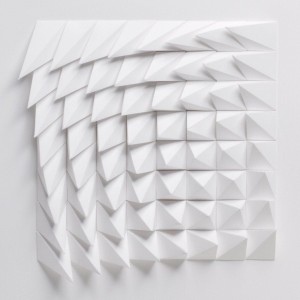 with FGCU faculty and students. Matthew Shlian was a natural fit for Crossroads as he has been collaborating with scientists throughout his career. An essay in the catalogue for this exhibition provides an introduction into the variety of ways he has influenced scientists and they have influenced him.
For this exhibition, Shlian created new works of art including a collaborative piece with students in the Fall 2016 Alternative Printmaking class. Shlian a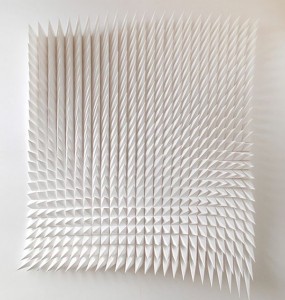 greed to spend a week with the students, generating monotype prints that were transformed into one of his folded paper constructions that the students also helped assemble and install.
Matthew Shlian is an artist/designer and founder of the Initiative Artist Studio in Ann Arbor, Michigan. His work extends from drawings to large-scale installations to collaborations with leading scientists at the University of Michigan. His work for the National Science Foundation explores paper folding structures on the macro level translated to the nano-scale.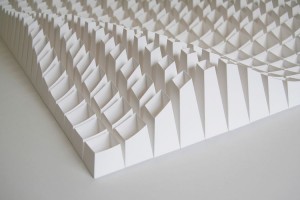 His client list includes Ghostly International, Apple, P&G, Facebook, Levi's, Sesame Street and the Queen of Jordan. Matthew Shlian holds a BFA from Alfred University (2002) and an MFA from Cranbrook (2006).
As a paper engineer, Shlian's work is rooted in print media, book arts and commercial design. Beginning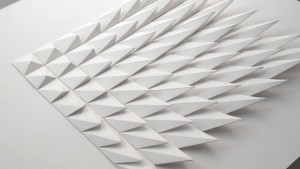 with an initial fold, a single action causes a transfer of energy to subsequent folds, which ultimately manifests in drawings and three-dimensional forms. Researchers see paper engineering as a metaphor for scientific principles; Shlian sees their inquiry as a basis for artistic inspiration.  Shlian will exhibit past work and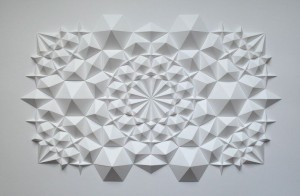 partner with FGCU faculty and students to create new work related to research being conducted at FGCU.
This exhibition would not have been possible without the help and support of the donors to the exhibition as well as FGCU faculty, staff and students, especially Andy Owen, who taught
Alternative Printmaking, and Matthew Shlian, who so generously gave his time in the planning and execution of the exhibition. The exhibition is sponsored by Gene and Lee Seidler, Alice and Dean Fjelstul, Thomas Riley Studio, The Beaches of Fort Myers and Sanibel, and the State of Florida, Department of State, Division of Cultural Affairs and the Florida Council on Arts and Culture.
The exhibition runs through March 2.