Lovegrove Gallery & Gardens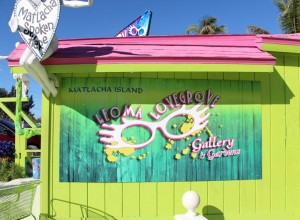 One of Matlacha's most colorful landmarks is Lovegrove Gallery & Gardens on Pine Island Road. It is a whimsical reflection of owner and entrepreneur Leoma Lovegrove, for whom it serves as her international headquarters, artist studio and island gift shoppe. In the historic fishing village now described by locals as a "quirky artists' haven," Lovegrove Gallery & Gardens sets the tone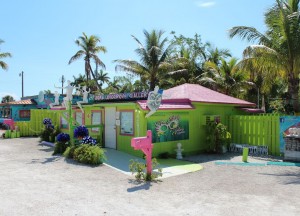 for the entire gallery district with its flamingo pink roof, thalo green fencing and walls, hot pink door and window trim and enticing mix of art, pop sculpture and gift ideas.
Location. Located at 4637 Pine Island Road, Lovegrove Gallery & Gardens lies in the heart of Matlacha's art district. To reach it, visitors coming from Fort Myers or Cape Coral must traverse the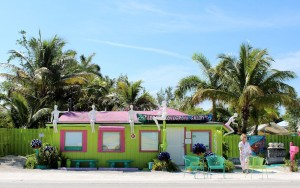 Fishingest Bridge in the World. Once across, they'll find Lovegrove Gallery & Gardens sandwiched between Island Visions to the west and WildChild Art Gallery to the east, and sitting directly across the boulevard from Frills I and II and Trader's Hitching Post, with its trademark mannequin of an sunglassed Indian decked out in a white hard hat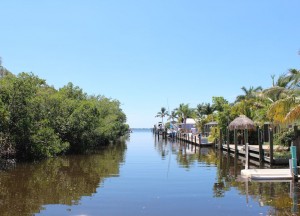 and yellow and bright orange roadside safety vest.
While the vast majority of visitors arrive at the gallery by car and even bus, some do come in by boat. The botanical gardens in the rear of the gallery looks out on a salt water canal that leads to Matlacha Pass, a huge expanse of water ten miles long and nearly two miles across at its widest point. The Pass' channels, potholes, oyster bars,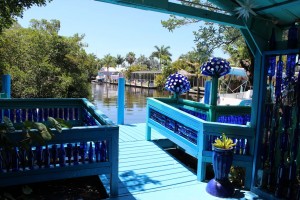 grassflats, sandbars and mangrove shorelines attract anglers and kayakers year round, and some in this maritime enclave choose to visit Lovegrove Gallery & Gardens by boat rather than car or on foot.
To accommodate watercraft, the gallery provides dockage – painted peacock blue and decorated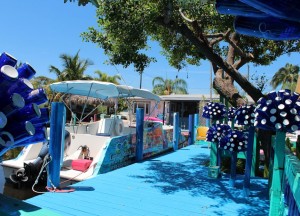 with white bottomed Prussian blue bottle trees that are trimmed with fluorescent paint so that they glow in the dark during the nighttime events that the Gallery & Gardens schedule throughout the year. The artist herself has been known to tie up at the dock, after a morning or afternoon on the water, where she goes to escape the gallery's hustle and bustle and paint to the soothing sound of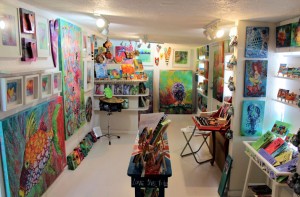 lapping water in the tradition of Claude Monet, who rigged a flat-bottom boat with a canopy so that he could paint en plein air along the banks of the Seine.
Facilities. Lovegrove has crammed an incredible amount of art and crafts into the confines of her 900 square-foot gallery, which she has divided into a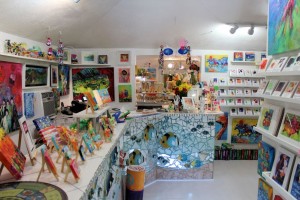 tangle of cozy rooms, alcoves and passageways. As a consequence of Lovegrove's productivity and the high demand for her work, the art changes constantly, much to the delight of collectors and more casual visitors who come back often just to see what's new. However, if you see something you can't live without, you better buy immediately because there's a good chance it will be gone by the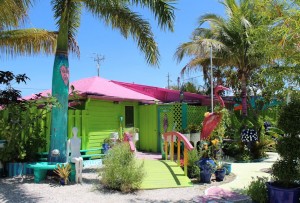 time you make you next trip to Matlacha.
The garden is triple, perhaps even quadruple the size of the gallery. At its center is a performance stage and seating area. Around the perimeter is an aggregation of purple-painted bridges and walkways, wrought-iron tables and chairs, midnight blue bottle trees and natural botanicals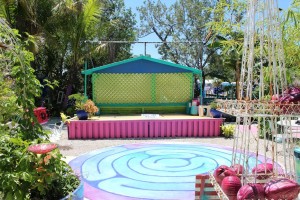 that represent flora indigenous to Matlacha and Pine Island. The plants, palms and other trees are in the process of being labelled, which is a condition precedent to receiving accreditation as a state-recognized botanical garden.
Lovegrove crafts the midnight blue bottle trees from empty Saratoga Water bottles. "My sister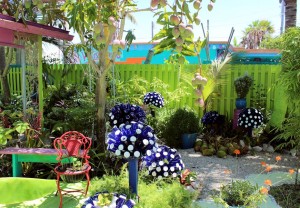 died from cancer several years ago. She didn't smoke and watched what she ate and always drank bottled water," Leoma explains. "I've always wondered if the chemicals from the plastic caused the cancer, so I got together with Saratoga Water and now offer water in glass bottles to the people who visit me here. They leave behind the empties – more than 3,000 of them – and I just had to do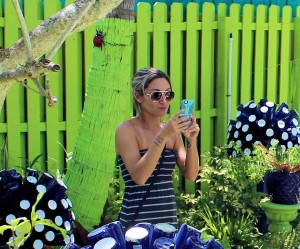 something with them. This what I came up with." At night, the fluorescent-trimmed white bottoms glow in the dark adding to the garden's ambiance for nighttime events.
There are two bungalows on the property, one that's available for long weekends, and the other that Lovegrove uses as her studio. Called Lovegrove Lodge, the rental bungalow is quaint, charming and cozy, an ideal getaway from which to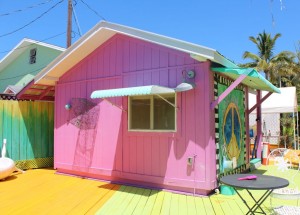 sample the quiet life that is Matlacha and Pine Island, whether during the winter tourist season, tarpon season or the lazy summer months. "You can run a line right out the window and fish from bed," jokes Lovegrove. "I've certainly done it a time or two." And if you plan your stay right, you can also catch Lovegrove at work in her studio or painting out loud on the stage in the gardens.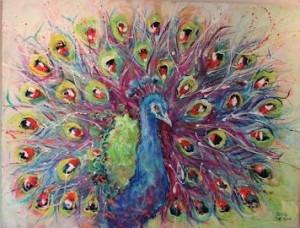 Genres and Media. Leoma Lovegrove's art is instantly recognizable. Her strokes are exuberant (she uses her hands and fingers in addition to brushes of all sizes and varieties) and her palette drips vivid tropical color. With an emphasis on motifs that include birds, fish, palms and coconuts, Lovegrove's quasi-impressionist/expressionist style appeals to people looking to take home a bit of southwest Florida.
That said, Lovegrove also does a fair amount of entertainment art, with the Beatles, Steven Tyler and Johnny Depp being favorite subjects. In fact, her Beatles Series drew the attention of the City of Liverpool. Among the other portraits she's rendered is one of former President Jimmy Carter (which now hangs in his presidential library) and another of Sir Richard Branson, which was commissioned by Virgin Airlines for its headquarters in London. Her work can also be found in the private collections of President and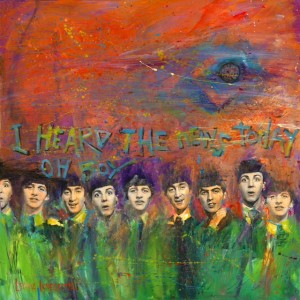 Mrs. George W. Bush, actress Sharon Stone, actor Jesse Metcalf and the permanent collection of the City of Fort Myers.
Hours. Lovegrove Gallery & Gardnes is open 10 a.m. to 5 p.m. Monday through Saturday, and noon until 4 p.m. on Sunday.
Telephone Number and Website. You can reach the gallery by telephone at 239-283-6453. The gallery's website is under construction (at www.leomalovegrove.com), but you can follow her on Facebook, Instagram and Twitter.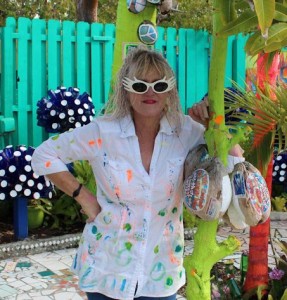 Ownership. Leoma Lovegrove owns and curates the gallery, which she and her author husband, Michael J. Silberg, opened in 1996. Lovegrove has a degree in illustration from the Ringling School of Art & Design in Sarasota and also studied at the Guild de Beaux Arts, ArtStudy Giverny and ArtStudy Florida. When she is not painting in her studio on Matlacha or promoting southwest Florida for the Visitors and Convention Bureau, she loves to recharge her artistic batteries touring and painting in Europe with her husband.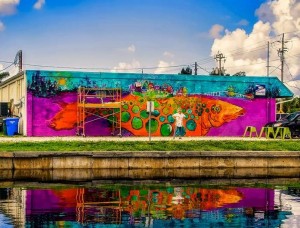 Matlacha Historic Walking Tours. On Saturday mornings in season, Lovegrove hosts True Tours' historic walking tour of the island's flora, fauna and man-made landmarks. Originating in Lovegrove's botanical gardens, each 45-60 minute tour is packed with fascinating facts and little-known tidbits about the history and ecology of the area, and the famous artists, authors and musicians who frequent Matlacha year round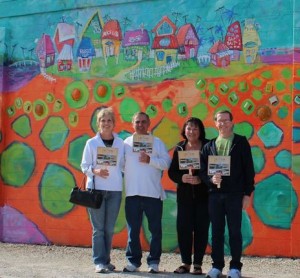 both for pleasure and inspiration. The highlight of each tour consists of a stop at The Catch of Matlacha Island, the mural Lovegrove painted on the east face of the post office to explain pictorially how the island's enclave of artists, sculptors, musicians and authors built a new Key West from the ashes of the fishing community that burned their boats on the night in 1992 when a net ban referendum put them out of business and threatened the island with financial ruination.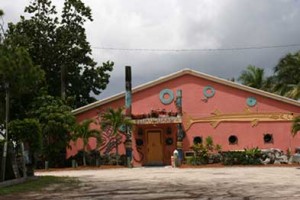 Since the tour wraps up around 9, participants have a full day to enjoy the island, including its other half dozen art galleries. Most walking tourists stick around for a succulent fresh catch lunch or dinner at one of Matlacha's world-class seafood restaurants. Some even opt to spend the night in Lovegrove's waterside bungalow or one of the island's cozy rental cottages or charming motels in hopes of catching  a glimpse of some of the island's famous part-time residents like Jimmy Buffet, who's been known to drop into the local bar from time to time to toss back a few brews and play an unannounced set or two.
Fun Facts.
For three years (2009-2011), Lovegrove's massive American flag, Remember 9/11, was the first artwork visitors saw when they arrived by air in Concourse D at the Southwest Florida International Airport (RSW). It served as a somber reminder for the reasons that all travelers are subjected to enhanced security measures in a post-9/11 world. She painted the billboard size flag during a live ceremony at the Broadway Palm Dinner Theatre on September 11, 2009.
Remember 9/11 was displayed at RSW as part of the Art in Flight program conducted by the Lee County Alliance for the Arts in partnership with the Lee County Port Authority.
On June 17, 2011, Lovegrove launched an ambitious initiative designed to involve the local community in honoring the memory of those who perished on 9/11 on the tenth anniversary of the attacks. Titled "Remember 9/11 Tenth Year," the community-wide, community-based art project required Lovegrove to travel throughout southwest Florida in order to give residents and visitors an opportunity to paint the names of the victims on another billboard size canvas. Each stop became a cathartic event during which attendees shared emotional stories about people they lost and where they were when they first heard the news of the attacks. So inspiring and unifying was the project that it resulted in Lovegrove being nominated for The Fort Myers News-Press 2011 Person of the Year (see below).
You can also see Lovegrove's hand in the "Into the Wild" exhibit at the Edison & Ford Winter Estates Museum. In addition to paintings by Lovegrove, the exhibit includes the original Ford Chuck Wagon, a journal and diary maintained by American Naturalist John Burroughs, a journal written by Harvey Firestone, notes from the Edison and Ford families, as well as photographs and film depicting the travels of the four famous friends.
Lovegrove paints out loud. In a multi-media show featuring splattered paint and glitter that's replete with music, lights and over-the-top special effects (including films and graphic animations created by filmmaker Mark Haffner), Lovegrove paints on one or more large, museum-quality canvases in front of a live audience, completing layered large scale works of art in as little as 15 minutes. Her "Painting Out Loud" performances are often scheduled in connection with fundraisers and other charitable events, conventions and corporate meetings.
For years, Lovegrove has painted hearts during the month of February to benefit the American Heart Association and From Our Hearts of Lee County. Beginning May 15, 2011, she even began painting "a heart every day for a year." Each is an original acrylic on a 6×9 inch archival mat board and titled by date. She posts the daily heart on her Facebook wall.
Lovegrove's slogans include: "Painting for the GOOD in the world, one brush stroke at a time," "over the top" and "your life should be a work of art."
Besides Lovegrove Gallery & Gardens, you can also find work by Leoma at Tommy Dixon Collections (Chatham, Mass), Blue Mangrove (Marco Island), Edison Ford Winter Estates & Gardens ( Ft. Myers), The Village Firefly (Houston), Island Girl (Ft. Myers Beach), Galene's Paradise (Pass-a-Grille, FL)and The Franklin Shops on First (Fort Myers).
The artist was also a member of the Hot Flashz dance team, with whom she practiced several times a week until the demands of her affiliation with Bealls Departments Store pre-empted her free time.
She got her signature eyeglasses at Disney World, and they are prescription.
Leoma Lovegrove nominated as 2011 Person of the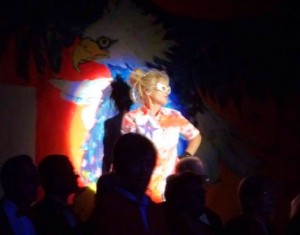 Year. For 25 years, The Fort Myers News-Press has honored people who have provided leadership and inspiration to this community. Past honorees have passionately led institutions or causes, served the less fortunate among us, delighted us with their artistic or athletic abilities, and served as role models to the community as a whole. The News-Press has called them "People of the Year," "People to Watch," "People of Praise" and "Unsung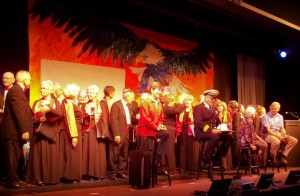 Heroes," and this year, Leoma Lovegrove was nominated as 2011 Person of the Year in recognition of the numerous contributions she made to community projects and fundraisers.
Those who attended Freedom Fest in the downtown Fort Myers River District this July Fourth will remember the 8×12 foot American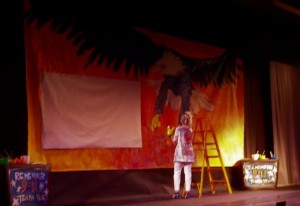 flag that Lovegrove painted for the Franklin Shops on First to showcase in their display window. It is a smaller version of the billboard-size American flag emblazoned with the lyrics of God Bless America that hangs in Concourse D at the Southwest Florida International Airport (pictured above) as a somber reminder of the reason travelers are subjected to enhanced security measures in a post-
9/11 world. But it was Lovegrove's gargantuan effort to honor the memories of those who died during the attacks on September 11, 2001 that figured prominently in Lovegrove's Person of the Year nomination.
The artist astutely perceived that members of the community needed a way to personally express their pent-up and as yet unresolved emotions regarding the losses all Americans suffered that fateful day. So during a June 17th ceremony held at the jetport, she extended an invitation to area residents and visitors to paint the names of the more than 3,000 victims of the 9/11 attacks on a 10 by 18 foot canvas that she would turn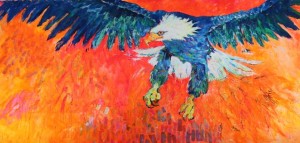 into a commemorative artwork during a ceremony taking place at the Broadway Palm Dinner Theatre on the tenth anniversary of the attacks.
To give as many people as possible a chance to participate in the community-wide and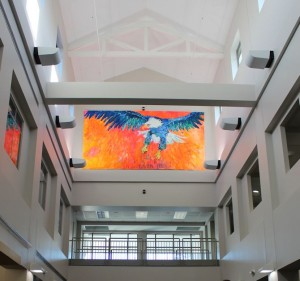 community-based art project, Lovegrove launched an ambitious 12-week tour during which she escorted the canvas to events scheduled at the Franklin Shops on First during July's Art Walk, the Red, White and Boom in Cape Coral on July 4th, Naples' Dennison-Moran Gallery (August 7th), Fox 4 Morning Blend (August 12), Iberia Bank in Cape Coral (August 12), Sam Galloway Ford in Fort Myers (August 13), The Shell Factory (August 14), Fort Myers Fire Station No. 6 on Veronica Shoemaker (August 18), Hotel Indigo in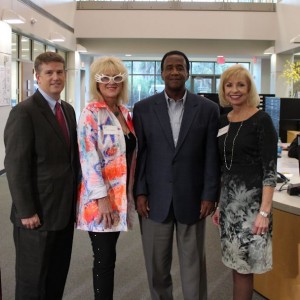 the River District (August 20), Lovegrove Gallery in Sanibel (August 21), Sip and Send in Cape Coral (August 25 and 26), Bubba's Roadhouse in Cape Coral and the Broadway Palm Dinner Theatre on September 11th.
Each event turned out to be highly cathartic, as people shared stories and reflected on where they were that day ten years ago. "Many, many tears," Lovegrove recalled with a hitch in her voice. "I have never seen so many." A surprisingly large number of those who turned out lost a friend or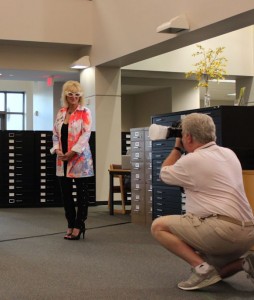 family member in the attacks. "Some people came with a list of names of people they'd lost," Lovegrove related. "So the names of some of the victims have been painted on twice, but we don't care." And those who selected names at random from a glass bowl often forged bonds with the person whose name they chose. "They'd go home and Google the person's name to learn more about him or her," observed Kirsten Troyer, a friend of Lovegrove's who volunteered to photography many of the events.
Lovegrove had planned for the victims' painted names to serve as backdrop for an American eagle that she would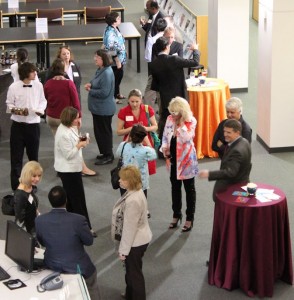 engraft over them during a Paint Out Loud performance at the Broadway Palm Dinner Theatre on September 11. "[But] the names became so sacred," Fox 4 Morning Blend's Carley Wegner reported to the Standing Room Only crowd who attended the emotionally-charged program, "that Leoma decided she couldn't paint over them. So she started a separate painting of an American eagle that's she going to finish today."
Thus, one flag became two, and while both paintings now stand in tribute to those who died on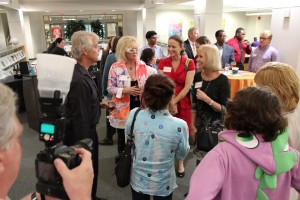 9/11, the one that bears the almost indecipherable tangle of names, letters and colors will always be special. "It's symbolic of the chaos and magnitude of the event and our loss," waxes photojournalist Kirsten Troyer philosophically, not to mention Ground Zero's jumble of pulverized concrete and shards of twisted metal and steel.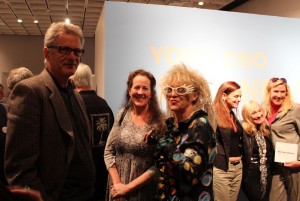 Lovegrove has been honored with her Person of the Year nomination not just for the magnitude of her own effort, but for providing the community with a meaningful way to express the significance of 9/11 in their own lives and within the fabric of our entire nation. In a time when the political climate has pitched conservative against liberal, Democrat versus Republican, hers was a unifying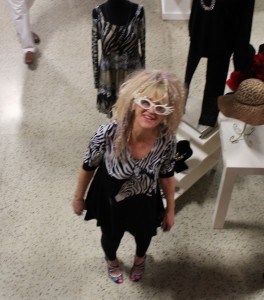 message that reminded everyone that we are all Americans, bound together by love of flag, country and our fellow countrymen and women.
Finalists will be revealed on December 18 in the categories of People or Person of 2011, People or Person to Watch in 2012, Heroes, Trailblazers, and Public Officials, with the winners being announced at the Sidney and Berne Davis Art Center in Fort Myers during a January 19, 2012 reception called "People of the Year: Making a Difference."
No matter the outcome, Leoma Lovegrove is a winner in the hearts of all those she touched with her 9-11 community-wide, community-based commemorative art project, "Remember 9-11 Tenth Year."
Art Wear Clothing Line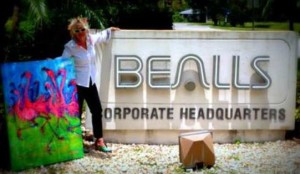 On February 6, 2013, Bealls Department Store announced the release of an exclusive collection featuring Leoma Lovegrove's colorful Florida motifs. The new collection is available now in stores and on BeallsFlorida.com.
"Bealls is committed to bringing fresh and unique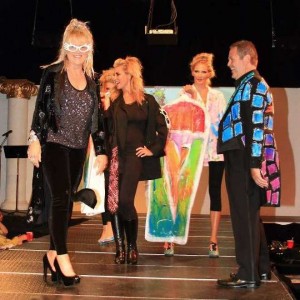 merchandise to our customers," Beall's Vice President and Chief Marketing Officer Sean Sondreal said in making the announcement. "We are thrilled to partner with local artist Leoma Lovegrove in an exclusive collection. Ms. Lovegrove's striking depictions of our Florida lifestyle make her collection a perfect addition to our Women's Department."
Available in tees, Lovegrove's hand-painted renditions of Florida life include sea life, birds and Florida landscapes bursting with tropical color,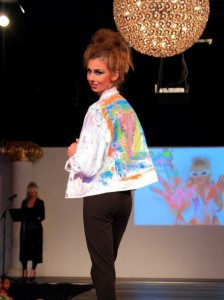 vibrant tones and brilliant hues.
Lovegrove is also working on a line of art wear clothing that includes her signature eye glasses, hand-painted blouses, jackets and slacks, and even hand-painted pumps and open-toe heels. She displayed a number of pieces during Art Walks the Runway, a two-day art and fashion show organized by the Sidney & Berne Davis Art Center September 7-8, 2012.
2014 Articles and Links.
2013 Articles and Links.
2012 Articles and Links.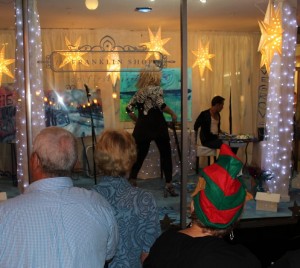 2011 Articles and Links.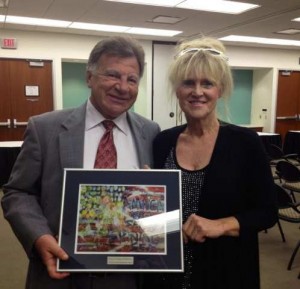 Articles About "Remember 9-11 Tenth Year" Community-Based Art Project