Art2D Gallery & Custom Art Studio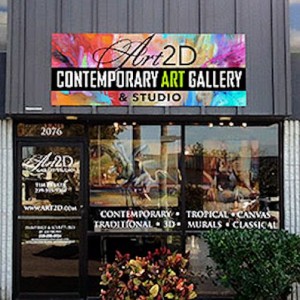 The Naples Art District in the Pine Ridge Industrial Park in North Naples is dotted with companies that cater to people who are building or renovating their homes. But among the rows of offices, warehouse and flex space occupied by architects, interior designers, building contractors, granite and stone fabricators, cabinet makers and lighting showrooms are more than two dozen art galleries and working artist studios. "People also want art for their homes," notes Art2D owner and artist Tim Parker, "so it only makes sense for Pine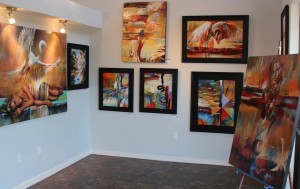 Ridge Industrial Park to be home to so many contemporary art galleries and artist studios." Which is one of the chief reasons that Parker has located Art2D Gallery & Custom Art Studio in this North Naples design area.
Location. Art2D Gallery & Custom Art Studio is located at 2076  J & C Boulevard in Naples, Florida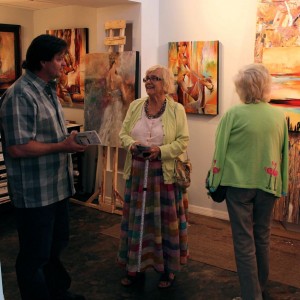 34109. One block south of Trade Center Way, J & C Boulevard forms the southern perimeter of Pine Ridge Industrial Park, which is sandwiched between Goodlette Frank Road and Airport Pulling Road.
Facilities. On the other side of the glass storefront door and window is an L-shaped gallery with white walls and stone-colored ceramic floors. It is here that owner/artist Tim Parker displays his newest figurative abstracts, 3D motion and a handful of traditional landscapes.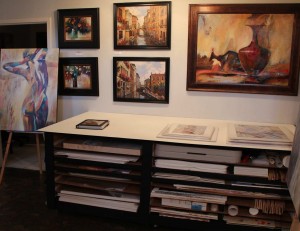 This is a working studio, and in a small room to the right of the gallery is where you will often find Parker at work on one or more new compositions. Parker tacks his working canvas to a 4×8 foot length of cork board that protects the wall from the gestural drips that frequently cascade down his compositions. A rectangular swatch of cardboard catches the paint that makes it to the floor. Parker paints to the accompaniment of music, which is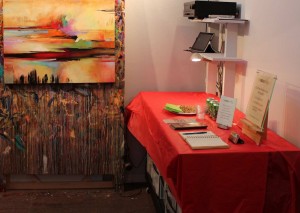 provided by a CD player in the corner. A red vinyl covered table serves as a palette holder and place to hold tubes of oil and acrylic paint and jars of archival inks, linseed oil, turpentine and other cleaning materials.
"There's a window behind the table," Parker explains, "which I open to let in more light when I'm working."
Genres and Media.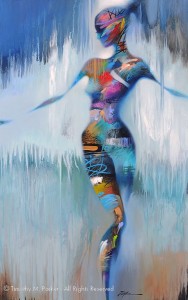 Parker is best known for figurative abstracts in oil, acrylic and mixed media on canvas and acid-free boards that reflect the influence of his 22-year career in the high-end fashion, fragrance and cosmetic industries. His style involves an exploration of the interaction between texture, expressive brush strokes, vibrant color and the human figure, and he employs this same unique approach when painting other motifs, such as landscapes, wildlife, and still lifes. The net result are paintings that allow viewers to see multiple facets and dimensions in and throughout his oeuvre or body of work. Tim's work is collected internationally and can be found in numerous corporate and private collections.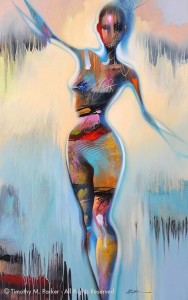 His newest series of work involves 3-dimensional compositions that change as the viewer moves across the canvas. "My figures blend into their backgrounds anyway, so the evolution 3D only made sense," Parker explains. However, he won't disclose the techniques he employs to makehis paintings change from pure abstracts into figurative compositions and back again.
Ownership. The gallery is owned by artist Timothy Michael Parker. After studying art at Parsons School of Design in New York City, Tim went on to earn his masters degree in art education at Adelphi University. He then embarked upon a 22 year career working in New York as an illustrator, graphic designer and creative director. In the latter capacity,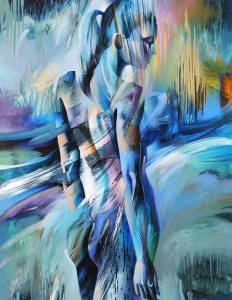 he did marketing, branding and advertising for high-end fashion, fragrance and cosmetic companies such as Christian Dior, Victoria's Secret, Elizabeth Arden, Revlon, Clinique, Escada, Sephora, Bali, Ralph Lauren Intimates, Hanes Hosiery and Avon. His work revolved around images of beautiful women which can be seen today in his abstract figurative work.
Eventually, Tim decided to concentrate on art full time. Lured by southwest Florida's reputation as a thriving and vibrant art market, Tim relocated to Naples in 2003. After a brief stint on Fifth Avenue South under the name of Aura Art Gallery, Tim created Art2D, a custom fine art and mural business, and opened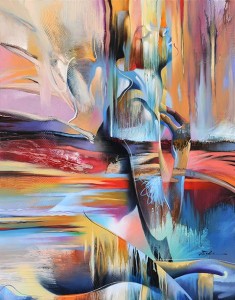 his working studio and gallery in the Pine Ridge Industrial Park, which not only affords lower rental rates but a collegial atmosphere thanks to the large concentration of other artists and gallerists in close proximity.
Tim is familiar to the thousands of art enthusiasts who frequent the art festival circuit. In 2009, Tim was not only juried into ArtFest Fort Myers, he was chosen as the poster artist for the festival. He went on to earn the distinction of becoming the festival's "top seller ever by a big margin" (according to event organizers). He has also served as a judge for various group art shows, and his representation in the gallery world is continually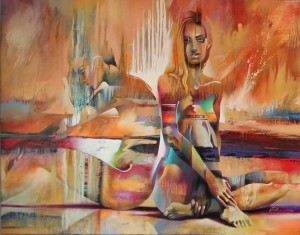 evolving and expanding.
Parker is a member of the Naples Art Association, the United Arts Council of Collier County, the Bonita Springs Art League and Art Alliance Naples.
Hours. Although Tim Parker spends considerable time in his studio, he does accept commissions and often participates in art festivals, so it is advisable to call ahead to check on availability or to arrange a private showing.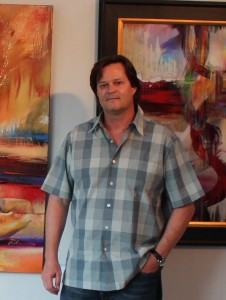 Telephone Number and Website. You can reach the gallery by telephone at 239-595-9369 or online at http://www.art2d.com. You may also find more information about the artist and his work at http://www.timothymparker.com or follow Art2D on Facebook at http://www.facebook.com/pages/Art/149867811697208.
Other Services. Parker also does murals, details, trompe l'oeil and other artworks commissioned by clients and interior designers. These paintings range in size from very small to up to eight feet tall, customized from start to finish, incorporating the colors, subject matter, design elements and styles from the environment in which they will be displayed. The paintings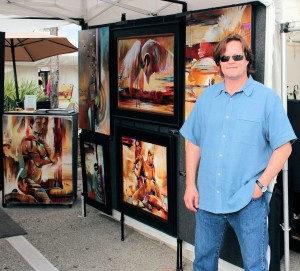 often have 3-D elements or can be made flexible enough to wrap around curved walls. The paintings can be stretched on custom wood stretchers to fit into niches or the canvas can be applied directly on the wall.  The gallery charges a $200 design fee to create the layouts, which is deducted from the final price if the client proceeds with the commission.
Parker publishes a newsletter that enables patrons and art lovers to keep abreast of his career, festival appearances and recently-completed compositions.
Fast Facts.
Art2D Gallery & Custom Art Studio officially opened on July 7, 2011.
Parker's 3D painting, Unconquered Spirits, is suspended from the ceiling inside the Paradise Room high limit area in the Seminole Casino in Immokalee. The painting depicts  the  eight  different clans within the Seminole Tribe of Florida, including Wind, Bird, Panther, Otter, Bear, Snake,  Deer  and  Big Town, rendered in Parker's semi-abstract style. "We are thrilled to recognize the immeasurable progress made by the Seminole Tribe of Florida, while showcasing artist Tim Parker's extraordinary creative talents at Seminole Casino Immokalee,"  said  Seminole Casino Director of Marketing James  Gibson in a press release announcing the August 8, 2011 unveiling ceremony. "This sculpture will serve as a significant symbol of the Tribe's heritage for our guests."
"It was an honor to create artwork for the Seminole Casino in Immokalee depicting the unconquered spirit of the Seminole Tribe clans which continue to thrive in the modern world," said Parker of Unconquered Spirits. "As an artist, a unique installation piece is a dream job and for me, the larger the better. This has 16 different sections, is more than 30 feet wide when all hung together, and two-sided. I am quite pleased with the final results and would like to thank the folks at the casino for giving me the creative freedom and opportunity."
Related Articles and Links.