Boren's 'Water View' is clarion call for water quality stewardship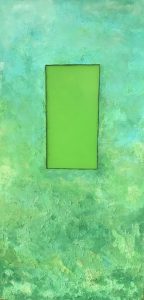 Katherine Boren is one of 72 artists with work on display in the Alliance for the Arts' member exhibition Different Strokes. Her abstract composition is titled Water View. It is a mixed media piece incorporating sand from the Gulf off the shore of Sanibel Island.
At first blush, the painting presents a juxtaposition of greens. The majority of the canvas transitions from soft turquoise to the luscious, mottled emerald green you would see dangling from a parasail high above the tranquil waters off the white sandy beaches of Pensacola, Fort Walton Beach and Destin. The waters west of Sanibel and Captiva were once that color too. And Boren's Water View "celebrates the beauty of the water the way it once was and could be again if we all do our part in caring for our community and planet."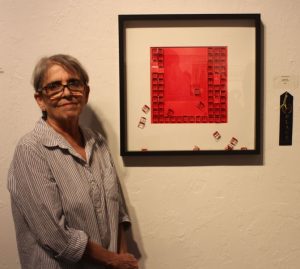 What Boren and Water View are alluding to are the clumps of blue-green algae that issues from the mouth of the Calooshatchee and which streams into Estero Bay from the Estero and Imperial Rivers and the bay's other seven tributaries. In Water View, Boren replicates the color of this biological gunk in a rectangle that she quarantines in the middle of the painting. That rectangle could be a stand-in for Lake Okeechobee, which at this very moment is a thick mat of cyanobacteria  just waiting to be released into the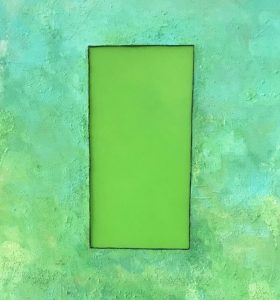 Caloosahatchee by the Army Corps of Engineers, which is charged with responsibility for discharging millions of gallons of nutrient-enriched lake water into the Caloosahatchee and St. Lucie Rivers in order to preserve and protect the integrity of the dikes surrounding the lake.  If the releases are large enough, the algae will flow all the way into the Gulf of Mexico, where the algae-laden freshwater will mix with the ocean's saltwater, stimulating a chemical reaction that often spawns red tide.
In 2018, a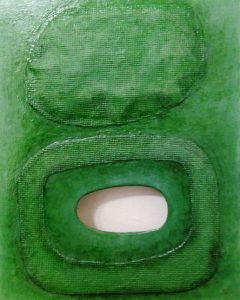 massive red tide event devastated Florida's Southwest Coast, killing marine life and sickening residents and visitors. Scientists fear that we could be in for another massive red tide outbreak this year. But blue-green algae and nutrient-laden water from Lake Okeechobee is only once source contributing to water clarity and quality. Nitrogen from fertilizers spread by homeowners on their lawns and landscaping beds serves as another major contaminant that jeopardizes the quality of the waters in and around Southwest Florida.
The first step in solving any challenge is identifying the problem. The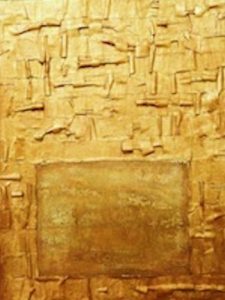 next step involves being proactive, or as Katherine Boren so eloquently puts it, "if we all do our part in caring for our community and planet." So accept this challenge by implementing as many of these steps as possible:
Stop mowing near streams and ponds, as this eliminates the natural protective buffer that tall grasses, shrubs and trees provide, which includes filtering stormwater runoff and providing habitat for mosquito-eating amphibians, fish and birds
Reduce the fertilizers and pesticides you use and take measures to prevent those that you do use from being washed by stormwater runoff into local waterways. (One simple prophylactic is simply checking the weather forecast and avoid applying right before a rainstorm.)
Regularly remove debris from stormwater catch basins, storm drains and curbs.
Design and construct a rain garden to reduce erosion, promote ground water discharge and remove pollutants from stormwater runoff.
Use native plants to reduce soil erosion and prevent sediment from loading your waterways.
Develop a stewardship plan for your community.
From this perspective,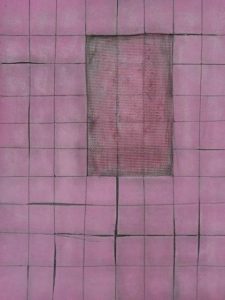 Water View can be seen as a clarion call for water quality stewardship.
Katherine Boren is an abstract and textural relief-collage artist. By focusing on a monochromatic palette and utilizing a combination of untraditional materials in unexpected ways, she emphasizes the reflection of light, varying textures and shapes, and differing grades of color saturation. Go here for more on her body of work and process.
July 16, 2021.
N.B.:  The recommended measures provided above come compliments of Princeton Hydro.