Dale Weber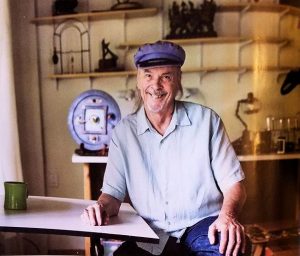 Dale Weber characterizes himself as an assemblage artist. He creates three-dimensional works made from objects he finds at Goodwill, on the side of the road or even in his own backyard. But he did not start out following in the footsteps of Captiva icon Robert Rauschenberg or any of the other artists who pioneered the field of found objects such as, for example, Marcel Duchamp, Pablo Picasso or Damien Hirst.
Weber began his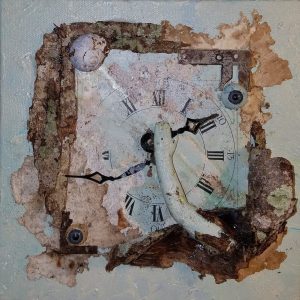 artistic journey in the early 1970s pursuing the more traditional/conventional discipline of painting. As a painter, he evolved from oil to acrylic to pastel. But, inevitably, his journey of artistic expression led Weber to the world of mixed media collage and finally to found object assemblage, and he has traveled this path now for more than a dozen years, recycling a variety of discarded materials.
Dale only uses materials that are no longer able to serve their original purpose. He does not seek out specific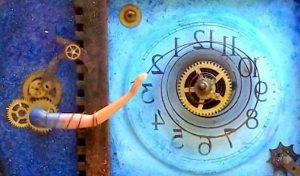 items, but rather is always on alert for items that present artistic opportunities in the course of his daily routine or travels.
"I create objet trouve (found object) assemblages by re-using discarded items," Dale explains. "I find cast-offs along railroad tracks, at construction dumps, flea markets, thrift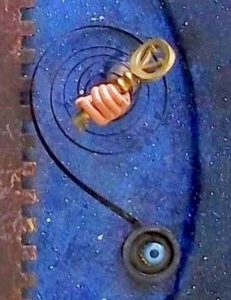 shops – where ever they lay."
Not surprisingly, his studio contains boxes and drawers filled with items stashed away "much like a child collecting 'treasures' in a cigar box under the bed." Eventually, he examines his finds, handles and plays with them, allowing them to connect with and speak to his inner child.
"The results are not always expected, but are always uniquely different," Dale points out.
Weber prefers the term reinvented rather than recycled.
"I believe all matter, inanimate as well animate, is destined to lead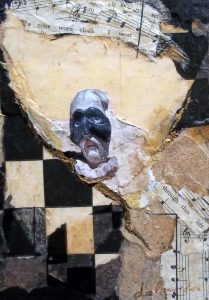 many lives and serve many purposes," he amplifies. "With encouragement, the discarded can re-invent itself on a different level."
By careful selection and placement, discarded objects enter into dialogues expressing the artist's views that range from the philosophical to the whimsical. Each assemblage is as unique as the material used.
Dale takes special joy in creating revisions suggested by the nature and past use of the objects he rediscovers. The new story he invents may be a clever parable or simply a whimsical tale.
"Whatever it becomes,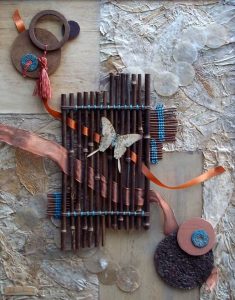 it will be as unique as the material I find."
But he's quick to caution that his art is more than just a way to reduce waste. His overarching mission is to inspire others to care more about the ecology, environment and the planet, as a whole.
"I want my stuff to make people think … about our fellow man … about animals … about plants … about the planet," he told NBC2 correspondent Taylor Crehan in February of 2019.
His artwork offers a new perspective on the importance of everyday life.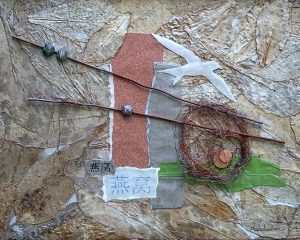 In his search for the significant hidden within the insignificant, Dale reveals the inner beauty of the mundane. His art is a metaphoric vehicle for the overlooked, abandoned, and forgotten elements within today's society.
"If there is a moral to be learned from my artwork, perhaps it is this: Everything deserves a second look, a second chance. Perhaps together we will begin to see our surroundings with new eyes. Awareness is the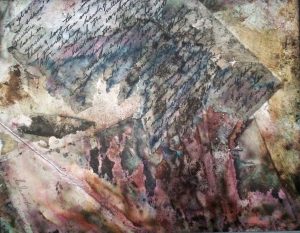 first step of change."
In this way, we can all discover the hidden beauty that surrounds us.
"The world is a brighter place than we might think," Dale concludes.
Weber is a veteran of both solo, group and invitational exhibits (including, most recently, The Sense of Things at the Phillips Gallery in BIG ARTS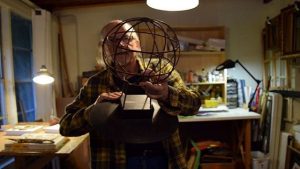 on Sanibel Island) and a recipient of several awards. He is a member of the International Society Of Experimental Artists, International Society Of Collage And Assemblage Artists, Alliance for the Arts, Art Council Of Southwest Florida and Southwest Florida Fine Craft Guild.
June 19, 2019.