E.J. Paprocki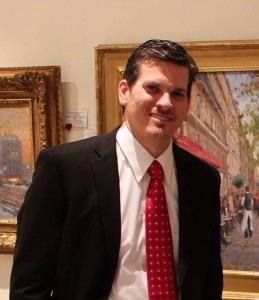 Artist: E.J. Paprocki
Genre: Impressionist
Media: Oil on Canvas
Gallery: DeBruyne Fine Art
Website: http://www.ejpaprocki.com
Facebook: http://www.facebook.com/people/EJ-Paprocki/1349174114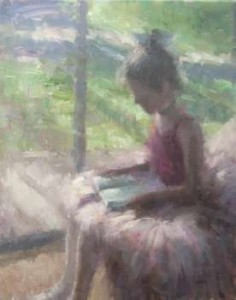 E.J. Paprocki is a gifted impressionist painter. The vast majority of his motifs are plein air landscapes and cityscapes from idyllic locales like Paris, Brittany, Bruges, the Irish coast and the British countryside. But he also renders lush garden scenes, expressive figuratives including tender beach scenes depicting children at play in the sand and along the water's edge, and compositionally alluring still lifes awash with vibrantly colorful flowers. In fact, his forte is his extensive palette of colors.
His Plein Air Painting
E.J. prefers to paint landscapes, cityscapes and his garden scenes on location. "Painting on location forces you to work quickly," says the artist. "There's no time to linger over tiny details. You learn to say a lot with one brush stroke." Clouds alter the slant of the sun's rays. Wind ruffles foliage and sends ripples scurrying through the water. People, cars and boats move in and out of a scene. So the plein air artist must work quickly lest nature defeat his mission to encapsulate his impression of how light, shadow and movement interact with his subject at a given instant in time. "By keeping the brushwork light and not overpainted, I finish most paintings in two to three hours."
By painting the vast majority of his works on location, E.J. pays tribute to a rich tradition started by Edouard Manet and Claude Monet, the fathers of the impressionist movement. Recognizing that impressionists study the interplay of light, shadow and movement in the open air, Monet urged his contemporaries to give up their studios and never paint another stroke except outdoors, in front of their motif. He backed up this advice by converting a small boat into a floating art studio in which he painted  portraits and cityscapes along the banks of the Seine.
"I like painting on location," comments the artist who once set up his easel in the median of Chicago's busy Michigan Avenue in order to get the best vantage for a rendering of his beloved home town. "Plein air painting is really a 'happening.'" He attracts a fair number of bystanders wherever he paints. "That's part of the fun of plein air painting," he remarks, recalling a recent painting of Paris he rendered from a bridge spanning the Seine. "People are inclined to come up and engage you in conversation."
Personal Affinity for his Subjects
"I have a strong affinity for my subjects," E.J. maintains. His work therefore reflects his love of travel, hometown Chicago, New York, flowers and beach scenes that feature his own and other kids. Even when he is on location in locales such as Antrim (Ireland), Slaughter (England), Bruges and Paris, he focuses on bright expanses of color and texture that dot city streets and flower-carpeted vales and valleys. No self-respecting impressionist can resist the charm of a sprawling English garden, and his occasional stills are worthy of comparison to Renoir and Georgia O'Keeffe.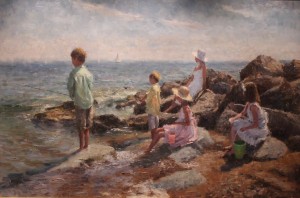 For all that, it is Paprocki's beach scenes that showcase his tender side. The paintings portray the innocence of children and explore the nuances of how they stand at the water's edge or skip stones across its shimmering surface. However, this is one area in which the plein air artist ducks indoors to finish his work. "Children don't stand still for very long," E.J. explains of the necessity to use between three and four hundred photographs in connection with his children-on-the-beach series.
"Art and what you leave behind is what and who you are," E. J. sums up sagely. "It speaks from your heart and mirrors your personality."
His Early Years
E.J. Paprocki picked up his first brush when he was just seven. His childhood was filled with practice and encouragement, and he drew inspiration from the frequent trips his dad took him on to New York. In fact, he became so enamored of the frenetic energy and non-stop activity in the city that never sleeps that at 18, he spent four months there painting the Plaza Hotel. When he finished, the precocious teen sent new owner Ivana Trump a letter and a photo of his painting. She has the distinction of being his very first sale.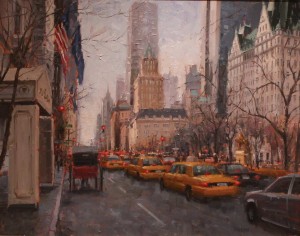 Still, the young artist had misgivings about the feasibility of making a living as an artist. So he opted to major in finance at Loyola University. But he minored in art and spent half his time visiting Chicago's world-class museums and art galleries. The latter provide him with invaluable feedback and constructive criticism.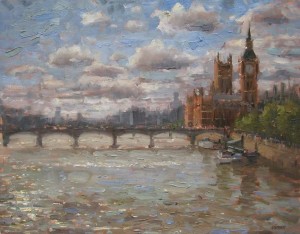 Even before he graduated in 1993, two of the galleries offered to sell his work. One was the internationally-renowned Galleries Maurice Sternberg. By the time he graduated, a gallery in Boston was exhibiting his work. Soon after, the prestigious Wally Findlay Galeries began representing him as well.
After graduation, Paprocki decided that the best training for his fledgling career would be to paint the same motifs as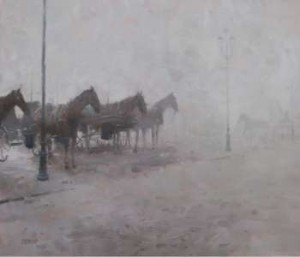 Manet, Monet and Renoir, and so he set off for Ireland, England, Belgium, France, Italy, Austria and Spain where he refined his skills as a plein air artist. Though he is married now with two handsome sons who frequently serve as models for his beach scenes, his painting still regularly takes him abroad where he gleans fresh inspiration.
Resume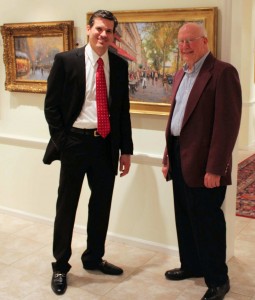 In 1997, Hilary Clinton selected Paprocki to paint the program cover for the Annual Pageant of Peace held at the Ellipse in Washington, D.C. The painting was so good, it is now part of the White House's permanent collection.
His works can also be found at MBNA Bank, IBM, Borg Warner, R.R. Donnelly and both the Plaza and Mayfair Regent Hotels in New York, Whitehall Hotel and the Tremont in Chicago, the Ritz Carlton Hotel in Naples, as well as in over 1,000 private collections in the United States, Canada, Ireland, England, France, Belgium, Germany, Switzerland, Greece, Japan and India.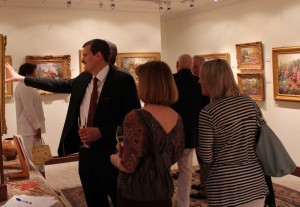 E.J.'s work has garnered accolades at show and in art publications. In 1997, he received the Juror's Choice Award at the Oil Painters of America National Juried Exhibition. In 2000, he was invited to exhibit at the highly prestigious Great American Artists Exhibition, and he has been invited back every year since. He has also been featured in Art of the West, Southwest Art and Gulfshore magazines.
Just 40 years old, he has enjoyed 16 solo exhibitions, 11 of which have taken place at DeBruyne Fine Art in Naples.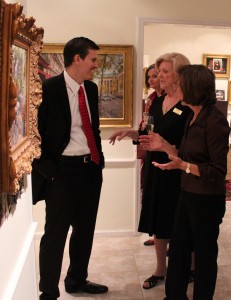 He joined DeBruyne several years ago. Owner Suzanne DeBruyne (right right) and Gallery Director Kate Bauer (second from right) remember the day clearly. "He wandered in off the street to see if we'd like to represent him and started unrolling his canvases on the floor," recalls DeBruyne. "Each new work was better than the last and we looked at each other as if to say we better lock the doors and get him under contract before he has a chance to leave." To underscore just how rare a talent E.J. Paprocki is, during the summer of 2010, Suzanne DeBruyne received 372 unsolicited portfolios. None were good enough to be accepted for representation by DeBruyne Fine Art.
Adds Bauer, "He was good then, but he's incredible now."
Related Articles and Links.