Mila Bridger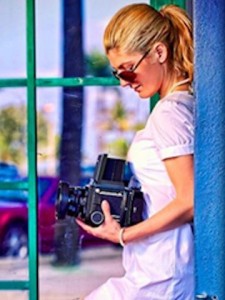 Artist:   Mila Bridger
Genre: Portrait Photography
Website:  http:// www.brokenpixelproduction.com
Facebook:  https://www.facebook.com/brokenpixelproduction
Her Art:
Bridger is renowned both locally and internationally for fantastical portraits that feature thoughtfully stylized, saturated settings that evince a high degree of kinetic energy and unmistakable Expressionist flair. "I am a photographer who manufactures fantasy and is always up for a challenging shoot," states Bridger.
Beach Scene Motifs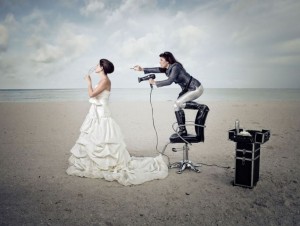 Beach scenes offer Bridger both the opportunity to indulge her penchant for whimsy and explore the effects of diffuse early morning sunlight. In compositions such as the poster she created for abstract artist Veron Ennis' solo show at the Sidney & Berne Davis Art Center in 2013 or her creative portrait of Allison Pezzuti for The Scout Guide, Bridger enlists nondescript sky, soft horizon line and the blurred transition from surf to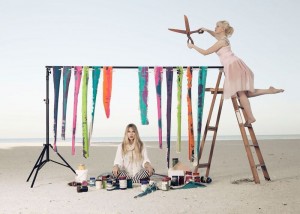 sand in a subtle stratagem to force the eye to focus on the highly symbolic imagery that fills Bridger's foreground.
For example, in the Ennis poster, swatches of painted canvas hang from a thin black metal pole supported on one end by a sleek modern tripod and at the other by an old wood stepladder. Bottles of specially mixed pigment she uses to express the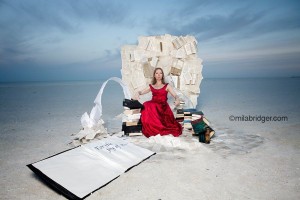 language of color are spread across the sand in front of a cross-legged Ennis, metaphorically underscoring how the artist's technique depends on the chance application of her medium. Likewise, in her portrait of children's novelist Faith Harkey, the crimson-gowned writer is seated on stacks of books and manuscripts before a bulletin board papered with notes and pages torn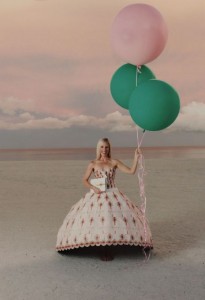 from old tomes typing away on a black antique manual typewriter from which an unending sheath of pages magically gush like a geyser – metaphorically screaming "Tell them MY story. Tell them MY Story."
Artifices and gambits such as these serve to make Bridger one of modern photography's most eloquent and successful conversationalists. There is nothing arbitrary in Bridger's compositions. From hair, wardrobe, make-up and pose to the personal items and props with which she surrounds the subjects of her shoots, nothing is arbitrary. Everything is carefully selected and orchestrated following a fully articulated pre-determined plan. And this is the key to understanding Bridger's work.
Homages to Iconic Paintings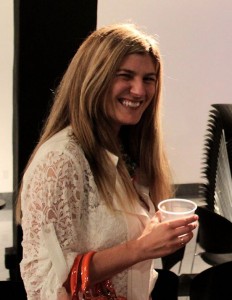 "Everything you see in one of my photographs is staged," Mila acknowledges. Nowhere is this more in evidence than in the homages she has created to two of Western Art's most iconic paintings, Leonardo da Vinci's Last Supper and Pierre-Auguste Renoir's Luncheon of the Boating Party. She conceived, cast, staged and photographed both for auctions benefitting the Sidney & Berne Davis Art Center (SBDAC) in the downtown Fort Myers River District.
For Feast of the Masters, Bridger assembled 11 of Southwest Florida's best known artists and artistic personalities for an ultra-creative re-enactment of The Last Supper. Joining Bridger
for the shoot were Chef Mike Gavala, Pamela Beckman, Xavier Brignoni, David Acevedo, fashion designer Mariapia Malerba, gallery owner Terry Tincher, Veron Ennis, Cesar Aguilera, Fort Myers Film Festival Director Eric Raddatz and Downtown Diva Stephanie Davis.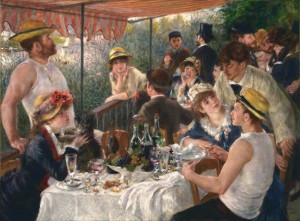 "Getting together all those artsy types in one room was a feat in itself," stated the caption in the May 6, 2015 edition of Florida Weekly, "but when Berne Davis herself made the highest bid and declared the portrait should always hang in the art center, now that was masterful."
The following year, Bridger invited Lily Griffith,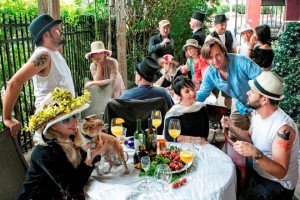 Leila Mesdaghi, Jeffrey Scott Lewis, David Acevedo, Jonas Stirner, Jim Griffith, Pamela Beckman, Mariapia Malerba, Destiny Haggett, Bradford Herman, Jamie Burnette, Stephanie Davis, Melissa Tschari DeHaven, Cesar Aguilera, Cameron Plummer and Bill Haggett to re-create Renoir's Luncheon of the Boating Party. As a comparison with the original oil underscores,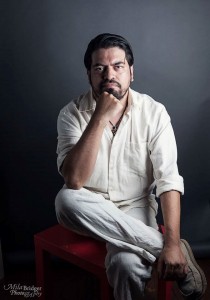 not only was she able to induce her cast to mimic the style, position and look of the figures in Luncheon of the Boat Party, she emulated Renoir's use of vibrant colors, careful and complex compositions and mastery of light. The parallel runs deeper though. Just as Renoir's talents as a portrait artist attracted many open-minded patrons, leading to his financial and artistic success, Bridger's fresh and exciting approach to the art of photography has extended her creative reach beyond the local art scene to points around the globe.
Formal Portraiture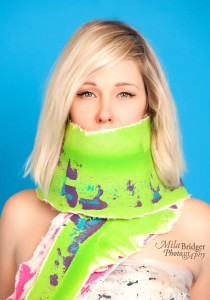 What do The Mona Lisa, Girl with a Pearl Earring, Night Watch, American Gothic, Portrait of Adele Bloch-Bauer I, Portrait of the Postman Joseph Roulin, Berthe Morisot with a Bouquet of Violets and The Scream have in common? Although these iconic portraits span hundreds of years of civilization and art history, each captures the unique essence of the person preserved on the canvas or wood panel of the artist rendering the portrait. This is the quest of every portrait artist, regardless of medium, and it is Mila Bridger's overarching goal in the portraits she takes as well.
It is clear from the images she produces that Bridger spends time getting to know the real person beneath the persona who appears in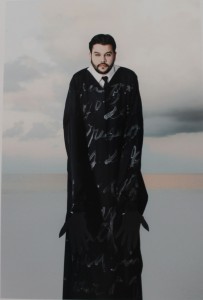 her viewfinder. Toward this end, Mila is careful to place her subjects in settings that reflect their passions and world view. For example, Bridger dresses modern artist Veron Ennis in the plastic that covers the artist's work table when she paints and drapes a strip of canvas from one of her paintings around her mouth and neck, metaphorically messaging that Ennis' art speaks for her better than mere words can express. Bridger superimposes pop artist David Acevedo's likeness atop a black-clad figure from one of his most popular series of paintings. Portraits of Italian fashion designer Mariapia Malerba always find her attired in something from her unconventional haute couture recycled collection. And Artistic Director Annette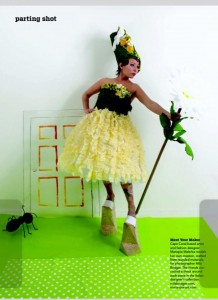 Trossbach sits comfortably for her January 2016 Gulfshore Business Magazine portrait within the confines of Lab Theater's second-floor set and props storage room, brandy in hand and copy of Steinbeck on the couch beside her.
But the signature of a Mila Bridger portrait is in the spark of vivacity invariably expressed by her subjects' eyes, her strategic use of light, and the strong emotion conveyed by the subject's posture, demeanor and attitude. Bridger often counterbalances symmetry with tension, using everything from the angles of her subject's arms and hair to the folds of fabric and clothing to direct her viewers' eyes around the various focal points she includes in each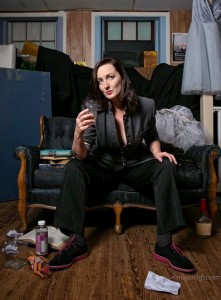 composition. But it is the head-on gaze or sidewise glance that attracts and holds the viewer's attention. And it is Bridger's rare ability to interact authentically with her subjects through – or notwithstanding – the medium of her camera that makes this aspect of Bridger's photography feasible in the first place. But it's not that Bridger finds a way to know her subjects well. It's her willingness to allow her subjects to get to know her so essentially that they are able to communicate with Mila through their eyes, by simply exchanging a glance or a look. And that's what you see when you look at a Mila Bridger portrait.
Epicurean Photography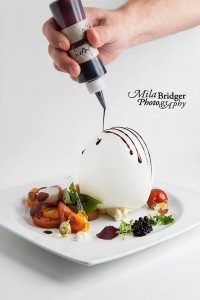 "For centuries, food has been a common theme found in works of art," noted American Art Collector magazine in April of 2011 (vol. 66, April 2011). Whether denoted by the name epicurean, culinary or gourmet, there's no denying the growing popularity of the genre of art that today features foods, cafe' scenes, chefs at work, kitchens and romantic restaurants, beverages and even food containers that come off the easels of epicurean painters like Darrell Hill, Thalia Stratton, Kathy Morrison, Barbara Fracchia and Tiago Finato. Here too, Bridger has carved out her own enviable reputation as an accomplished culinary photographer.
In Bridger's case, her gastronomic shots emanate out of commissions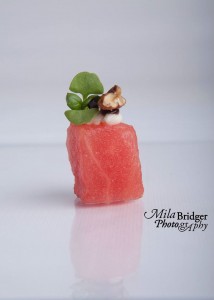 by Crave Culinaire, Pyro's Creations, Bon Soiree and Mermaid Garden Café. As a consequence, her epicurean images paint tantalizing portraits of the sumptuous hors d'oeuvres and gourmet creations Brian Roland, Chef Pyro, Mike Gavala and Gloria M. Jordan. Bridger's technique is not far removed from the way she causes her beach scene subjects and motifs jump out in sharp juxtaposition against her trademark minimalistic backdrop of nondescript sky, soft horizons and the amorphous meeting of sea and sand. In her culinary photographs, she uses stark white backgrounds that evoke the look and feel of white linen tablecloths, fine white china and polished Italian marble to bring out the enticing color palette,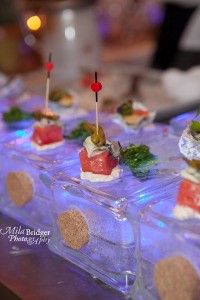 imagined fragrance and tasty texture of the foods appearing in her viewfinder. But where Bridger truly excels is in capturing the joy and creative elan of the executive chefs, sous chefs, sauciers and sommeliers who people the restaurants, bistros and cafes that perfume the night air in dining destinations from downtown Fort Myers to Naples fabled Fifth Avenue South.
In the latter context, it is not the artistic quality of the food or the trappings of luxury dining that attract Bridger's lens. Instead, in her images of Roland, Pyro, Jordan and their cohorts, Bridger provides us with a window into the passion, intensity and pure joy of living in the moment that typifies the creative lives of the extraordinary men and women who engage our senses of taste, smell and sight.
Recognition and Awards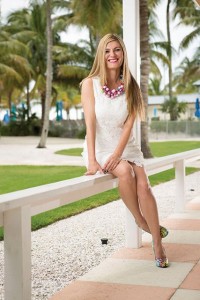 When Mila Bridger speaks, everyone leans in to listen. It's not just her charming Polish accent that draws people in. It's not her calm demeanor or warm and breezy personality either. As Gulfshore Life Magazine recognized in 2015 when the included her in their "40 under 40" awards, she is one of the hottest photographers in all of Southwest Florida.
Bridger has photographed restaurateurs, entrepreneurs, designers, celebrities and weddings all over the world. Her conceptual anthologies, exotic and creative portraitures, and collaborative artistic projects with musicians, actors and other gifted artists have been featured in Gulfshore Life Magazine, Naples Illustrated Magazine,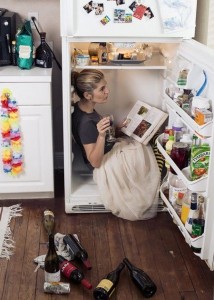 Gourmand Magazine, Life In Naples Magazine, PopTasticBride.com, NaplesWineFestival.com, NaplesNews.com, CoastalBreeseNews.com, FarAndAway.com (Thailand), and BabyLifeStyles.com (Holiday 2012 Issue).
Bridger has forged her formidable artistic sensibilities by immersing herself in countless foreign cultures and societies growing up and during the extensive travels that ensued. With a background in European Art, Bridger brings a fresh and exciting approach to the art of photography and has built an enviable reputation for gorgeously stylized and internationally-acclaimed images that evince a distinctive kinetic energy and unmistakable Expressionist flair.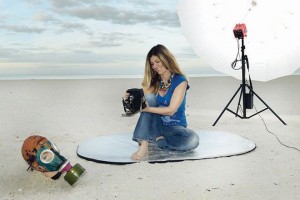 "From fashion and glamor to an alternative approach, my aim is to change the way we think, see and feel the world around us. My work is vivid, colorful and twisted. Love it or hate it, if it made you feel something, then my mission is accomplished. I believe I am creative and I stay true to my vision and beliefs," she says.
Charitable Outreach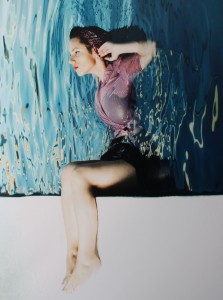 Bridger has extended her sense of community through involvement with the Naples Winter Wine Festival, The Heights Foundation, donations to various charitable auctions, and humane societies. In the latter regard, she's involved in rescuing cats, adopting three of her own.
ADDITIONAL ARTICLES AND LINKS
Following are additional articles, stories, posts and links regarding the photographer and her work:
Here's the link to Nancy Stetson's article on Mila Bridger in Florida Weekly titled "Fresh, Unusual, Surreal."
Bridger's 'Artful Anatomy' uses figures from local art community to convey message of creative unity (10-14-16)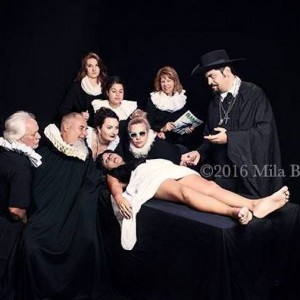 For three years running, fine art photographer Mila Bridger has paid homage to some of the greatest artistic compositions the world has ever known. First came Leonardo's The Last Supper. Mila followed that with Renoir's Luncheon of the Boating Party. For this year's Cooking for the Arts auction benefitting the Sidney & Berne Davis Art Center, Bridger selected Rembrandt van Rijn's The Anatomy Lesson of Dr. Tulp.
Part of the success Bridger has enjoyed since arriving on the local art scene is attributable to her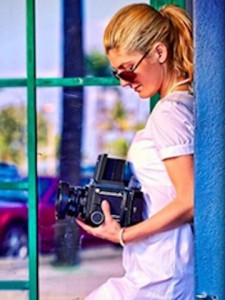 inclusion of many of Southwest Florida's art, theater and business personalities and leaders in her individual and group portraits. For Bridger, it is symbolic of the way that they individually and collectively contribute to the vibrancy of our local art, theater and cultural scene. "In these photographs, I am not only paying tribute to some of the world's greatest artists and group portraits, but showing that here and now we can do things together to create something special that gives back to the community," explains Mila. By way of example, the proceeds raised from the live and silent auctions that take place during Cooking for the Arts benefit the Davis Art Center's Eclectic Education programs.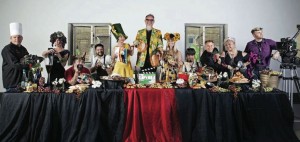 It's an honor to be included in one of these homages. For Feast of the Masters, Bridger chose Chef Mike Gavala, Pamela Beckman, Xavier Brignoni, David Acevedo, fashion designer Mariapia Malerba, gallery owner Terry Tincher, Veron Ennis, Cesar Aguilera, Fort Myers Film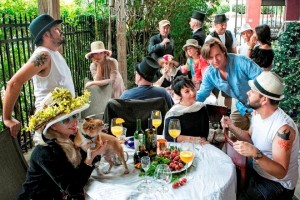 Festival Director Eric Raddatz and Downtown Diva Stephanie Davis for her ultra-creative re-enactment of The Last Supper. For Luncheon of the Boat Part, Bridger invited Lily Griffith, Leila Mesdaghi, Jeffrey Scott Lewis, David Acevedo, Jonas Stirner, Jim Griffith, Pamela Beckman, Mariapia Malerba, Destiny Haggett, Bradford Herman, Jamie Burnette, Stephanie Davis, Melissa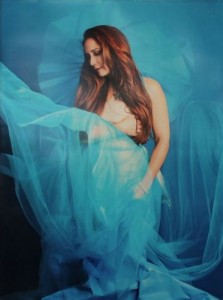 Tschari DeHaven, Cesar Aguilera, Cameron Plummer and Bill Haggett to re-enact Renoir's famous scene.
"This year, I wanted to include some new faces, but I did not want to hurt anyone's feelings by not inviting them back," Mila divulges. "So I asked Annette [Trossbach] to pick the people for this shoot." Who better to cast a modern remake of The Anatomy Lesson of Dr. Tulp than the Artistic Director of the Laboratory Theater of Florida, where the photo session took place. Trossbach included mainstays Terry Tincher, Stephanie Davis, Pam Beckman, Leila Mesdaghi and Cesar Aguilera but added herself, Alliance for the Arts Executive Director Lydia Black, surrealist dreamscape painter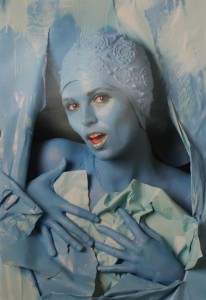 Danielle Branchaud and city planner and visionary Jack Luft, who was on the team that created the Miami Art District and who has set his sights on converting the downtown Fort Myers River District into the next hot arts mecca.
But Artful Anatomy is more than just a collection of local artists, art and theater professionals, business planners and visionaries. It is a further illustration of Bridger's exceptional understanding and use of lighting in her individual and group compositions. It also evinces Bridger's insight into the fundamental elements of portraiture that Rembrandt included in his masterwork composition. For example, Bridger dresses Aguilera in a hat to signify he's the one who is giving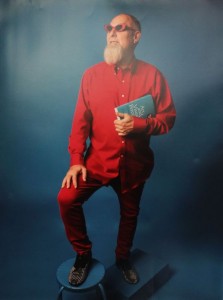 the artful anatomy lesson. But interestingly, none of his seven colleagues look in his direction. Four appear to be looking at the cadaver. Two look at the viewer. And one appears to stare off into space as though preoccupied by something else that may be on her mind. That each wears a uniquely personal and psychologically revealing facial expression underscores their individuality. But while the composition is indeed comprised of nine distinct individuals, Bridger's overall portrait conveys a single, cohesive group, which is emblematic of the way our aggregation of individual visual and performing artists and art professionals create a unified art and business community.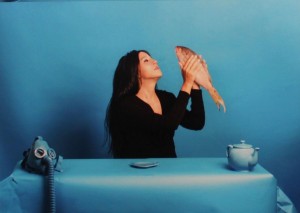 Nothing in a Bridger composition is there by accident, and that's true of the magazine that Pam Beckman holds in her right hand. It's the Ft. Myers Magazine, and the publication provides more than 50,000 area readers with informative articles about art, theater, music, books, film and television along with exposes on the topics of health and welfare, recreation, travel and leisure and food and drink.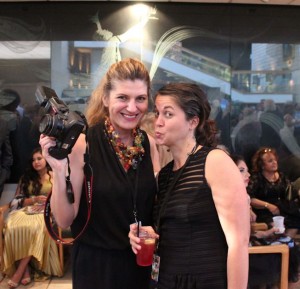 With the history of Western art as fodder, there's no telling what other iconic images Bridger will homage, subvert and recast as contemporary cultural currency in the years that lie ahead. But that's only the medium for her larger message that by honing our individual creative talents and craft with an eye on the larger dynamic of the art, theater, cultural and business community in which we operate, we foster a symbiotic relationship in which everyone within Fort Myers, Lee County and Southwest Florida benefits. Or as Alliance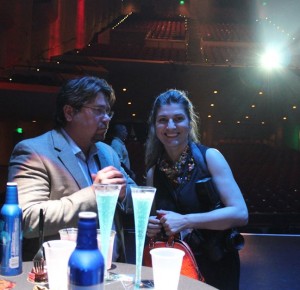 Director Lydia Black never tires of pointing out, art works for everyone by creating thousands of direct and indirect jobs, contributing tens of millions of dollars to our local economy and adding millions to our state and local tax coffers.
And in a political and social climate that is disturbingly contentious, divisive and polarizing, Bridger's message is as refreshing as it is novel. Many artists borrow from popular culture to create compelling art. Some modern photographers expose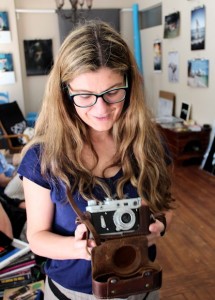 the underbelly of society within their viewfinder. Others capture fleeting moments that would otherwise go unnoticed on busy urban streets and suburban roads. Yet others build careers on the foundation of those with celebrity cache'. Bridger has carved out her own unique niche within the pop culture world. First, she confines herself to local pop culture and the figures who make it. Secondly, by drawing attention to and recognizing their artistic accomplishments, she creates a climate in which the arts and artists can flourish. This, in turn, invites new artists to join the local art scene and encourage all artists to take even greater chances and artistic risks in the tradition of local icons such as Robert Rauschenberg and Marcus Jansen.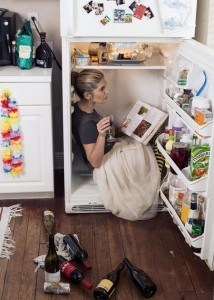 Mila Bridger is renowned both locally and internationally for fantastical portraits that feature thoughtfully stylized, saturated settings that evince a high degree of kinetic energy and unmistakable Expressionist flair. She was recently honored with a well-attended solo show titled #unexpected at the Sidney & Berne Davis Art Center.
Cooking for the Arts is an exciting interactive dinner experience of culinary excellence in which participants enjoy a full four-course gourmet meal from a themed menu which, this year, is An Evening in Bangkok prepared by Chef Mike Gavala and Karen Gavala of G3 Catering. Seated at tables of eight and surrounded by good friends and fresh ingredients, Mike and Karen Gavala will help participants cook and plate each course while enjoying wine pairings and a special Thai-influenced beer crafted by Bury me Brewing. This year's event takes place from 6:00-10:00 p.m. on November 5.
____________________________________________________________
#Unexpected opening likely to have Fort Myers talking for years (07-03-16)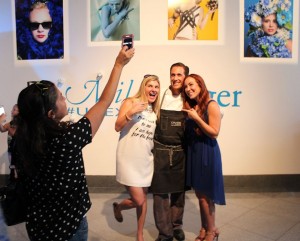 On Friday, Mila Bridger's #Unexpected opened in the Grand Atrium at the Sidney & Berne Davis Art Center. Although all exhibition openings are events for the artist and host gallery, #Unexpected was a community happening the likes of which Fort Myers hasn't seen since Pamela Beckman's Alliance for the Arts' fundraiser, Decaydence, at Marcus Jansen's UNIT A Contemporary Art Space. As such, this opening occupies rarified air.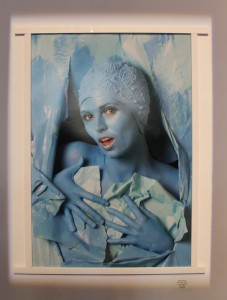 First and foremost, Bridger's work is instantly recognizable. She does not shoot studio portraits. Nay, her portraiture breaks new ground. It is whimsical, full-on fantastical and thoughtfully stylized. While her lens does transport the viewer into the soul of her subjects, she captures their peppy, quirky, creative personas through the settings, costumes and props she includes in her intelligently scripted compositions. While Bridger's medium may be a digital camera, there is something of the great portraitists of yesteryear in her photographs – the ambiguity of Vermeer, Hockney's flair for current trends and culture, van Gogh's brooding intensity.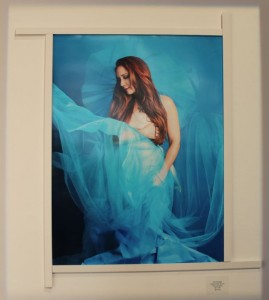 The newest works in #Unexpected evince an exciting willingness to explore, expand and expound upon these themes in the tradition of a Damien Hirst, Lincoln Schatz or Rineke Dijkstra. Her images are technically and compositionally flawless. In Melissa Blue Room, Leila Blue Room, Kat 2 Blue Room and Terry Tincher, her simple monochromatic backdrops highlight each subject's features, clothing, and demeanor to produce a frank and intimate image – not in the obvious or clichéd attempt to conjure the subject's inner life and feelings, but to open a dialogue between the subject's self-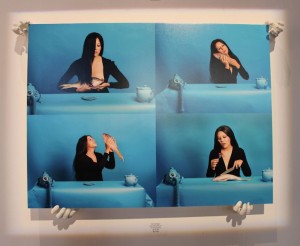 presentation to the camera and the viewer's projection into the portrait.
But as brilliant as Bridger's work may be (and it is), part of what contributed to the buzz surrounding #Unexpected's opening was Mila's inclusion of some of the more popular figures in the local art community in the photographs hanging from the Davis Art Center's gleaming white walls. It never hurts to be really cool or have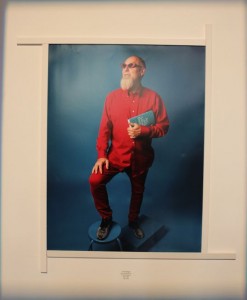 famous friends, n'est pas? Besides Melissa DeHaven, Leila Mesdaghi and Terry Tincher, the countenances of Chef Mike Gavala, Pamela Beckman, Xavier Brignoni, David Acevedo, fashion designer Mariapia Malerba, Veron Ennis, Cesar Aguilera, Fort Myers Film Festival Director Eric Raddatz, Downtown Diva Stephanie Davis, Jeffrey Scott Lewis, Destiny Haggett, Jonas Stirner, Jim Griffith and Bradford Herman could be found peeking out from dozens of pictures surrounding the Grand Atrium's polished marble floors. Many of these luminaries and their friends were in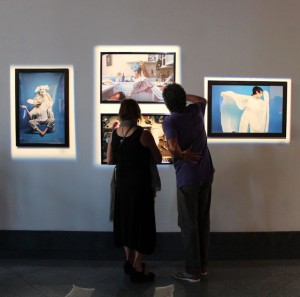 attendance, adding to the celebrity vibe in the room. In fact, all that was missing was a red carpet ascending the limestone steps to the Davis Art Center's front doors.
Bridger acknowledges that she "manufactures fantasy," and she brought her formidable directorial skills to crafting an event that will have Fort Myers talking for months and years to come. Contributing to the overall atmosphere in the Davis Art Center was the live music provided by local band Tripleshot and the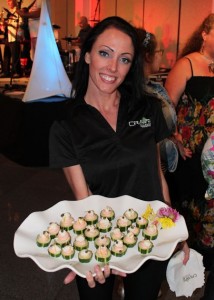 Crave Culinair servers circulating through the crowd with hors d'oeuvres provided by celebrity chef Brian Roland that teased both the visual and culinary palette. (But that's a topic for another story.)
Because of its scale and configuration, the Davis Art Center's Grand Atrium is a challenging venue in which to stage an art exhibition. Smaller works such as photographs have a tendency to get lost and even large scale pieces can suffer from the cold, impersonal dimensions of the former U.S. post office mail sorting room. Adding to her lore as a photographic magician, Bridger used a combination of irregular frames and backlighting to cast each of her images in a intimate, individualized viewing environment in which the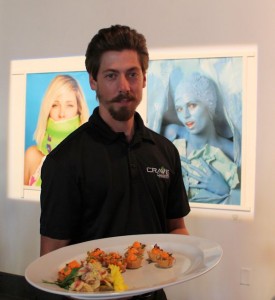 composition could be examined, explored and enjoyed to the exclusion of the other works and the frenetic, kinetic activity in the room. Now that's sheer genius that's never unexpected when it comes to Mila Bridger.
Now that the party's over, it's time to go back and study Bridger's images. It's a visit well worth the time and effort. And be sure to save the date for the Art Talk at the closing party on Tuesday, July 26, 2016. That event will provide you with the opportunity to chat up close and personal with Bridger about her work and inspiration.
________________________________________________