Steve Conley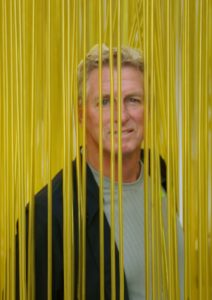 Artist: Steve Conley
Genre: Street photography; landscape photography
His Art:
Street Photography
A growing component of Conley's body of photographic work consists of street photography. The genre is subject to varying definitions and interpretations, but for Conley it connotes a depiction of the interplay between people and the outdoor environments in which they operate. In Conley's case, the images are always candid and authentic, with his subjects being completely unaware of the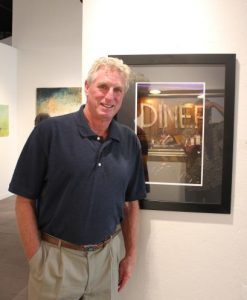 presence of the camera. Toward this end, Conley has developed a heightened awareness of his surroundings that is augmented by an uncanny ability to anticipate a shot four or five seconds before it actually happens.
"Sometimes I'll go somewhere or I'll find myself in the middle of something and my attitude suddenly changes. I slip into a zone," Conley acknowledges. "I just get a feel that there may be something interesting that I'll happen across. It's a matter of intuition."
Or increased sensitivity.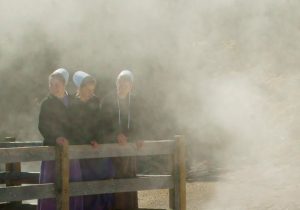 Conley's favorite image, Three Bonnet Mist, is illustrative of his process. He and longtime girlfriend, Ingela van Essen, were walking up a path when they happened unexpectedly upon three young Mennonite women standing together at a post-and-rail fence. Camera at the ready, he instantaneously snapped their picture, capturing the endearing image that was subsequently juried into Camera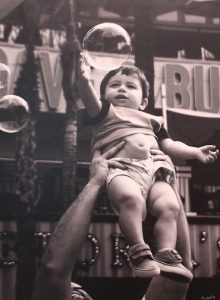 USA 2015.
"I had a feeling that I might see something to photograph," Steve recounts. Had he delayed even a second or two, the women might have noticed Steve and Ingela approaching. "Once they see the camera, it spoils the shot."
His Camera USA 2017 entry, Spherical Moment, is another case in point. Conley was in Hollywood, California in September of 2016 doing some street photography. As it turned out, President Obama was speaking at a fundraiser half a mile away. The sidewalks were jammed with spectators hoping for a glimpse of the President as the limousine went by.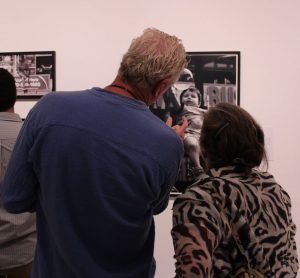 "So I'm looking for a place to get away from all these people, and I find this little plaza where there was a water fountain, the kind where the jets of water shoot up from the ground. I thought I might get a shot so I hung out there for a while. I had the ISO at 100 but the shutter speed at 1,000 because I was trying to freeze the water droplets. I just happened to look to my left and saw a girl blowing bubbles. As I was concentrating on the water and the bubbles, the father hoisted his son in the air and I was lucky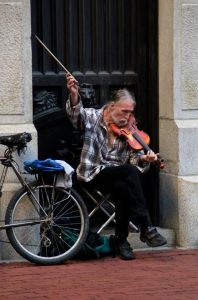 enough to catch the instant just before the child popped the bubble."
An avid traveler, Conley always carves out time to do street photography at the various locales he and Ingela visit. But chance and his heightened sense of awareness enable him to capture availing imagery even when he's not out on a formal shoot. For example, he did not go out looking for the image that was juried into the Camera USA 2018 National Photo Competition and Exhibition.
"We were driving on SR 27 coming into Ocala and something caught my eye on the right side," Steve shares. "There were rows of tents set up and it turned out that there was a jumping competition taking place."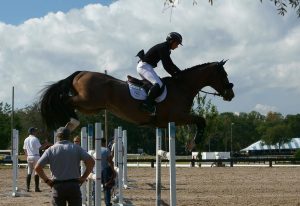 It was early December, 2017, and Steve and Ingela had unknowingly happened upon the opening show of the HITS $1 Million Grand Prix. One of the top-rated hunter/jumper shows in the world, The HITS Ocala Grand Prix is the second jewel in the HITS triple crown, sandwiched between Grand Prixes in Thermal, California and Saugerties, New York. Ocala has been privileged to host the middle leg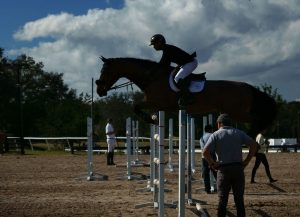 of this renowned event featuring the biggest names in equestrian sport since 2002.
Steve and Ingela had not heard of the competition. They did not know it was taking place. But they did what scores of other passersby did.
"We stopped and stood by the fence, watching."
After a while, they wandered about the grounds, taking in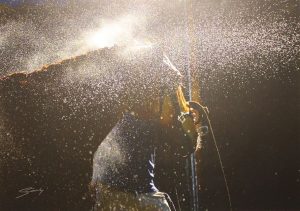 permanent turn-out paddocks, barns, and wash pads. "I spied this guy washing down his horse. I took four or five shots and one of those is the one you see in the show."
At first glance, the subject of the image appears to be the horse. But upon closer inspection, it's a classic street photography image, focusing on a trainer spraying down his steed following a rigorous work-out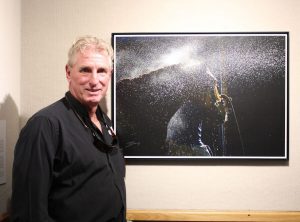 or hunter/jumper class. Totally candid, neither trainer nor equine athlete are cognizant of Conley's presence or that he is capturing their interlude for posterity.
Events are not Conley's favorite place to shoot "because everyone has a cell phone and there are a lot of shots of the same thing." But that's not a fixed and intransigent rule. In the past, he has taken his camera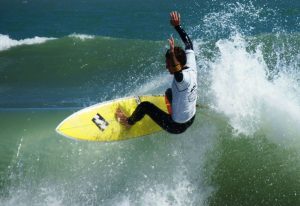 to surfing competitions, jet ski races, skate board and volley ball meets and Fort Myers Art Walk. He was even present at Fort Myers, final, fateful Zombicon on October 17, 2015, taking photos of the popular local band, Strange Arrangement.
"A couple of the band members were in the class I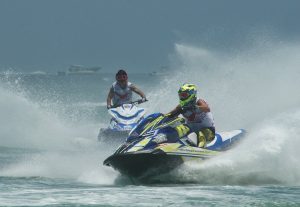 taught in high school," Steve explains. "So I was there shooting them and got some interesting shots of them under the fluorescent lights. At big events like that, when it gets to be 10:30 or so and people have been drinking all night, I know it's time for me to leave. I walked away from a spot maybe 30 or 40 yards from where the shooting took place not more than 15 minutes before it happened.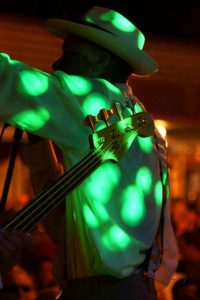 It was a scary thing but fortunately the guys from Strange Arrangement were all okay."
Intuition apparently not only informs his photography, but his instinct for self-preservation.
Eighty percent of photography is the decision the photographer makes of what to place in the viewfinder. "I used to take so many more pictures than I do now," says Steve. "I'm more selective now. Somebody told me that mark of a good photographer is not the pictures he takes, but the pictures he keeps While I still take a lot of pictures, I don't keep most for very long."
Landscape Photography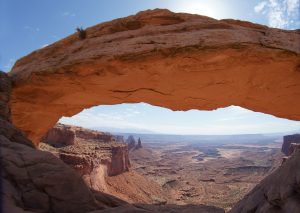 The second component of Conley's body of work consists of landscape photography in the tradition of Ansel Adams (a self-described environmentalist who sought to preserve the nation's natural treasures through his photographs), Galen Rowell (an adventurer and mountain climber known for his wilderness photographs) and Callum Snape (whose images blend the human spirit of adventure with the magnificence of nature).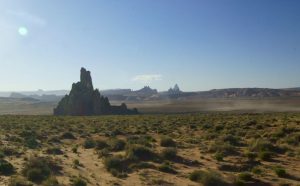 Conley finds landscape photography less challenging than street photography. While the latter requires intuition and anticipation, landscape photography mandates patience and discipline. Once he decides upon a shot, the scenery may remain unaltered, but the lighting, sky and weather can change minute by minute. And often Conley finds compelled to rise at
five in the morning so that he can be on hand to see what the scene looks like in the first rays of the morning sun.
"The great thing about landscapes is you get to go to fantastic places," Conley concedes, echoing acclaimed travel photographers like Daniel Kordan,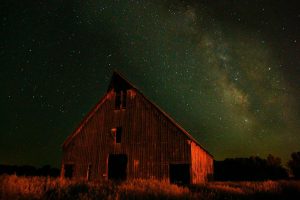 Erez Marom and Matt Donovan. And like Kordan, Marom and Donovan, Conley seeks out scenes and imagery not readily available even to fellow adventurers and travelers.
For example, on a recent trip to New Mexico, Conley was out walking early one morning on a canyon road in Taos when he spied an old church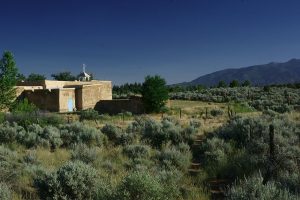 reflecting the brilliant rays of the morning sun. It turned out to be La Morada de Nuestra Senora de Guadalupe (also known as Taos Morada), a church that was used for religious study of ancient Catholic lay religious practices. Completed in 1834,  La Morada was recently transferred to Our Lady of Guadalupe Church after being acquired and maintained for a number of years by Taos Historic Museums, Inc.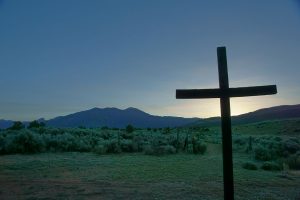 "As I walked toward the church, I got a couple of photos of the cross silhouetted on the ground. I went back the next morning and discovered that if you walk about 150 yards in the other direction, there's a cross out in the middle of nowhere that was once painted by Georgia O'Keeffe. It's really a special place."
Conley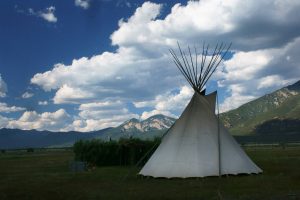 frequently captures imagery from the Southwestern United States. It is characteristically ambitious, expressive and powerful. Particularly alluring are images in which he incorporates the indicia of human presence within the boundless realm of nature. His work also includes a fascinating subset of imagery that is both surreal and abstract, as is the case with his landscapes featuring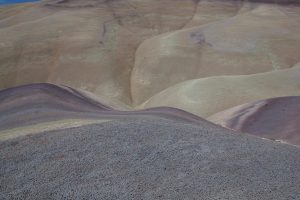 mountain terrain in southern Utah and Fruita, Colorado. On occasion, Conley will even capture abstract expressionist imagery during street photography outings, as was the case one time when he was enjoying an old car show in Memphis, Tennessee.
"I noticed this reflection in the paint job of a custom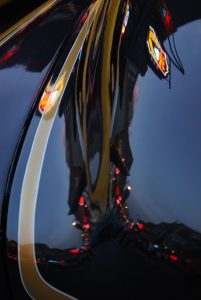 1949 Mercury of the lights from a nearby blues bar. The image became my very first First Place at an art show."
In the final analysis, whether it's street or landscape, Conley hopes that by capturing, saving and sharing images he finds intriguing or sublime, others can join in the moment. "It's the sharing that's important," Steve maintains, which he does through shows and social media.
And new to the art form, he's only just getting started. His best images are yet to be anticipated.
Recognition and Awards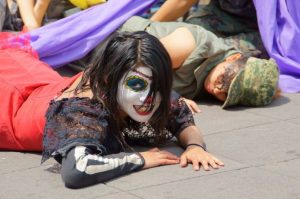 Conley's images have been displayed in:
Spider Awards International;
Camera USA 2018 National Photography Competition;
Camera USA 2017 National Photography Competition;
Camera USA 2015 National Photography Competition; and
juried group shows at numerous area art galleries and centers, including the Florida Gulf Coast University Bower School of Music and Art, the Lee County Alliance for the Arts and Sidney & Berne Davis Art Center.
Education and Training
Conley has a Bachelor's Degree from the University of Delaware. While he did sit in on art and art history classes from time to time (and render watercolor sketches for fun and leisure), he did not formally study either photography or art. He went into teaching, and as retirement began to loom on the horizon in 2004, he began exploring photography as a means of intrinsic artistic expression at the urging of a close friend and colleague, who has since given him considerable encouragement and training. He has been engaging in photography in earnest since 2005.
Although he did not come to photography until later in life, he and girlfriend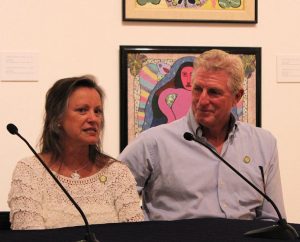 Ingela have been art collectors for more than three decades. In 2016, the couple donated their collection of Saint-Soleil-style Haitian paintings to Florida Gulf Coast University. [For more on this, please read here.]
June 20, 2018.