Stephen Hayford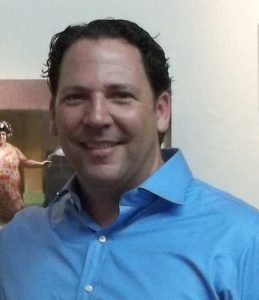 Artist:  Stephen Hayford
Genre:  Dioramas
His Art:
Stephen Hayford shoots photographs of intricately-detailed dioramas that he creates based on a 20-plus-year career as a photojournalist. His scenes fall into several categories, including Star Wars (primarily for Lucasfilms), science fiction (generally on commissions for Disney and Lego), and social commentary based upon his observation of human interactions
Once he decides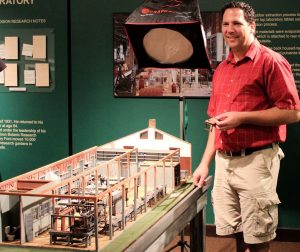 on a scene, he begins with a sketch and a paper mock-up to determine the size of the props he will need, dimensions of walls, and the action figures who will populate the scenes. That leads to designing props on a computer to be laser cut, hand cut, or sculpted from clay. He then builds the scene, which he then paints using a progression of base coats, washes, weathering and faux finishes.
Once all of the set pieces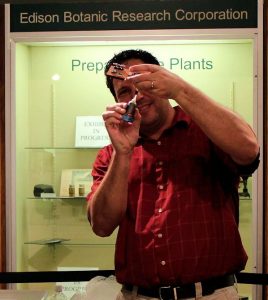 have been completed, Hayford is ready to stage the scene.  "This is when I set up the diorama with all the props, substrate (sand, baking soda, crushed leaves, etc.) and characters (which stay in place with nails glued to the bottom of their feet). But even this phase is tricky because setting up to be seen through a lens is different than how you see the scene with your naked eye."
The last step in the progression involves lighting the scene. "I've created a variety of specialized snoots and other light modifiers to work with tight spaces on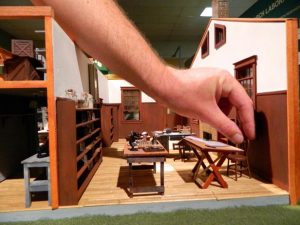 miniature subjects."
Hayford doesn't settle for a couple or three shots. He typically shoots hundreds of frames playing with different light treatments or practical effects. He then visits Photoshop, where he edits and layers his images to get a more expanded depth-of-field. He also adjusts colors and contrast to make the final image really pop.
His diorama-based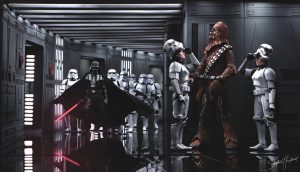 photographs have been the subject of a number of well-attended exhibitions locally, including a solo show called Plasticity in the second floor Capital Gallery of the Sidney & Berne Davis Art Center in March, 2020; the Lee County Library System's 3rd Annual Comic Fest in 2018; Fantastic Plastic at the Founders Gallery at BIG ARTS in 2016;
and Howl Gallery while it was still located in the River District. He's also entered a number of pieces in group shows throughout Southwest Florida. His diorama-based photograph titled You Never Know What You're Going to Get was juried into the Alliance for the Arts' second annual Art Lives Here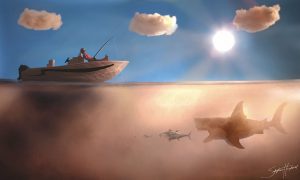 Billboard Campaign and will be displayed on both electronic and physical billboards located at various venues in Lee County.
No matter the topic or venue, Hayford's work is noted for its great attention to detail and lighting. He populates his detailed dioramas with customized action figures that are less than four inches tall.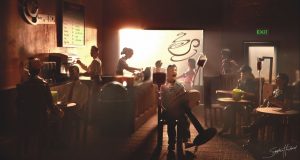 But it's their subtle gestures that characterize Hayford's legendary compositional storytelling.
"There are very subtle nuances to human interaction that speak volumes," Hayford remarks. "I've always tried to find ways to translate those subtleties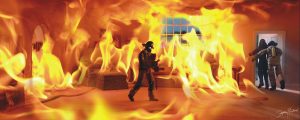 to action figures to make a statement without hitting the viewer over the head with it."
Hayford says he started customizing action figures and building dioramas in the late 1990s as a way to relieve stress since he covered a lot of death and destruction, ranging from crime scenes to car crashes.
Photojournalism Background and Experience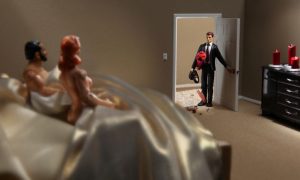 During his more than 20 year career as a photojournalist, Hayford photographed several world leaders, important cultural events, devastating storms and historical meetings. He worked with The Palm Beach Post, Sun-Sentinel, the Miami Herald, Rocky Mountain News and other newspapers and wire services in Colorado, Ohio, Missouri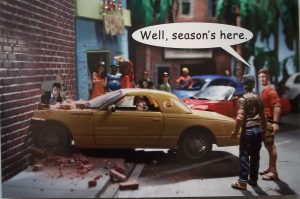 and Florida. He became well-versed in Southwest Florida issues covering the area for nine years with The News-Press.
April 10, 2020.