Patricia Collins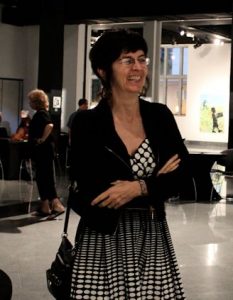 Artist:  Patricia Collins
Genre:  Pop
Her Art:
Patricia Collins creates mixed media works, with a focus on painting & printmaking, including murals, interactive mixed media constructions/installations. Many of her artworks comment on current issues and human rights. For example, the pieces in her March, 2022 solo show, Action Reaction Interaction, in the Florida Gulf Coast University ArtLab combine those interests with social commentary on life during current times. In connection with that show, Collins wrote: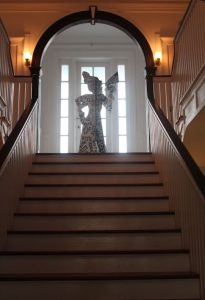 "Combining a carnivalesque attitude with social commentary, I reflect on the challenges of communication in daily life and emotions triggered while navigating the landscape of issues, images and events encountered along the way. Working with stencils, silhouettes and cutouts of varying scale and materials, I layer, combine, and juxtapose elements, both physically and digitally, to activate the space. Be it the picture plane or the room, a stage is set for a cast of characters, symbols, and images in reaction to societal problems that surround us – racism, environmental urgencies, voting rights and disinformation – seeking to make connections both personal and universal with the viewer."
On the subject of voting rights,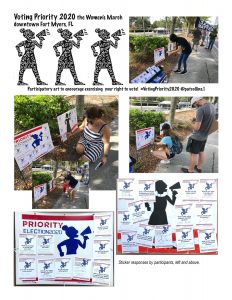 her Future of the Past voting rights themed exhibition at Lesley University in Massachusetts was immediately inspiring. Her print for the show led to an interactive series culminating in Voting Priority 2020, presented at Florida Southwestern State College and Florida Gulf Coast University campuses to engage students in the voting process. She included works from Voting Priority in the City of Fort Myers' Biennial Individual Artist Grant Recipient Show at the Langford-Kingston Home in November of 2021.
"Voting Priority 2020 was a response to the situation we found ourselves facing – voting during a pandemic – encouraging community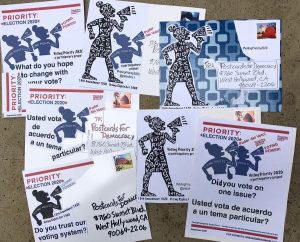 engagement through interaction," Patricia expounds. "I also participated in the project Postcards for Democracy created by artists Beatie Wolfe and Mark Mothersbaugh. Their project was presented in an exhibition at the Bob Rauschenburg Gallery last summer, which included a number of my postcards."
Community interest and activism is another subject that Collins addresses through her art. For example, she staged a participatory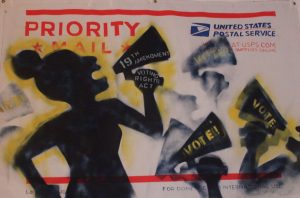 project titled Creative Action Collaboration at the Collaboratory during its anniversary celebration. During that show, she invited attendees to interact with life-sized figures and draw symbols of their community interests on a wall as a growing installation.
Other participatory art projects include The Primate Party at the Podium,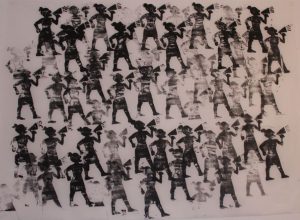 a pop-up installation outside Faneuil Hall in Boston during the 2016 election season, Wall of Opinions, where participants made prints to express opinions on the border wall and Freedom Trail Photo Op: taking another look at freedom, a postcard series of photos taken along Boston's Freedom Trail with a cardboard cutout of a child in a cage as a response to family-separation border policies.
Public Artworks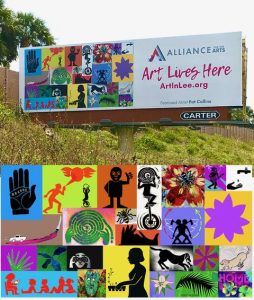 Collins is continually looking for public art opportunities and other projects into which she can incorporate viewer participation in her uncompromising quest to expand the visibility of art in the community.
"I have done two large mural projects, (each included working with high school or middle school student volunteers), a Pompano Beach public art commission, artwork for the Art Lives Here billboard project in Lee County and a light projection, Freedom to Run, Freedom to Breathe, Freedom to Be in response to the murder of Ahmaud Arbery, dedicated to George Floyd."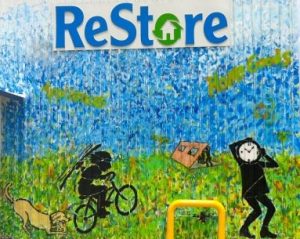 The latter was projected onto a 40 foot exterior wall at the Alliance for the Arts that looks out on motorists passing by on McGregor Boulevard.
Collins' murals for Habitat for Humanity's ReStore in North Fort Myers and the Kappa Development Foundation in Fort Myers can be found on the cultureNOW website.
Bio
Born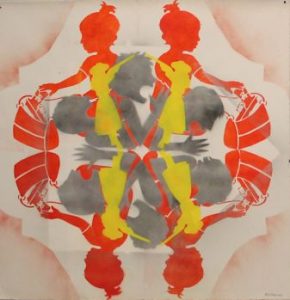 and raised in Massachusetts, Collins earned a BFA in Communications Design at Pratt Institute in Brooklyn, New York. During the time she lived there, Patricia's artistic development was influenced and energized by the artists, music, street art and DIY gallery scene in Manhattan's lower East side. When rising rents forced her to relocate, Collins came to Southwest Florida. Since then, her work has been exhibited twice at the John & Mable Ringling Museum of Art in Sarasota, the Florida Museum for Women Artists in Deland, Scope Miami, the Morean Arts Center in St.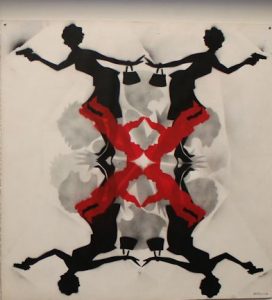 Petersburg, and other venues.
Collins has exhibited her work in numerous group and solo shows. The latter include Past Present, Future Tense at the Collier County Museum of the Everglades; Visual Rhythms in the Sidney & Berne Davis Art Center; and My Name Is Art at Howl Gallery, Ft. Myers, FL. Patricia's limited edition artist book, Urban Anxieties, is in MoMA Queens Artists' Books collection.
November 5, 2021; revised April 21, 2022