Africa Valdez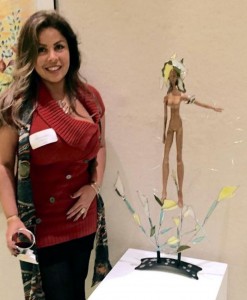 Artist:  Africa Valdez
Genres:  Portraiture, Realism, Abstract, Sculpture
Website:  AfricaValdez.com
Her Art:
Africa Valdez hails from Venezuela, where her family was highly involved in the arts. Africa began her own love affair with art at an early age and earned a degree in fashion with an emphasis on art before departing Venezuela for the United States, where she is now a naturalized citizen. Although she includes traditional art and portraiture in her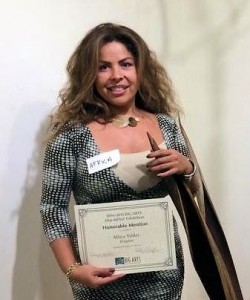 versatile repertoire, "my true love is in the challenge and creativity that comes from blending realism and abstract art to produce unique meanings with deep feelings in everything I create," states Africa, an independent-thinking woman in her own right. "I enjoy the freedom of creating 'emotionalism' because it's the emotions that can best be expressed and also hidden in the abstract interpretation of realism. When I put these feelings on canvas, they also remain private until the emotions of the observer are awakened by the artist."
Africa has lived and sold her paintings on three continents. She credits her extensive travels and immersion in the culture and artwork of each place she has visited with enhancing her own knowledge and artistic abilities and informing each piece that she creates. Her work has been exhibited at Arts for ACT, the Art League of Fort Myers, the Alliance for the Arts, BIG ARTS on Sanibel and the Naples Art Association at The von Liebig Art Center in Naples.
Portrait of Olive Stout for Fort Myers Founding Females Portrait Exhibition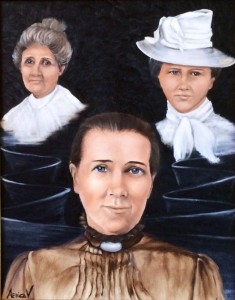 In 2014, Africa rendered a collage of Olive Elizabeth Stout for the Fort Myers Founding Females Portrait Exhibition. Stout was the woman who purchased the Fort Myers Press from Stafford Cleveland's widow, Obedie, in 1886, three months after the newspaperman died unexpectedly a year after founding the newspaper.
"I selected Olive Elizabeth Stout," Africa reveals, "because she was an independent-minded woman who had a tremendous impact on the town's early development. She came to Fort Myers at the age of 39 to negotiate the purchase of the local newspaper. She then brought her husband and children to the
'cow town' with no manners or electricity – even though Thomas Edison was a part-time resident at the time. It is significant that she arrived first and not as her husband's shadow."
Olive arrived on the same steamer that brought honeymooners Thomas and Mina Edison to Fort Myers in 1886. A former schoolteacher from Wisconsin, she was "scouting for a newspaper to buy and operate with her husband, Frank, a newspaperman," notes historian and River Weekly News columnist Gerri Reaves in her book, Legendary Locals of Fort Myers. "She bought the one-year-old Fort Myers Press from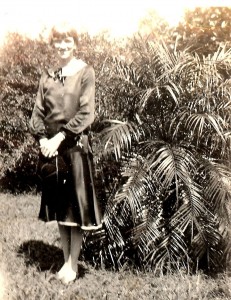 the widow of Stafford Cleveland, and the family owned and operated it for 27 years."
In an article titled "One of Fort Myers' First Families Dissed," Olive's great-grandson, Byron Stout, bemoaned the fact that while streets in Fort Myers today bear the names of Hendry, Heitman, Edison and even Cleveland, his great-grandmother was conspicuously omitted in spite of all her accomplishments. "Not that operating the local newspaper for more than a quarter-century was reason enough," he wryly lamented in 2008. As Gerri Reaves points out, Olive's achievements included campaigning door to door against the evils of alcohol with the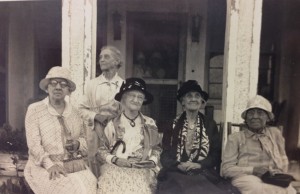 Women's Temperance Union, joining with Flossie Hill to form the Fort Myers Women's Club, founding the public library and serving as postmaster, not once, but twice.
"When she arrived in Fort Myers," Bryon recounts, "First Street was a notorious row of saloons where cowboys rode roughshod and fights often spilled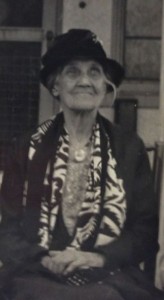 into the street." In 1908, the WCTU brought in Carrie Nation. After a fervent local campaign, the drys won, banning alcohol until Prohibition was repealed 25 years later.
"The Fort Myers Women's Club – now known as the Woman's Community Club – was organized in Great-Grandmother's living room, and she was elected first president," Byron also notes. Among her first initiatives was organizing a reading room in a Fort Myers storefront that ultimately became the Fort Myers Public Library, where Olive served as librarian.
"The year 1889 was a huge year for Great-Grandmother," Byron Stout continues. "She raised money to build St. Luke's Episcopal Church, adjacent to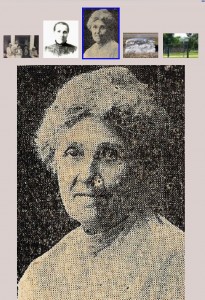 her home, and she was appointed postmaster, or some said postmistress, by President William McKinley. She served a four-year term, sat out four years, and then oversaw the mail from 1897 to 1906 as an appointee of President Teddy Roosevelt. In 1916, Great-Grandmother helped found and served on the board of the Lee County Hospital, forerunner of Lee Memorial Hospital and the Lee Memorial Health System."
Stout died in 1930 at the age of 83 leaving, according to the Fort Myers News-Press, "a record as one of those tireless frontier women determined to take the rough edges off one of America's cow towns."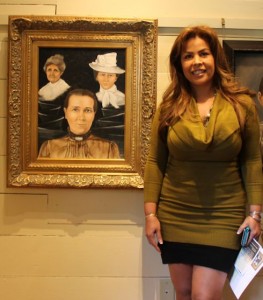 While the city may have overlooked Stout when it came to naming streets, artist Africa Valdez did not when it came time for her to choose a Founding Female to portray in the eponymous exhibition. "She was one of the movers, if not one of the real leaders along with other 'Founding Females,'" Africa remarks. "To me, she was a woman that did what she saw was necessary and wasn't afraid to fight for her own way of thinking and equality. She was a very strong, positive woman who never quit. Her life was not for profit or fame, but for making this city a better place to live."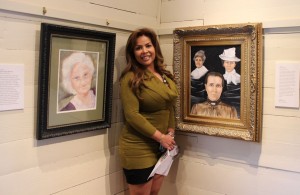 Valdez has painted a montage of Stout at three different periods in her long and illustrious life. "The three different portraits in the painting come from authentic pictures of Olive Elisabeth Stout, but because they're in black and white , I had to guess the color on her eyes, skin and dress," Valdez notes.