Belan's 'ERA Now' makes cover of ART tour International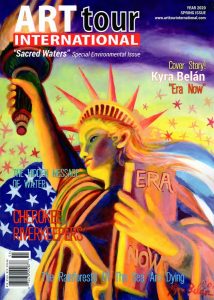 Everyone is dealing with the pandemic in their own way. Cape Coral artist, author and academic is creating art in quarantine in preparation for her next exhibition when galleries reopen. She has had work from her American Beauty Series featured in the March and April issues of House and Garden – Conde Nast, a London-based publication distributed internationally. And her painting, ERA Now, has made the cover of ART tour International Magazine. Belan is the magazine's featured artist for its Spring 2020 issue, "Sacred Waters," which is now available online and in bookstores. The 6-page article is found inside that issue contains a sampling of Belan's drawings, paintings and installations.
ERA Now was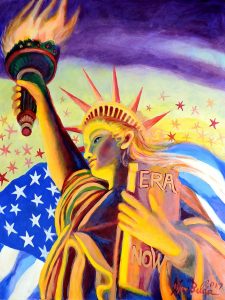 chosen as the official postcard of the pro-ERA campaign in Virginia, and thereby played a role in the amendment's ratification by Virginia in January of this year. The ERA states that "equality of rights under the law shall not be denied or abridged by the United States of any state on account of sex."
It was introduced in 1923, passed by Congress in 1972 and ratified by 35 of the 38 states needed to enshrine it in the Constitution by the 1982 deadline for passage. Nevada ratified the amendment in 2017, followed by Illinois in 2018 and Virginia in January of this year. In so doing, Virginia became the 38th  and final state needed for ratification of the ERA but for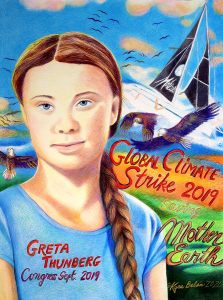 the fact that Virginia's action came 38 years too late. That said, the U.S. House of Representatives voted by a margin of 232-183 in February to remove the deadline, but that legislation has no prospect of even being heard in the Republican-controlled Senate. Supporters say it's a long-needed protection for women who face discrimination in the workplace and struggle against domestic violence and sexual harassment. Anti-abortion groups who say it would lead to the removal of restrictions on abortion. The Justice Department's Office of Legal Counsel said last month that the only way to ratify the amendment is to start the process over again. Florida is among the 12 states that have not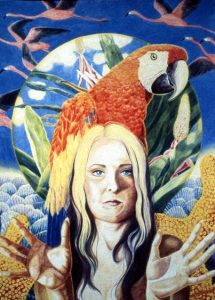 ratified the ERA for Women, joining Alabama, Arizona, Arkansas, Georgia, Louisiana, Mississippi, Missouri, North Carolina, Oklahoma, South Carolina and Utah. Five states that initially ratified the ERA have voted to withdraw their approval – Idaho, Kentucky, Nebraska, South Dakota and Tennessee.
Belan is represented in New York by Ceres Gallery, which since 1984 has been dedicated to exposing feminist and social issues arts to the world through its visibility in the prestigious Chelsea Gallery District. She is also a member of NY Artists Equity Gallery located in SOHO, NY.
June 8, 2020.