Dr. Kyra Belan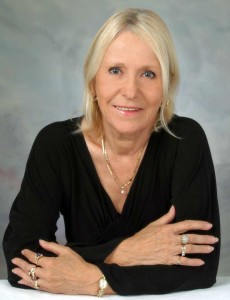 Name:   Dr. Kyra Belan
Genres:  Portraiture, Magical Realism
Her Art
Dr. Kyra Belan creates portraiture that commemorates outstanding women in contemporary history. Her preoccupation with the subject stems from her realization that the percentage of portraiture that is dedicated to women of achievement is currently unacceptably small. Her goal, therefore, is to help correct this inequity by drawing attention to iconic women through her art.
Portrait of Drs. Alessandra Comini and Eleanor Tufts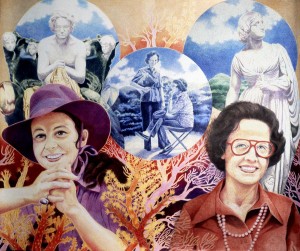 For example, Belan rendered a double portrait of Dr. Alessandra Comini and Dr. Eleanor Tufts in colored pencils in 1986. Dr. Comini is a University Distinguished Professor of Art History emerita at SMU. Dr. Comini has received a grand decoration of honor for her work on Egon Schiele. Her 1974 book, Egon Schiele's Portraits, was nominated for a National Book Award. In 2014, she curated the blockbuster exhibition, Egon Schiele: Portraits, for New York's Neue Galerie Museum. Other books include Gustav Klimt, The Fantastic Art of Vienna, In Passionate Pursuit, and The Changing Image of Beethoven: A Study in Mythmaking (1986). In recognition of the latter tome, Dr. Belan depicted Comini in her portrait standing in front of a statue of the iconic composer.
Dr. Eleanor Tufts was a professor of art history at SMU, and wrote the first book in modern times on women artists. She published Our Hidden Heritage: Five Centuries of Women Artists (1974) at a time when women artists' achievements were not celebrated. In 1986 professor Tufts curated the opening exhibition for the National Museum of Women in the Arts in Washington, DC. Included in the background of this drawing is the life-size marble statue of Anne Whitney's 1864 Lady Godiva, which Dr. Tufts discovered in Medford, Massachusetts, a work that is currently in the collection of the Dallas Museum of Art. It is symbolic of her groundbreaking work in the area of research on women artists in the history of art, reviving a long neglected area of art history.
The Comini/Tufts portrait is now held in the permanent collection of the Meadows School of the Arts at Southern Methodist University in Dallas, TX.
Portraits of Berne Davis and Barbara Mann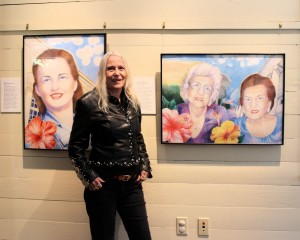 More recently Kyra Belan completed two colored pencil drawings on paper of in November, 2014 of Bernese Barfield Davis and Barbara B. Mann, two prominent women of Fort Myers. These artworks have been included in the Fort Myers Founding Females Portrait Exhibition that opened January 15, 2015 inside the historic Caretaker's Cottage at the Edison and Ford Estates.
The first is a 30 x 22 inch drawing of Berne Davis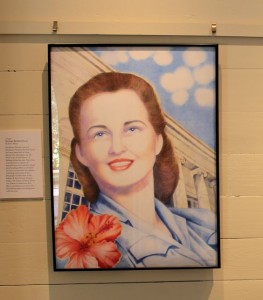 as a young woman. "My inspiration was an early photograph," notes Dr. Belan. "I wanted to do her portrait at an age before she became a community leader and philanthropist, and show in the background the building that was to become important in her future." Dr. Belan refers, of course, to the Ionic columned neoclassical revival U.S. Post Office at the corner of Jackson and First Streets in the downtown Fort Myers River District. It opened in December of Berne's senior year at Fort Myers High and became associated in her mind with her rite of passage from schoolgirl to womanhood.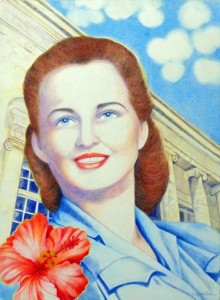 "I included a hibiscus flower as a symbol for Southwest Florida," Belan adds. "Since prehistory, flowers were symbolic of the sacred feminine and female beauty. Hibiscus flowers are typical of the area and to me are symbolic of the entire State of Florida." The hibiscus could also be emblematic of Berne's enduring interest in landscaping and horticulture since the early days of her friendship with Mina Edison in the 1930s. Mina introduced her to the world of garden clubs, which functioned in the 30s and 40s as important social organizations that not only initiated civic beautification projects, but demonstrated for the first time in history that women could wield positive socio-political power within their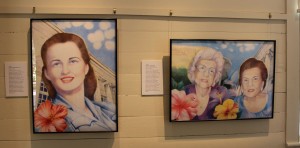 communities. Berne's experiences led her later in life to initiate sweeping landscaping improvements to the Fort Myers Country Club as the first president of the Fort Myers Women's Golf Association, restore Mina's moonlight garden at the Edison Estates, and create a healing garden at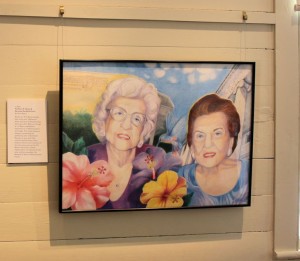 the Regional Cancer Center. In 2006, she gave $620,159 to FGCU to create an endowed chair for horticultural education that was matched by a $434,411 gift from the State of Florida Major Gifts Fund, bringing the total endowment to more than $1 million.
Dr. Belan's second portrait depicts Berne and Barbara B. Mann, who were lifelong friends. "[They] used their intelligence, influence and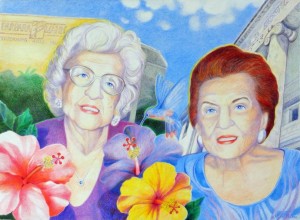 philanthropy to improve Fort Myers and Southwest Florida," explains Belan. "I created this portrait using, as my inspiration, a photograph of both. I wanted to show the depth of their friendship while at the same time allow the beauty of their souls and wisdom to shine through their attractive physical appearance at a mature age." Belan used her magical realism style to show the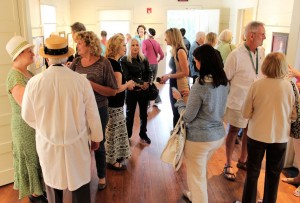 buildings that today bear their names as well as the hibiscus to symbolize Florida and the hummingbird to symbolize lasting friendship. "The founding mothers are depicted at the height of their intellect, mature beauty, and cultural activities," explains Belan. "Their two art venues, SBDAC and Barbara B. Mann Performing Arts Hall at Florida SouthWestern College, appear as a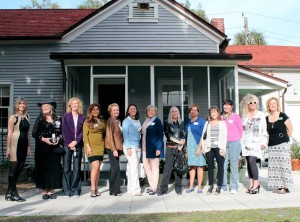 background in this artwork. A blue hummingbird, symbol of their life long friendship, is located in the center of the drawing. Several hibiscus flowers indicate these grand ladies' love for Florida's tropical environment, often referred to by visitors and residents alike, as paradise."
Belan's is the only depiction of Barbara Mann in the Founding Females portrait show. Although Mann does not actually qualify as a "founding female," she did much to contribute to the arts and culture of the area. In 1923, Barbara and her sister Helen, performed for Connie Mack and the Philadelphia Athletics as part of an effort to lure the team to Fort Myers for Spring Training. ( It worked.) She was a founding director of the Fort Myers Community Concert Association in 1948, and served as the organization's President for 57 years. She founded the Edison Choraliers, which performed during the Edison Pageant of Light, was president of the Fort Myers Woman's Community Club, and the Rotary-Anns. Barbara was also the charter president of the Lee County Alliance for the Arts. As a tribute to her many years of leadership in the arts and culture in the community, the Florida Legislature named the new performing arts hall at Edison College after her.
Self-Portraits and Mythological Figures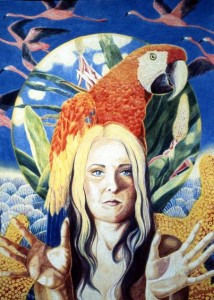 Dr. Kyra Belan's interest in portraiture also manifests in her self-portraits, several of which she also created in colored pencils on paper. Belan chose to immortalize her own oil painting, Tao (50"x40"), which is currently in the permanent collection of the Bass Museum of Art in Miami, FL.
Belan also create images based on iconic and mythological females. She recently completed a graphite drawing of the Greek goddess Athena, and is currently working on a new image of the Statue of Liberty. Her work depicting Our Lady of Florida with two other mythological figures is now on exhibition at the Museum of the Americas, Doral, FL in a December exhibition titled Basel Christmas.
Credits and Education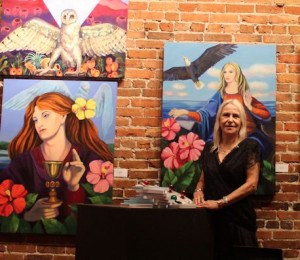 Dr. Kyra Belan is an internationally-acclaimed artist, author, mythologist and art historian. She served as a professor of art and art history and a founding gallery director at Broward College for two decades. She has enjoyed more than 50 solo art exhibitions and numerous group shows. Her awards include:
the prestigious Who's Who in American Art 2000-2014;
Florida Achievement Award in the Arts, 2007-8 Women's Caucus for Art Florida Chapter;
2005 Southeastern Art Conference Award for Outstanding Artistic Achievement Award from the University of Arkansas at Little Rock;
Broward Art in Public Places Commission for Southern Regional Courthouse, Hollywood;
Miami Dade Art in Public Places Commission for land art, Miami Beach, FL;
1982 Individual Artist Fellowship, State of Florida, Florida Fine Arts Council;
Money for Women – Barbara Deming Memorial Fund Grant;
The Marquis Who's Who in American Art; and
Broward County Women's Hall of Fame 1994 Outstanding Achievement in the Arts Award.
Belan attended the Southeastern College Art Conference (SECAC) in Sarasota October 8-11 as a panel chair and presenter. Consistent with the theme of the conference, Nexus: From Handmade to High Tech, her panel was titled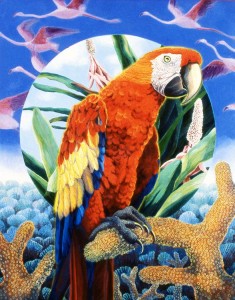 Installation Art: Fine Arts, Digital Media, or Social Issues Art? Belan and her presenters, fellow artists and academics, are all involved in the creation of diverse installation art projects that seek to erase the barriers between traditional mediums and express a variety of social issues (such as ecology, animal rights, human rights and feminism) through the incorporation of experimental technologies, innovative uses of space and novel media. (SECAC is a non-profit organization that supports and promotes scholarly research in the areas of the arts and art history in higher education on a national basis.)
Books by Dr. Belán include Art, Myths, and Rituals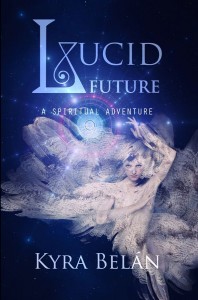 (Bent Tree Press, 2007), The Virgin in Art (Barnes & Noble Books, New York, 2006), La Virgen en el Arte (Panamericana, 2007), and Lucid Future, Madonnas: From Medieval to Modern (Parkstone Press, 2001), which has also been translated into German and French. A metaphysical novel, Lucid Future is about super human beings, time travel, reincarnation, and shamanic quests. It appeals to those readers who seek positive mindset, inspirational thinking, and the divine within. The book, a paperback, is also available in audible and kindle formats on Amazon. Dr. Belan is also included in 100 Contemporary International Artists, 2007.
Dr. Belan graduated from Arizona State University with a B.F.A. in Fine Arts, and from Florida State University with an M.F.A. in Visual Arts. Her Ed. D. from F.I.U., is in Higher Education and Art History.
Rev. August 19, 2019.
__________________________________________________________
CONTINUE ON TO READ ARCHIVED ARTICLES ABOUT DR. KYRA BELAN:
Kyra Belan receives Artivist of the Year award (12-31-19)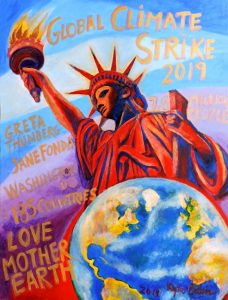 Art Tour International Magazine in collaboration with Artists for a Green Planet and Manhattan Neighborhood Network has conferred its Artivist of the Year Award on Cape Coral artist, author and climate change advocate Kyra Belan. The Artivists of the Year Award Ceremony celebrates world-renowned artists from around the word who have joined the global conversation about climate change by creating works of art that convey their views of humanity's impact on the environment. Created by Art Tour International's editor-in-chief Viviana Puello, the award affords an opportunity to celebrate and create change through the gift and influence of art.
Kyra has been creating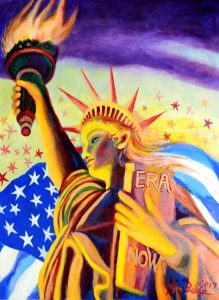 art that draws attention to social and ecological issues for four decades.
"My art celebrates the beauty and harmony of Mother Earth and her ecosystems, while evoking her symbols and myths from prehistoric to current time, her matriarchal cultures and the contributions of women to our civilization," Kyra explains.
Her artwork, a painting titled ERA Now, was an official artwork for the postcards that helped the ERA in Virginia (which will be ratified in January, 2020).
A prolific artist and writer, Belan is represented and has exhibited as a solo artist at Ceres Gallery in New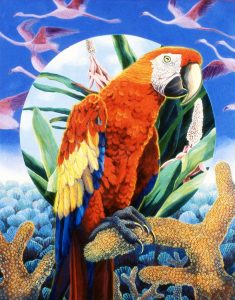 York City in 2019, the Sediment Gallery in Richmond, Virginia in 2018, the Sidney & Berne Davis Art Center in Fort Myers in 2017 and Spectrum Miami 2016 and 2017. Belan presented her panel, "Social Issues and Women Artists," in New York, NY at the CAA International Conference 2019, and the CAA International Conference in Los Angeles CA in 2018, among others.
A BFA, MFA and Ed. D., Dr. Belan is a frequent speaker at art and art history conferences, has been featured in numerous publications and has exhibited for four decades in art galleries, centers and museums in Florida, the United States and abroad. Her art is found in public and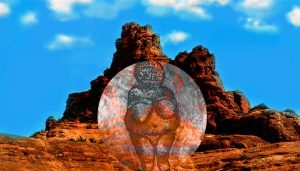 private collections. Professor emerita of art and art history at Broward College, Belan is currently working on a new edition of her book, Earth, Myths, and Eco-feminist Art. She can be contacted at www.kyrabelan.com, kyrabelan2013@gmail.com.
_______________________________________________________________
Kyra Belan being featured in solo show by Manhattan's Ceres Gallery (03-27-19)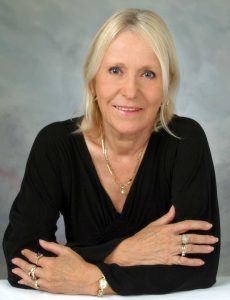 Dr. Kyra Belan is known for her magical realism style of art. The Ceres Gallery in Manhattan, New York will be exhibiting her drawings, paintings and mixed media work in a solo exhibition that runs from April 2 through April 27, 2019.
Belan's artworks are about social issues and two of her series will be exhibited during this show: the Lady Liberty Series, dealing with the current political issues,- particularly as they relate to women – and the Amazing Women Series, which celebrate the outstanding women that made or are making important contributions to our culture and politics. Her preoccupation with the latter subject stems from her realization that the percentage of portraiture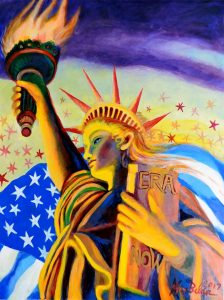 that is dedicated to women of achievement is currently unacceptably small. Her goal, therefore, is to help correct this inequity by drawing attention to iconic women through her art.
Ceres is a gallery dedicated to exposing feminist and social issue arts to the world through its visibility in the prestigious Chelsea Gallery District. Dedicated to promoting women artists since 1984, it is the only such exhibition space in the city of New York.
In addition to art, Belan is also an author, mythologist and art historian.
She served as a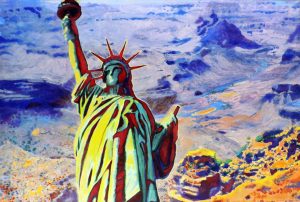 professor of art and art history and a founding gallery director at Broward College for two decades. She has enjoyed more than 50 solo art exhibitions and numerous group shows. Go here to see all of Dr. Belan's awards, accolades and achievements, as well as a list of the books she has published.
If you're in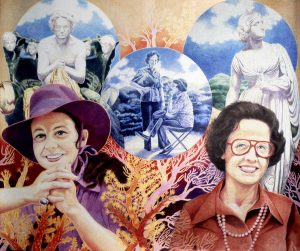 Manhattan on April 4, the opening of "Kyra Belan: From Myth to Reality" is scheduled from noon to 8:00 p.m. Gallery hours are Tuesday through Saturday from noon to 6:00 p.m. and Thursdays from noon to 8:00 p.m. For more information, please contact Director Stefany Benson at 212-947-6100.
_______________________________________________________________________
Cape Coral artist and author Kyra Belan participates in international print festival in Italy and art show in France (07-12-15)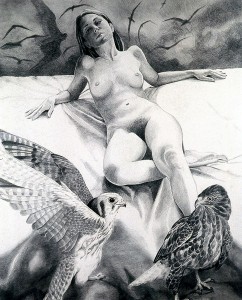 During the month of June, Cape Coral artist and author Dr. Kyra Belan participated in an international print festival at Arte in Centro Gallery in the city of Bergamo, Ital. Dr. Belan was also was included in the Contemporary International Artists of the Museum of the Americas during June at the Carrousel du Louvre in Paris, France. The exhibition was at the Museum of the America's Art Shopping spaces C7 – C15.
This month, Belan participated in the Figurative Art Competition of the Light, Space, and Time Online Art Gallery, a juried art exhibition.  She received the Special Recognition Category Award for her graphite drawing on paper titled
Artemis, 48" x 40."  The gallery received 643 entries from 21 different countries from around the world, including Australia, Barbados, Brazil, Canada, Denmark, France, Germany, Greece, Hong Kong, Ireland, Israel, Italy, Japan, Macedonia, Netherlands, Norway, Philippines,  Russia, St. Maarten, Turkey, and United Kingdom. In addition, the gallery received entries from 37 different states, as well as the District of Columbia. The guest judge for this competition was Mary Kee, Principal and Creative Director of TheArtGuide.com
Artist, author, mythologist, and art historian, Dr. Kyra Belán received a B.F.A. in Fine Arts from Arizona State University and an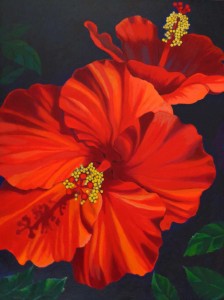 M.F.A. in Visual Arts from Florida State University. Her Ed. D. from Florida International University, is in higher education and art history. Dr. Belán has had over 50 solo art exhibitions and has exhibited work in more than 90 group art exhibitions. Locally she is represented by the Arts for ACT Gallery, Fort Myers, FL, and is a member of the Cape Coral Art League.
_______________________________
Cape Coral artist Kyra Belan exhibiting in two SWFL locations in December (11-23-13)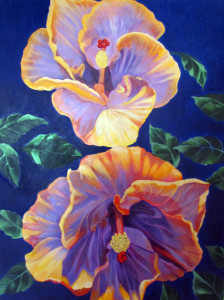 Cape Coral resident, Dr. Kyra Belan, will exhibit her art at two prestigious locations of southwest Florida in December: the Cape Coral Arts Studio in Cape Coral and the Alliance for the Arts in Fort Myers.
At the Cape Coral Arts Studio's Fine Arts Gallery, Belan will show an installation of her American Beauty Series that consists of acrylic paintings and accompanying text. The artworks are inspired by Hibiscus flowers, symbolic of the beauty of Mother Nature, and of the State of Florida. The text explains the relationships between the names of each painting and the myths that Belan researched throughout her career as an artist, art historian, and professor.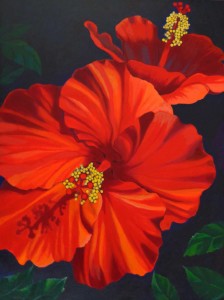 "The purpose of this exhibition is to utilize the beautiful space that this Fine Art Gallery has to create an installation that celebrates the beauty of Florida and to explore the mythologies that celebrate women," states Belan. "Traditionally, women are associated with flowers."
Belan's solo exhibition in the Member Gallery at the Alliance for the Arts is a cross section of artworks from several of her series, including the American Beauty, Divine Ladies, the Dogma Series and the Vision Quest. The exhibition includes acrylic and oil paintings, drawings, digital media, and mixed media. Her trademark style, which she calls magic realism, features figures, animals, plants, and showcases the beauty of Mother Earth.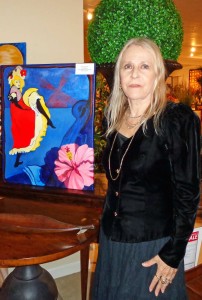 The artist-author received her BFA from Arizona State University, her MFA from Florida State University, and her EdD from Florida International University in fine arts, art history and higher education. For two decades, Dr. Belan was a professor of art and art history and gallery director at Broward College. She travels extensively to research, lecture and exhibit. Currently, Belan is completing her new non-fiction books, Divine Ladies in America, and an updated edition of Art, Myths, and Rituals. Belan was raised in Argentina, and is a U.S. citizen.
The Cape Coral Arts Studio: Fine Arts Gallery is located at 4533 Coronado Pkwy, Cape Coral, FL 33904. The opening reception for the American Beauty Installation is December 13, from 5-7 p.m.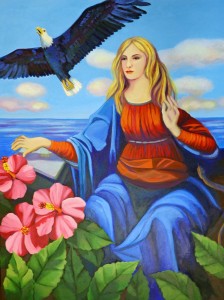 The exhibit runs from December 6-26. For gallery hours, directions or more information, please telephone 239-574-0802 or visit artstudioinfo@capecoral.net.
The Lee County Alliance for the Arts is located at 10091 McGregor Blvd. in Fort Myers. Paintings, Drawings, Digital & Mixed Media is on view from December 6–28, with the opening reception taking place from 5:00-7:30 p.m. on December 6. For more information, please telephone 239-939-2787 or visit http://www.artinlee.org.
_________________________________________