Watercolorist David Belling dives deep to paint Dixie Fish Co.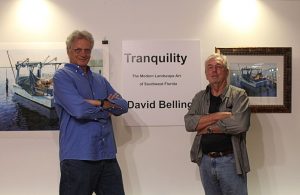 Rene Miville is exhibiting a number of David Belling's original watercolor paintings in his mezzanine gallery at the Franklin Shops on First in February and March. Three of these paintings have an interesting provenance for folks who love local history.
Some 25 years ago, Belling was taking photos in Matanzas Pass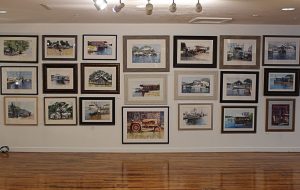 on the eastern side of Estero Island. He was idling through a stretch of water once plied by the mighty Calusa under the watchful eye of their chiefs sitting atop the pinnacle of their Mound Key capital. In the 1990s, this section of the pass was dominated by shrimp trawlers, commercial fishing vessels and fish houses. One of the latter belonged to the Dixie Fish Company.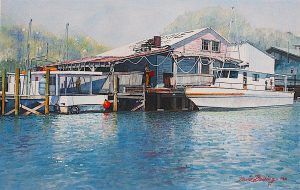 The Dixie Fish Company was built in 1937. In time, became one of the best places around to both buy and sell the day's catch. U-Boat sightings and nighttime black-outs had a modest impact on the fishing industry and the locals' desire for fresh catch. But it was just the lull before the storm – or, to be more accurate, a gold rush that that drew parallels to the great California gold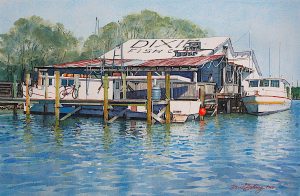 rush of 1849.
In 1949, fishermen discovered pink shrimp in the waters off Fort Myers Beach. Of the more than 1,900 species of shrimp, only 20 are considered commercially relevant, and "pinks" are considered the gold standard when it comes of both flavor and texture. Shortly thereafter, San Carlos Island – the small island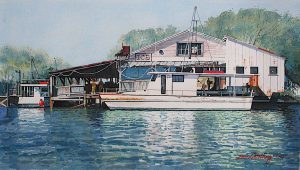 between the Southwest Florida mainland and Fort Myers Beach's main Estero Island – popped up as a makeshift village to provide the shrimping boats with food, ice, nets, repairs, equipment and other supplies. Docks and processing plants accommodated the offloading of the crustaceans for trans-shipment. A little town unto itself,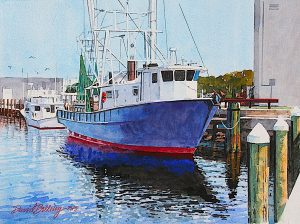 that salty community still bustles along the island's Estero Bay shores.
And the Dixie Fish Co. was in the middle of it all. Because of its accessibility to both shrimpers and fishermen, seafood lovers quickly discovered that Dixie Fish Co. always had the freshest seafood around.
As he trolled past the Dixie Fish Co. a quarter of a decade ago,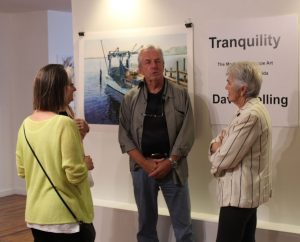 Belling wasn't looking for a place to dine or buy some fresh shrimp or fish. He was on the look-out for venerable old fish houses, wharfs and trawlers that he could capture on canvas someday. He snapped a number of pictures of Dixie Fish.
"It was a neat old building, and I did a few paintings of it," David recalls. "I don't have any idea what became of them."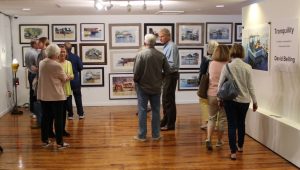 When he was done, he slipped the 35 mm slides into a sleeve and stored them in a drawer with dozens of others pictures he took on his regular forays looking for material and paintworthy subjects.
In the intervening years, Dixie Fish fell on hard times,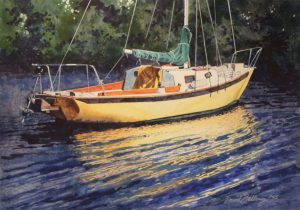 closed and was eventually purchased, renovated and revived by the folks who own and operate the adjacent Doc Ford's Restaurant. With a streamlined menu, tin roof, windowless open-air atmosphere and rich culinary pedigree, the Dixie Fish Co. has enjoyed a Renaissance of sorts and is, today, one of the best waterfront restaurants on Fort Myers Beach.
And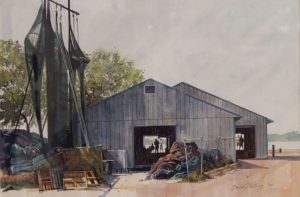 several weeks ago, Belling got a call out of the blue asking if he had any old images of Dixie Fish that the new owners could purchase and hang.
"I remembered that I did, dug them out and took them to the gallery in Cape Coral," David recounts. "They scanned them for me and made me some prints. Now I'm repainting the Dixie Fish Co. building based on those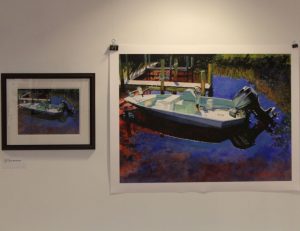 prints."
And three of these paintings are included in Tranquility – The Modern Landscape Art of Southwest Florida. The exhibition contains dozens of other nautical scenes and historical-based landscapes that Belling has been rendering since turning to painting full-time following his retirement in 2004. While there will be plenty of moderately-sized originals to admire,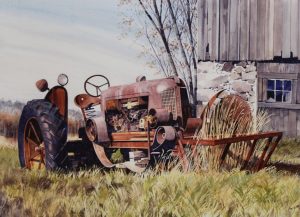 gallery owner Rene Miville has blown up photos of half a dozen of Belling's paintings into 44-by-32-inch prints. These, in particular, uniquely enable viewers to savor the sublime quietude built into the fabric of each of Belling's compositions.
For more on the artist and his work, read here.
But judge for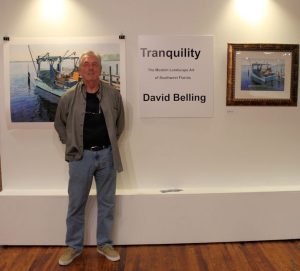 yourself. Tranquility – The Modern Landscape Art of Southwest Florida is on view in the Rene Miville Gallery in the Franklin Shops on First through the end of March. Also built in the 1930s, the Franklin Shops are located at the intersection of Broadway and First in the heart of the downtown Fort Myers River District. For more information, please call 239-333-3130.
February 12, 2019.