Sculptor's wife, daughter and friends to celebrate D.J. Wilkins' life and work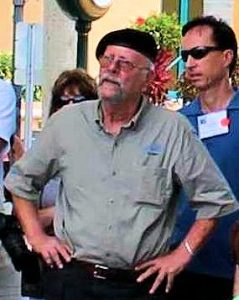 For a quarter of a century, the name Don D.J. Wilkins was synonymous with public art in the City of Fort Myers. Proclaimed the "Sculptor of Fort Myers" by former mayor Art Hammel and the City Council that served during his administration, Wilkins was responsible for designing, fabricating and installing 23 sculptures and art installations throughout the City during a 30-year span that began in 1983, as well as restoring three other important aesthetic landmarks in an age that pre-dated the discipline of art conservation. Wilkins passed a year ago this past October 10 at the age of 76. His widow, Jeanne, daughter Elizabeth and friend, Brent Sheneman, are planning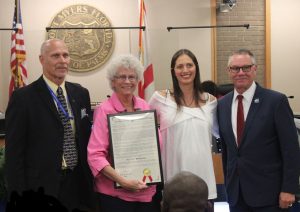 a commemorative "D.J. Wilkins Day" to celebrate his life and work on Tuesday, November 15.
The festivities will be held from 4:00-5:00 p.m. at the Uncommon Friends fountain in Centennial Park East and will feature remarks by Mayor Kevin Anderson, as well as other speakers. "There will be a meet-and-greet as guests enjoy the park, visit the Clayton statue and watch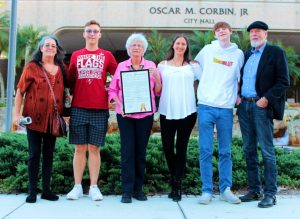 the sunset," says Sheneman.
Between 1988 and 2008, the City's Beautification Advisory Board commissioned Wilkins to create nearly two dozen sculptures. In addition to Uncommon Friends and The USCT 2nd Regiment Monument, Wilkins' resume includes The Great Turtle Chase (for which his daughter, Elizabeth, served as muse),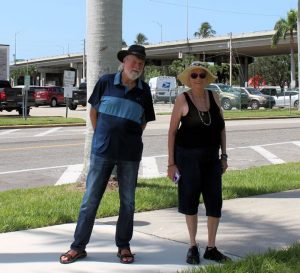 The Florida Panthers (in the median on Monroe Street),  the Wes Nott Statue on the campus of Lee Memorial Hospital, the balustrade and raised reliefs on the Manuel's Branch Bridge south of Fort Myers High,  and seven busts for the Harborside Event Center (now Caloosa Sound) that include Chief Billy Bowlegs, Francis A. Hendry, Tootie McGregor Terry, Paul L. Dunbar, Connie Mack, Thomas Edison and James D. Newton.
Through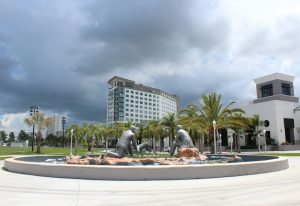 his sculptural installations, Wilkins hoped to promote a greater appreciation for Fort Myers' unique heritage and he took satisfaction from the fact that the stories his artworks tell have now been captured and codified on a free phone app called Otocast – not only for residents, but for the tens of thousands of vacationers and cultural tourists who flock to Southwest Florida each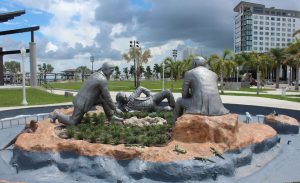 winter.
For more on Wilkins' work and evolution as a public artist, please go here.
November 5, 2022.