Marco Island Masters Festival of the Arts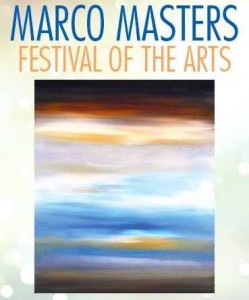 Name: 4th Annual Marco Island Masters Festival of the Arts
Dates: THIS SHOW HAS BEEN CANCELLED. According to event organizer Boulderbrook Productions, it does not appear that this festival will be offered in the future due to its late date in the Southwest Florida art fair/festival season.)
Time: 10 a.m. to 5 p.m.
Place: This boutique festival is held in Veterans Community Park on scenic Marco Island at the new facility on Elkcam Circle East. Marco Masters takes place across from the new Esplanade Shoppes, Residences and Marina right in the center of town.

The Esplanade Shoppes, Residences and Marina is a mixed retail and residential complex whose architecture resembles a coastal Italian-style village. Its nearly 50,000 square feet of retail and office space is occupied by upscale retailers, small specialty stores and fine dining eateries. The plaza contains 72 second and third story waterfront residences and a 77-slip marina that features floating concrete docks.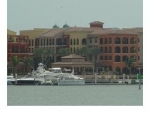 In all, The Esplanade graces more than 1,100 feet of waterfront on Smokehouse Bay, which is bordered by a wide promenade that is enjoyed by residents and customers alike. The attention given to every design element is evident from even a cursory glance. From the expansive waterfront loggias and two levels of convenient covered parking to the lush floral landscaping and fountains, the retail and lifestyle experience at The Esplanade is exceptional.

Located on North Collier Boulevard, the island's main thoroughfare,  The Esplanade Shoppes, Residences and Marina provides the optimum shopping experience in an aesthetically pleasing and amenity-filled environment complete with outdoor gazebo bar and excellent dining choices in the guise of CJ's on the Bay, Guy Harvey's Island Grill and Tara Steak and Lobster House.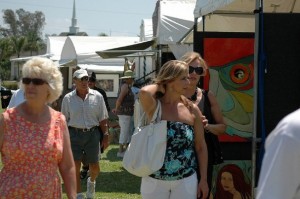 Description: Imagine an immense, over-sized art festival condensed down to just the best 70 artists. This is The Marco Masters. The quality of the work is superb. Literally, the best of the best. Many shows claim to have the highest quality one-of-a-kind art, The Marco Masters truly does. Award winning artists from across the nation will be displaying fantastic jewelry, paintings, sculpture, printmaking, hand blown glass, ceramics and wearable art such as scarves and leather goods.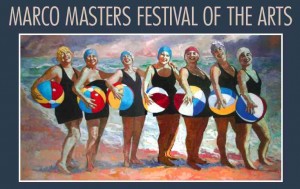 This event is a modestly-sized, boutique festival, meaning that participation is restricted to a small number of artists in order to avoid duplication and repetition. To ensure that festival patrons are exposed to only the highest quality art, festival director Richard Sullivan attends art shows, fairs and festivals every weekend he's not hosting a festival of his own. "I know who's the best and I try to get them to do my shows. It's a selection process, not an application process. We send out invitations …. We know who we want and we go out and get them."
Sullivan also limits the size and chooses intimate settings for his festivals in order to give participating artists and festival goers a reasonable opportunity to converse about the art on display in the show. Artists are even willing to bring artwork by your home after show hours to see if it the perfect piece. "Our artists need to spend time with the collector," explains Sullivan. "To explain what he has has value and quality. He can only do that at a small show that's designed to bring in sophisticated patrons …. People [who] appreciate art."
So if you want to visit the perfect open air art show then head to the Marco Masters Festival of the Arts.

Cost: A suggested $3 donation benefits the Marco Island Foundation for the Arts, a not-for-profit organization dedicated to promoting the arts in public places on Marco Island.
Parking: Free and ample.
Organizer: Boulderbrook Productions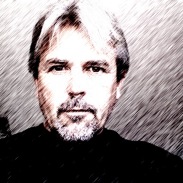 Director: Richard P. Sullivan, a native of Wellesley, Massachusetts. Not only is Sullivan on site throughout the festival, he knows just about every artist at every show that Boulderbrook produces throughout the year. "I want to know them and know their work. I'll go to someone's house just to talk to them about their art." So conversant is Sullivan with each artist's work, that he's been known to expound upon an artist's work to potential collector's while spelling them in their booth.
Website: http://www.boulderbrook.net.
Facebook: None at present.
Related Festivals. In addition to the Marco Island Masters Festival of the Arts, Boulderbrook Productions also produces the following festivals in southwest Florida:
Naples CityFest (October 6 & 7, 2012)
Seminole Immokalee Casino Art and Craft Show (November 17 & 18, 2012)
Sanibel Masters Art Festival at the Community House on Sanibel Island (November 23 & 24, 2012)
Naples Masters Winter Art Festival (January 19 & 20, 2013)
Sarasota Masters Art Festival (February 2 & 3, 2013)
Ole Art & Jazz Festival at Lely Resort in Naples (February 16 & 17, 2013)
Paseo Art & Jazz Festival in Fort Myers (February 23 & 24, 2013)
Naples Masters Bay Fest (March 2 & 3, 2013)
Peace River National Art Festival (March 16 & 17, 2013)
Boca Grande Masters Art Festival (March 23 & 24, 2013)
Gulf Coast Masters Art Festival at Gulf Coast Town Center in Estero (March 30 & 31, 2013)
Craft Event at CityFest in Naples (May 4 & 5, 2013)
Fast Facts.
Proceeds from this event will benefit The Marco Island Foundation for the Arts. MIFA is a non-profit organization dedicated to promoting the arts in public places on Marco Island. MIFA is a growing membership organization that believes art can be catalytic in bringing people together and can complement the spirit of the people who live in a particular location. "Through public art we hope to engage people, to stir their imaginations and inspire dialogue. Art can help us to shape our community places, create community rituals, celebrate community history, and encourage pride of place."  http://www.marcoarts.org/
The land for Veterans Community Park was acquired for $10 million following a 20o4 referendum and is to be developed in accordance with a 5-year master plan that places a premium on creating a space for visual and performing arts and celebrating veterans through teaching about their contributions. However, development has been slowed by fiscal conservatism prevailing in the current political and economic climate on Marco Island and in the nation generally.
In the '80s, Festival Director Richard Sullivan spent time in film and television production. For years, he hobnobbed with everyone from Steven Tyler of Aerosmith to James Taylor. "I not only got to the meet them, I had lunch with them," he says.
His work in music videos then opened the door to filming high-end commercials for products including Reebok. He traveled around the globe, from Milan to Brazil, filming famous athletes.
Visiting his parents' home in Naples, he met a girl and decided to stay permanently. Needing something to occupy his time, so he approached the newly-opened von Liebig Art Center about raising funds to build a dark room on the premises. His success in that fundraising effort prompted The von Liebig board of directors to seek his assistance with its most famous event, the Naples National Art Festival, a two-day event that attracts high-caliber artists from far and wide.
When Sullivan left nearly seven years later, Naples National had gone from being rated the 11th to the fifth best festival in the nation by Sunshine Artist Magazine.
Today, Sullivan produces art festivals throughout Florida and as far north as Nashville, Tennessee through his own business, Boulderbrook Productions, named after the brook in which he caught frogs near his Massachusetts childhood home.
Related Articles and Links.