Focus on 'Fighting a War of My Own' filmmaker Aaron Jackson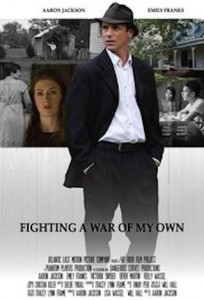 One of the films being screened by the 2017 Bonita Springs International Film Festival is a 12-minute short titled Fighting a War of My Own. It tells the heart-wrenching tale of a veteran returning home to overcome memories of childhood abuse.
The project was directed and produced by Cape Coral filmmaker Aaron Jackson for the 2016 Richmond, Virginia 48-Hour Film Project, a wild and sleepless weekend in which filmmaking teams write, cast, shoot, edit and produce short films in just 48 frenetic hours. On Friday night, teams draw a genre from a hat. They are then given a character, prop and line to include in their films. On Sunday night, in a wild dash to the drop off event, the film is turned in – and the teams celebrate. The film is then screened at a local theater in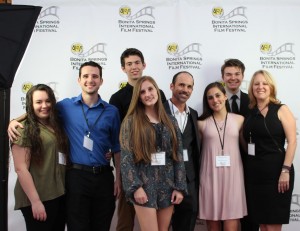 front of an audience of filmmakers, friends and families.
Fighting a War of My Own was nominated for 8 and won 6 awards, and will be played by BIFF on Saturday at 6:00 p.m. in the Moe Auditorium and Film Center.
"I was in Richmond, my writer was here in Florida and so was my composer, and we were all working together remotely,"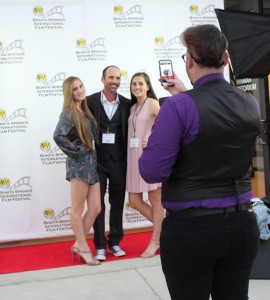 said Jackson at Thursday night's opening of the Second Annual Bonita Springs International Film Festival. "You're not allowed to pre-cast or pre-locate. You're only allowed to have your team aligned and place. I ended up shooting and starring in it because we could not find an actor to do what we needed at 5 a.m. Another actor ended up playing two characters, both the father and son of my character, which is crazy."
Of course, Jackson does have some acting experience. He starred on the NBC live-action musical comedy series California Dreams. The show followed the exploits of s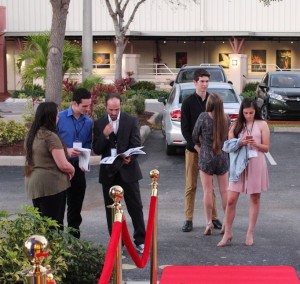 even high school friends in southern California. Together they formed a rock and roll band called California Dreams. Aaron played Mark Winkle, one of the band's lead singers. The show aired from 1992 until 1998.
Prior to landing his role on California Dreams, Aaron did a wide range of theatrical productions, including Bye-Bye Birdie, Joseph and the Amazing Technicolor Dream Coat, Tea and Sympathy, Torch Song Trilogy, Guys and Dolls,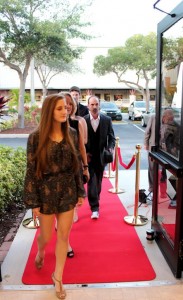 Rumors, and, the critically acclaimed, Bobby Socs It To Ya. Other television credits include Silk Stalkings and a pilot called Impact, a talk show for teens. Film credits include Lorenzo's Oil, From Venus, and Children of the Corn: Fields of Terror (based on the book Children of the Corn by Steven King), Wicked Spring, Tangy Guacamole and Captain.
"About four years after California Dreams was cancelled, I started producing, and four years ago, I also stared directing," says Aaron. His producing credits include An Occurrence at Owl Creek Bridge (a remake of the 1962 Academy Award winning film), Heaven's Neighbor, The Pain Within, and Coach of the Year. He was executive producer for the films Biophage, Not Safe in my Own Back Yard and Why God Quit Talking.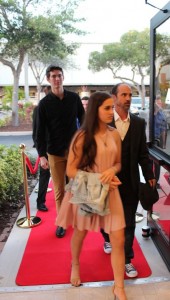 But Jackson is not the only actor in Fighting a War of My Own. The film also stars Emily Franks in the role of Sue Ellen Bitwinder, Victoria Snyder as Helen Bitwinder, Derek Martin as young Thomas Bitwinder, Reilly Wassel as young Sue Ellen, Lisa Wassel as Penny Bitwinder, Devin Albert as Aaron Bitwinder and Jason All Cook as Sue Ellen's husband.
Jackson is also quick to give credit to his writers, Tracey Lynn Frame and Shelbie Tyndall.
Jackson and his team also have a second film in the 2017 Bonita International Film Festival. It's called the Ghost Story Chronicles and will air on Sunday at 11:30 a.m. in the Moe Auditorium and Film Center.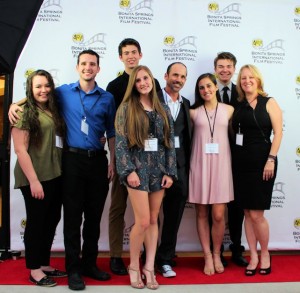 "Ghost Story Chronicles is going to become a series," Aaron notes. "It features eight kids who go into an abandoned house which is reputed to be haunted with the intent of finding the ghost. I premiered two years ago in Houston and had some success there."
The 2017 Bonita Springs International Film Festival runs January 26-29, 2017. It closes Sunday night with a 8:30 p.m. Awards and Filmmakers Party in the Larry & Beverly Hinman Auditorium on Bonita Beach Road.
January 27, 2017.
RELATED POSTS.