In 'Collide,' Heather Chrisler delivers performance that will stay with you long beyond final frame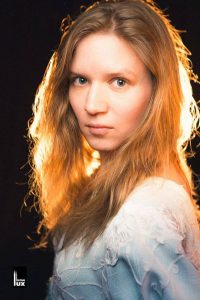 Among the short films that will be screened at this year's Fort Myers Film Festival is Niche Visual's Collide, directed by filmmaker Ralph Klisiewicz. It's a character-driven piece written for and starring Chicago's Jeff Award-nominator actor Heather Chrisler.
Chrisler plays a character named Sally, who comes home from a run and starts talking with her boyfriend, Tim. Initially she raises the subject of having a baby. But the conversation takes a sudden turn when Sally mentions having witnessed a car accident as she was jogging. She reveals to Tim what an emotional impact the accident had on her. She saw a man "under the sheet, they were carrying him away". However, there was no accident. The man under the sheet was actually a young, athletic, and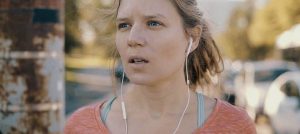 charming artist named Kevin.
Chris Jones of The Chicago Tribune once called Chrisler "an utterly fearless Chicago actress capable of extraordinarily deep dives into driven characters"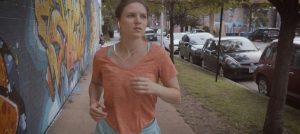 and "at once the strongest Young Woman I've seen and the most vulnerable." All of these attributes, and more, are on display in Collide, where Chrisler delivers a performance that will stay with you long beyond the final frame.
Heather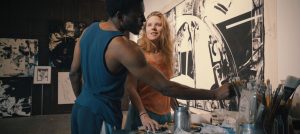 has a growing resume of film and television credits, including the role of Molly Benson in the short film Unclaimed (in post-production), Sarah in Relative (due out in 2021), Sally in Collide (2018), Josie in the short film Smitten (2018),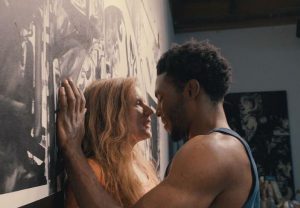 Lisa in the short Blac (2017),  Tawny Darrens  in Chicago PD Episode 311 (Knocked the Family Right Out) on NBC (2016), Marcie in the television series #Hashtag Season 2 (#PartnersInCrime, #DoubleDate, #SallyJune, #WhatWouldSiriDo and #FaceTime for TelloFilms 2015) and Maggie #1 in the short I Awoke to the Sounds of Someone Watching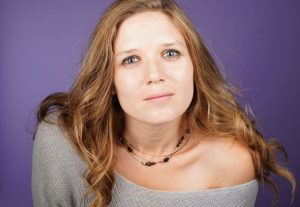 (2010).
But Chrisler is better known in Chicagoland as an accomplished theatrical actor. Her stage credits include Galina in The Last Match for Writers Theatre (March-June 2020), Helen in the world premiere of Howard's End for Remy Bumppo Theatre (2019), Jaycee in the world premiere of Twilight Bowl for Goodman Theatre (2019), Alicia in Small Mouth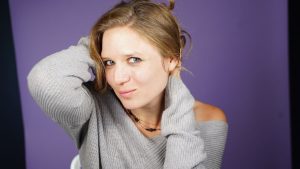 Sounds for A Red Orchid Theatre (2018), Julie in Mies Julie for Victory Gardens (2018), Mary in Mary's Wedding for First Folio Theatre (2018), Helen in Machinal for Greenhouse Theatre Center (2017), chorus in the world premiere of Her Majesty's Will for Lifeline Theatre (2017), Arabella in the world premiere of Captain Blood for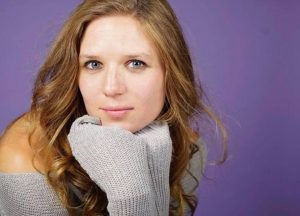 First Folio Theatre (2017), Natalie in the world premiere of Good Friday, Senga in Dancing Lessons, Jane (U/S) in Fallen Angels, Virginia Poe in The Madness of Edgar Allen Poe, Juliet in Romeo and Juliet (twice), Spirit in The Tempest, Diana in All's Well That Ends Well, Elise/Ensemble in The Three Musketeers, Mary in A Christmas Carol, Unity Spencer in War is F***ing Awesome
and Beatrice in Much Ado About Nothing.
Chrisler has a Masters of Fine Arts from Ohio University and Bachelor of Arts from the University of Portland. She did folio and scene study with Kevin Gudahl at Chicago Shakespeare Theatre. She boasts three Joseph Jefferson Award nominations and two Chris Jones Top Ten Performances.
Like most thespians, Chrisler has been struggling to stay engaged in a post-COVID world where it's unclear when Broadway, the West End and local theaters are likely to reopen. In Chrisler's case, the pandemic spoiled two impending openings. One was her debut in The Last Match at Writers Theatre. The other was her playwriting premiere at First Folio Theatre in Oak Brook, Illinois in an adaptation of Louisa May Alcott's Little Women.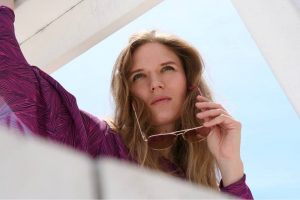 "We lost them both in the same day," Heather told American Theatre's Jerald Raymond Pierce, adding that she was "depressed to the point of numb. Traumatized is the word I kept using. I had trauma from having all of this artistic work suddenly yanked out from underneath me. There was a worldwide pandemic. People were freaking out. You couldn't buy toilet paper. And every project I'd had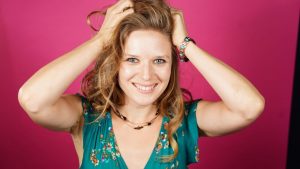 was wiped from my slate. I was in this place of utter emotional devastation, wondering if I even wanted to be an actor anymore."
Chrisler correctly notes that it's impossible for individual actors, directors, filmmakers and other creatives to focus on the
fate of theaters, film and production companies when they're trying to figure out how they're getting groceries and whether they can pay the rent. "The utter devastation that's happening to individual artists gets overlooked in the greater scheme of … this much bigger story," Heather observes. "This had a really real, individual human impact on artists. I'm not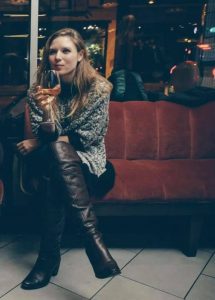 sure that even the theatre-consuming community totally comprehends that."
But that just serves to enhance the enjoyment and appreciation of events like the Fort Myers Film Festival and the respite it affords, even if only for a handful of days, from the troubles and travails we're all experiencing in this curious new world in which we find ourselves.
Collide will be screened in the Sidney & Berne Davis Art Center on Friday, October 23 at 6:00 p.m. during Shorts Block Six (which includes Alexa, Bad Kiwis 2: Kiwi Driver, El Cavil and After the Beep).
September 27, 2020.