In 'Shooting,' anything that can go wrong, does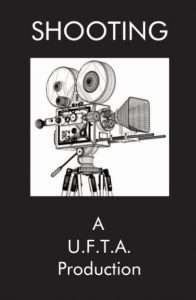 Among the Strictly Local short films being screened by the Fort Myers Film Festival this week is Deborah Smith Ford's Shooting, directed by Dr. Ernesto Lasso de la Vega, Mario K. Maturo and Joe Reyes.
The setting is a country club in a 55-and-over community that, unfortunately, is floundering financially, so some of the residents decide shoot a commercial to attract new residents to their gated neighborhood. As luck would have it, one of their residents is a retired movie director by the name of Mick (played by Mike Dinko). By the time he reaches Take 132 of Scene 6, Mick realizes he should have stayed retired. "It's a comedy of errors," Dinko teases, giving a wry laugh. "It's like Play On! Everything that could go wrong, does go wrong." To viewers'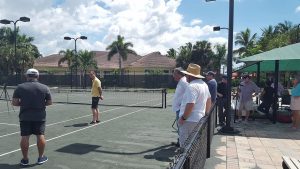 amusement.
The cast for this 14-minute short film includes a number of other local favorites including Becky Brown (Mary), Annette Connolly (Club Guest), Maryann Connolly (Craft Girl 2), Deborah Smith Ford (Piper) and Cindi Hile (Brittany). Kristin Mercedes Bence,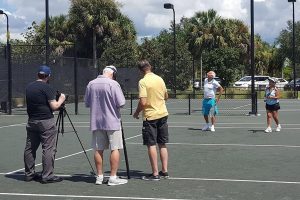 Randy Capes (Mr. Smith), Jerri Lynn Clayton (Club Guest), John Connolly, Judy Davis (Julie), Marc Forman (Victor), Michael Glass (Israel), Marta Hathaway (Club Guest) and Kati Heysinger (Club Guest) round out the cast.
Mike Dinko is a local stage and film actor. Among his acting credits are Roy in Lab Theater/LabTV's hybrid production of Nancy
Stetson's Rest Stops of America [currently screening], Customers 1 and 8 in Lab Theater's production of Zalman Velvel's D.M.V., a guardian angel in Boberg's Timer and a buddy in Junk in the Trunk in Lab's inaugural Festival of Tens, one of the Castilian brothers in The Odd Couple, Female Version, the landlord in 55 and Over,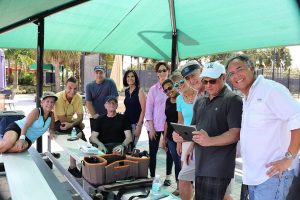 and a villainous actor in a very bad murder mystery in Play On! (which is the theatrical production that bears a resemblance to the plot in Shooting). But while Mike has extensive stage credits [go here for Mike's full profile], Shooting is just his third film (the other two being What's the Point and Austin Tanner's Complicit.
Like Dinko,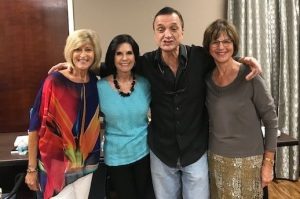 Maryann Connolly, Cindy Hile and Deborah Smith Ford have considerable stage and film credits (see links provided below). Deborah Smith Ford not only wrote the screenplay for Shooting, but one of her books from the Allie's Adventure Series appears in a close-up picturing a man reading.
The senior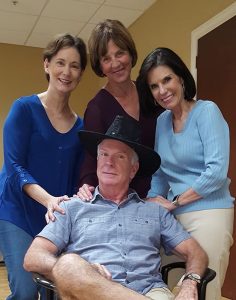 actress who portrays the tennis pro, Judy Davis, is one in real life.
In addition to "normal" earth bound cameras, the filmmakers also used a drone for this film. It was piloted by Dr. Joe Reyes who just so happens to be the president of UFTA (United Film & Television Artists) as well.
Shooting will be screened in the Sidney & Berne Davis Art Center as part of Shorts Block Ten, which begins at 7:10 p.m. on Saturday, October 24.
October 21, 2020.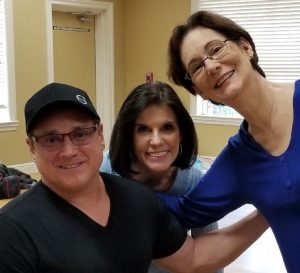 RELATED POSTS.