How 'Bubbles' got made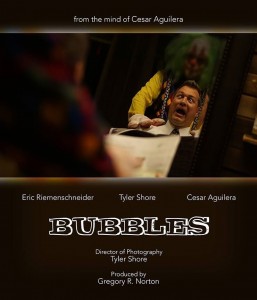 One of the local short films that's been juried into this year's Fort Myers Film Festival is Bubbles. Starring local portrait artist Eric Riemenschneider and filmed by Tyler Shore, Bubbles was written, co-produced, directed and co-starred by popular mixed media artist Cesar Aguilera.
Bubbles has been percolating in Cesar Aguilera's head for roughly two years. Although he primarily works as a visual artist, Aguilera has ventured into the realm of acting on a couple of occasions, making cameo appearances in a handful of films including Karen Whitaker's 2016 Fort Myers Film Festival Audience Favorite Film Ring. But he yearned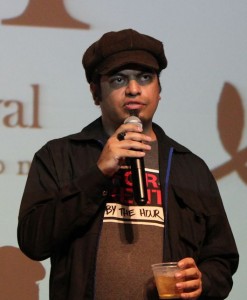 to write, co-produce and star in a film of his own. Still, it was kismet that led to Bubbles. That transpired when a filmmaker by the name of Tyler Shore showed up at one of Aguilera's art shows.
"I told him my idea, and he said let's run with it," Cesar divulges.
"When I first met him at that art show two years ago," admits Shore, "I was mesmerized by his mind and where it could take us."
And Bubbles is just the first of many collaborations that Shore and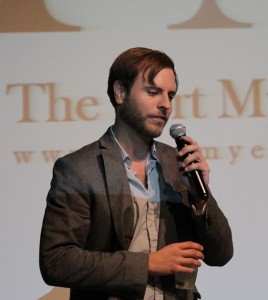 Aguilera are planning.
Count Riemenschneider in as well.
Riemenschneider has recently transitioned from a career in art education to one in home and casualty insurance. Acting was the last thing on his mind. But when Aguilera put out a call for an executive type for a role that does not end well, he immediately sent Cesar a head shot in his new business threads. It didn't matter that there was no money involved.
"It was a no budget film," chuckles Cesar. "I paid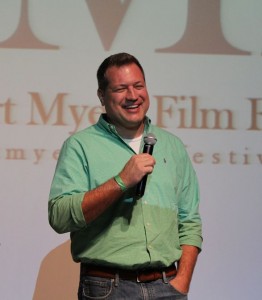 everyone who worked on the film in chicken."
"I didn't need the enticement of the chicken," Eric deadpans. "I'm definitely going to do more with these guys. This town needs more of this."
Over its seven year span, the Fort Myers Film Festival has built of reputation of providing encouragement and support to local filmmakers. Bubbles illustrates the importance and pay-off from these efforts.
February 12, 2017.
RELATED POSTS.