'Marcus Jansen – Examine & Report' named Best Local Film by 2016 Fort Myers Film Festival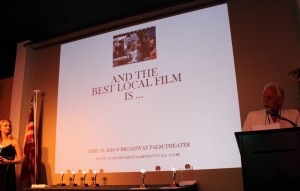 Marcus Jansen: Examine & Report was honored Sunday night by the 2016 Fort Myers Film Festival. The 52-minute documentary by Naples filmmaker John Scoular was chosen Best Local Film.
Examine & Report explores Jansen's motives for painting and gives historic insight into his socio-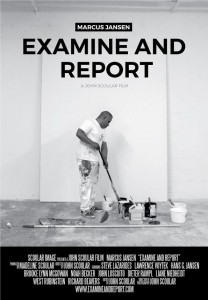 politically charged works, which have roots in Graffiti, Street Art and German and American Expressionism. The film was shot over the last year in New York, Miami, London and Fort Myers and will be part of Jansen's museum and DECADE book tour, which opens in Milan, Italy next month. But its screening at the opening night gala here in Fort Myers marked the documentary's world premiere.
"This is pretty cool," said Scoular, visibly moved by the award. "We're very grateful that we got the opportunity to show it here first. Listen, this was the best opening we could ever imagine."
Not only does the documentary provide insight into Jansen's life and art, it provides an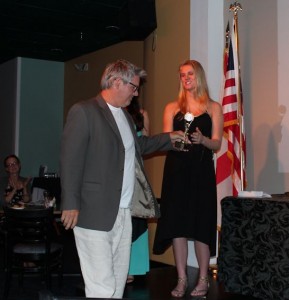 introduction into the larger world of contemporary art by means of a series of interviews with art world luminaries including the street artist BANKSY's first agent, Steve Lazarides, Robert Rauschenberg protégé and decades-long gallery director, Lawrence Voytek, West Rubinstein, Noah Becker, Dieter Rampl and Brooke Lynn Mcgowan. An art historian, curator and writer, Mcgowan is recognized worldwide as the leading expert on Jansen's works.
"I feel fortunate that all these people so generously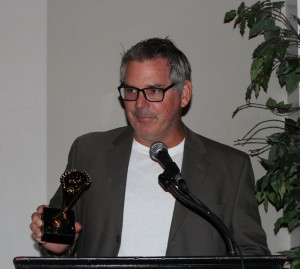 shared their expertise with me and [everyone who views the film]," Scoular acknowledged.
Special footage includes revealing interviews with Jansen along with peeks of the artist at work.
"I just tried to stay out of the way of the film, which kind of told its own story," Scoular humbly told the small crowd that gathered at the Broadway Palm Dinner Theater for the FMff champagne dessert and awards ceremony. "We're very lucky to witness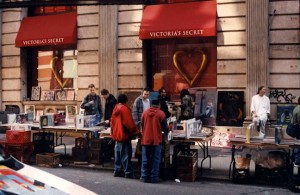 Marcus' rise. He's gone from [selling his art on] Prince Street in New York to museums in Milan, Germany and beyond. He's at the top of his game, and he gets to enjoy it while he's still alive. That's pretty unprecedented."
The film will be screened at each stop in Jansen's impending tw0-year worldwide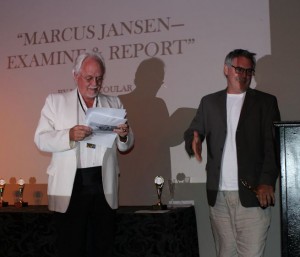 museum tour. Scoular is trying to get it shown in New York, as well. The film will not only play a pivotal role in familiarizing art lovers, collectors and professionals around the globe with Jansen and his art, it will build upon the reputation that the legendary Robert Rauschenberg began when he made Captiva the site of his international headquarters and working studio and the loci of the Rauschenberg Overseas Cultural Interchange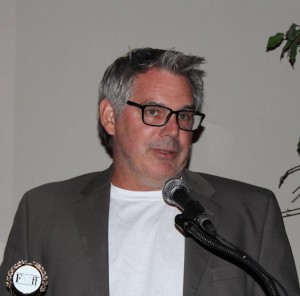 (ROCI), an initiative that Rauschenberg launched in 1982 for purposes of forging communication with other nations through the language of art by providing carefully-selected venues where artists, sculptors, poets and authors from around the world could meet and exchange creative ideas in the spirit  of collaboration.
You can track future screenings, awards and other developments pertaining to the film, Marcus Jansen and his worldwide tour here on Southwest Florida and by following Jansen on his website,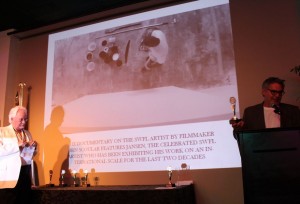 Facebook or Twitter.
Related Articles.