Short film 'Sh-h-h'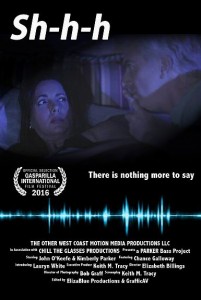 One of the most popular and well-attended Shorts Blocks screened by this year's Fort Myers Film Festival was #8. That's should come as no surprise as it featured films made by local filmmakers and starring local talent. One of the shorts included in this block was Sh-h-h, directed by Elizabeth Billings.
The 6-minute short depicts a couple by the name of Tom and Brenda who go to bed mad at each other. But they forget all about their quarrel when Tom is awakened in the middle of the night by breaking glass. As he removes a handgun from the nightstand, he whispers to Brenda, "sh-h-h." He checks on his teenaged daughter, and tells her to "sh-h-h" too. Unfortunately for Tom, the intruder disarms him and holds him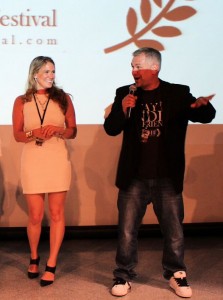 and Brenda at gunpoint. But the story doesn't end as you might suspect. Billings includes a clever plot twist. But sh-h-h. I won't tell you how it ends. If you missed the screening, perhaps you'll see it some day in the future for yourself.
Elizabeth Billings will tell you coming to Southwest Florida is the best decision she's ever made. As owner of ElizaBLUE Productions LLC, Elizabeth Billings brings her artistic talent to independent film making. Her special interest is in documentary film making and has several projects in production and development. Since 2006, she has employed her skills as a TV production specialist in Charlotte County. Previous to that, she worked for PBS in Ft. Myers.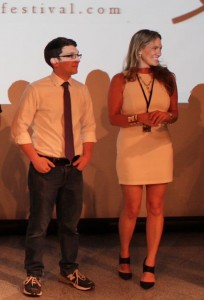 Sh-h-h was also an official selection of the Gasparilla International Film Festival. For more, please visit http://www.theotherwestcoastmotionmediaproductions.com/.
Related Fort Myers Film Festival Articles.