Now NYC-based, Gabrielle Macafee a singer-songwriter with clarity of purpose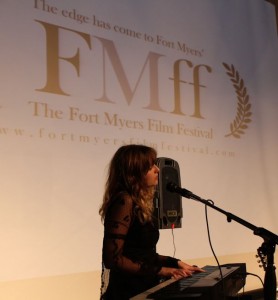 When Gabrielle Macafee last performed at Thank God for Indie Monday, she was living at home with her parents here in Fort Myers, studying voice at FGCU. That was August of 2016, but when you're an up-and-coming singer-songwriter and aspiring recording artist, 16 months is like an eternity. Today, Macafee lives on Manhattan in the East Village, where she's learning about the music industry from a number of male and female mentors while playing gigs all over the five boroughs that comprise the City that Never Sleeps. At home for the holidays, Gabrielle performed again last night at T.G.I.M. and once again blew the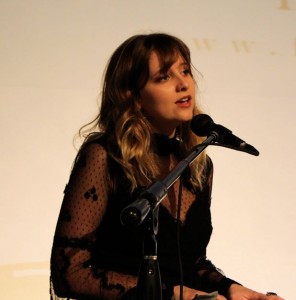 lid off the Sidney & Berne Davis Art Center.
"Don't be shy about getting a picture with Gabrielle," host Eric Raddatz prompted the New Year's Day crowd. "Ten years from now, she'll be famous and you'll be saying, 'Oh yeah, she's the one who played at that little film festival in Fort Myers. Damn, I should have gotten a picture with her."
Gabrielle opened the night with a reimagined rendition of Stay Gold, an inspirational anthem she wrote and recorded with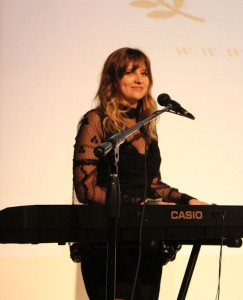 the Cypress Lake High School Center for the Arts vocal group TAG. The song received two awards for a cappella music at the 2015 Contemporary A Cappella Recording Awards (CARA) – Best Original Song by a Scholastic Group and Best High School Song. [CARA is to a cappella what the Grammys are to music, in general.]
"I wrote this when I was 17," Gabrielle told the T.G.I.M. audience Monday night. "It's still my favorite. It's so sentimental. It was inspired by one of my all-time favorite books, The Outsiders, which I read a couple of times when I was a kid."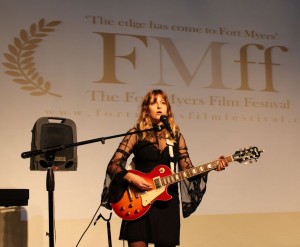 Parallels can be drawn between Gabrielle and the book's author, E.S. Hinton. Like Gabrielle, Hinton embarked on her career at an early age, beginning the coming-of-age novel when she was just 15 and finishing it when she was 17 and a junior in high school.
The songstress followed Stay Gold with Three Secrets, a tune Gabrielle wrote to overcome the depression and process the memory and speech deficits that followed a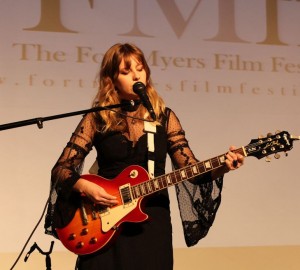 fairly severe brain injury she suffered a couple of years ago. The melody is as riveting as the lyrics are compelling, and rather than regretting the incident, Gabrielle gives thanks for the experience. Like every other bad thing that has ever happened in her life,  her victory over the injury taught her how to fight and keep faith in herself and God above.
It also gave the talented young singer-songwriter a clarity of purpose equal to the rich tonality of her powerful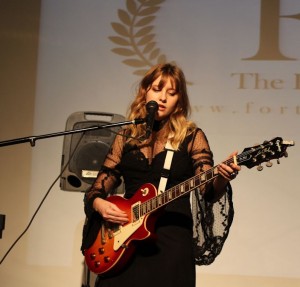 vocals. After her August, 2016 T.G.I.M. performance, one audience member effused that Gabrielle's voice reminded her of Adele. Truth be told, her pure vocal quality and introspective lyrics seem more reminiscent of a mature Sheryl Crow, particularly on the rare song where Macafee eschews her customary Casio keyboard in favor of a gleaming Cherry Sunburst Les Paul Standard electric guitar. But the comparison to Crow was most evident in Burn It Down, an up-tempo number played on the keyboard that had the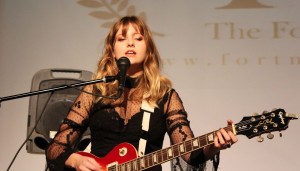 T.G.I.M. crowd clapping along and rocking the house.
Self-effacing, Gabrielle expresses genuine surprise at being compared to either singer. That's partially because she goes back farther in time for her musical influences – '60s and '70s icons Stevie Nicks,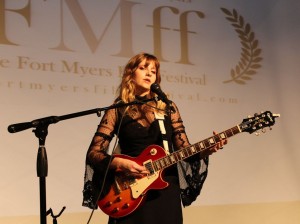 Nancy Sinatra, Joni Mitchell and Carole King. And what female singer-songwriter wouldn't want to emulate the latter two performers? But Crow remains relevant even for Millennials, as evidenced by the popularity of her Be Myself collection of new songs, which Rolling Stone applauded as her "toughest and best in a decade."
To develop her considerable talent and improve and refine her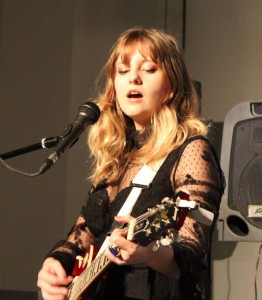 lyrical, vocal and performance skills, Macafee made the move to New York exactly one year ago, taking up residency in an East Village apartment that gives her ready access to performance venues in all of the City's five boroughs.
"I've been in love with New York since I was 16," she confesses. "I love the energy and am inspired by everything about it – the people, the art, the buildings." New York City is that unattainable wild thing she may never quite catch but will be perpetually in love with even if she doesn't.
For
an aspiring singer-songwriter and recording artist, there are really only a handful of choices when it comes to advancing your career – L.A., Nashville and NYC. "Nashville is really saturated right now and New York suits me better anyway, so New York is where I went."
Although they hated to see her go, Gabrielle's mom and dad (both musicians) knew she had to make the move both for her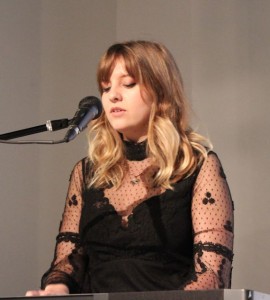 career and her own personal growth. So they prepared for Gabrielle to leave the nest by taking her to NYC numerous times before she made the transition. She's not just grateful for their support.
"My mother taught me that ambition is learned and dreams are worth chasing. My father taught me that strength lies in loyalty and quiet wisdom."
While there are lots of young artists in New York who are trying to break through, "everyone's broke and pretty much in the same boat," she laughs philosophically.
But she does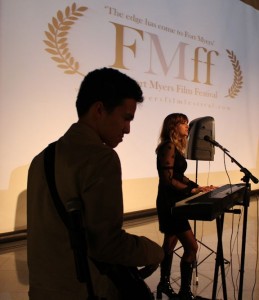 appreciate the level of collegiality that she's found so far. It's not altogether unlike the atmosphere that existed when Bob Rauschenberg set up housekeeping and his studio down on Fulton and Pearl Streets in Manhattan's lower East Side – and where he mixed, mingled and collaborated with the likes of Jasper Johns, John Cage, Merce Cunningham and Billy Kluver (among others).
Still settling in, Macafee has not yet identified her own inner circle of fellow influences and collaborators, but she has a network of mentors who are taking her under their wings and showing her the ropes in the music industry.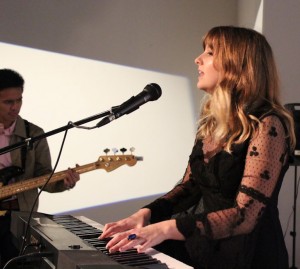 One is Andy Sheridan of Charlie Horse Productions, "an amazing producer" with "incredible patience."
"I also interned at a record label this past fall, attended some recording sessions and learned a lot not only about the industry, but about making a record."
For now, her short-term goal is to play as many venues as possible in and around New York. "The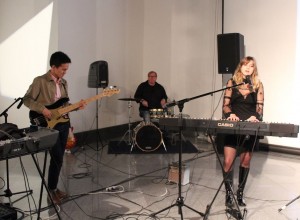 Bitter End is my main goal for the end of February," she confides. "There are so many performance spaces in New York, from jazz clubs and coffee houses to the Mercury Lounge, where I'm performing in February. I'm kind of winging it for now. I haven't even really figured out if I'll be performing solo or with a band behind me."
Gabrielle cops to feeling some nerves before any performance,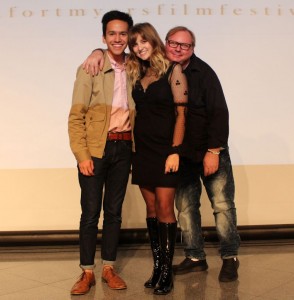 large or small. After all, she's not just putting herself out there vocally or as a musician, she's the one who wrote both the music and lyrics to which they'll be responding. She's played to crowds as small as a few dozen and as large as 8,000. "It's pretty much the same either way."
"It's about finding your comfort level during the performance. That comes at the moment I realize that these people want to be here and they're here to listen to me." In other words, she draws from the audience's vibe and energy – which is why larger crowds are, more exhilarating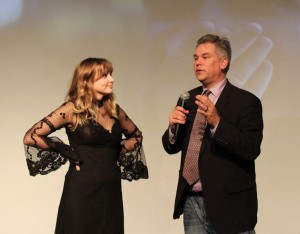 because the energy is that much more palpable given the mathematics involved.
While she is adamant about gaining more experience performing in front of live audiences, songwriting remains her overarching passion. In her case, the music typically comes before the lyrics. The music evolves over the course of several hours, or even days or weeks.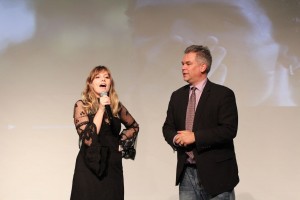 "Pop songs are typically a four chord progression, and that's kind of boring so I strive to make my songs musically more interesting by giving them texture."
Of course, it all starts with an idea, and while songwriting may be a process, inspiration arises organically from everything the 21-year-old sees, does, thinks and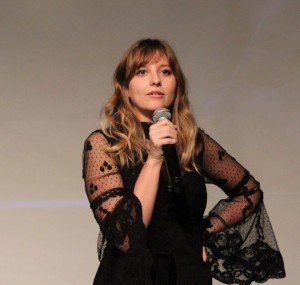 remembers. "I find inspiration in a lot of different things, everything from childhood experiences to living in New York, from literature to things I see in the street." And as Robert Rauschenber discovered more than half a century ago with his Combines, there's lots on the streets of New York from which to draw inspiration. And it's the experiential nature of Macafee's songs that uniquely enable them to resonate with listeners, whether young or old.
You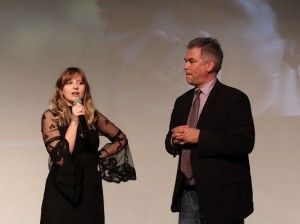 can find all of Gabrielle's music and social media at GabrielleMacafeeMusic.com. "My music is downloadable on iTunes, Spotify and even on Tidal," she encourages.
Give it a listen.
You're likely to be pretty damn impressed.
January 2, 2018.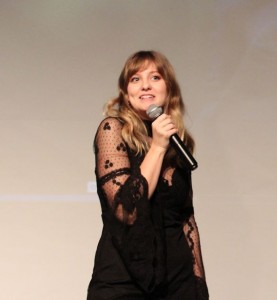 RELATED LINKS.