Alico Arena Mosaic Murals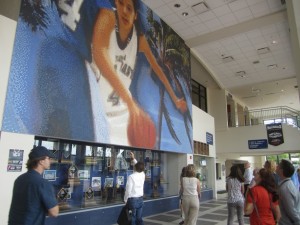 Located in the interior lobby of Alico Arena are three mosaics that are part of the Florida Gulf Coast University public are collection. Titled Competition, Pitcher and Three Athletes, the murals portray images of FGCU athletes Patrick Stubbe (baseball), Jennifer Santana (women's basketball), Adam Gary (men's golf) and Kristin Foelgner (women's tennis). Created by nationally-acclaimed muralist Mike Mandel, these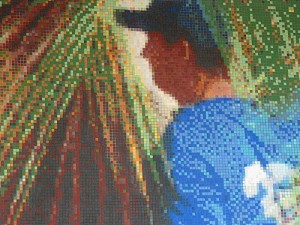 public artworks combine the lush landscape of the Everglades environment with the social activity inherent in an arena. Their expression of gesture and body language evokes the physical grace, coordination and determination implicit in collegiate baseball, basketball, golf and tennis. The designs pay tribute to the virtues of university athletics by recognizing the student athletes who participate in them.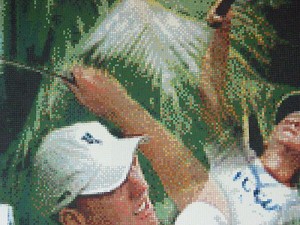 The mosaic murals are installed on the central, west and east walls of the lobby. The central panel stands 17.5 feet high by 26 feet wide. The other two panels are 16 feet high by 20 feet wide. Mandel created the mosaics with one-inch unglazed porcelain and glass tiles from both domestic and international sources that require low maintenance, are water resistant, fire resistant, and extremely durable. The tiles incorporate some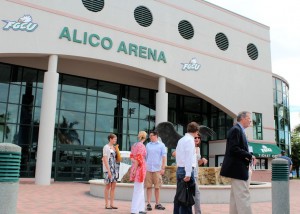 90 separate colors. The Florida Arts Council commissioned the artwork on June 3, 2003 pursuant to the Art in State Buildings Program, which mandated an allocation for public art of one-half of one percent of the construction budget for the Alico Arena or $100,000. Mandel visited Alico Arena on March 24, 2004 for final inspection of the completed project.
Mandel's public artworks
Mandel has worked extensively in the field of public art since the early 1990s. Over a period of thirty years, he has designed both temporary (billboards) and permanent (tile mosaic) artworks specifically airports, schools and other public buildings from California and Washington to New York and Florida. His work focuses primarily on transforming photographic imagery into large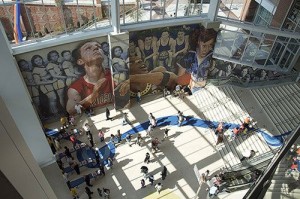 scale glass and porcelain tile mosaic murals.
"When I recognized that photography was becoming transformed into a digital medium in the 1980s, I began to work with photographs on the computer," explains Mandel. "A digitized photograph is comprised of numerous square units of color called 'pixels.' My interest in public art and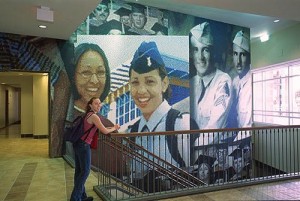 specifically in finding a way to translate photographs into a more architectural scale led me to the idea of a mosaic based on electronic imagery. A one inch ceramic or glass tile could be considered a real world analog to the electronic pixel, and thousands of these tiles could add up to become a wall of photographic imagery. My approach to permanent public art is to tap into the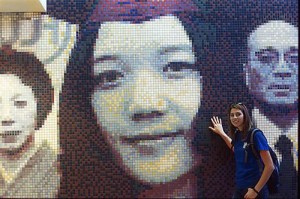 intertwined stories of history, myths, images of land and community in a voice that is accessible to a community. I recognize the documentary power of photography and find strategies to translate this energy into public design."
Mandel's interest as an artist in the public realm is to engage ideas of history, people and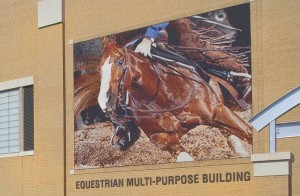 neighborhoods. "I attempt to realize this goal by tapping into the power of documentary. Photographs can be translated as large architectural images to dramatically engage us with instances of history and human experience. My mosaic walls become an integrated aspect of a building's architectural presence."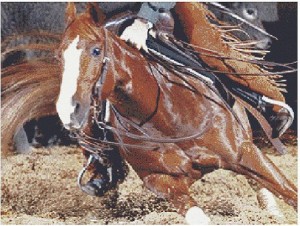 While Mandel's media, glass and porcelain, may be ancient in origin, the mosaic imagery that he creates is photographic in illusion. "I use porcelain and glass tile because they are permanently colorfast, and easily maintained for a lasting installation," Mandel notes. "I work with a palette of approximately one hundred colors of tile." Mandel fabricates each mural in his studio and supervises their installation personally.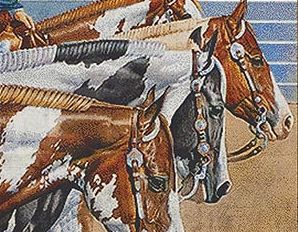 People who see Mandel's murals from a distance love to come up and touch them. "In my work, the viewing distance transitions from photographic illusion to abstraction as one moves closer or farther from the murals. Ideally, the viewing public can experience the work from a variety of long site perspectives, and from just inches away. It's this level of audience interest and participation that makes my mosaic work unique."
Mandel's Art Publications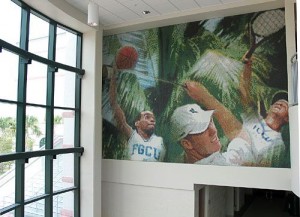 Mandel has self-published a number of art books, including Myself: Timed Exposures (1971), Seven Never Before Published Portraits of Edward Weston (1974), The Baseball-Photographer Trading Cards (1975), and Making Good Time (1989). In 1977, he teamed up with Larry Sultan to author Evidence, a photo narrative comprised exclusively of images they found in government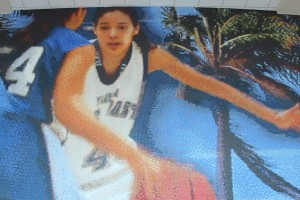 and corporate archives such as police and fire departments and in aerospace and engineering firms. The photographs were originally made as documents of crime scenes, rocket experiments, etc. But by inventing a new sequence within the book format, they come to symbolize an entirely new message about the failure of faith in progress and technology. This book has been recognized as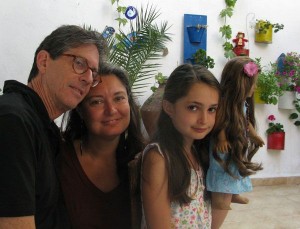 a precursor to subsequent postmodern strategies of photo practice, and was re-published in 2004 by Distributed Art Publishers in New York. Their collaboration has been documented in a recent monograph Larry Sultan and Mike Mandel (2012).
Mandel's most recent publishing projects are collaborative efforts with his wife, Chantal Zakari, who teaches at the School of the Museum of Fine Arts in Boston. The State of Ata (2010) speaks to the clash between Islam and secularism in Turkey, and They Came to Baghdad (2012) is a response to the Iraq War.
About Mike Mandel
Mike Mandel grew up in the San Fernando Valley of Los Angeles during a period of expansion and transformation of the landscape that included the appearance of billboards, strip malls, and miles of freeway. This experience informs much of his work, which questions the meaning of photographic imagery within popular culture and draws from snapshots, advertising, news photographs, and public and corporate archives. In addition to numerous public commissions, his work can be found today in numerous museum and corporate collections.
Mandel has a Bachelor of Arts from California State University at Northridge and a Masters of Fine Arts in Photography (1973)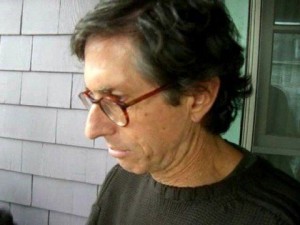 from the San Francisco Art Institute. He has received fellowships from the National Endowment for the Arts, a Fulbright fellowship, a MacDowell Colony Fellowship and numerous other grants and awards. In 2006, he was invited to participate in the 4th Berlin Biennial for Contemporary Art, "Of Mice and Men," in Berlin, Germany. In 2009, Mandel participated in Art Basel, Switzerland, and Photo España, Madrid.
Mandel teaches at the School of the Museum of Fine Arts, Boston Studio Program at Tufts University.