Pamela Z. Daum Black & White Infrared Photographs
Included in Florida Gulf Coast University's permanent art collection are four black-and-white infrared photographs by Ohio artist Pamela Z. Daum. They are Wooden Gate, Brick Wall (2008), Reborn in Florida #1 (2009) and Cypress Knees (2009) hanging in the 2nd Floor Corridor of Academic Building – 5, and De Leone Tree (2009) located in the 3rd Floor Corridor.
About Pamela Z. Daum
Pamela Z. Daum has spent most of her life in Northeast Ohio, but during the four years she lived in Florida, she not only renewed her love of black-and-white photography, she introduced a twist: infrared. "For many years, I fulfilled my creative vision through Polaroid art techniques," says Daum. "Just as I hit my stride, Polaroid stopped producing film. Rather than grieve my loss, I channeled my photographic vision by re-establishing my roots:  black & white photography. But this time, I've added a twist:  Infrared. The stark, ethereal beauty of infrared allows me to observe the common, yet record it in my uncommon way."
Since that time, she has introduced three B&W Infrared series or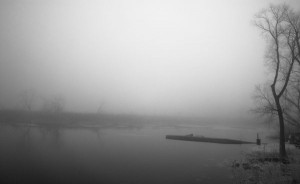 collections: Reborn in Florida, Life is a Beach and SSDD (Same Scene, Different Day). She considers Life is a Beach and SSDD as works in progress since she continues to add to these collections. "Same Scene, Different Day is my ongoing B&W infrared series of the view of West Twin Lake from my backdoor, which I capture each day," says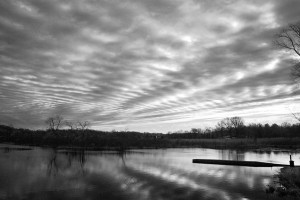 Daum of SSDD. "Though no two days are the same, the bones of the landscape remain mostly unchanged. A dead tree here, the dock there; all look the same in one's eyes. But, the atmosphere and sky speak of constant change.  Memory can be ephemeral. When I speak of a morning where the fog was as thick as pea soup, it might sound clichéd. However, the captured image of just such
a day can be etched in one's mind. Those are the memories worth creating."
The photographs in Life is a Beach start in Florida and continue to the North Shore of Lake Erie in Ohio.
Pam's photography has been featured in books, magazines, and gallery exhibitions from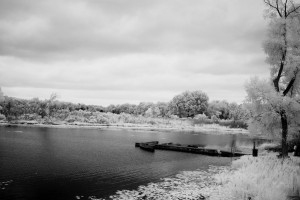 Connecticut to California. Her photographs were recently on display in Times Square, New York. She also was selected by Women's Caucus for Art in their Best of 2014 Exhibit, ARC Gallery, Chicago. Pam has been awarded a residency at Helene Wurlitzer Foundation in Taos, NM, and has received grants from United Arts of Central Florida and Capelli d'Angeli Foundation.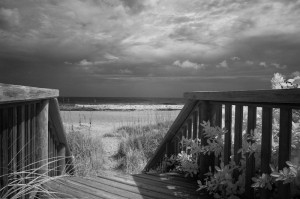 Trained in conventional photographic processes, Daum holds a Bachelor of Arts from Ohio Northern University (1976). In addition to FGCU, her work is included in the permanent public art collection of Orange County, Florida. She is a member of the Florida Artists Registry, National Museum of Women in the Arts, Women's Caucus for Art, Florida Artists Group and Hudson Society of Artists.
Solo Exhibitions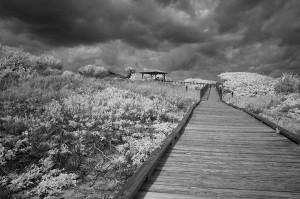 Following are a list of solo exhibitions of Daum's work:
2013: Land of Enchantment, Hudson Public Library, Hudson, OH
2011: Life is a Beach, The Ohio State University Kuhn Gallery, Marion, OH
2011: Life is a Beach, University of Central Florida Library Galleries
2010: June Featured Artist, Women's Caucus for Art, New York, NY
2010: Audubon Day of Caring, Eileen Fisher, Winter Park, FL
2010: Open, Maitland Library
2009: Reborn in Florida, The University Club
2009: Back to Her Roots, The Office Gallery
2006: Polaroid: The Alternative Process, Moos Gallery
Group Exhibitions
Daum has also participated in numerous group shows, including:
2013: The Way We See It!, St Paul's Gallery, Akron, OH
2012: Life is a Beach, Summit ArtSpace, Akron, OH
2012: Places & Process, Women's Caucus for Art
2012: Bursting Out, Women's Caucus for Art, San Diego, CA
2011: Florida Artist Group Members Exhibition, Maitland Art Center, Maitland, FL
2010: 1st Annual Competition, Florida Museum for Women Artists, Florida Museum of Women Artists, DeLand, FL
2009: National Museum of Women in the Arts, Gateway Center of the Arts, DeBary, FL
Awards
Pat has received the following awards for her work:
2013: Juror's Award, Chagrin Valley Art center
2012: Honorable Mention, Women's Caucus for Art
2011: Founder's Prize, Florida Artist Group
2010: Individual Artist Professional Development Grant, United Arts of Central Florida
2009: Special Recognition, Upstream People Gallery
2008: Special Recognition, Upstream People Gallery
2008: First Place, Albin Polasek Museum
2007: Honorable Mention, Hudson Society of Artists
2006: Foundation Grant Artist, Capelli d'Angel