Spotlight on 2022 Grant Recipient Show narrative photographer Stephen Hayford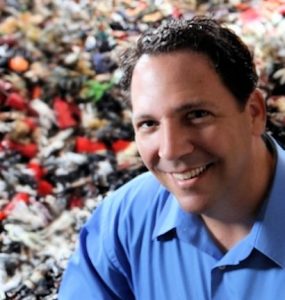 Stephen Hayford hand crafts miniature scenes and populates them with customized action figures. He then draws upon his 20-year career as a photojournalist to create images that reflect his background in documentary photography. His images are often subtle social commentary or kitschy reflections of Florida.
Once he decides on a scene, Hayford begins with a sketch and a paper mock-up to determine the size of the props he will need, dimensions of walls, and the action figures who will populate the scenes. After designing,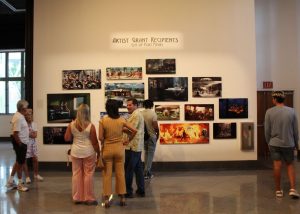 cutting and sculpting the props he'll need, Stephen builds and paints the scene using a progression of base coats, washes, weathering and faux finishes.
Once all of the set pieces have been completed, Hayford is ready to stage the scene.  "This is when I set up the diorama with all the props, substrate (sand, baking soda, crushed leaves, etc.) and characters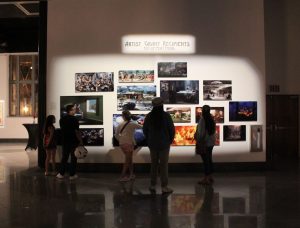 (which stay in place with nails glued to the bottom of their feet). But even this phase is tricky because setting up to be seen through a lens is different than how you see the scene with your naked eye."
The last step in the progression involves lighting the scene. "I've created a variety of specialized snoots and other light modifiers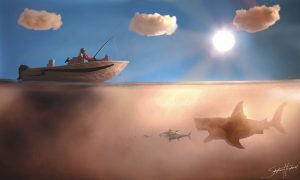 to work with tight spaces on miniature subjects."
Hayford's scenes fall into several categories, including Star Wars (primarily for Lucasfilms), science fiction (generally on commission for clients such as Disney, Marvel, Hasbro, Lego and Fantasy Flight Games) and social commentary (based upon his observations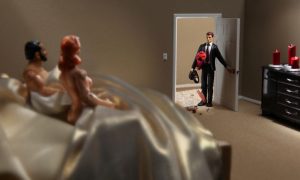 of human interactions). His diorama-based photographs have been the subject of a number of well-attended exhibitions locally, including a solo show called Plasticity in the second floor Capital Gallery of the Sidney & Berne Davis Art Center in March, 2020; the Lee County Library System's 3rd Annual Comic Fest in 2018; Fantastic Plastic
at the Founders Gallery at BIG ARTS in 2016; and Howl Gallery while it was still located in the River District. He's also entered a number of pieces in group shows throughout Southwest Florida, including this year's All Florida Juried Exhibition at the Alliance for the Arts (second and third photos). His diorama-based photograph titled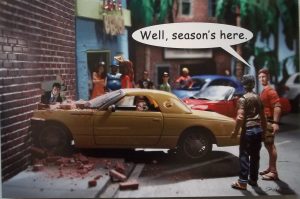 You Never Know What You're Going to Get was juried into the Alliance for the Arts' second annual Art Lives Here Billboard Campaign, which was displayed on both electronic and physical billboards located at various venues in Lee County.
Hayford traces his start with diorama-based narrative photography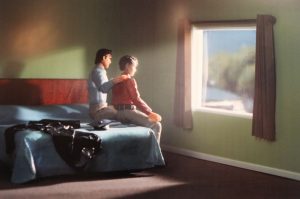 to the love of Star Wars and Kenner action figures that he developed back in the '70s. That spark eventually combined with his idealism and led him into a career in photojournalism.
April 30, 2022.