Claudia Goode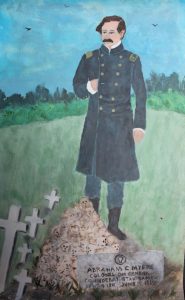 Mural 8 in the Fort Myers River Basin Mural Project depicts the town's namesake, Colonel Abraham C. Myers. But what you probably don't know is how the fort that the Army built here came to be named for the Colonel – or why the artist who painted his portrait placed a pile of skulls at his feet. Once you do, it will come as no surprise that the artist who rendered this mural is none other than Claudia Goode.
Claudia is best known throughout Southwest Florida as the curator and motivating force at Arts for ACT Gallery in the Arcade Building on First Street. The acronym stands for Abuse Counseling and Treatment, which is the domestic violence, sexual assault and human trafficking center in Fort Myers. Goode has been its Human Resource Director since 2000. And since 2003, she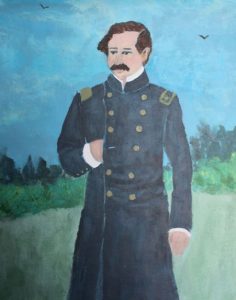 has also served as the curator of the gallery. Her myriad duties include hosting a monthly first Friday "artful evening" and "meet the artist" reception, choosing the artists and curating the artworks that will be featured each month and then hanging the show, which often includes hundreds of two and three-dimensional works of art. For example, in 2022 alone, Claudia curated more than 20 one-person art exhibits at Arts for ACT as well as a juried group exhibition consisting of over 40 artists.
Goode has been pursuing her passion for art since she was five years old. For the longest time, collage was her medium of choice.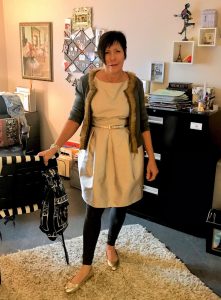 That changed when she took a class on surrealism taught by Victor Flores. Since then, she has infused her drawings, painting and collages with a dreamlike quality filled with surrealistic symbolism using paint, paper, photos, found objects and more to render her compositions. To perfect her treatment of light and shadow, Claudia studied with realism artist Terry Lynn Spry and, more recently, with Francisco Gilia, who has nurtured her love of oil painting and helped Claudia perfect her technique.
Originally from Louisville (or, as she pronounces it, "Lou-a-vall"), Kentucky, Claudia has lived in Fort Myers for more than 42 years.
March 18, 2023.