Spotlight on 'Heathers' stars Isabelle Blanco and Simon Lynch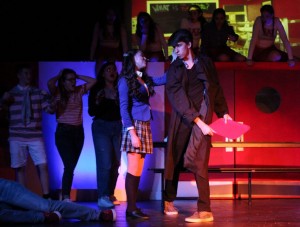 It's over now, but the Alliance Youth Theatre's recent production of Heathers the Musical showcased a number of talented, up-and-coming performers. The three Heathers, Chloe Lamb, Tatum O'Donnell and Madison Mulvey were outstanding, but Isabelle Blanco and Simon Lynch merit special praise.
Lynch played a damaged young boy by the name of Jason Dean.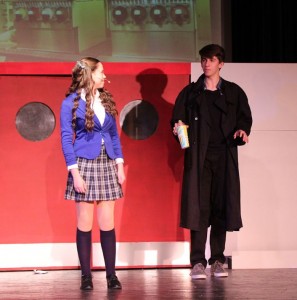 Living the life of a vagabond, JD has formed few attachments as he and his father have moved about the country blowing up buildings and discharging other demolition projects his father's company contracts to take down. JD lost his mom in one of those buildings. She intentionally walked into a place JD's dad had wired with explosives, forlornly waving good-bye to her son moments before her husband unknowingly detonated the blast.
Of course, lots teens lead disassociated lives. Many others h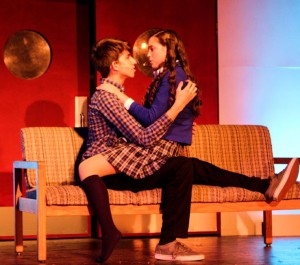 ave been abandoned by one or both parents. None go on to commit serial or mass murder. But we're not given the other incidents that have given rise to JD's psychopathic personality or murderous bent. Perhaps it's unnecessary. Some girls like dark and brooding bad boys. The more mysterious, the better. And while it is clearly human nature to want to decipher why young men like Seung-Hui Cho, Adam Lanza or Eric Harris going on k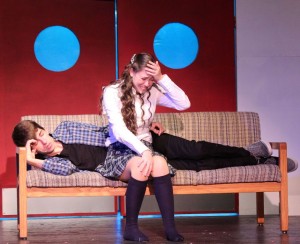 illing rampages, some acts are so incomprehensible that they simply defy explanation.
In spite of being only seventeen, Simon Lynch seemed to get the latter reality in the lead up to playing his character. It was enough for him to be maniacal, manipulative and duplicitous. Dressed in a black trench coat that conjured raw images straight from Columbine High School, he pulled off the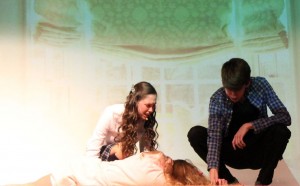 role in such a convincing style that local theater audiences can only hope to see more of him before he departs for even bigger and better roles.
The bio he provided for the show bill is both revealing and a hoot. "His talents and hobbies include reaching things on tall shelves, eating under-cooked Ramen in his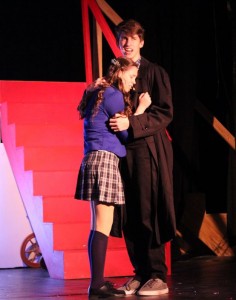 underwear and playing piano," it states. "He was most recently seen playing himself in a 17-year run of Life on the world-renowned stage Earth. Regardless of the quality of today's performance, Simon will be accepting compliments in the lobby immediately following the performance."
JD's love interest in Heathers is Veronica Sawyer, who is far more nuanced and complex. She remarks to her parents after a fake suicide that she's not the person they think she is. No question, her moral compass is askew. Initially a member of the uncool kids, there's apparently little she won't do to become part of the in-group.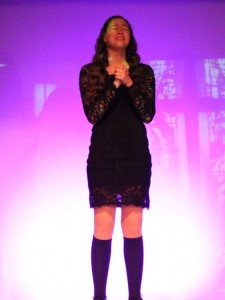 She jettisons her best friend Martha "Dumptruck" Dunnstock, and then hatches a plot at the Heathers' direction to embarrass and humiliate her just to prove her loyalty to beautiful but mean-spirited trio.
As troubling as her lack of loyalty and compassion might seem, it pales in comparison to her willingness to cover up the role she inadvertently plays in causing the death of the click's leader, Heather Chandler. Perhaps fear and panic explain Veronica staging the death as a suicide, thereby subjecting her parents and classmates to the repercussions that the "suicide" entails. But there seems little justification for her complicity in luring athletes Kurt Kelly and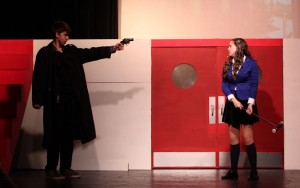 Ram Sweeney to their deaths and covering up their murders at JD's hands. By the time this event takes place, even a girl in love with a bad boy knows that JD cannot be trusted.
Veronica Sawyer is a tough role for any actor to make believable, but Isabelle Blanco makes it look easy. Blanco has all the tools to be a fine stage actor.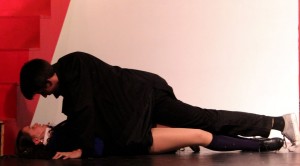 She delivers lines with authority, has a stellar singing voice, is a master of facial expressions (particularly surprise, shock and incredulity) and already understands how to command the stage.
Isabelle is just a junior at North Fort Myers High, where she's in the a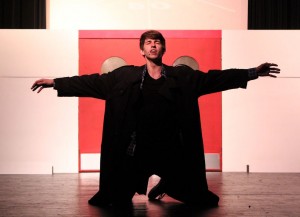 cting and musical theater program. Heathers is her sixth City Scenes/Alliance Youth Theater production. You may have seen her in Legally Blonde Jr., where she reprised the role of Vivienne. She was also in the ensemble of Rock of Ages, and it is hoped that local audiences will see her in even bigger and more challenging roles as she continues her education and tutelage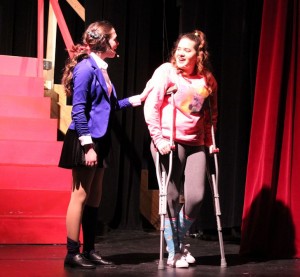 on local, community theater stages.
Congratulations to both Isabelle Blanco and Simon Lynch for their performances in Heathers the Musical, and to Carmen Crussard and Christopher Dean Anderson for direction and choreography. Both contributed mightily to the show's success.
December 8, 2017.
RELATED POSTS.