'Newsies' play dates, times and ticket information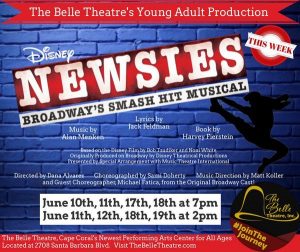 Play:  Newsies the Musical
Book:  Harvey Fierstein  (Torch Song Trilogy, Kinky Boots: The Musical)
Music:  Alan Menken (Thumbelina, Pretty in Pink)
Lyrics:  Jack Feldman (The Little Mermaid, Beauty and the Beast, Aladdin, Little Shop of Horrors, The Hunchback of Notre Dame)
Synopsis:  When greedy New York newspaper mogul Joseph Pulitzer hikes the price at which his New York World sells "papes" to the city's newsboys, a charismatic newsie by the name of Jack Kelly leads them in a strike. This is a classic underdog-versus-powerbroker tale told to music and powerful dance choreography.
Director:  Dana Alvarez
Assistant Director: Amber Angeloro
Musical Director:  Matt Koller
Choreographer:  Sami Doherty
Costume Design:  Chloe Cuyler
Stage Manager:  Peyton McCarthy
Cast:
Jack Kelly:  Harvey Evans
Katherine Plumber:  Aubrey Barnhouse
Medda Larkin:  Marianna Young
Crutchie: Matthew Brice
Davey:  Keith Williams
Les:  River Reed
Joseph Pulitzer:  Ethan MacKay
Albert: Gabe Nudi
Buttons:  Izy Sedorchuk
Ike:  Cassie Grossarth
Elmer:  Georgia Rainero
Finch:  Canon Dobson
Henry:  Yovanna Ignjatic
JoJo:  Ashlynn Richardson
Mike:  Paige Burch
Mush:  Athena Belis
Race:  Macy Magas
Romeo:  Gabe Cruz
Specs:  Caisson Dobson
Splasher:  Isa Scala
Tommy Boy:  Amya Vosler
Spot Conlon/Nunzio:  David Hernandez
Bowery Beauty/Nun/Scab 3:  Emma Kane
Bowery Beauty/ Nun/Hannah:  Madison Tripp
Darcy/Bowery Beauty/Nun:  Mia Odum
Bowery Beauty/Nun/Scab 2:  Emma Bambrey
Bowery Beauty/Nun/Scab 1:  Kailey Smith
Wiesel:  Landon O'Brien
Jacobi:  Addison Smith
Seitz:  RyAnne Vazquez
Oscar Delancey: Braden Odum
Morris Delancey: Gabe Lopez
Bunsen/Snyder:  Camryn Valenti
Woman/Ensemble:  Samantha Cueva
Mayor/Teddy Roosevelt: Ralph Nudi
Bill/Photographer/Ensemble:  Lilia Drescer
Play Dates and Times: 
7:00 p.m. performances:  June 10, 11, 17 & 18
2:00 p.m. matinees:  June 11, 12, 18 & 19
Tickets:  For more information or tickets, please visit thebelletheatre.com/newsies.
Location:  The Belle Theatre, 2708 Santa Barbara Blvd., Suite 135, Cape Coral, FL 33914.
June 7, 2022.