Cockney or coquette, Theresa Walker ramps up the slapstick for her role as Mrs. White in 'Clue the Musical'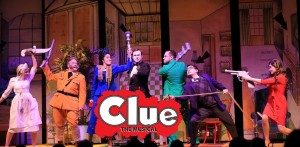 On stage now through June 24 on the main stage of the Broadway Palm Dinner Theatre is Clue the Musical. Theresa Walker is the maid with the perennially dirty uniform, the grotesquely unsanitary Mrs. White.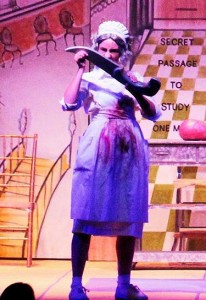 Mrs. White is the most farcical character in the cast, and Walker has a knack for slapstick and physicality. We get a feel for that right from the outset as White beats the roast she'll be serving for dinner with The Knife to tenderize it. When the roast falls on the floor, White proclaims it's still good even as she is picking lint or animal hair off the round hunk of meat. But as he watches aghast, Mr. Boddy doesn't muse to the audience that he'd always wondered where the meat got its flavor a' la Ray Barone in the Everyone Loves Raymond episode where a slick Thanksgiving Day turkey keeps slipping out of Debra's hands onto her kitchen floor as she tries vainly to throw it in the oven.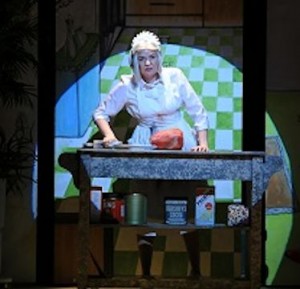 Adding to all the fun is the fact that Mrs. White is Cockney, and Walker is to be complimented on her accent. Alas, White also thinks she a coquette, but her attempts to seduce Professor Plum leave a wee bit to be desired. But it's desire she has a surfeit of. "A holiday to me homeland on the QEII," is what she wants, "with hunky stewards tendin' to me every need … and I mean every need."
Spread-eagle is her favorite position, and there's a scene in Act Two in which she gets turned around in an arm chair that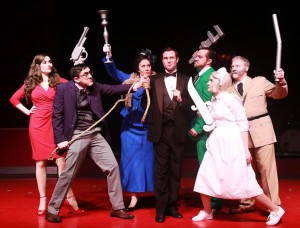 reduces the audience to tears as she twists and bends her way to the floor. From an actor's perspective, Mrs. White is a plum of a role for Walker, and not just because she's thrilled to be in the show. The cherry pit on top of this cupcake is the chance to play alongside her husband, Craig Smith. He plays the part of Mr. Green.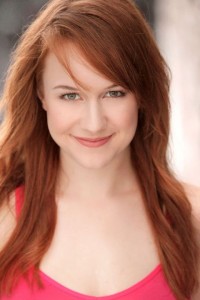 All that aside, Walker admitted to Broadway World Central Pennsylvania in an interview last year that she's actually appalled by her character, who's just "awful."
"I'm trying to channel a very obnoxious version of Helena Bonham Carter," she told Broadway World's Marakay Rogers. To prepare for the part, she also binge watched plenty of Monty Python.
Theresa's recent credits include Erma in Anything Goes, Barbara in Shear Madness, Ado Annie in Oklahoma!, Patsy in Crazy for You, and Zaneeta in The Music Man. She has also been in 42nd Street, How to Succeed in Business Without Really Trying and Barefoot in the Park, which is the show that first brought her and Smith together.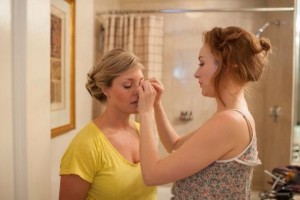 When she's not performing, Theresa is a professional makeup artist. Visit her website: www.TheresaWalkerMakeupArtist.com.
May 21, 2017.
RELATED POSTS.