'Anything Goes' is heaven on earth for tap dance fans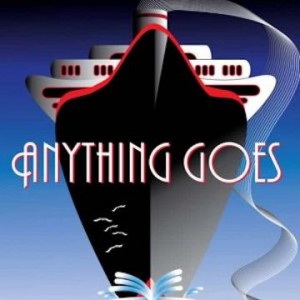 The SS American set sail at the Broadway Palm Dinner Theatre on February 16 with the opening of the Tony Award winning revival of Anything Goes. Packed with Cole Porter classics, lively tap dancing and a boatload of laughs, Broadway Palm's production of this comedic musical has audiences smiling, humming and tapping their toes on the drive home. So if you see someone's brake lights flashing, don't be alarmed, you'll know they've just come from Broadway Palm!
The plot of this comedic musical centers around a young Wall Street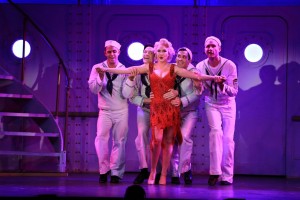 stockbroker by the name of Billy Crocker who hops a cab to the docks to see off his boss and a friend ("Bon Voyage"), who are traveling to London aboard the SS American. As fate would have it, Billy meets a beautiful girl in the taxi, and it's love at first sight. When Billy discovers that Hope is also a passenger on the ship, he does what any smitten, red-blooded American boy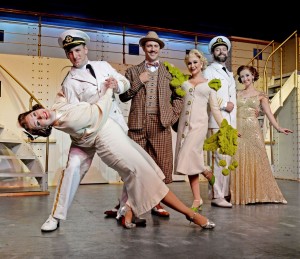 would do. Yes, he sneaks on board and stows away with the help of a gangster and his moll who are disguised as a chaplain and his wife. But that's just the start of the complications that stand between Billy and his heart's desire. His Evangelist-turned-nightclub-singer friend Reno Sweeney has a crush on Billy ("I Get A Kick Out of You"), and it turns out that Hope is an heiress who's sailing to England with her mother and fiance', a handsome but stuffy British aristocrat who offers her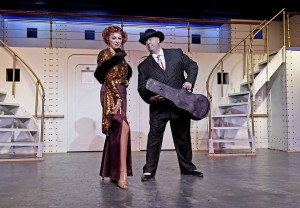 wealth, nobility and prestige.
As the SS American heads out to sea, etiquette and principle get tossed out the portholes and these two unlikely pairs set a course to true love … proving that sometimes destiny needs a little help from an exotic disguise, a whole ship full of tap dancing sailors and chorus girls, and some good old-fashioned blackmail.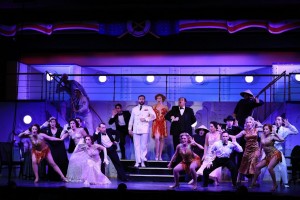 The magical score by Cole Porter includes "It's De-Lovely," "You're the Top," "Easy to Love," "Buddy, Beware," "Blow, Gabriel, Blow" and the title song, "Anything Goes." The latter two songs are ensemble numbers which have been described as heaven on earth for tap fans. And if you appreciate big, imaginative sets and lavish costumes full of pattern and color, you'll be excited to hear that Broadway Palm's talented set and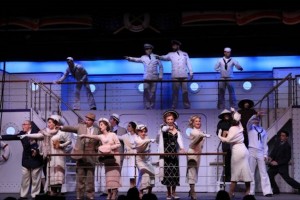 costume designers have pulled out all the stops for this production as well.
February 14, 2017.
RELATED POSTS.
'Anything Goes' play dates, times and synopsis