Nic Casaula is Phil Davis in Broadway Palm's 'White Christmas'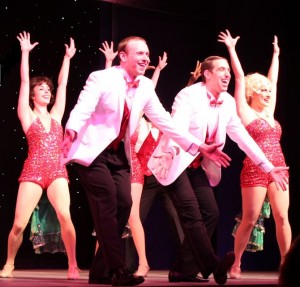 On stage now through Christmas Day on the main stage of the Broadway Palm Dinner Theatre is Irving Berlin's White Christmas. Playing the role of Phil Davis is Nic Casaula.
Phil Davis is the go-getting song-and-dance half of Wallace and Davis. He's an An irrepressible clown, smooth operator and incorrigible ladies' man, which presents a host of problems when he conspires with a singer by the name of Judy Haynes to set up his partner, Bob Wallace, with Judy's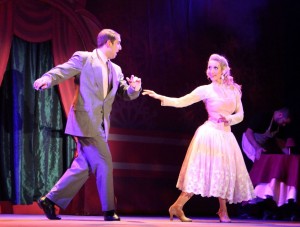 sister, Betty. That's because Judy falls for Phil's boyish charm, swarthy good looks and animal magnetism. But standing in the way of her efforts to win Phil's heart are his roving eye and two dancers in the ensemble by the names of Rita and Rhoda, who have their own designs on the fun-loving Phil Davis.
Casaula is a perfect choice for the role. When he's not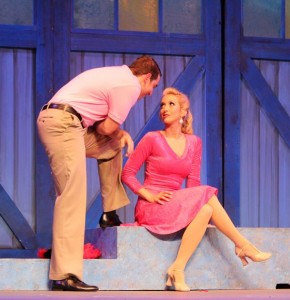 grinning from ear to ear, his face betrays its readiness to break into an unbridled smile with even the slightest of provocation. His delight in creating mischief is surpassed only by the pleasure he takes in his encounters with the opposite sex. But it is as a dancer that Casaula distinguishes himself in a role made famous by Danny Kaye. His timing, frame, footwork and posture are exemplary. His styling and connection with his partner set him apart. Dancing to his maximum, Casaula creates wonderful picture lines as he builds to the dips, lifts, drops, and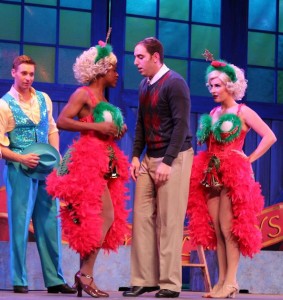 applause moments that leave White Christmas audiences clamoring for more.
Fortunately, White Christmas contains a plethora of excellent dance numbers, so there's plenty for the audience to feast their eyes on. But while the larger dance productions are mesmerizing for their sheer size and energy, the two numbers that Casaula shares only with Sami Doherty – The Best Things Happen While You're Dancing and the intro to I Love a Piano – make the show.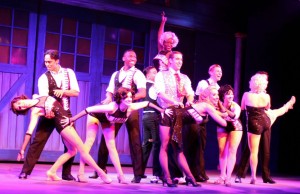 White Christmas represents Casaula's Prather Entertainment Group debut. He is best known as Jimmy in Flashdance, which toured throughout the United States, Canada and New Zealand. Nic also toured nationally as a member of the cast of Pinocchio, where played Geppetto.
Casaula's other credits include Clinton in The Extraordinary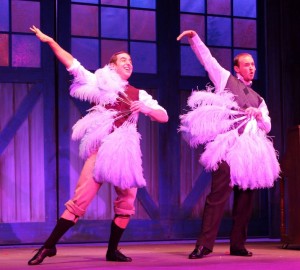 Fall of the Four Legged Woman, Luis in West Side Story, various parts in A Chorus Line, Pappa Ogre and Pig in Shrek, Feuilly in Les Miserables, Steve in Rent, Alfie in My Fair Lady and Beadle Bumford in Sweeney Todd.
Nic has a Bachelor's of Music, Musical Theatre from New York University.
November 28, 2016.
RELATED POSTS.