Off-Broadway's 'Rise Up, O Men' focuses on Church Basement men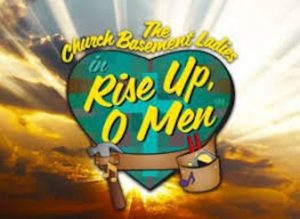 What happens when you let not one, but four roosters in a Norwegian Minnesota hen house? Well, you're about to find out when Broadway Palm Dinner Theatre brings Rise Up, O Men to the Off-Broadway stage. The sixth helping from the Church Basement Ladies series, this brand new musical comedy features a handful of the men of East Cornucopia Lutheran Church.
The Church Basement Ladies is a series of six musical comedies inspired by Janet Letnes Martin and Suzann Nelson's bestselling book, Growing Up Lutheran. Rise Up, O Men is the most recent installment in the series. It was developed by Greta Grosch (who also wrote the scripts for the second, third, fourth and fifth plays) with input from theater critic Graydon Royce. Composer and songwriter Dennis Curley wrote the music. Dennis Curley and Greta Grosch provided the lyrics. Catchy in the ilk of "It's a Small World," you'll be humming the songs from this musical as you leave the theater and on the drive all the way home.
In this episode, attention shifts to guys, who have a plethora of their own problems to resolve. There's Karin's husband, Elroy, a farmer by the name of Carl, a revered World War II vet named Arlo and, of course, the pastor, E.L. Gunderson. As they discuss piles of scrap lumber, the benefits of weld versus solder, looming retirement, rival Protestant denominations and Pastor Gunderson's really bad jokes, the menfolk unwittingly disrupt the ladies, who are hurrying to complete preparations for the church's 1964 centennial celebration. It's a recipe for hilarity that Broadway Palm serves up with relish and a side of panache.
Be there to enjoy this newest slant on a timeless and wildly popular theme as the matriarchs and patriarchs of collide in the basement of America's favorite rural Norwegian Lutheran church.