Little Shop of Horrors
There's more to Little Shop of Horrors than singing, dancing and great costumes (06-09-19)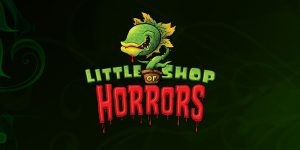 On stage for another week at Broadway Palm is the dark but comedic musical Little Shop of Horrors. The show contains all of the delectable elements audiences relish in a musical – terrific singing and dancing, good acting and marvelous costumes and sets. But it also provides nutritious fodder for those clamoring for meaty themes and allegories.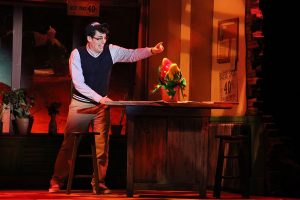 But first, the singing! As we've come to expect from a Broadway Palm production, particularly one directed and choreographed by Amy Marie McCleary, each of the members of Little Shop's talented cast has superlative pipes. That's certainly true of Will Callahan and Erica Clare, who play Seymour and Audrey (the human one). But it's the Greek chorus street urchins consisting of Cantrella Canady as Crystal,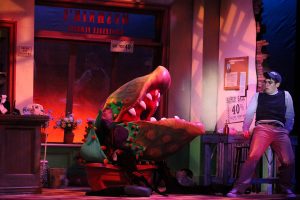 Victoria Morris as Chiffon and Tempestt Perrin as Ronnette who rock the house with a masterful blend of strong vocals, pitch-perfect harmonization and split-second changes into increasingly chic and glitzy costumes and wigs.
Sound, set and costumes are integral to the success of this show,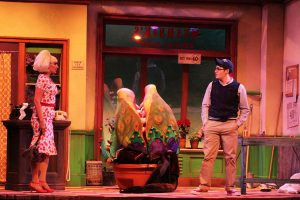 and so Musical Director/Conductor Loren Strickland and the orchestra, Sound Designer Karl A. Smith and Costume Designer John White all deserve shout-0uts for jobs well done. It also warrants mentioning that the music is by Alan Menken, with book and lyrics by Howard Ashman, a duo that went on to collaborate on shows such as Disney's The Little Mermaid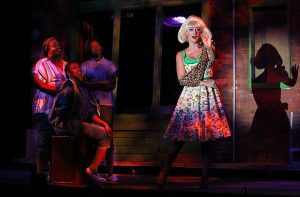 and Beauty and the Beast (the latter follows Little Shop, opening June 20 and running through August 10).
The acting in Little Shop is very good too.
"The actors, to their credit, do not play stereotypes," points out Florida Weekly's Nancy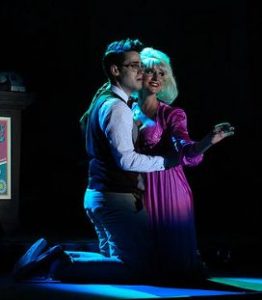 Stetson, who goes on to single out the performances turned in by Rob Summers, who plays the flower shop owner, Mr. Mushnik, Erica Clare who "plays Audrey with sensitivity and heart," and Broadway Palm favorite Victor Legarreta, who plays the "leader of the plaque" Orin Scrivello, D.D.S. But no one in a McCleary directed production takes a line or scene off and, in truth, the acting is strong to a man and woman, without exception.
But for as entertaining as Little Shop is, the show is actually a pretty damn good allegory. On a psychological plane, the musical can be viewed as a warning that when we give in to our baser instincts, dire
consequences are likely to follow. Small or modest compromises of ethics and honesty lead invariably to larger, even wholesale ethical sacrifices until no moral code remains and life becomes totally transactional. [In a 2012 essay for popmatters.com, reviewer Noah Washburn postulates that Audrey II represents Freud's id, Audrey the aspirational,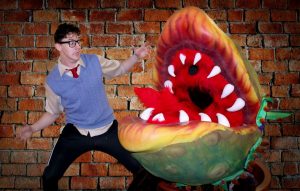 perfection-seeking Superego and Seymour the mediating ego. Read here.]
But Little Shop may be better understood in the best science fiction tradition as an examination of the threat posed to mankind's survival by scientific discovery gone awry.
We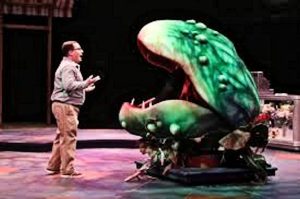 just observed the 75th anniversary of D-Day, an event that changed the course of history for the better, leading ultimately to the repudiation of fascism and the defeat of Nazi Germany. But on July 16, 2020, the world will mark the 75th anniversary of the detonation of the first atom bomb and mankind's entry into the nuclear age. In a profound sense, Seymour represents the father of the atomic bomb, Robert Oppenheimer.
As he witnessed the blast that fateful morning, Oppenheimer mentally recited a line form the Bhagavad-Gita, vis: "Now I am become Death, the destroyer of worlds." Without going into a lengthy dissertation, what Oppenheimer meant was that his duty to develop and create the bomb (Audrey II) pre-empted any concern for his creation's ability to kill or even cause mankind's complete and utter destruction.
Oppenheimer knew that his creation would be unleashed on Japanese citizens, but justified their deaths by the American lives saved by the early end of the war in the Pacific Theater and obviating the necessity for a land invasion of Japan. "If you wanna be profound/if you really gotta justify/ Take a breath and look around/ A lotta folks deserve to die!" sings Audrey II.
But even if that short-term trade off seemed right and proper at the time, the seeds of nuclear Armageddon had been planted. Just as Audrey II (voiced by Justin Marriel Boyd) devours Seymour and all he loved in the end, nuclear fission has the power to annihilate the world and every living thing in it. And that makes the "Finale Ultimo (Don't Feed the Plant)" all the more poignant and meaningful.
If the simile of atomic power and nuclear destruction seems forced because of a lack of profit motive, then perhaps fossil fuel and extinction of species due to melting icecaps and rising tides may be more appropriate. There is no dearth of other applicable examples. The point is that there's nothing little in the message underlying all the fun, singing and dancing and lighthearted caricatures that Alan Menken and Howard Ashman have built into the storyline, characters , dialogue and lyrics of their timeless little musical.
And hats off to Broadway Palm and Amy McCleary for making the brave and bold choice to eschew the sanitized ending embraced by the movie (which had Seymour slay the plant, marry Audrey and live happily ever after) for the ending included in the original script.
Yes, there's much to laud in Broadway Palm's production of Little Shop of Horrors. Catch the wave before it subsides.
The show closes June 15.
June 9, 2019.